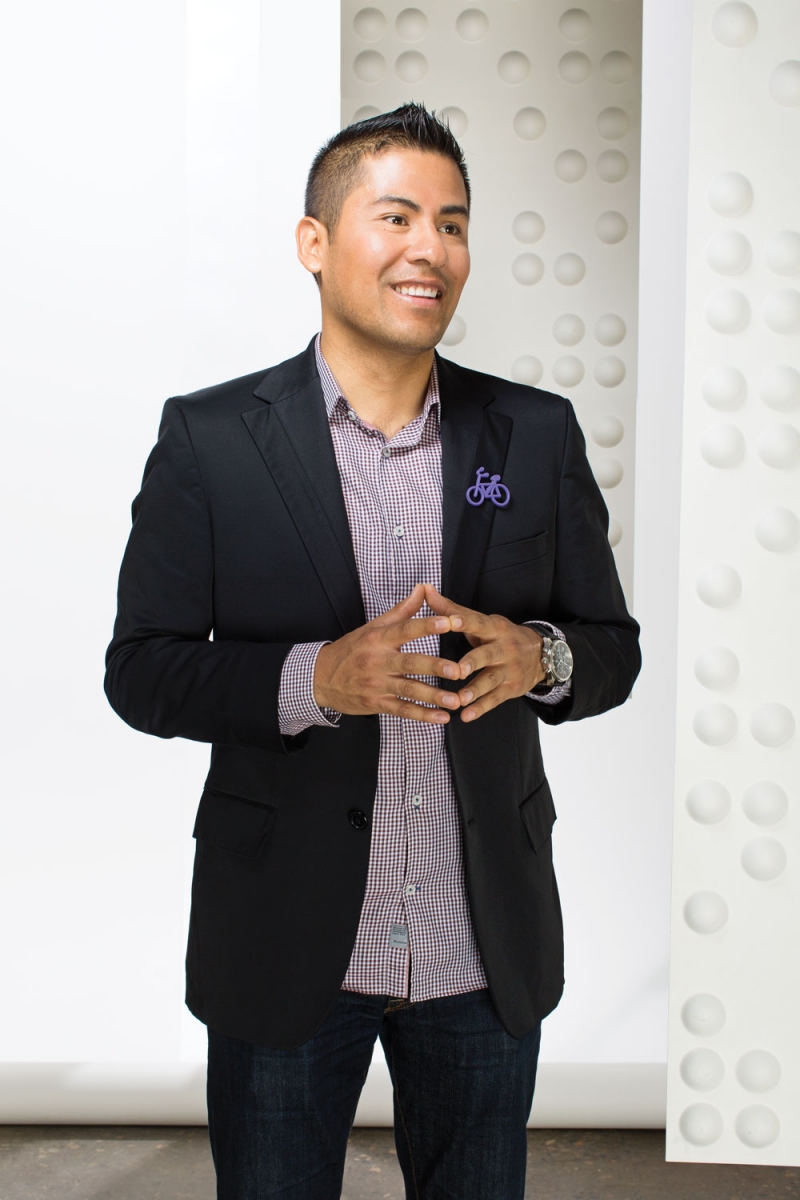 Age: 36
Job title: Coordinator, Cyclepalooza; Project Manager, Alberta Electric System Operator
Why he's a 2014 Top 40:
Gerardo Marquez is the whole package of a well-rounded Calgary citizen: in his work life, he's a tireless advocate for the energy sector and urban sustainability; in his off hours, he contributes as a key member on several groups helping to shape our city's future.
Gerardo Marquez is still in the process of becoming a Canadian citizen, but that hasn't slowed his commitment to making Calgary a better place to live. 
"It's such a fantastic city, and I've already learned so many things here that have made me a better person," says Marquez, an immigrant from Mexico.
As an electrical engineer and environmental manager, Marquez has studied and managed large-scale energy projects in Denmark, South Africa and his hometown of Queretaro, Mexico. He became a permanent resident of Canada four years ago and currently works as a project manager at the Alberta Electric Systems Operator (AESO). He mainly oversees the regulatory aspects of multi-million-dollar projects, connecting major industrial players in northern Alberta to the energy system.
Having an insider's perspective on the abundance of power we consume inspires Marquez to work on sustainable solutions outside of his day job.
"I want to be involved in work that is technically complex, but I also need to have a connection to people, to building greater societies," he says.
To do that, he volunteers with a number of different organizations. Marquez is a co-chair of imagineCalgary, working with the input of 18,000 Calgarians to provide a strategic framework for a sustainable Calgary. He also volunteers for the Alberta Network of Immigrant Women (ANIW). "I firmly believe that one of the best ways to impact the world positively is to create opportunities for women," he says, pointing out that ANIW benefits many men, too.
Marquez also works with Leadership Calgary, a program he graduated from in 2012, to strengthen our base of leaders for the challenges ahead. "This program has been one of the most meaningful things in my life," he says. "It's helped me design my life path and it has led to many new opportunities."
An avid cyclist, Marquez also spent hundreds of hours this year as the main organizer of Cyclepalooza, a community-driven bike festival that runs for 10 days in the summer and five in the winter. He helped Cyclepalooza grow from a handful of events and participants when it started in 2011 to more than three dozen events attended by hundreds of riders this past summer. 
"Worldwide, there is a revolution in cycling, and Calgary is just beginning to wake up," Marquez says. "There's a lot of movement here, and Cyclepalooza is linking people through positive experiences toward cycling."
Marquez says he wants to be a good example of civic engagement and of what a newcomer to Canada is capable of doing. So far, he's exceeding that goal. –Sean Young