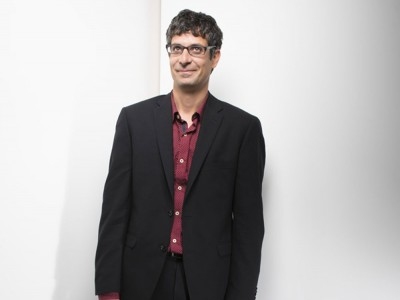 Job Title: Civic Affairs Writer, Calgary Herald
Age: 32
Among his achievements to date, Jason Markusoff can count there being fewer tourists getting lost in the downtown core.
Back in 2009, while waiting for a bus at the end of his workday as the Calgary Herald's City Hall reporter, Markusoff took the opportunity to check out one of the on-street maps of downtown. He couldn't believe what he saw – and what he didn't see.
The maps hadn't been updated for more than a decade and still included relic landmarks such as the Eaton's department store and the Energeum. "There were more hotels wrong on that map than right," Markusoff says. This inspired him to write an article for the Herald, and, before long, the maps were finally updated for the 21st century.
That natural inquisitiveness and empathetic approach toward his readership is why Markusoff thrives in his current role. "I enjoy the visceral part of Calgary City Hall," he says. "You're talking about your town, stuff you'd talk about at a bar. That's very cool to me. I just try to grasp that, to glom onto it."
While he acknowledges an undying love of the traditional broadsheet newspaper, Markusoff has kept with the times by embracing blogging and Twitter reporting. He has proven particularly adept with Twitter, which he attributes to his background in improv comedy. He currently has more than 6,000 followers and, in 2012, had the second-most re-tweeted account in the city, after that of Mayor Naheed Nenshi.
In February 2013, Markusoff's @Calgary88Live social-media feature for the Herald presented a start-to-finish retelling of the 1988 Winter Olympics as a series of "live" tweets and a corresponding blog that republished original stories. The project received international response and garnered a following that included '88 gold medallist Brian Boitano.
Markusoff has also seen the city through more serious times. During last June's flooding, he anchored the Herald's live blog for as long as 21 hours straight over the course of seven days. The experience, he says, reinforced in his mind his role in the community.
"My stories aren't just something I press 'send' on and then go home at the end of the day," he says. "It's a continuum where people are reading what I say and following what I say and responding. It's a privilege to be able to inform people."
3 Things About Jason Markusoff
Since 2011, Jason Markusoff has led annual Jane's

Walk tours through the

downtown core, focusing on large-scale projects that were proposed but never

brought to fruition. His

2013 walk drew 80 people.

Markusoff volunteers three to five hours a month in peer support for the Canadian Mental Health Association's residence at Garrison Green.

He is co-founder and

organizer of Calgary Press

Club, an informal pub

night for fellow journalists and writers, formed in the absence of a local professional association.
Follow Jason Markusoff on Twitter: @markusoff