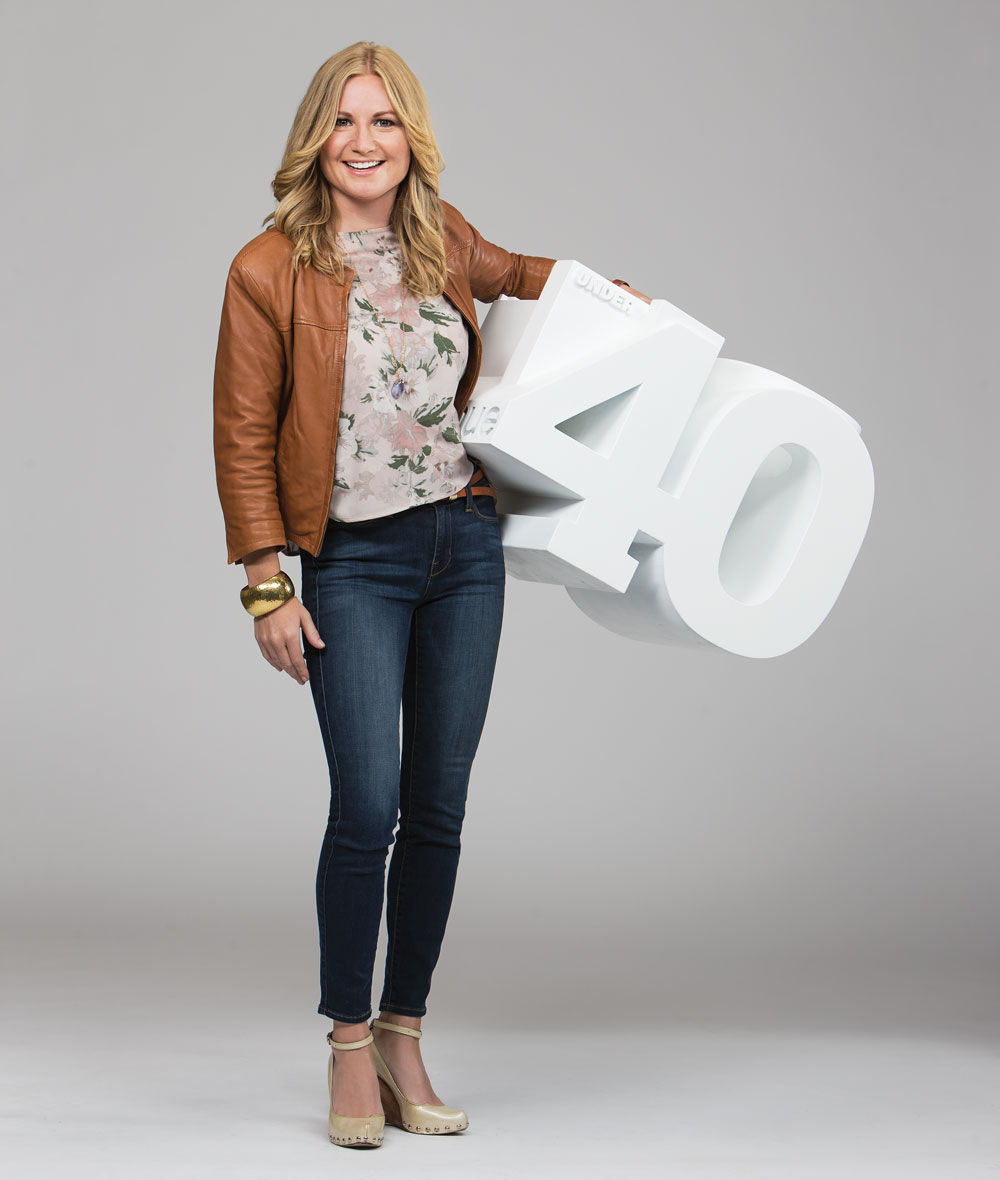 Job title: In The Lead Program Director, Calgary Youth Justice Society
Why she's a 2015 Top 40:
As an advocate for youth, Jennifer Barroll co-developed the strength-based In The Lead program, which connects vulnerable Calgary-area high school students with volunteer coaches.
A passionate communications professor at the University of Calgary inspired Jennifer Barroll not to give up on finding her dream job, even as she went through several career changes.
"She put her resum up on the projector …  and she walked through her life," Barroll recalls. "There were probably about six careers on her page. She said, 'Don't limit yourself to one idea for your big life. Live! Really go out there and take risks.'"
Barroll pursued studies in theatre arts, public relations and psychology, and worked as a communications and marketing consultant before an acquaintance, Dr. Wayne Hammond, connected her with Denise Blair, executive director of the Calgary Youth Justice Society (CYJS). Today, the 37-year-old is the program director for the CYJS In The Lead program, a leadership-development and coaching program that partners vulnerable high school students with volunteer coaches from the city's corporate community. The program, co-developed by Barroll and Rob Zimmerman of Resiliency Initiatives Canada, focuses on participants' strengths rather than their weaknesses.
Since 2011, more than 300 student and coach participants have completed the program; an additional 500 are expected to complete the program by the spring of 2017. In The Lead offers a win-win situation for Calgary youth and adult volunteers, says Barroll. "They both learn from each other," she says. "We call it a shared journey."
Surveys show that students who have completed In The Lead report stronger feelings of self-esteem than they did before beginning the program, but Barroll says the impact on the adult volunteers is equally important.
"It has represented such a significant mind-shifting opportunity for the coaches," Barroll says. "They have learned from these young people who have had to be so resilient, so strong and so determined to get to where they are today."
Thanks to new partnerships with the Calgary Board of Education, Grasslands Public Schools and the Calgary Catholic School District, as well as the United Way's All In For Youth program, global consulting firm Accenture and accountancy firm KPMG, along with continuing support from founding partner Cenovus Energy, Barroll anticipates In The Lead will more than double its 2011 enrolment during the 2015-16 school year to 200 participants..
For Barroll, the success of In The Lead confirms the rewards of being willing to take risks and embrace change. "My path did twist, and each twist and turn has been currency for the next opportunity that has come my way," she says. "I get up every day and go to a job where I know, for a fact, that I am serving people – adults and young people – to get them to believe in themselves. I know I'm making an impact." – Kaitlyn Critchley
[This article has been changed from its originally published version to include the fact that Cenovus Energy is the founding partner of the In The Lead program.]