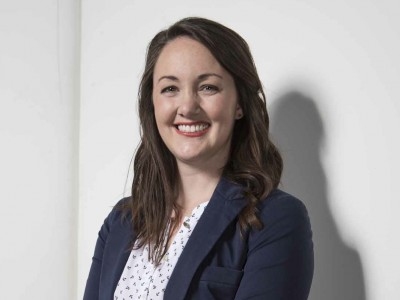 Job Title: Wildlife Biologist and Environmental Planner, TERA Environmental Consultants
Age: 29
Jessica Gosling is an advocate for the misunderstood. As an environmental planner, she balances economic growth with minimizing the environmental impact of oil and gas pipelines. And, as a wildlife biologist, Gosling has a passion for amphibians and reptiles, especially the often-maligned, endangered Northern Pacific rattlesnake.
"You'd be amazed how many people say they'd kill a snake," she says. "They're vital to the ecosystem and just as deserving of protection and attention as a grizzly bear."
For her master's project in environmental science at Thompson Rivers University in Kamloops, B.C., Gosling spent two years capturing and monitoring 35 Northern Pacific rattlesnakes. She developed a geographic information system (GIS), a spatial mapping computer program that uses heat to help determine the snake's exact habitat. "Rattlesnakes are exothermic – they rely on their surroundings for heat – and so I thought, maybe they're choosing habitat based on that," she says.
Gosling's study is the most comprehensive of its kind in Canada and shows that snakes change their habitat based on changing temperatures. This information is vital to Gosling's role as an environmental planner at TERA Environmental Consultants where she works with resource companies, such as Kinder Morgan Group and Enbridge, from pipeline proposal and construction to post-construction wildlife reclamation.
"Now, instead of assuming what should be protected, we can create custom maps of habitats, which changes where and when construction happens," Gosling says.
Gosling spends most of her time in the field – snowshoeing through snowdrifts in winter tracking wildlife, waking at the crack of dawn to monitor birds' nests and organizing walks with First Nations people to observe sensitive habitat, which Gosling says offers her a new perspective. "They see things I don't notice," she says.
Protecting endangered snakes and helping pipelines become sustainable both need our attention, Gosling says. "I've challenged some misconceptions about snakes, and I hope I'm challenging some misconceptions about pipelines," she says. "Oil and gas projects benefit the whole country, economically, and I'm on the ground helping keep industry in check. The techniques for restoring habitat and reclamation are working."
3 Things About Jessica Gosling
Jessica Gosling created a geographic information system that changed the way wildlife habitats in pipeline areas are mapped.
As TERA's resident herpetologist, Gosling is interested in at-risk reptiles and amphibians native to Alberta, including the bull snake and long-toed salamander.
Gosling has never felt nervous around a rattlesnake, but she is afraid of cows because she finds them unpredictable.