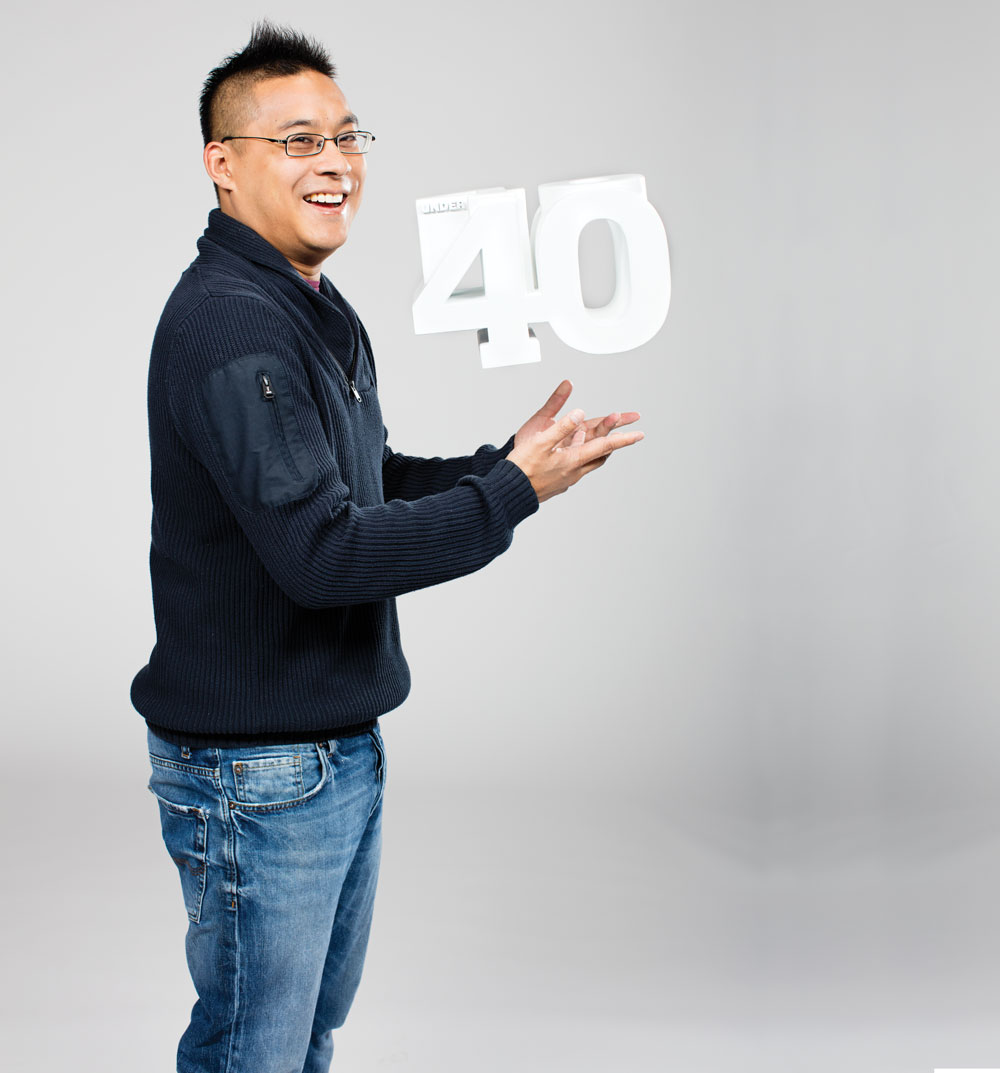 Job title: Founder and Event Director, Calgary Comic and Entertainment Expo
Why he's a 2015 Top 40:
In 2006, Kandrix Foong created and managed the first Calgary Comic and Entertainment Expo. In 10 years the Calgary Expo has become a marquee event for the city, growing from 3,400 attendees in 2006 to more than 100,000 in 2015, and expanding to include similar events in Edmonton and Saskatoon.
At the first Calgary Comic and Entertainment Expo in 2006, founder Kandrix Foong decided to save money on pipe and drape services by moving hundreds of exhibitor tables himself. Of all the lessons he's learned in his decade at the helm of the four-day exhibition, that's one that stuck. "Never again am I moving tables," says Foong, now 37.
There's not a facet of the Calgary Expo Foong hasn't worked on, from operations and marketing to guest acquisition and onsite labour. He now leads a year-round team of 10 and a 1,200-strong volunteer army for the event. "Everybody thinks we hang out with celebrities all day long, but that's not the way it goes at all," Foong says. "It's a business."
Each year, the Calgary Expo has grown, welcoming a record 102,000 attendees in 2015. It has become a tourist attraction, filling 2,500 hotel rooms in the downtown core during Expo weekend and hosting a popular annual parade on Stephen Avenue. Foong's team now runs similar events in Edmonton and Saskatoon, as well as a sister business called Epic Photo Ops that provides photo services for conventions that pair fans with celebrity guests.  "I'm a workaholic," Foong says. "I like innovation and inspiration."
In 2012, Foong's team reunited the full cast of Star Trek: The Next Generation, a risky move that ended up setting a new industry standard. The same year, the Expo experienced serious and very public problems with gate management that saw angry ticket holders stand in line for hours and many never able to enter the event at all; the unprecedented popularity of the event meant the venue reached capacity much more quickly than anticipated. "It was a roller coaster," Foong says.
Foong and his team entered repair mode immediately, providing refunds and apologies, launching a tremendous preplanning effort for 2013 and creating a 40-page emergency response plan. Attendee numbers have increased in subsequent years, but Calgary Expo has never had gate problems of that scope again.
"I could have just said, 'I don't care,' but I'm a person who cares too much," Foong says. "From mistakes, you get an opportunity to make yourself better."
Foong remains a fan at heart. The walls of his office are lined with Transformers and his most treasured Calgary Expo memory is introducing his five-year-old son to Peter Cullen, the voice actor who plays Optimus Prime. He says it was one of the rare times he made a point of meeting a celebrity; normally, he runs things from the background.
"My mom taught me humility," Foong says. "Take pride in your work. If you do a good job, the results will come." – Julia Williams