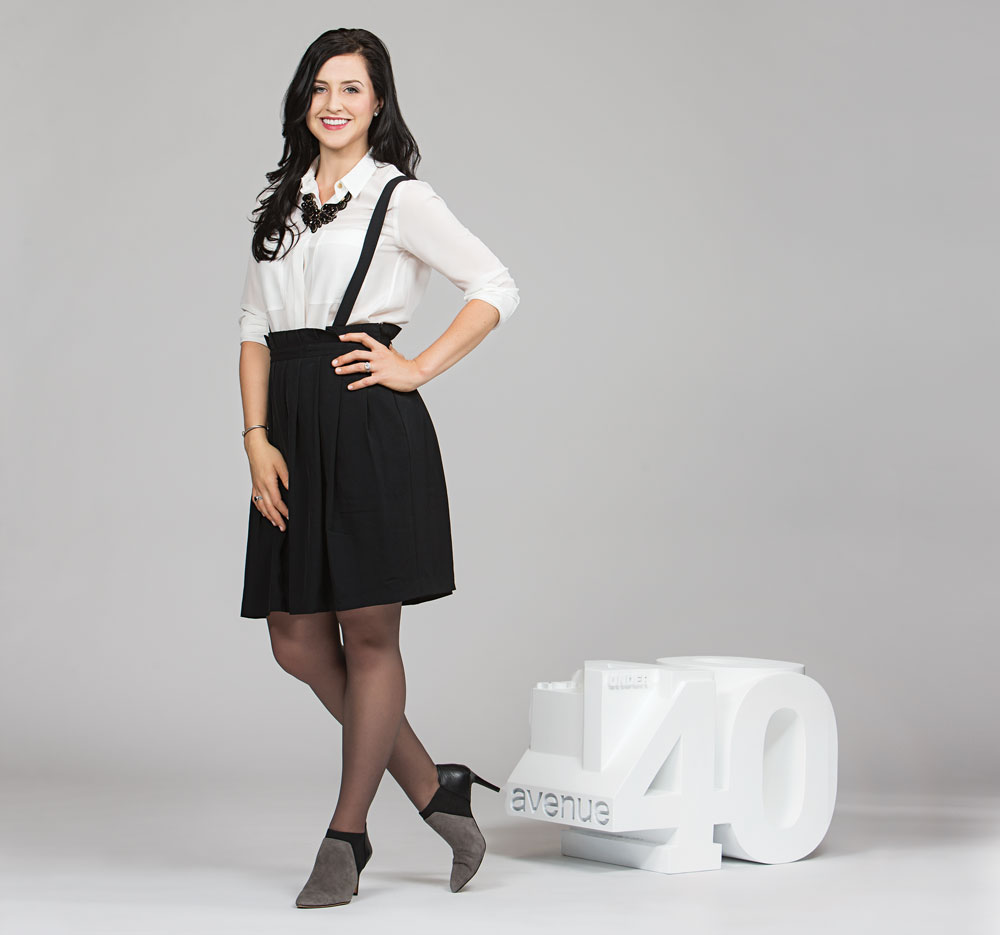 Job title: Ph.D. Candidate and Medical Student, Leaders in Medicine program, Cumming School of Medicine, University of Calgary; Co-Founder and Exercise Physiologist, Thrive Centre
Why she's a 2015 Top 40:
Lauren Capozzi helped found Canada's first free, student-run fitness facility for cancer survivors, trained more than 200 volunteers to run it and helped raise more than $40,000 to keep it open.
Lauren Capozzi was 13 when her father was diagnosed with cancer. When she was 17, he opted out of treatment.
"Being 17, I didn't understand why he would make the decision to not do treatment when he had kids, and he said to me, 'All I want to do is go skiing and I can't get out of bed,'" says Capozzi. "It took me a few years to really understand that he was trying to teach me that life is about quality and not necessarily quantity."
After her father died, Capozzi remembers asking herself one thing: how could she help people live better lives after a cancer diagnosis? She decided on a career in medicine, a conviction so strong, not even being refused entry to medical school could stop her. In fact, that setback led her to where she is today.
"I applied [to med school] again the next year but thought, in the meantime, I'd done a kinesiology degree, and I love movement for empowering people to be well, so why don't we apply this to cancer survivors?"
When she suggested this to the Alberta Cancer Foundation, she was told someone in Calgary was already working on integrating exercise into cancer recovery programs. Within a few months, she found herself working under that person – Dr. Nicole Culos-Reed – while working to complete both a graduate degree and medical doctorate as part of the U of C's Leaders in Medicine program, researching the positive impacts of exercise on cancer patients, from which she's expected to graduate in 2018.
In the fall of 2010, in order to bridge the gap between the theoretical and practical applications of her research, Capozzi, with Culos-Reed, co-founded Thrive Centre, Canada's first student-run free fitness facility for cancer survivors.
Since then, Capozzi has trained more than 200 volunteers, most of whom are kinesiology students, to work at Thrive. They have gone on to provide more than 10,000 hours of community service and help more than 600 cancer patients. Capozzi also helps organize the annual Stride for Thrive fundraiser runs. The runs, along with other fundraising initiatives, have raised more than $40,000 since 2012 for ongoing exercise programming.
For Capozzi, improving quality of life for cancer patients is truly a passion; the 30-year-old also works with Wellspring Calgary, leading exercise classes for cancer patients, as well as providing education sessions at the Tom Baker Cancer Centre for newly diagnosed cancer patients on the benefits of exercise after a diagnosis.
No matter how many people she helps, in some respects, it's her father's memory that keeps Capozzi going. "Every day, when people walk in [to Thrive], there's this little part where I always think about him, and that this is my way to honour him as well, honour his memory and what he taught me about giving back to your community," she says. – Andrew Guilbert
[This article has been amended from its original published version to indicate that Capozzi and Culos-Reed co-founded both the Thrive Centre, a free fitness facility for cancer survivors, and Thrive Health Services, a cancer-survivor fitness consulting business for health-care professionals.]