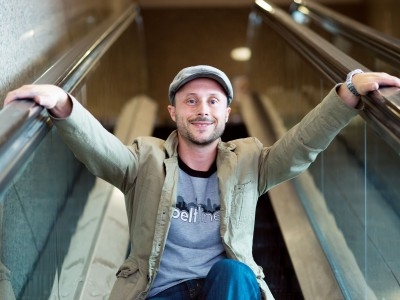 Job Title: Director with Beltline Communities; Founder and Former Chair of Beltline Planning Group; Process Engineer, UMATAC Industrial Processes
Age: 39
As founder and former chair of the Beltline Planning Group (BPG), Lucas Rojek has advocated for development policies conducive to urban living and development of better buildings that allow for density and, in the process, become a force for renewal in the inner city.
Rojek founded the BPG in 2001 by bringing together the now-defunct planning committees of the neighbourhoods of Victoria Park (which he chaired) and Connaught. At the time, the Beltline (tucked between 10th and 17th Avenues) was struggling to emerge from the recessions of the 1980s and '90s, which had slammed the brakes on development.
"The east side [Victoria Park] was pretty much overrun with prostitution and drugs, partly because there was a lot of land speculation going on and no one was building anything," recalls Rojek. Meanwhile, former industrial sites, the failed Electric Avenue bar strip on 11th Avenue and crumbling heritage infrastructure also punctuated the area.
To create a unified plan of action, Rojek was involved in bringing the Connaught and Victoria Park community associations, the Beltline's three Business Revitalization Zones and other stakeholders together to the table.
The collaborative result was the Beltline Initiative, which called for greater intensification, more mixed-use developments, development of public spaces, improved pedestrian access and the preservation of heritage buildings. In the summer of 2003, city council adopted BPG's "Blueprint for the Beltline", a planning document spearheaded by Rojek. The City also agreed to amalgamate Connaught and Victoria Park into a single community with a single community association, Beltline Communities, on which Rojek continues to serve as a director.
As the chair of BPG, Rojek has facilitated discussions with city planners and developers on major Beltline projects, including high-rise residential towers, the Sheldon Chumir Health Centre, the new Calgary Board of Education headquarters and the inclusion of Boxwood in Central Memorial Park.
Despite his success as a city builder, Rojek has no formal experience as a planner or as an architect. He currently works as a process engineer with UMATAC Industrial Processes, where he collaborates with companies in China to develop cost-effective techniques for processing oil shale, an "unconventional hydrocarbon" stored in sedimentary rock.
Rojek says having an analytical mind and a methodical approach to planning are skills that help him solve problems wherever they may arise.
"The fact that I like looking at the overall picture, but also the individual details, is common to both jobs," he says.