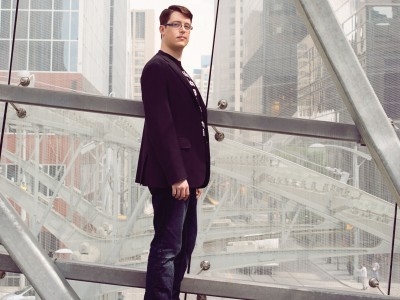 Job Title: Co-Artistic Director, Swallow-A-Bicycle Theatre; Associate Producer, High Performance Rodeo at One Yellow Rabbit
Age: 29
You should know Mark Hopkins.
In Calgary's theatre scene, he's a leading figure among the next generation of artists and arts administrators. As associate producer of One Yellow Rabbit's High Performance Rodeo (HPR), Hopkins helps facilitate one of the city's calling-card festivals. As co-founder of Swallow-A-Bicycle Theatre, Hopkins and partner Charles Netto orchestrate cutting-edge performances such as "i-Robot" and HPR's "Freak Show", which challenge conventional ideas of staging.
Hopkins is proud to be carving his niche among the city's performing arts community, though he is quick to acknowledge that the Calgary theatre scene of today is much different than it was when the original Rabbits and other longstanding companies made their groundbreaking forays.
"We draw inspiration from stories of the do-it-yourself attitude, but it's not totally a fair comparison because I'm not squatting in abandoned buildings," says Hopkins. "When I squat in abandoned buildings, I've got a City permit from the Mayor's Office."
Outside the theatre scene, Hopkins is the founder of the We Should Know Each Other community-building initiative. In February 2008, he began inviting people from different social circles to his living room for chips and beer and good conversation. Since then, more than 100 We Should Know Each Other parties have occurred, with guests including Premier Alison Redford, Mayor Naheed Nenshi, Poet Laureate Kris Demeanor and members of the Occupy Calgary movement. Hopkins estimates he gives approximately 300 hours of his time and $1,000 per year to We Should Know Each Other.
As the guest list might indicate, Hopkins is also a tireless advocate for the arts in the political arena. In 2012, he co-founded ArtsVote Calgary and organized forums, media appearances, meetings and other events to make the arts an election issue.
In addition to his political advocacy, Hopkins serves on the board of artsScene Calgary, an organization that brings together business and arts professionals between the ages of 18 and 40. He has also served on the board of Calgary Young People's Theatre since 2006.
The intersection of arts, politics and community building is where Hopkins thrives.
"Everything I do is somehow about getting people to connect in unexpected ways," he says. "It's all about having a conversation – and not just the same old conversation, but a new conversation."
@markchopkins, swallowabicycle.com