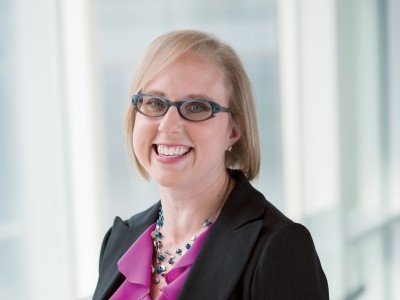 Job Title: Paediatric Haematologist and Immunologist, Alberta Children's Hospital
Age: 39
Nicola Wright believes in being in the right place at the right time and, in 2005, the Alberta Children's Hospital was exactly the place she needed to be.
Wright is the only doctor in Canada who specializes in both paediatric haematology and immunology. In 2005, ACH had one academic paediatric haematologist and no academic immunologist. The lack of service meant children with blood disorders and immune deficiencies often went undiagnosed. "For a medium-sized hospital, those are big holes," says Wright.
Following a fellowship at Cincinnati Children's Hospital and Stanford Medical Center, Wright moved back home to Calgary to begin developing ACH's haematology and immunology program. She helped start a Paediatric Haematology/Oncology Fellowship to train doctors in her subspecialty and then, with colleague Fotini Kavadas, created the hospital's first immunology program.
Since Wright's arrival, children with severe immune deficiencies no longer have to travel to Toronto for bone marrow transplant and can have the procedure done in Calgary instead. Wright also developed an at-home treatment program for immune-deficient patients to replace their antibodies through injections, eliminating monthly hospital visits. And Wright brought international recognition to the hospital when she played a pivotal role in diagnosing the first patient in the world with a new form of chronic granulomatous disease, an inherited immune deficiency.
Wright regularly offers clinical lectures and talks at the University of Calgary's medical school and with community doctors. She says increased education has led to more diagnosis.
"We've had two cases of severe combined immune-deficiency kids come from rural Alberta in the last year," says Wright. "There were no cases in Alberta when I was a resident. There's all of this stuff coming out of the woodwork that's been here, but no one recognized it."
With the haematology program on track as one of the best in Canada, Wright says her next goal to make Calgary the prairie referral centre for paediatric immunology is swiftly becoming a reality with increased patient referrals from across Alberta, Saskatchewan, British Columbia and even as far away as Pakistan.
Wright is in the right place to start sharing what she's learned. "We're at the stage now where we are getting asked for our advice," she says.