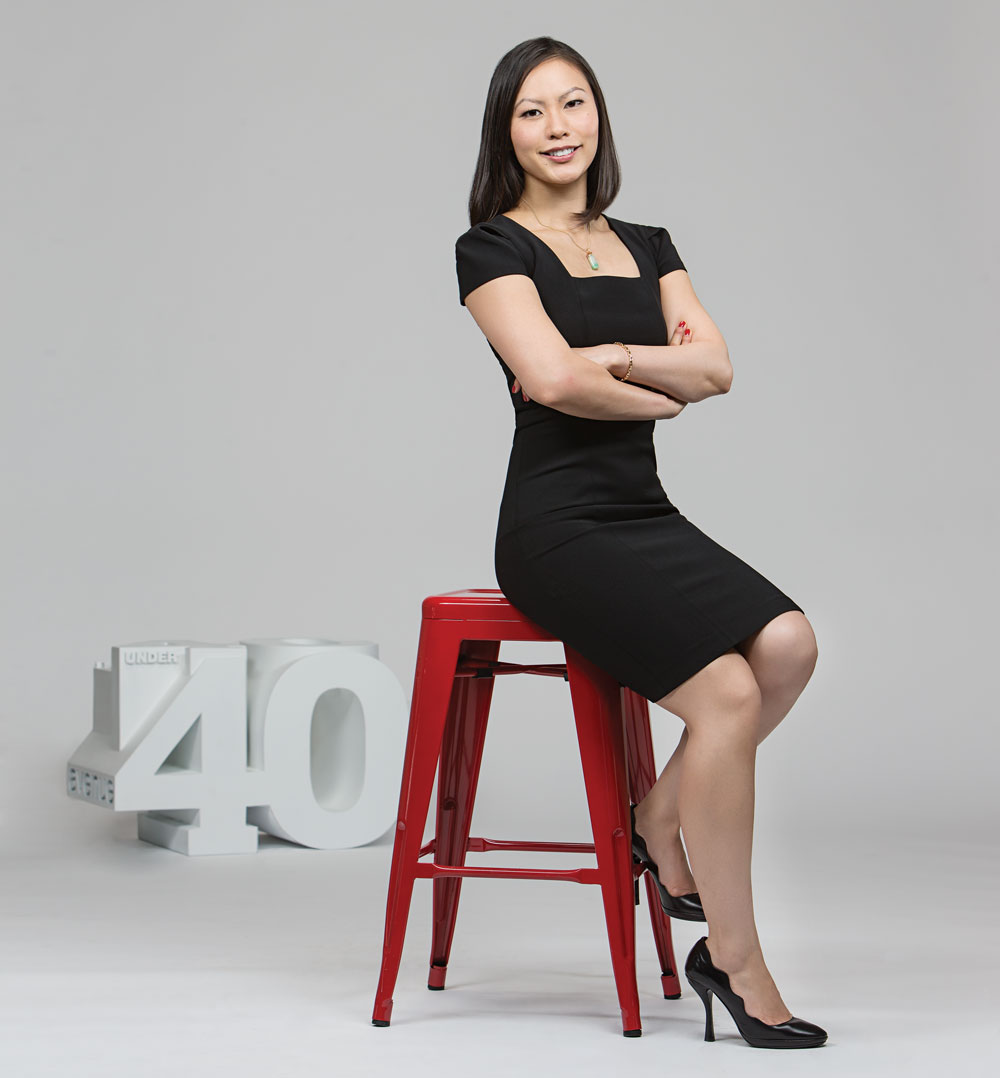 Job title: Barrister and Solicitor, Alberta Justice; Coach, Special Olympics Calgary Powerlifting Team
Why she's a 2015 Top 40:
Wilma Shim is making the city safer by obtaining community safety orders and acting as co-inquiry counsel for public fatality inquiries involving the police and hospitals. She also takes it to the mat as a coach for the Special Olympics Calgary powerlifting team.
At five feet, one inch, and weighing just 110 lbs., petite is an accurate word to describe Wilma Shim. Yet, it was her physical strength that landed her on the Canadian powerlifting team.
In 2007, she deadlifted 297 lbs., well over two times her weight at the World Juniors in La Garde, France, to bring home the bronze. "I channelled my inner Hulk," says Shim, with a laugh.
Like the Hulk's alter ego, Bruce Banner, Shim had spent a lot of her time at the lab. As a kinesiology student, she had planned a career in sports medicine. However, instead of a freak accident, it was a regularly scheduled tutorial that pushed Shim onto a different life path.
When the cadavers in anatomy class put her off Alberta beef, her favorite food, she knew medicine wasn't the career for her. Instead, inspired by her father, a corporate commercial lawyer in Edmonton, she went to law school at the University of Calgary, starting work as a Crown prosecutor in 2011.
After becoming a Crown counsel in 2012, Shim now represents different ministries within the Government of Alberta in various civil litigation actions. Out of just six litigators in Calgary to handle fatality inquiries, Shim was the youngest when she was selected for the Top 40 Under 40. And, with her innate competitiveness, she relishes the courtroom.
"I enjoy fighting for the little guy and representing people who need someone to speak up on their behalf," says Shim.
In her work for the director of law enforcement, she has successfully obtained five community safety orders that temporarily close down residences and businesses believed to house illegal activities like drugs or prostitution – uncommon orders that are not easy to get. She's also held the prestigious position of co-inquiry counsel for four public fatality inquiries related to the use of force by the Calgary Police Service, as well as hospital fatalities, making recommendations to prevent similar deaths.
Shim is also the youngest member of the board of directors for Special Olympics Alberta. After she stopped competing in weightlifting in 2007, she joined the Special Olympics Calgary Powerlifting Program. As a coach, Shim works with athletes who have Down's syndrome, autism and various learning disabilities, and with other athletes who have limited speech, anxiety issues and fine motor delay.
She starts by teaching the basic squat with a wooden rod, with some athletes progressing to 400 lbs. According to Shim, everyone she works with has an inner Incredible Hulk.
"They're so gentle and kind, but once they're ready to do their lift, their mentality changes," she says. "They're focused and their inner beast comes out, which is really cool." – Tiffany Burns