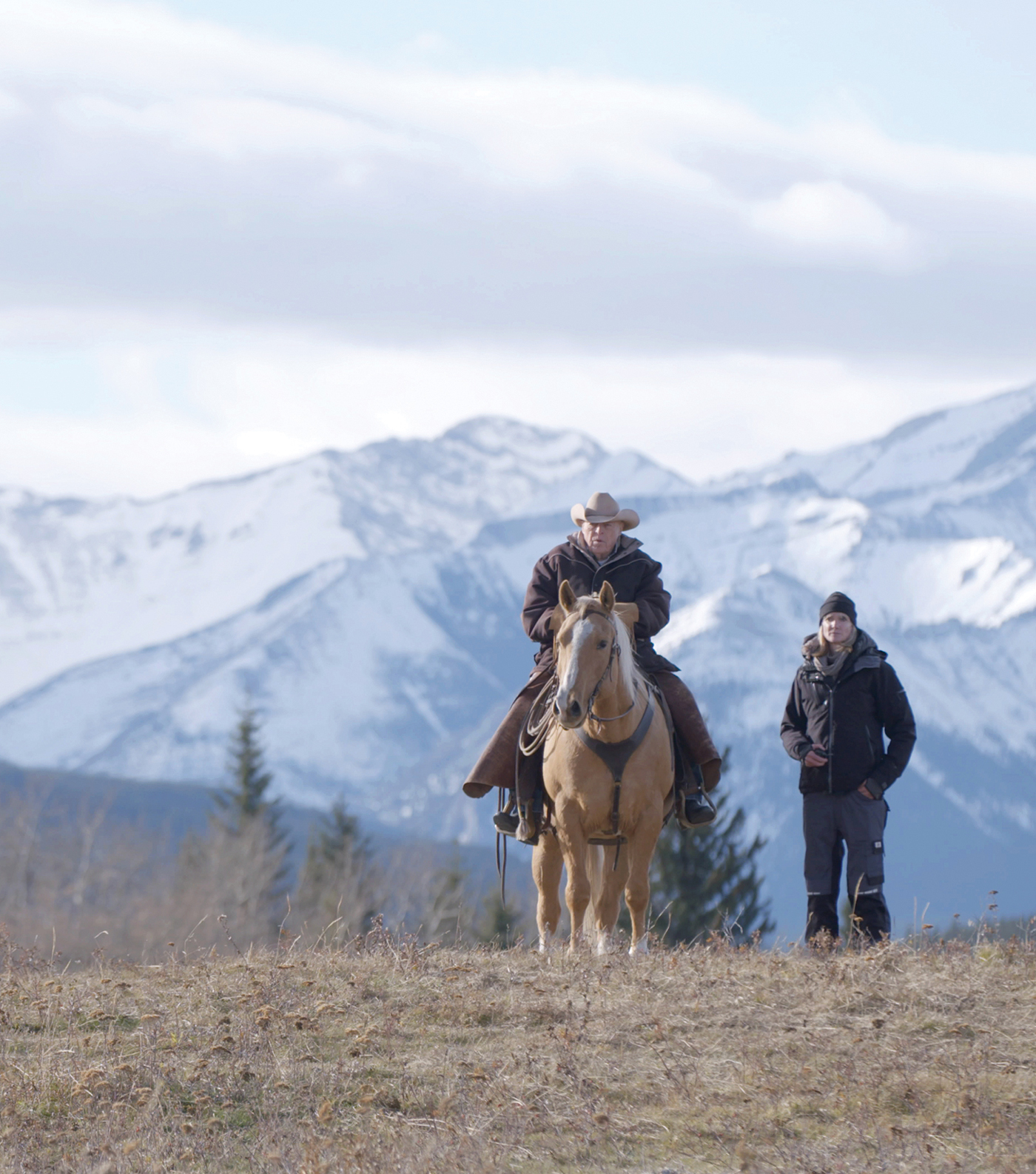 Filmmaker Victoria (Vicki) McFadyen grew up in Calgary tending horses and teaching herself how to operate cameras. In her early 20s, she moved to California and began her career as a filmmaker specializing in polo events. This led to gigs around the U.S. and South America, and contracts with clients like Tommy Lee Jones and Jim Prentice. She moved back to Calgary in 2008 to raise her daughter and now operates her company Atomic10 Films Inc. locally, often working on horse-related films. This combination of experience has made her the perfect storyteller for her latest project.
McFadyen's documentary, True West: The John Scott Story, tells the story of the ranch-and-rodeo world's contributions to Alberta's film industry, with a primary focus on how one man has been at the heart of it for 50 years.
"We need to celebrate someone like him," says McFadyen of John Scott. "He is a huge advocate and he works 24/7."
In True West, we see Scott on his ranch-and-film-set property in Longview, working at locations like the Calgary Stampede and speaking candidly about how the province's film industry emerged and grew. Scott got his start in 1970 working as an animal wrangler on Little Big Man, which starred Dustin Hoffman and Faye Dunaway. From there, Scott went on to become a stunt person, host, director, producer and all-around industry champion. His company, John Scott Productions, has been part of seven Oscar-winning films.
He has been profiled before, but McFadyen's pitch to showcase him alongside the community of specialized horse-and-film professionals in Alberta offered a new take on his story.
"I just thought, well, it's a chance to honour some of the people that helped me start the company and put it together and build it together to what it is today," says Scott. "I'm working now with third generations of people that started with me."
Rather than focusing solely on Scott's personal legacy, the film showcases the work of animal stunt trainers, chuckwagon racers and other specialties in the Albertan film community. In this way, True West illustrates both the cultural and financial value of Alberta's film industry.
"To invest in the film business is really a job creation piece of business," says Scott. "The spinoff of a movie dollar is five or six to one."
"I just feel like as filmmakers we need to educate people about the industry. It's really important that we tell the story of Alberta and our culture" says McFadyen.
True West: The John Scott Story premieres this summer on Telus Optic TV On Demand and was funded by Telus's Storyhive.