Janet's Crown, 2001. By Katie Ohe, with the technical assistance of George Petitclerc (metal work), Neil Liske (painting) and Barry Klippert (installation). Industrial paint and clear coat on steel; polished stainless steel; grassy hillside. The piece occupies an area approximately 35 feet in diameter. The central form is five-feet-seven-and-a-half-inches high by five-feet wide; individual stars vary in size from 22 to 38 inches. Find the piece at the southwest of the main entrance to the Alberta College of Art + Design (ACAD), 1407 14 Ave. N.W. Piece was commissioned and donated by Rod Green and Masters Gallery to ACAD.
Katie Ohe's tribute to Calgary painter Janet Mitchell (1912-1998) sits near the hilltop entrance to the Alberta College of Art + Design, where Ohe taught for more than 40 years. It is the kind of spot where Mitchell sketched bird's-eye views of the growing city.
Nine polished steel stars, reminiscent of the fanciful ones that figured in Mitchell's watercolours, are scattered, facing upward, in the grass to reflect Calgary's shifting sky. The central form, a hemisphere topped with five points of tubular steel, evokes a crowned figure also found in Mitchell's painting. Ohe translates Mitchell's visual idiom from painting to sculpture and expresses deeper qualities that both artists share, such as the capacity for delight and affirmation of the place they live.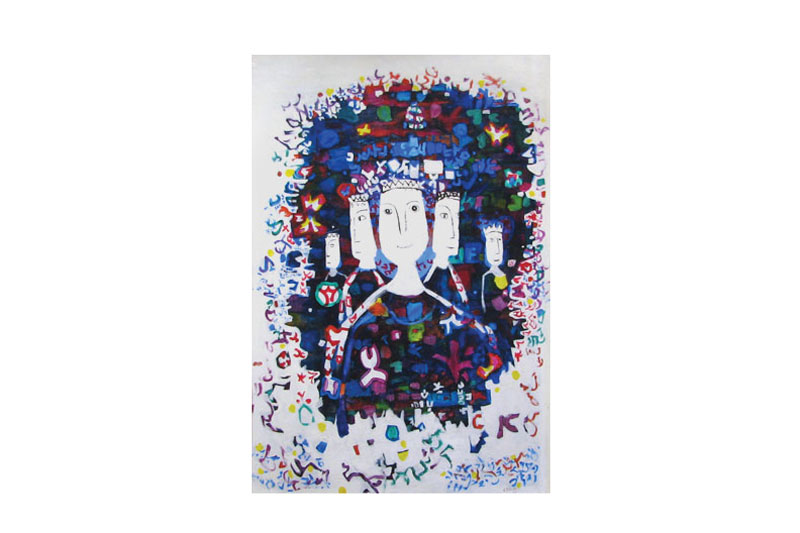 A photograph of Janet Mitchell's painting Open that Fold of Space a Little Wider and Let me Through from 1966.
Janet's Crown is an outstanding sculpture in its own right. The work is on a personal scale and invites the viewer to be a partner: you can gently rotate the central figure and move among the stars. As you do so, enjoy the gratification of perfect craftsmanship, pure forms and smooth, scintillating surfaces. Also take pleasure in the shifting silvery colours, the result of multiple layers of sparkling automotive paint tinged with blue, pink and red.
Ohe says this piece, now 16 years old, is important to her because it gave her ideas for subsequent sculptures. Holding the small preliminary model for Janet's Crown felt like holding a vessel in a gesture of offering or prayer, she says, and she carried that notion into a series of wall pieces.
When you visit Ohe's artworks, please, offer her thanks. If we lived in Japan, we would call her a national living treasure.
Additional sculptures by Katie Ohe in Calgary can be found in Bankview, Prince's Island Park and at the University of Calgary. Her work is represented by Herringer Kiss Gallery.