THESAMEWAYBETTER/READER, 2012, Venetian and Mexican glass smalti, granite and marble tesserae mosaic, 13′ high x 110′ long (4 m x 33.5 m) on five articulated panels.Commissioned by the Calgary Municipal Land Corporation; produced in collaboration with Franz Mayer of Munich (Germany).
The artwork
This East Village mural is my favourite work of art in Calgary – and not only because the artist, Ron Moppett, is my pension partner. The rich colour and dramatic scale are astonishing from a distance, and the close-up experience is always rewarding, ever-changing with the light of the day. The morning sun pinpoints the twinkling transparent gold- and silver-leaf-backed tesserae in the yellow and lavender passages. Later, the grouting comes to the fore, accentuating the visual flow of the courses of hand-cut glass and stone tiles.
When the mosaic was unveiled, it was a shoutout of colour in a snow-covered urbanscape. Now, it has a place in Calgary life, a survivor of the flood, a backdrop for fashion shoots, a locale for yoga classes, a place to take out-of-town guests. Visually luxurious, the mural is packed with themes: transportation (note the visual metronome of photo slices reminiscent of looking out from a moving train), Calgary's geological and social history, and personal dreams, including the can-do vision of William Reader, the city's first superintendent of parks.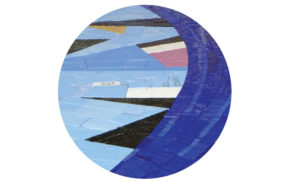 The artist
Now a senior Canadian artist, Moppett immigrated to Calgary with his family from Eastbourne, England, in 1957, thanks to Canada's post-war Assisted Passage program. Normally not a committeeman, Moppett worked with the team at the Calgary Municipal Land Corporation to plan the mural at the early stages of East Village development, and then with the artisans of Mayer of Munich (who, coincidentally, installed the Maxwell Bates-designed stained glass windows in St. Mary's Cathedral the year Moppett arrived in Canada). Together, they translated the initial collage of cut paper, photos and fabric into the traditional language of mosaic, drawing on old-world craftsmanship, coupled with state-of-the-art technology. Moppett says the project got better at every stage: throughout the planning, during the nine months of fabrication in Germany, over the six-week installation in Calgary and currently, as it brings enjoyment to Calgarians.
Paintings by artist Ron Moppett are on display at the RBC Royal Bank in Bankers Hall and at Bow Valley College (South Campus 2nd floor and North Campus 2nd floor). He is represented in Calgary by TrpanierBaer Gallery.
His works are also part of the exhibition "Damian Moppett + Ron Moppett (Every Story Has Two Sides)," Sept. 16 to Dec. 31 at the Art Gallery of Alberta in Edmonton.
Mosaic, the art form based in Greek, Roman and Byzantine traditions, is enjoying a 21st-century resurgence because of collaborations between artists and skilled craftspeople. This is Moppett's first outdoor mosaic and the largest in Canada to date.