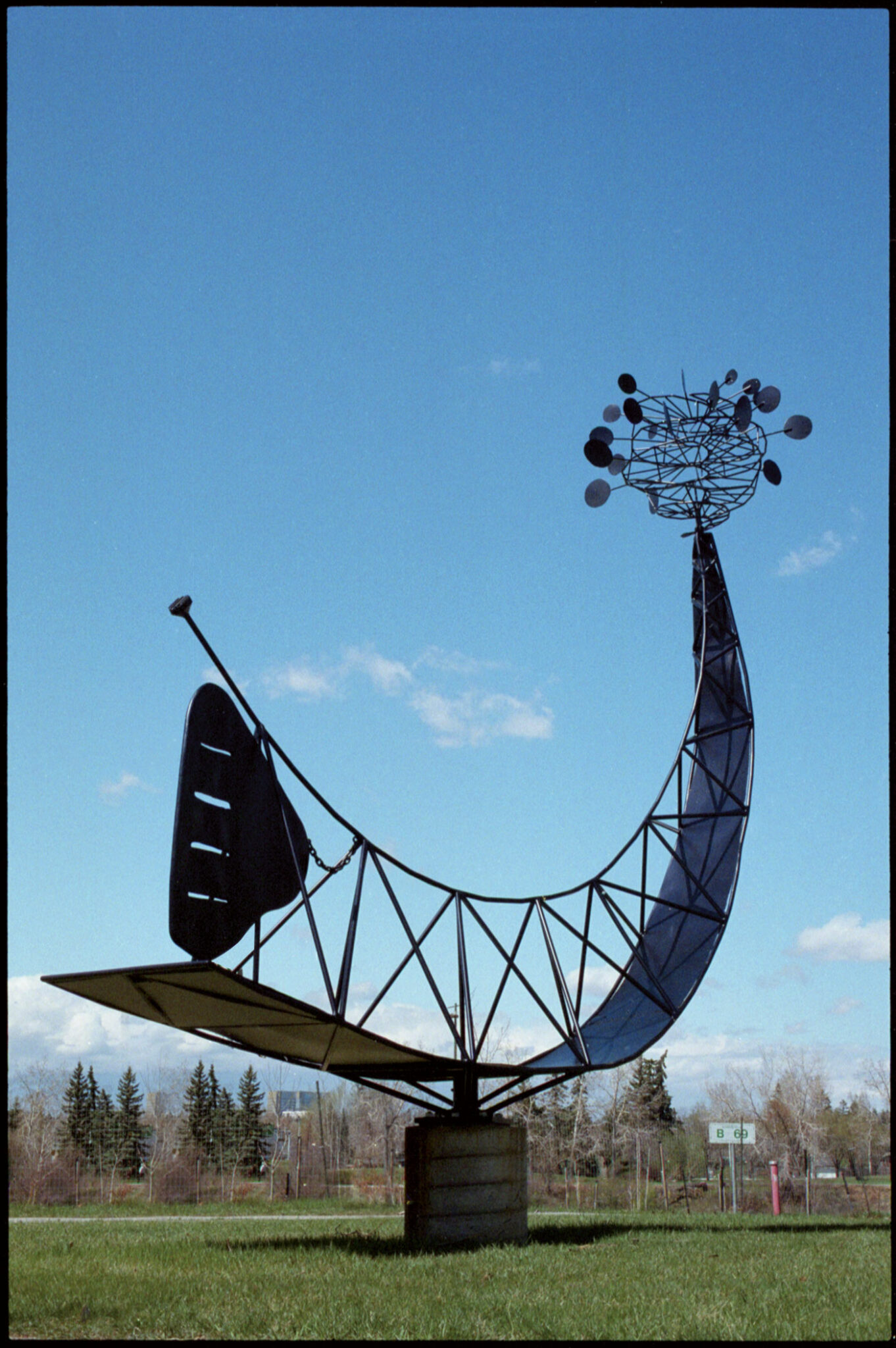 Title: Comet
Date: 1983/2020
Artist: Kathryn Fodchuk Dobbin
Medium: Painted steel and bearings
Size: 5.3 m x 5.5 m x 1.8 m
Location: Intersection of the Bow River Pathway and the pathway east of the Pumphouse Theatre, near stormwater outfall sign B69.
Notes: Originally sponsored by Shell Canada, with assistance of machinist George Petitclerc. Conservation and restoration through the City of Calgary Public Art Program with assistance of John Gohmann (metal fabricator) and Propell, Calgary (paint). Another Dobbin sculpture, Dandelion (1982), is on view at the Kiyooka Ohe Arts Centre.
Like its cosmic namesake, Kathryn Fodchuk Dobbin's Comet buzzes with visual energy. Light glints off 21 discs hovering around a corkscrew core. A long sliver trails from the head like a bright ion tail, while the curve of the tubular spine suggests a comet's dust tail responding to solar winds. The anatomy of a comet is all in place here. Dobbin has drawn it in three-dimensions by welding together gas pipe and steel sheets. The finished piece has the look of an impromptu diagram.
The ancient Greek name for comet literally meant "long-haired star." For thousands of years, the celestial body was considered a messenger from the skies, an omen. This Comet also conjures visual poetics: it's a spirited comet, a boat with a generous rudder, a bird with a jaunty tail.
Dobbin constructed this exuberant steel sculpture in 1983 as she was graduating from the Alberta College of Art (now AUArts), in anticipation of the arrival of Haley's comet. Inspired by her mentor, sculptor Katie Ohe, and others such as Swiss sculptor Jean Tinguely, known for his Surrealist mechanical kinetics, Dobbin designed Comet to move with the wind and with human interaction.
Unfortunately, some Calgarians back then hadn't learned the difference between public art and playground equipment and the sculpture was damaged, relocated and neglected until the City of Calgary's Public Art team took responsibility. With a new plan to conserve the city's artwork, the team invited Dobbin back to Calgary to give Comet a structural refresh, including rewelding and replacing some parts, adding a protective coat of flecked dark blue paint and fixing it on a firm foundation.
Dobbin was one of a crew of talented Calgary sculptors including Brian Cooley, Gordon Ferguson, Bob Quin and Quentin Caron, who built the much-loved Dinosaur Prehistoric Park at the Calgary Zoo in the '80s. When she moved to Vancouver in 1989, she worked at the Vancouver Aquarium and then built sets and props for the film industry before putting her career on pause to raise two children. She returned to art, earning a BFA from Emily Carr University of Art and Design (2015), and now explores processes and form as a silversmith, still engaging organic linear qualities and geometry.
Dobbin credits early influences that feed her creativity: the interiors of Ukrainian churches; the advice of her baba (an avid knitter, weaver and embroiderer) to take things "one stitch at a time;" and her late father's life's work to bring people together with nature in meaningful ways. Roman Fodchuk was a Canadian pioneer in planning and landscape design, whose list of accomplishments reaches from the Ottawa parkway system to the Banff Centre campus and Pacific Rim National Park. It would surely bring him joy to see his daughter's sculpture rejuvenated and integrated along Calgary's Bow River Pathway.