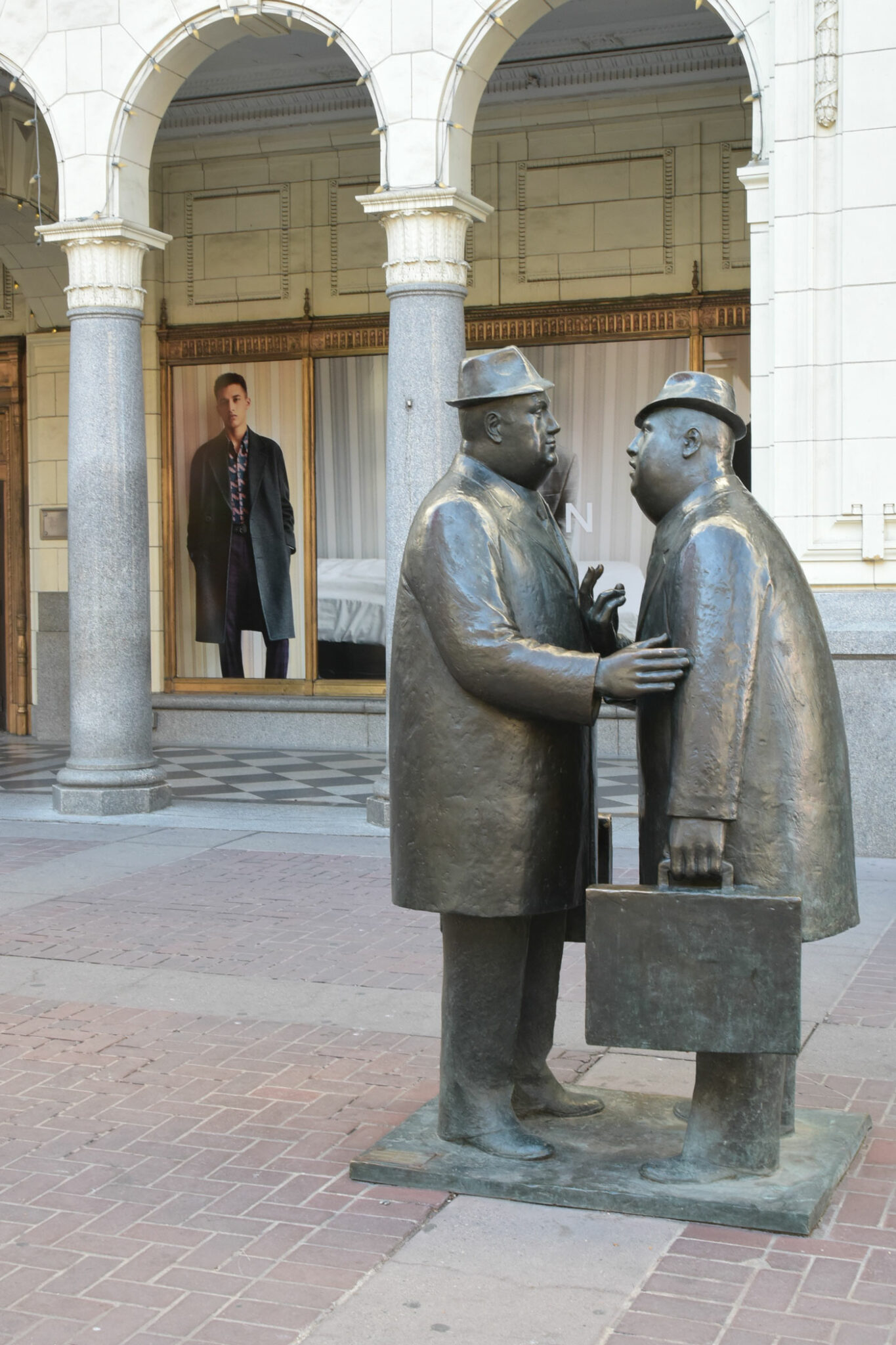 Title: Conversation
Date: 1980
Artist: William Hodd McElcheran (1927 – 1999)
Media: Bronze
Size: 198 centimetres (height) by 114 cm (width).
Location: Stephen Avenue at 1st Street S.W.
Notes: Commission for Conversation was initiated by Norcen Energy Resources Limited in 1978. The sculpture was donated to the City of Calgary in 1981 and is currently in the City of Calgary Public Art Collection. The estate of William Hodd McElcheran is managed by Kinsman Robinson Galleries, Toronto.
Canadian sculptor William Hodd McElcheran's Conversation is, arguably, the most recognizable public art in Calgary. The two bronze businessmen talking shop on Stephen Avenue outside The Bay continue to be objects of curiosity after four decades. Happily, the City hired art conservators to give the piece a refresh last summer with a wash, wax and addition of a concrete base.
On a crisp September day in 1981, following a brass-band fanfare and official speeches, Mayor Ralph Klein and a senior vice-president of Norcen Energy Resources Limited pulled away a white cover to reveal Conversation to a noon-hour crowd that responded with gasps, laughter and, finally, applause. Here was a sculpture that poked a little fun at the business of business, right at ground level, and without a pedestal or protective barrier.
It helped that the two comical fellows looked like Easterners — "fat cats" of Toronto's Bay Street, as McElcheran called them. The portly pair both sport the mid-century business uniform of trim haircut, tie, overcoat, fedora and briefcase. Their necks are cartoonishly thick, obscuring jawlines under rounded flesh, while their voluminous forms taper up to pint-size narrow-brimmed hats, corroborating the air of good-natured satire.
The pose, however, suggests there might be another side to this story. One figure stands upright, listening quietly as he reaches to touch the other on the arm; but is it to reassure, or to interrupt? The other hunches forward intently, mouth open in mid-speech, right hand reaching up; but is it to make a point, or implore a favour?
McElcheran, who passed away in 1999, brought a philosophical bent to his figurative art, proposing a modern humanism. In 1973, he established Daedalus Designs to integrate art with architecture and everyday life. Looking for a figure that could represent an everyday non-hero, he landed on the businessman, a theme he continued from the mid-1960s onward throughout his career. "I think that ordinary people have dignity," McElcheran said in a 1998 video interview. "I start off making fun of these guys … I guess, I just end up … I like them."
Aside from desktop versions in various downtown Calgary offices, the other McElcheran of note in the city is Encounter (1982), acquired for Foothills Medical Centre by arts champion Ouida Touche. The original plaster for Encounter was cast at Fonderia Luigi Tommasi (now Fondaria d'Arte Massimo Del Chiaro) in Pietrasanta, Italy, and resides in the Museo dei Bozzetti. McElcheran moved from Ontario to the small Tuscan town in the mid '70s and remained there for most of his life to work with the foundries esteemed by renowned sculptors such as Henry Moore, Louise Bourgeois, Jeff Koons and Fernando Botero.
Shortly after the unveiling of Conversation in 1981, McElcheran came to Calgary and spoke at the Alberta College of Art (now Alberta University of the Arts), calling for the future of architecture and planning in Calgary to include a place for the arts to humanize the downtown environment. Employing his own principles, McElcheran insisted on being able to choose the location for Conversation. History shows, he chose wisely.