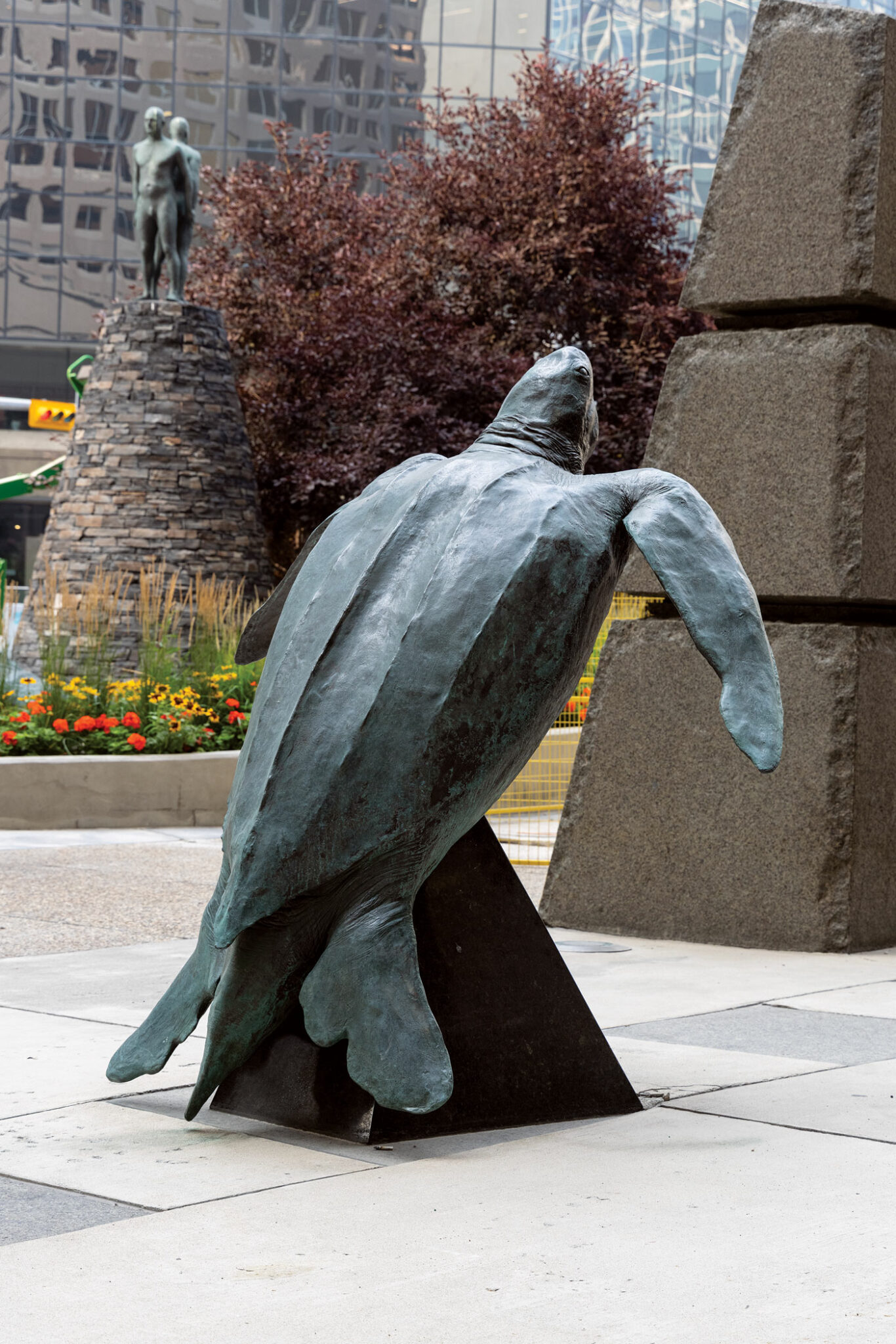 Title: Tribute to Land
Date: 1991/2000
Artist: Irene F. Whittome
Medium: Granite, Bronze
Size: Area of installation is 12.5 feet (height) by 19.5 feet (width) by 57.75 feet (length); Turtle is 72 inches (h) by 77 inches (w) by 50 inches (l).
Location: Southwest plaza of Royal Bank Building, 888 3 St. S.W.
Notes: Commissioned by Trizec for Bankers Hall, currently owned by Brookfield Properties. Bronze fabrication by Fonderie d'Art D'Inverness (Quebec). Whittome is represented by Galerie Simon Blais, Montreal.
Leatherback turtles are the largest of all sea turtles, with ancestors that date back to the Cretaceous Era. They are known to migrate widely and accomplish prolonged deep dives. A dominant element in the sculptural installation Tribute to Land by esteemed Canadian artist, Irene F. Whittome, this life-size bronze replica of a magnificent leatherback is fixed in motion: mouth ajar, ridges down its hydrodynamic body, powerful front flippers outstretched and flexible lower flippers undulating. The giant sea turtle captures the imagination as it appears to ascend, swimming up from the deep — or perhaps flying in a dreamscape.
Thirty years ago, Whittome envisioned Tribute to Land as a space of quietude that honours the earth and the perspective of Indigenous peoples. Indeed, she says that she continues to feel "gratitude to all Indigenous people for their spiritual relationship to our earth, then and especially now."
Property developer Trizec Corporation commissioned Whittome to create Tribute to Land just as Calgary entered an economic downturn in the early 1990s. Whittome was fully involved in the initial temporary siting inside the East Tower of Bankers Hall, but by the time the second tower was built in 2000, ownership had changed hands twice and the site plan shifted.
The current installation differs from the original design, but the spirit of the work still rings true. Whittome unites seemingly disparate elements with artistry, calling on architecture, archaeology, memory, geometry, language, metaphor and materiality to deepen the conversation.
Whittome's long career as an artist and professor of fine art at Concordia University in Montreal is distinguished by major awards for artistic excellence. She was made an Officer of the Order of Canada in 2005. She currently lives in Ogden, Quebec, where she built two studios on land that includes an abandoned granite quarry.
During a lecture at the Montreal Museum of Fine Arts, she called granite "earth's memory, in a fashion." In Tribute to Land that concept is fully explored. Whittome originally placed nine grey granite paving squares in a line, suggesting the passage of time. At the western end of the installation, one square is inlaid with bronze letters spelling the word "birthplace." This is the start of a path between two tapered granite towers, suggesting a vestigial gateway to an ancient city.
Midway, the great bronze turtle balances on a polyhedral base of polished black granite. Another square is inlaid with bronze letters spelling out "land." A cast-bronze sea turtle design embedded in twin slabs of granite has with age accrued a subtle sea-green patina. At the eastern end, a polished black granite bench is inlaid with the evocative word, "motherland." Elegantly proportioned, the bench is both resting place and minimalist sculpture.
A hidden treasure in Calgary, Tribute to Land generally goes unnoticed by thousands who drive by it daily on 9th Avenue but rewards those who enter its space.