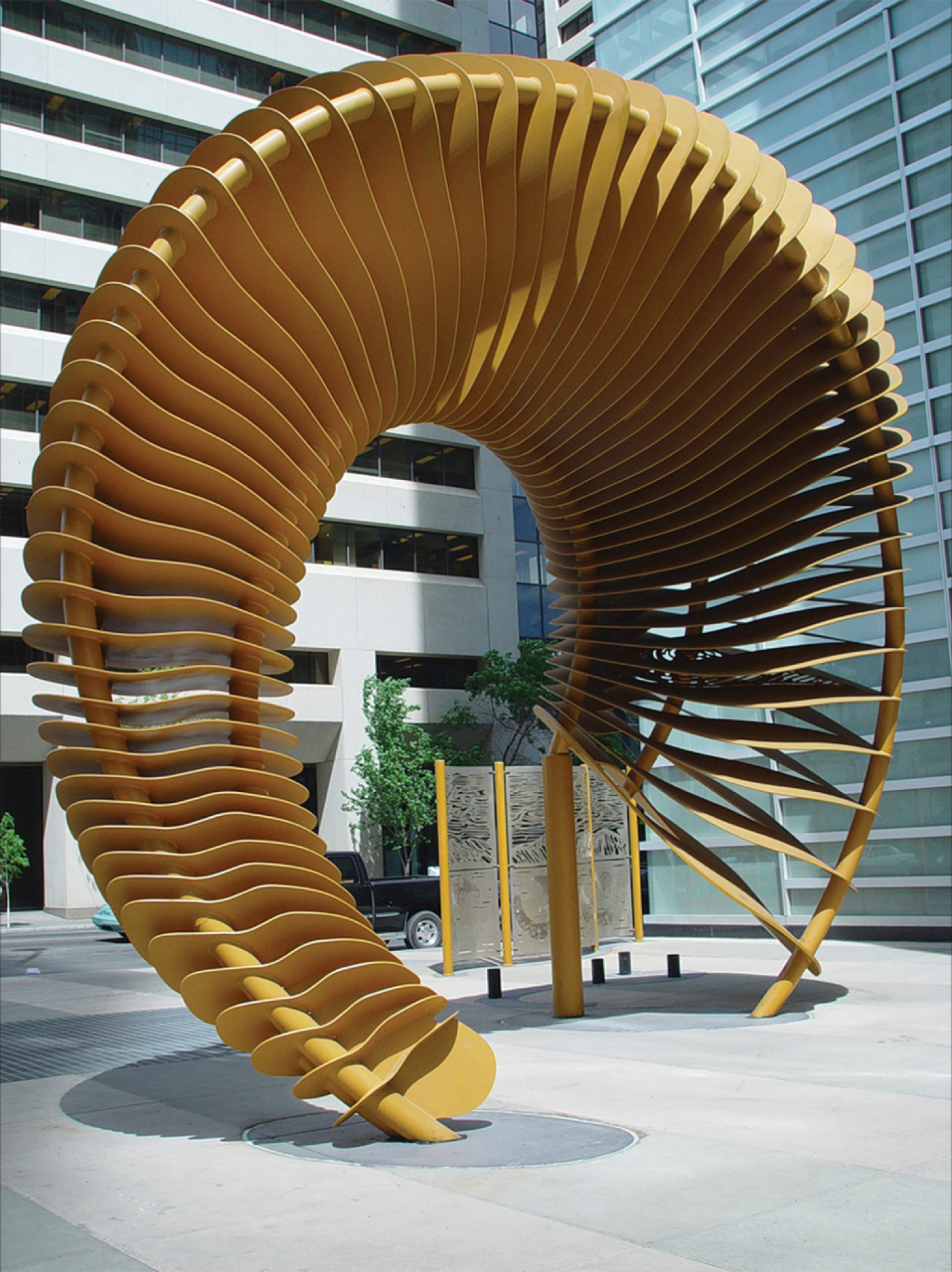 Title: Weaving Fence and Horn, 2002
Artist: John McEwen
Media: Weaving Fence: painted stainless steel; Horn: painted steel.
Location: TC Energy Tower, 450 1 St. S.W.
Notes: The work was commissioned by TransCanada (now TC Energy) and fabricated by Walters Group. John McEwen, who became a member of the Order of Canada last year, is represented by Olga Korper Gallery, Toronto.
When Ontario sculptor John McEwen came to Lethbridge in the late 1970s to exhibit at the Southern Alberta Art Gallery, he made lasting friendships. On a return visit, he found a horn of a Rocky Mountain bighorn sheep while hiking around Waterton with friends. In 2000, as he began the project for TransCanada (now TC Energy), he chose the horn as a reference to animals that live in the mountains nearby. He cast the original horn he had found in wax, sliced cross sections and separated them with washers to generate the initial model for Weaving Fence and Horn.
McEwen worked with steel-construction company Walters Group to create a work of monumental scale to suit the site. Those were the early days of computer modelling, and McEwen learned to direct the digital design process of the tapered, spiral structure that spans 30 feet, rises 24 feet and weighs 16 tons.
In a feat of elegant engineering and precise craftsmanship, three tubular spines align more than 60 gently curved steel plates of diminishing size in a subtly torqued circular arch. Size and silhouette conjure the magnificence of the bighorn sheep, Alberta's official mammal. The thick plates suggest the ridges of the keratinous, fingernail-like material that formed the sheath of the original horn. Between the plates and through the horn's core, open spaces activate the organic, rippling geometry of the structure in an intriguing counterpoint to the grid patterns of the built environment all around.
When the TransCanada Tower was completed in 2001, the building owners needed to address the rare strong wind events around the new building. The finished artwork on the site needed to withstand sudden, powerful windstorms that come from the west and the owners also hoped the sculpture would mitigate the effect of the vortexes created by high-rise architecture for pedestrians. This led McEwen to design the stainless steel "fence" as a functional windbreak, orienting the undulating screen to provide shelter at street level. Perforated with laser-cut images of mountain landscape above, horn below, the fence also weaves connections.
"Even though you can't see the mountains from the sculpture, you can feel their effect," McEwen mused recently in a phone interview. "The mountains are the source of redirecting the wind, and the origin of the animal. I want Weaving Fence and Horn to act as a reminder of the unseen in the precarious balance between culture and ecology."
Revisit this two-part sculpture to enjoy the grace and colossal presence of the horn and step into the protected zone along the fence for a moment of reflection.