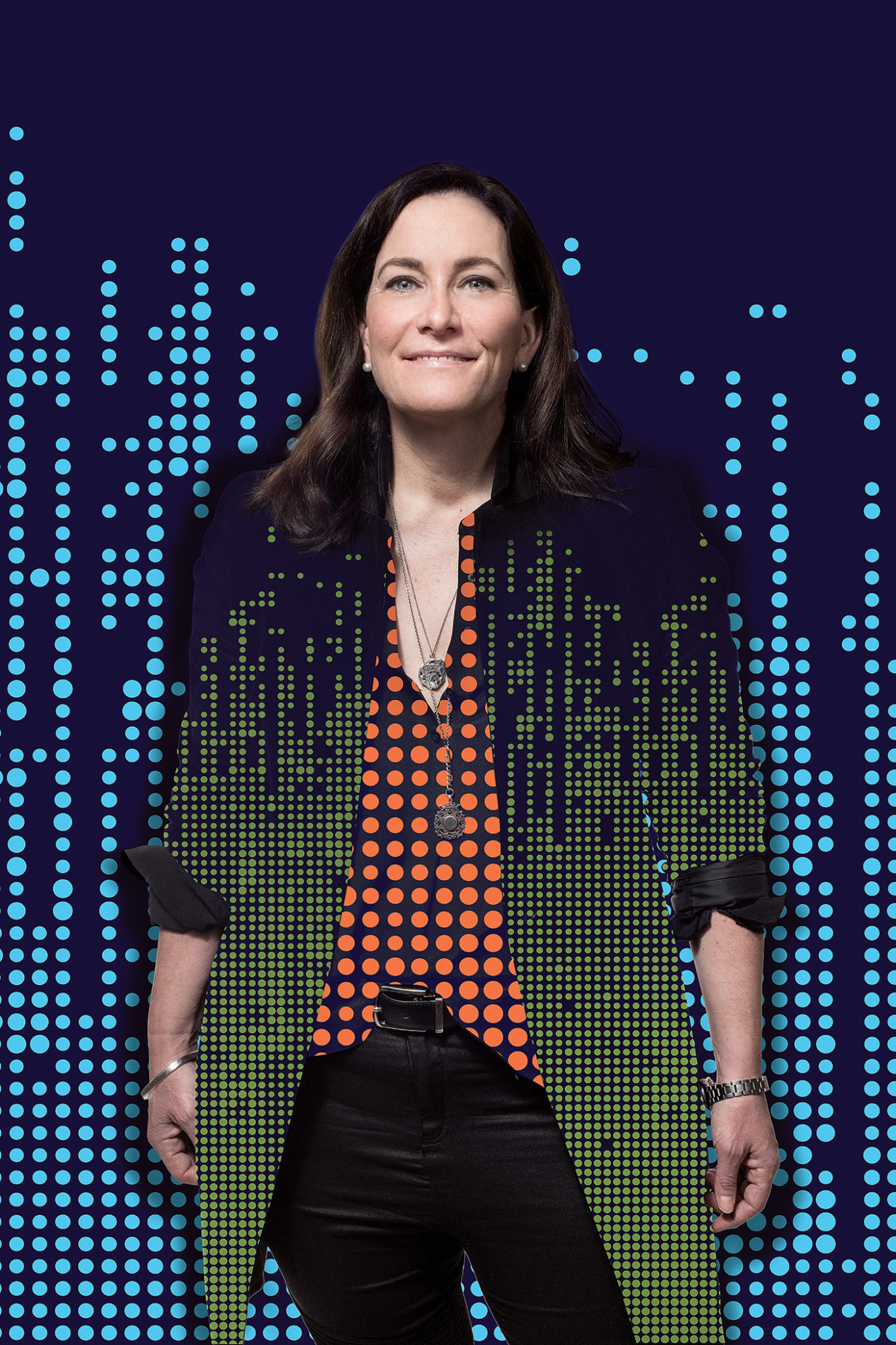 A tech year, like a dog year, is not a regular year. So when Alice Reimer starts talking about co-founding her first technology company in 1999, you have to understand that in tech years, that's like two centuries ago. Reimer was 26 when she, her husband and a third co-founder created Evoco, a software as a service (SaaS) construction-management platform for big-box retailers, allowing them to share architectural plans and drawings. Twenty-one years ago there was no Dropbox, and no widespread access to cloud servers. You needed a lot of computing power to do something like share building plans. "When we built our first product, we were literally testing our software on dial-up modems," Reimer recalls.
Aside from high-speed internet, the other thing the Evoco founders didn't have was a technology ecosystem, that is, an interconnected community of funders, innovators, mentors and other resources that startup companies can tap into to increase their chances of success and, in turn, to offer that same support to the next new startups.
Though Reimer had an undergraduate degree from the University of Calgary and was enrolled in the part-time MBA program at the time, the SaaS they were developing wasn't coming out of university research. While the business skills she learned at UCalgary helped her in developing Evoco, the university didn't have any direct supports for the nascent tech company, and didn't really know how to support the venture itself. "We really were kind of left to our own devices, in many regards, because there just wasn't a technology ecosystem that we knew how to connect with," Reimer says. "At the time, we just didn't know what we didn't know. We often joked about being too dumb to fail, and we just kept going and kept going and kept going."
Reimer doesn't think that the tech startups of today should be left to their own devices as she and her partners were with Evoco. She believes in the importance of a healthy tech ecosystem, and has worked hard over the last two decades to foster a culture of innovation and cultivate fertile ground for technology startups here in the province where she was born and raised and educated and determinedly remains. She's a techno-polymath: entrepreneur and executive, mentor and facilitator, investor and advocate. Those with the initiative to bring a tech startup to life in Calgary will likely be drawn into the ecosystem Reimer helped create, and the lucky ones will be the direct beneficiary of her time and expertise. Being a mentor and helping develop other entrepreneurs is a driving passion. "I'm just super passionate about building high-performing teams, participating in high-performing teams and innovative technology," Reimer says. "Being called a mentor is truly a gift, and I hold it as such. It's not a word or responsibility that can be taken lightly. You need to show up when you're a mentor."
Evoco came into the world just in time to experience the bursting of the dot-com bubble, but the company survived and thrived. In 2001, Evoco landed Walmart as a client, overseeing the online document management of the mega-retailer's U.S. construction program. Between 2001 and 2012, when Evoco was acquired by the Texas-based retail real-estate management firm Accruent, Reimer and her partners grew the company from their spare bedroom to an operation with 75 Calgary-based employees and a client list that, along with Walmart, included other large-scale retail chains such as The Home Depot and Lowe's, as well as the eyeglass manufacturer-retailer Luxottica.
During that period, Reimer emerged as a mentor and advisor with a passion for getting other startups off the ground. She was one of the original members of the A100, a non-profit mentorship community for the next generation of tech entrepreneurs in the province, when it launched in 2009, and chaired the organization from 2017 to 2018. She remains an active member to this day.
Though Reimer had dabbled in mentorship prior to 2009, joining the A100 was what got her into the overall innovation community, "and then it just sort of blossomed from there," she says. "The focus of the A100 is really about how do we develop the next generation of Alberta's technology entrepreneurs? So you have technology entrepreneurs who have started, who have exited, who have operated, who have found some measure of success, and how do we then help take and mentor the next generation of entrepreneurs who want to do the same thing so that we can actually create a really interesting and robust innovation ecosystem where we can grow and develop companies?"
In addition to the A100, Reimer also served as the chair of Startup Calgary and helped facilitate the acquisition of that organization by Calgary Economic Development. She considers this project as having the greatest impact of any of her initiatives so far. "Innovation and technology will be a driving force for diversification in Alberta, and we need to diversify to include the energy sector, not away from it," she says. "We need to focus on energy transition, and we have the depth of knowledge, experience and talent in Alberta to define what the future of energy will be. We have to decide to lead it."
Reimer has particular affinity for the Venture Mentoring Service of Alberta (VMSA), a mentoring program for tech startup CEOs based on a similar program out of MIT, championed and sponsored by the A100 and formerly hosted by Innovate Calgary (VMAS is now hosted by Platform Calgary). "The overall philosophy of VMSA is that in order to have a high-performing race team you need a high-performing car and driver," she says. "It's really about the CEO and how you make them a high-performing CEO."
When it comes to offering advice and guidance to startup CEOs, Reimer has a wealth of past experience to draw on. With Evoco she worked closely with her own CEO, and from December 2014 to June 2016 she was CEO of Chaordix, a crowdsourcing software company founded by a former Evoco investor and consultant, Shelley Kuipers.
Reimer also has current experience to draw on as the CEO of Fillip, a tech startup offering an app-based solution to buying gas that allows users to bypass paying at the pump. Fillip will soon add the ability to pay for convenience store items remotely as well. The app is currently in market, with a growing number of gas stations and users. "The thing I talk a lot about, particularly with young CEOs, is getting them to acknowledge how heavy the backpack is as a CEO, and that you don't actually have to carry that backpack on your own. If you surround yourself with a team, they'll help you carry that backpack," says Reimer. "Everybody wants to be a CEO until they're a CEO, and they realize how heavy the backpack really is."
That team-centric belief in lifting each other up is a key reason Reimer has become a cornerstone of the tech ecosystem in her home city. "She looks at innovation as a collective mission and purpose and movement. It's not an individual exercise," says Kuipers. "What's really unique about Alice is she gives back to the community just as much as she focuses on what she's trying to do with her own business. She's a really effective community leader."
That reputation is also what landed her back at her alma mater in 2017 as the site lead for Creative Destruction Lab (CDL)-Rockies. Creative Destruction Lab is a non-profit organization, started in 2012, with a series of locations embedded within business schools in North America and Europe helping support mostly science and medical technology seed-stage companies that are massively scalable. There are five Creative Destruction Labs in Canada, including the one Reimer manages at the Haskayne School of Business at UCalgary, and three more internationally. Participants don't have to be students to be part of CDL programming.
The key focus of CDL is to provide what Reimer deems "business judgement" mentorship to those who have marketable ideas and are willing to put in the effort to bring them to life. "Capital will follow good ideas and execution, and there is no shortage of effort — you don't have to be in Silicon Valley to have hustle, you could have hustle wherever you are in the world," Reimer says. CDL-Rockies has, in the past, had participants from across Canada, the U.S. and Europe. Travel restrictions in place on account of the COVID-19 global pandemic have resulted in CDL shifting to an online platform, while otherwise continuing to operate at full capacity.
With more than two decades of experience creating, running, advising and advocating for technology startups under her belt, Reimer is also well versed in the discrepancies in funding dollars for companies founded by women compared to companies founded by men. True to form, she wasn't about to just sit back and let this continue to be the status quo. Together with Kuipers and Judy Fairburn, another key figure in the local tech ecosystem and a Creative Destruction Lab fellow, the trio founded The51, a Canada-wide "investment platform" to encourage women with access to capital, as well as those who aspire to, to invest in female-led technology startups. The name references women representing 51 per cent of the population. That number sits in stark contrast to another: only about 10 per cent of Canadian venture-capital investment has been directed into companies founded by women since 2014.
"Things just get worse if you're a woman of colour or LGBTQ. They're staggering statistics," Kuipers says. "[Reimer, Fairburn and I] have advised companies on raising money, and we ourselves have done it. So we wanted to create a mechanism where we could access female-focused capital."
Alicia Soulier is the founder and CEO of SalonScale Technology Incorporated, a technology solution for tracking colouring product usage in salons, and is a recipient of both mentorship from Reimer and investment from The51. Soulier, who is based in Saskatoon, first met Reimer at a contest event for startup pitches. Not realizing at first that Reimer was connected to The51 and, as such, could be a potential investor, Soulier reached out for advice when she found herself floundering. "She coached me through everything," Soulier says. "She watched me go from having 20 days of money left in my bank account, to then raising $660,000 in about a month — and [The51] actually did the last cheque — so she was behind me from day one. She saw me through the hardest times and then coached me through it, and it didn't matter if it was 9 p.m. after her son was playing soccer, or the morning, she was really there for me — even before she gave me any money. I think that shows her integrity."
Reimer's ability to remain steadfast through difficult times will certainly be put to the test in this current era of economic uncertainty from the COVID-19 pandemic. Though Reimer has weathered the dot-com bubble bursting in the early 2000s, and recessions in 2008 and 2015, what's happening now is clearly without precedent. Her advice right now is, first and foremost, to conserve cash and focus on solving a "real problem" as challenging times can be an opportunity to really understand how the solution you are creating is something that people truly need and value. "Build a support system around you — peer CEOs, mentors, advisors — because these are the really tough times and they help to define and shape (and sharpen) your skills," she says. "Most importantly, if you do have to make tough decisions, treat everyone with respect and compassion, be grateful for their contribution and be there with them."
A solution-focused approach may seem out of step with the tech world's current fixation on "disruption." Make no mistake, Reimer is as competitive and ambitious as they come ("she is ambitious as hell," Kuipers says). For Reimer, that ambition translates to elevating the tech sector as a whole rather than pushing others down to reach the top. "I don't really love the word 'disruption' because I think it creates the wrong focus," Reimer says. "We should be looking at problems and working to solve those problems rather than focusing on trying to disrupt an incumbent or an old or complacent industry. If we focus on the problem and build business based on good fundamentals, we'll create solutions and hopefully good businesses."
The future might be uncertain, but the advice is sound. "Her advice is worth more than you would ever imagine," Soulier says. "And when she chooses to be in your corner and back you, amazing things can happen."