If pancake art to you means something that resembles Mickey Mouse, then you haven't seen the artistry at this popular all-day breakfast place in Marda Loop, which was devasted by fire in 2013 but re-opened in Sept. 2014. Gorillas, Darth Vaders … creativity knows no bounds when it comes to Belmont's hotcakes.
2008 33 Ave. S.W., 403-242-6782, belmontdiner.ca, @belmontdiner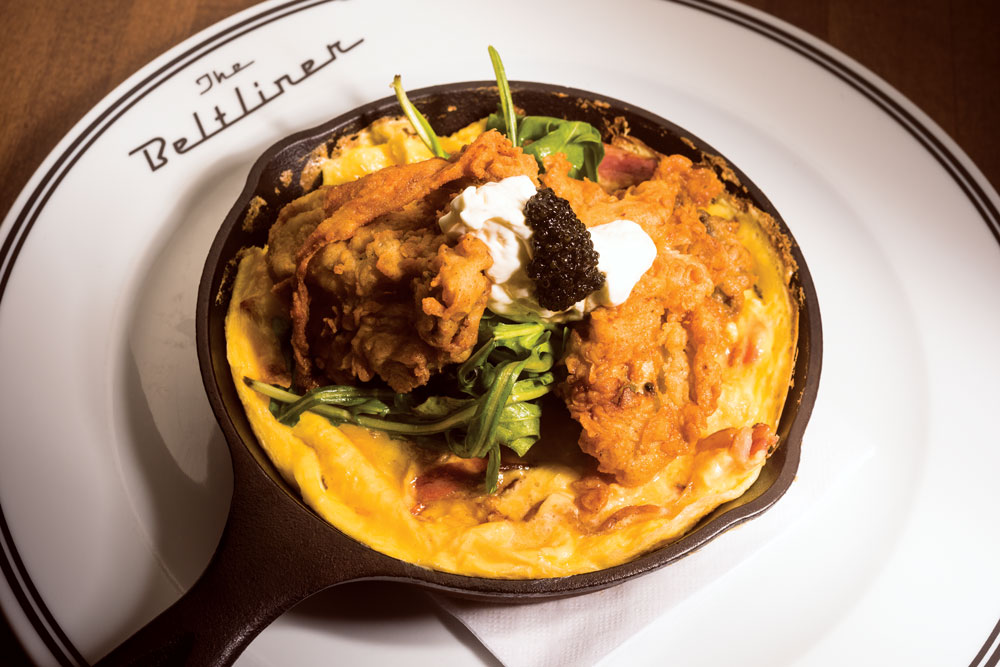 Hangtown Fry at The Beltliner.
The well-designed Beltliner has a stand-alone coffee bar as well as the diner, so if you don't have time to sit down to enjoy some food, you can order a latte, grab a pastry and go. Or dine in and enjoy big tables and delightfully decadent dishes in this modern diner-style setting with one of the most creative menus in the city and where every dish on the kids' menu is $5.
243 12 Ave. S.W., 587-955-1555, thebeltliner.com, @thebeltliner  
The wait can be a real mother clucker, but it's worth it for the farm fresh eggs with their rich, yellowish-orange yolks and the restaurant's commitment to supporting local suppliers. And even though you have to wait at Blue Star (or at sister restaurant Dairy Lane Cafe in West Hillhurst), at least you know the staff happily pouring your morning coffee while you do.
809 1 Ave. N.E., 403-261-9998, bluestardiner.ca, @bluestar_yyc 
Getting your eggs and bacon with a side of lions, tigers and bears (and maybe some penguins, too) makes this Safari Sunday morning buffet brunch an extra fun one, especially for kids. And if that's not enough, there's a chocolate fountain, too!
1300 Zoo Rd. N.E., 403-232-9300, calgaryzoo.com, @calgaryzoo  
Cora is ultra friendly, in everything from the fanciful platings to the way it welcomes families and people with gluten intolerance. The large menu offers an array of fruit-forward healthy choices, breakfast poutine and a brunch burger especially for hungry teens.
255 5 Ave. S.W., 403-266-6583, and three other Calgary locations; chezcora.com/en
Monki is known for long wait times, but there is a silver lining. Staff will take your number and call you when your table is just about ready, so you don't just have to stand staring and salivating at other peoples' food – food like eggs Benedict with chorizo, caramelized onions and goat cheese.
1301 10 Ave. S.W., 587-352-7131, @monkibistro
No other brunch spot in the city is as devoted to using fresh, local, sustainable ingredients to make your morning meal as River Caf. Aside from its hyper-local approach to brunch cuisine, you can't beat its rustically elegant patio on a sunny weekend morning.
25 Prince's Island Park, 403-261-7670, river-cafe.com, @rivercafeyyc    
Brunch buffets can get a pretty bad rap, but everything about the weekend buffet inside Hotel Arts shatters that stereotype. Colourful Le Creuset mini-cocottes line the bar, filled with all sorts of sweet and savoury dishes like poached eggs and grits or pineapple upside-down pancakes.
119 12 Ave. S.W., 403-206-9585, yellowdoorbistro.ca, @yellowdooryyc
Sure, you can find a basic breakfast sandwich at most coffee shops in town, but being owned by the Teatro Restaurant Group means that Vendome brings its A game in the food department. Everything from the scones to the eggs Benedict are just as well-made as you'd find in a proper sit-down restaurant, but in a quicker and more casual setting.
940 2 Ave. N.W., 403-453-1140, vendomecafe.ca, @vendomecafe
Totally different from its lively night-time persona, this beer hall becomes a calm and comfortable place for weekend brunch. The large space is great for groups (you can make reservations), kids are welcome, and having a beer for brekkie is totally appropriate.
2437 4 St. S.W., 403-245-2345, wurst.ca, @wurstcalgary