Gus Pieters moved to Calgary from the Netherlands in 1954. Eight years later, he was the owner of a drive-in off the Trans Canada. Nine years after that, he could proudly say he sold some of the greatest hamburgers in the country. (We have more on that story — just keep reading.)
Pieters was known by his staff and by members of the community as friendly and vivacious and incredibly charitable. The original owner passed away in 2008, but the restaurant's well-loved burgers, secret sauce and friendly people are still around. That's something Stephen Hayden, the man who now owns Peters' Drive-In with his wife Joanne Rowe, makes sure of.
Today, you could say that Peters' Drive-In is a Calgary fast food icon. It's become such a local icon that there are requests multiple times a week to use the restaurant as a filming location. Actually, if you watch closely, you might notice it in Young Drunk Punk. Peters' Drive-In is a must-stop location for road trippers heading east. And for shift workers finishing up work at 9 a.m. who really need a burger before heading home. And, really, for just anyone who wants a thick shake and burger with a distinctive sauce.
We spoke with Hayden to hear some stories of Peters' Drive-In from the decades it's been open.
Peters' Drive-In, 219 16 Ave. N.E., 403-277-2747, petersdrivein.com
---
The story of the ice cream parlour
Pieters worked as a pastry chef at the Fairmont Palliser Hotel and as an oil camp cook before he owned Peters' Drive-In. He wanted to sell the best hamburgers and milkshakes in Calgary, and the opportunity to live out this dream presented itself in 1962. Pieters spent all the money he had saved up — it was a grand total of $12,000 — to buy the ice cream parlour on Edmonton Trail and 16 Avenue N.E. and open the drive-in. (This was across the road from the current location. Now there's a Mr. Lube in the original location.)
Peters' Drive-In wasn't an immediate fast food icon. In fact, Pieters' family served only one meal a day in the 1960s because of the cost of purchasing and running the drive-in. But by 1997, the joint was selling more than 4,000 burgers each day.
The story of the "absolutely greatest hamburger in the country"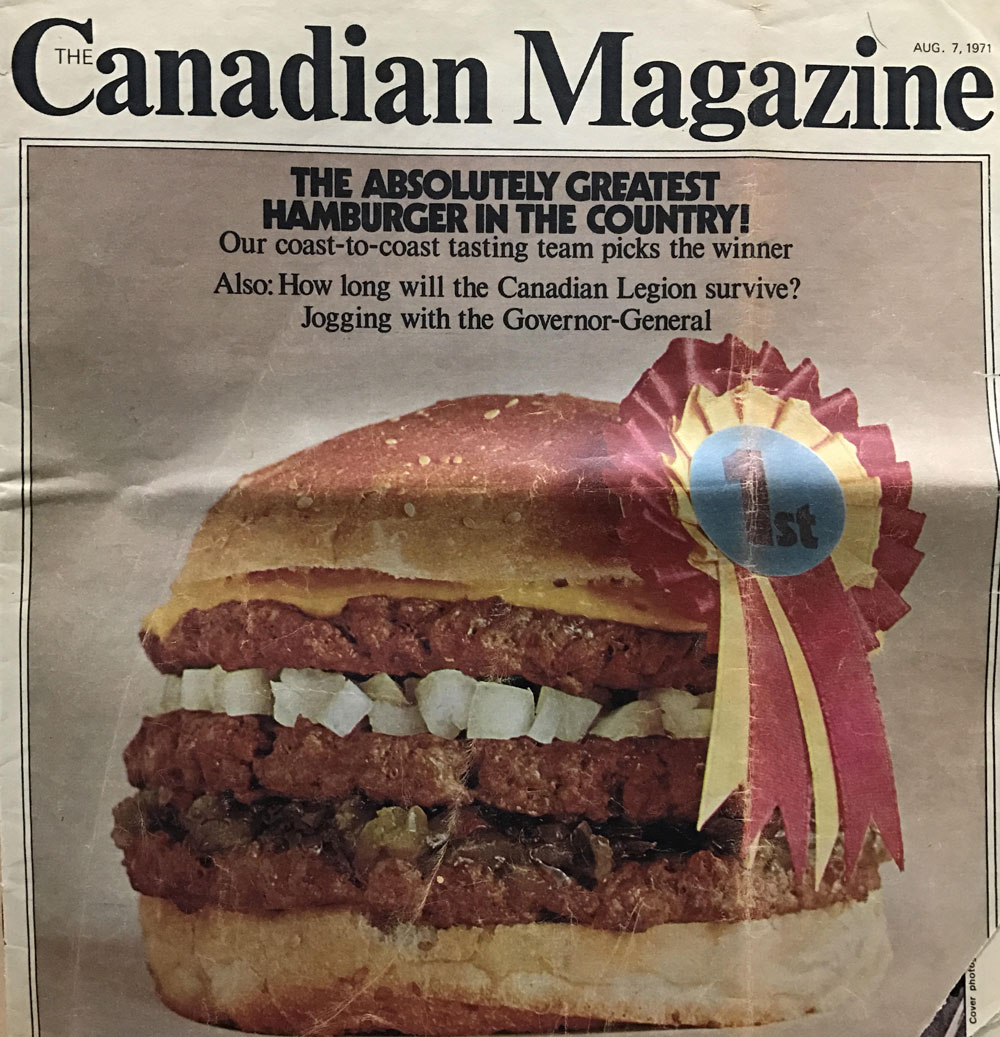 Peters' Drive-In became a nationally recognized burger joint in 1971 after it was awarded the "supreme" winner in The Canadian Magazine's coast-to-coast burger taste test. The tasting team spent two days travelling from St. John's to Victoria, sampling burgers from the 11 finalists. It was Peters' Drive-In that won the Golden Flipper trophy — the second place winner was located in Montreal and the third place winner was located in Moncton.
The awards are still coming in, too. Late last year, Peters' Drive-In was recognized by the Matador Network as one of the 21 best burgers from around the world. (That's probably because the burgers are never frozen, they are made fresh every day and they're chain grilled.)
The story of why thousands of burgers are given away each Christmas
Hayden says that Gus Pieters was a charitable guy, but not too many people knew about it because he was so humble. Pieters helped kids whenever he could. Each year, Pieters and the team would make 4,500 burgers and donate them to underprivileged children at the annual firemen's Christmas fundraiser and party. This is a tradition that Hayden has continued.
The story of the 4,525 milkshake flavours
If you've ever had a shake from Peters' Drive-In, you know you need to let it sit a little while before you're able to get any of it up through the straw. They're one of the thickest milkshakes in town, but Stephen Hayden thinks Peters' Drive-In is also the place that offers the most milkshake flavours in the city. There are 30 flavours on the menu and customers can mix up to three flavours together. According to Hayden's math, that means the drive-in has 4,525 potential flavour combinations. His favourite is strawberry-Oreo, although the crowd favourite is chocolate.
The story of the Mother's Day banana splits
One year (or maybe two, according to Hayden), Gus Pieters wanted to do something special on Mother's Day. On that day only, banana splits were free. But Pieters wasn't expecting a huge showing of banana split-loving Calgary moms. And, he hadn't considered the fact that it takes five minutes to make a split. That's a lot of time considering Peters' Drive-In can make an entire meal every 19 seconds or so.
"It was crazy. There were even two or three police officers here, waving people through," says Hayden. It was such chaos that the free Mother's Day banana splits didn't become an annual thing.
The story of the scrubs
#yyc 4,000 burgers Firemen's kid party; thks Centennial and Weston and employees for donating time! 😊 holidays! pic.twitter.com/YmBZTm2e6f

— Peters' Drive-In (@PetersDriveIn) December 15, 2013
Peters' Drive-In employees have always had a uniform — and it turns out, they share a uniform with health professionals. Everyone working in the kitchen wears scrubs and it has been that way since the beginning. That's because the material that scrubs are made from keeps employees cool, something that is especially important when working in a busy kitchen in July.
Under Gus' management, employees could wear any colour they liked. In 2005, Hayden standardized the uniform so that the scrubs were Peters' Drive-In colours: employees could wear blue or pink scrubs. Today, they're heading toward just blue.
The story of "the ones"
Gus Pieters wasn't going to let just anyone take over his drive-in. Whoever Pieters sold the drive-in to would have to share his values when it came to high-quality ingredients and looking after his employees.
"I was picking up Peters' burgers for a United Way fundraiser event one year. I remember, I looked at Gus and said, I'm going to buy this place one day," says Hayden. Pieters and Hayden and Hayden's wife Joanne Rowe met about 10 days later to talk more about Pieters' selling of the drive-in. Gus Pieters asked the couple about their intentions with the restaurant, whether they would keep his employees and whether they would change the menu. Hayden didn't understand why he'd ask these questions — it seemed obvious to him that none of these things should change. And that's exactly what Pieters wanted.
"I remember as we were leaving he said, lovely young couple — you guys are the ones," says Hayden. Hayden and Rowe took ownership on October 14, 2005.
The story of keeping things old-school
When Hayden and Rowe took ownership in 2005, nothing changed. The menu stayed the same — and is still the same today. The staff who worked under Gus also worked under Hayden. In fact, the longest-serving employee has been at the restaurant for 37 years.
That being said, a few things have been updated in the last seven years. Like in February 2012, heaters were installed in the roof so people lining up in the winter would be a little cozier. (Yes — people will stand in line for a Peters' burger and shake all year round.)
The story of the special, secret sauce
There's a distinct taste to each Peters' Drive-In burger and the reason for that is because it's not topped with just the usual condiments. Each burger patty is dunked in a special sauce after coming off the chain grill. According to Hayden, Gus Pieters created this sauce himself in the '60s, and all these years later, the sauce is still a secret.
The recipe wasn't even written down until recently. A little while after Hayden and his wife took ownership of Peters' Drive-In, customers started complaining about the burgers. "We got people saying the sauce was different, but we had the same staff making the sauce as Gus had," says Hayden. "We didn't think anything was wrong!"
It turns out, the lady who made the special signature sauce knew that the recipe called for one container of a certain ingredient. She didn't know how much, just that it was one container. When the supplier changed the packaging from an 8-litre container to an 11-litre container, she continued to pour in a full container.
"The customers knew better than us," laughs Hayden. He's since written down the recipe, just in case.
The story of the free meals after the 2013 flood
Stephen Hayden wanted to do something to help out after the 2013 flood. As well as using his Jeep to help pull out people's vehicles, he made trips between Peters' Drive-In and different flooded neighbourhoods to deliver hamburgers. "We probably did three or four runs to the flood zone, taking 200 or 300 burgers each time," says Hayden. But he quickly realized this wasn't the most efficient way to feed people.
"I phoned Gerry Forbes at CJAY 92 asking if he could announce that the next day, we'd be giving out free food to everyone doing flood work. We knew who to give food to because if you're doing that work, you get really dirty! So, if you were in "uniform" or muddy, you'd get free food," says Hayden. "The next day, we handed out about 10,000 free meals to flood volunteers."
The story of when debit was (finally) introduced
"@LEAHinCANADA: @PetersDriveIn=Best Drive In in #alberta IMO RT "@nenshi: It's…big deal…for me. MT pic.twitter.com/G1mk95NGA4"" Lol

— Peters' Drive-In (@PetersDriveIn) March 24, 2014
If you frequently drive east on 16th Avenue N., you probably remember this cheeky announcement on Peters' backlit sign: "Debit available. Yay it's 1990." It was early 2014.
Hayden didn't begin updating Peters' Drive-In systems as soon as he took ownership in 2005. He kept running things the way they were, at least for a few years. From 1962 until 2012, employees wrote down customers' orders on a piece of paper. They had to learn the Peters' Drive-In shorthand and calculate the bill in their heads. And customers paid for their meals in cash. Hayden introduced an iPad system in 2012 — "it's just easier for the staff and it's a lot more accurate," says Hayden — and then debit was introduced in 2014 to make things easier again.
The story of the busiest Canada Day at the drive-in ever
The line-ups at Peters' Drive-In are always long on weekends, but they're nothing like the lines Hayden saw on July 2, 2013. Hayden remembers being astounded by the crowds after the Canada Day celebrations in 2013. "We close at midnight, but at 12:15 a.m., there were still four lines of customers waiting for food," says Hayden. "People had been waiting in line half an hour, so we didn't want to turn them away. We stayed open until everyone got their food and I think that speaks volumes of the great staff here," says Hayden.
The story of the employee who can peel bananas like no one else
Hayden offered to help one of his employees peel bananas. Once. It turns out, when a restaurant goes through 35,000 pounds of banana every year, peeling one banana at a time isn't efficient. "We have an employee here who can peel an entire bunch of bananas at one time," says Hayden. "It's incredible — she can peel probably 10 bananas at once!"
The story of how Peters' Drive-In took Gasoline Alley by storm
There was only one Peters' Drive-In location until May 2015, when a second location opened in Gasoline Alley in Red Deer. Unlike the location here, there is a drive-in but there is also an eat-in option.
"We opened on May 25, 2015," says Hayden. "And we had to close it on May 26." There was an enormous crowd wanting burgers and shakes and not enough employees to handle the hungry customers. "There were police officers here too — the line for the drive-in went around the corner and back to the lights by the highway," says Hayden. "The final woman we served said she waited in line for three hours."
The location is operating smoothly now though, so be sure to made a stop the next time you're driving up to Edmonton.
Editor's note: A version of this story originally stated that Gerry Forbes was with CJSW. This has been updated to reflect that he is actually with CJAY 92.