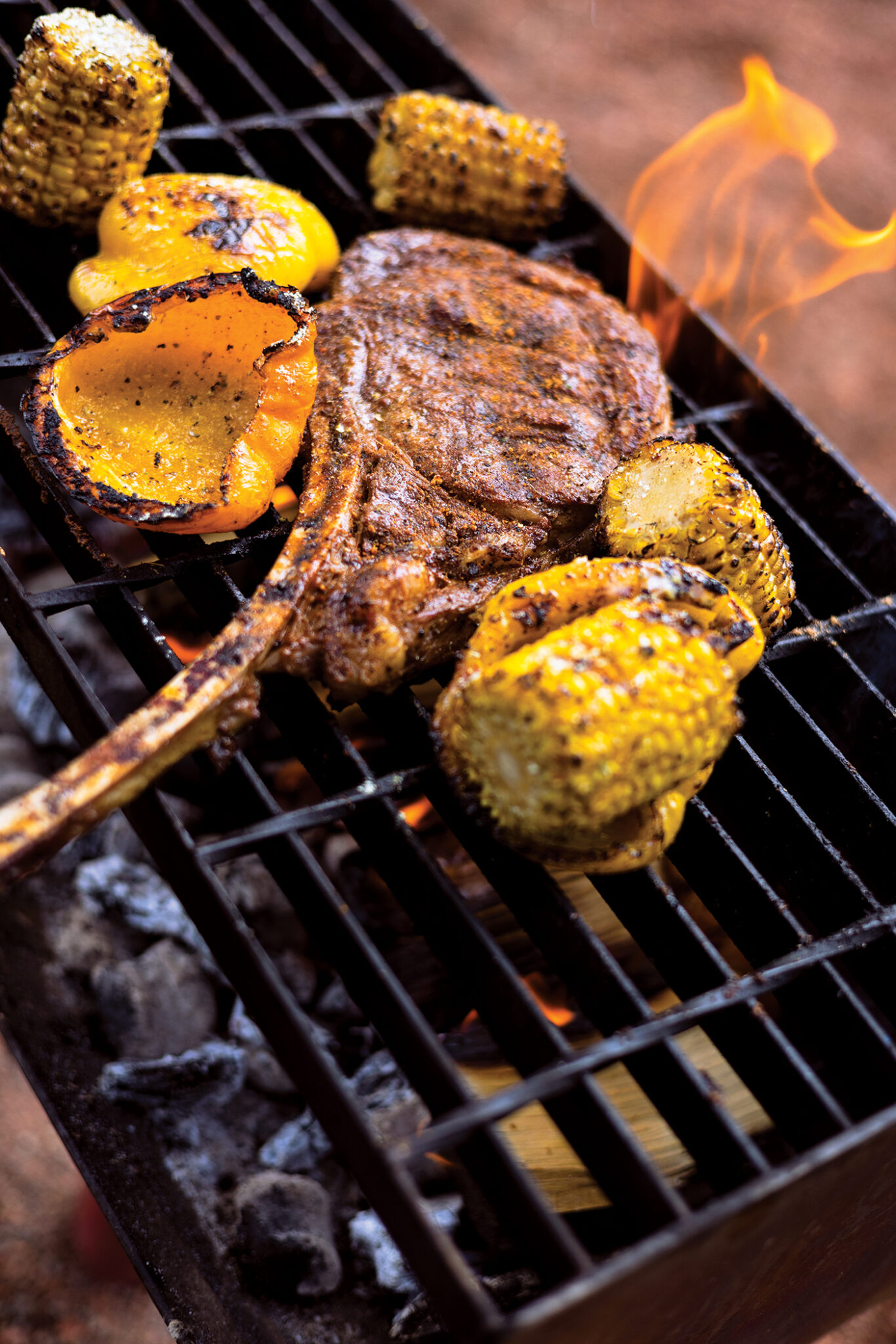 Most of us have a memory of a family cookout: folks gathered around the barbecue on a summer day, the air filled with the smell of grilled hot dogs and hamburgers. Even those who didn't grow up with these experiences can likely recall scenes from TV and movies featuring an apron-wearing, tong-clutching dad lording over a charcoal grill.
True, this is a distinctly North American trope, but cooking over open flames is something cultures around the world have been doing since the dawn of humankind — most anthropologists agree that gathering around fires and cooking is one of the factors that led to the start of modern society.
Nowadays, grilling has become more technologically advanced, with WiFi-enabled automatic grills and thermometers to control the temperature, and more convenient, with small, portable grills on easy-to-pack stands. So, "ketchup" with the times and relish the good weather, because summer won't be here forever, and that means you must(ard) get out there and grill while the grillin's good.
Backyard Grilling
Andrew Plaza specializes in Southern-style barbecue with his competition outfit and catering company, Double Aces Backyard BBQ, but he also enjoys cooking in his backyard on his multiple grills — propane and charcoal — and smokers.
"I'm the stereotypical dad; I'm always clicking [the tongs]," Plaza says. It's a habit that his young son has picked up. "We got him a little plastic set so he could emulate me cooking," Plaza says. It seems that barbecue mastery runs in the family: "My oldest now does his own barbecue competitions," he says (and his youngest son has started competing, too).
Whether you've got a sprawling backyard or a pint-sized apartment balcony, there are grill setups for every price point. If you're limited in the amount of space you have, consider a portable grill; if you're limited in the amount of time you have, a gas-fired grill is likely your best bet. Charcoal grills require more work to get started, but they produce a superior, more authentic barbecue flavour, Plaza says.
Charcoal grills are also more labour-intensive to clean. Even so, charcoal is experiencing a resurgence with cleaner-burning, higher-quality briquettes that produce more heat, and more technology to help automate the process.
Tim Lloyd, a grilling enthusiast and salesperson at Barbecues Galore, recommends Wi-Fi and Bluetooth-connected fans (such as the ThermoWorks Billows or FireBoard Drive) that attach to your charcoal grill and blow only when needed to keep the coals at the right temperature. He also suggests using an accurate digital thermometer (like the ThermoWorks ThermaPen or Fireboard Spark) to make sure you take off your grub at the perfect time.
As for what to throw on the grill, you don't have to stick to standards like hamburgers and hot dogs. Plaza enjoys grilling pizzas because everyone can customize them to their liking. The most important thing, he says, is to have fun and "don't be afraid to screw up."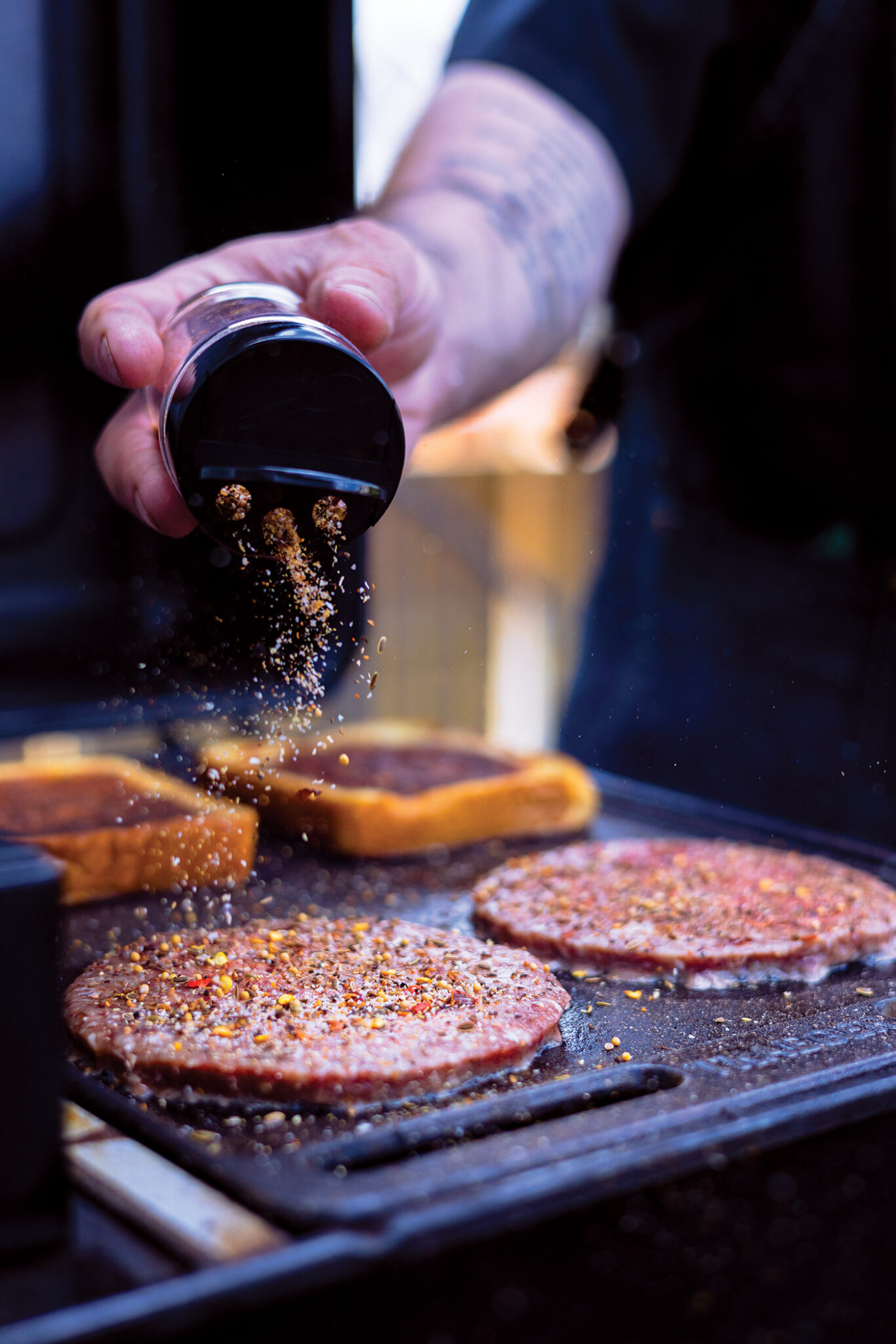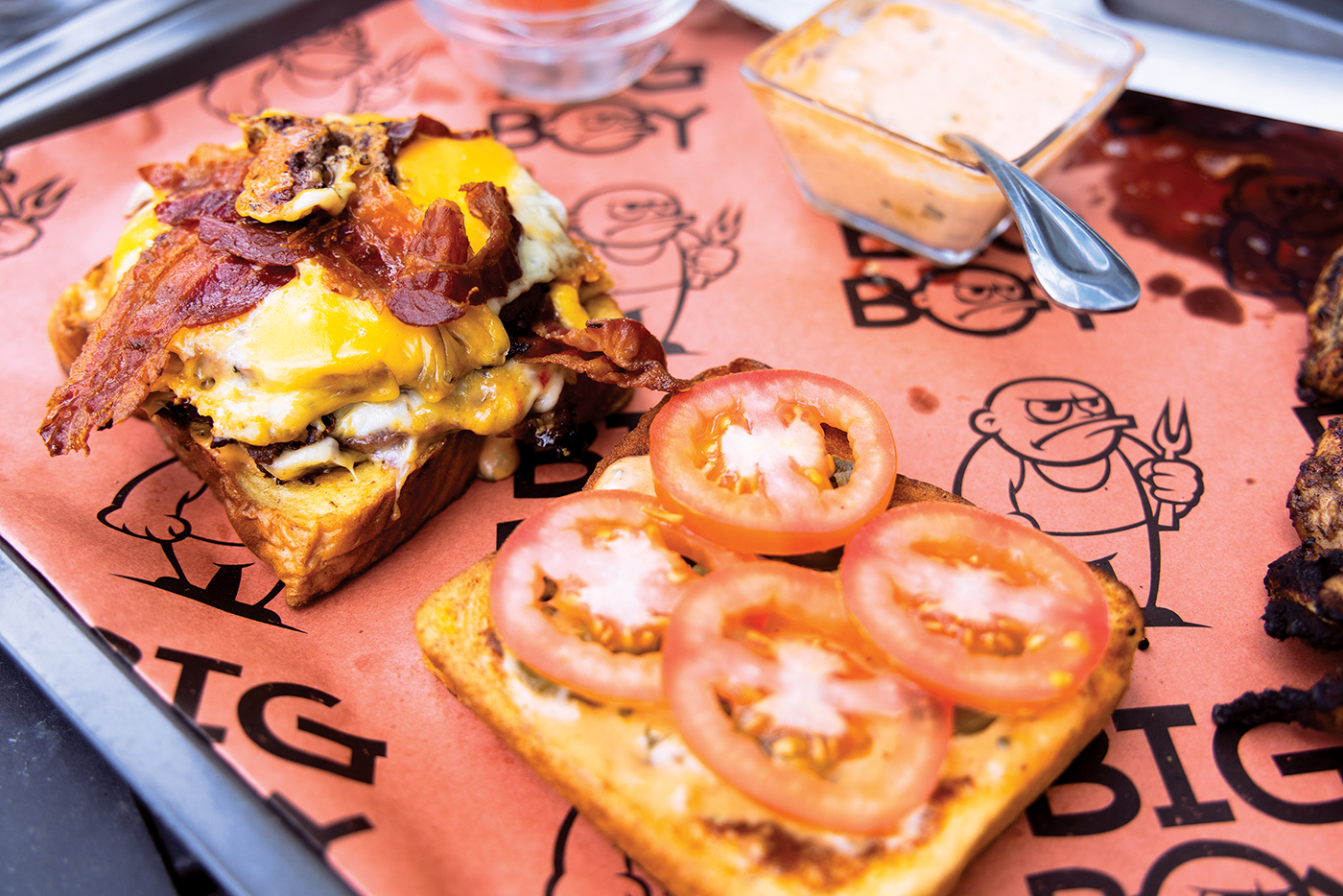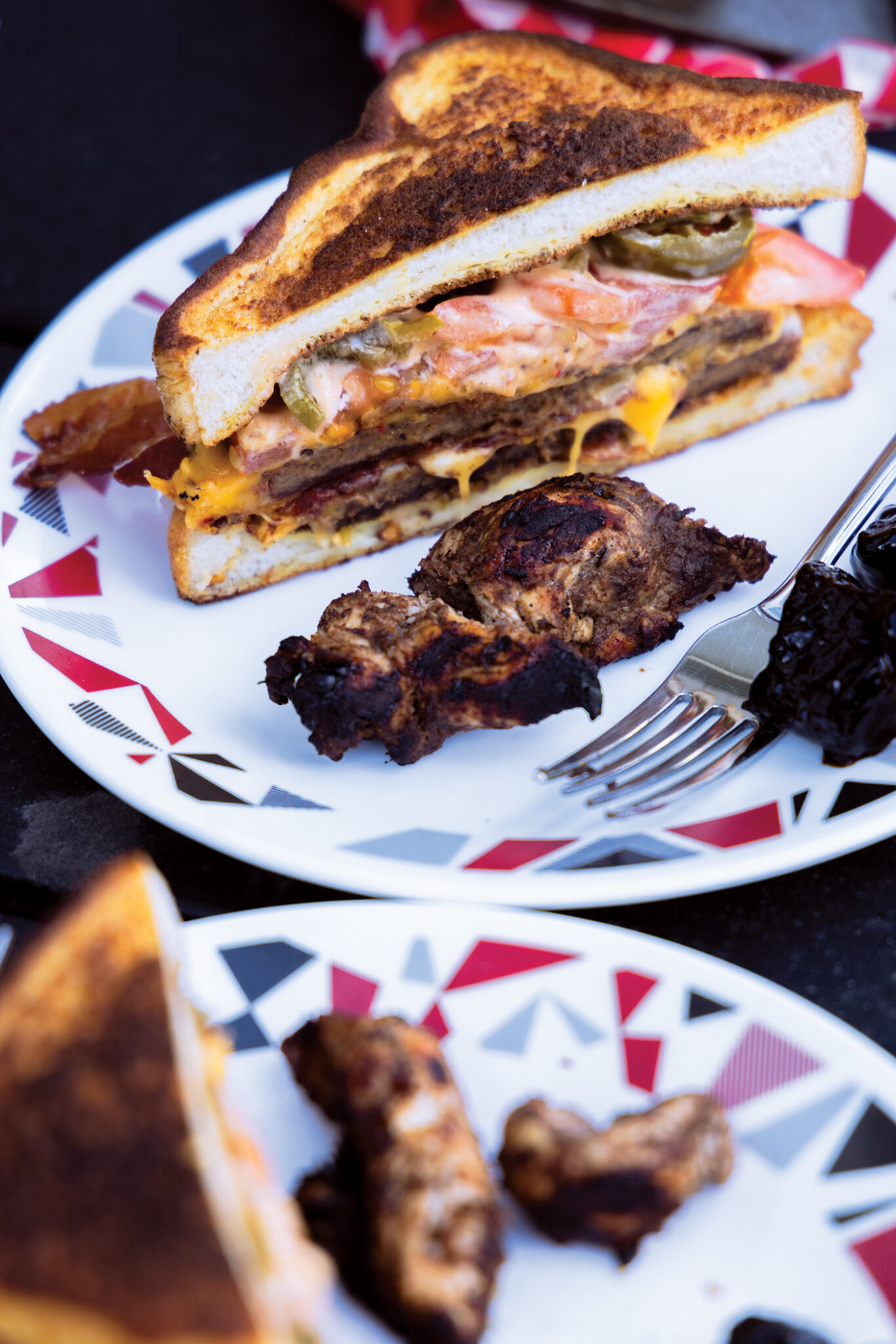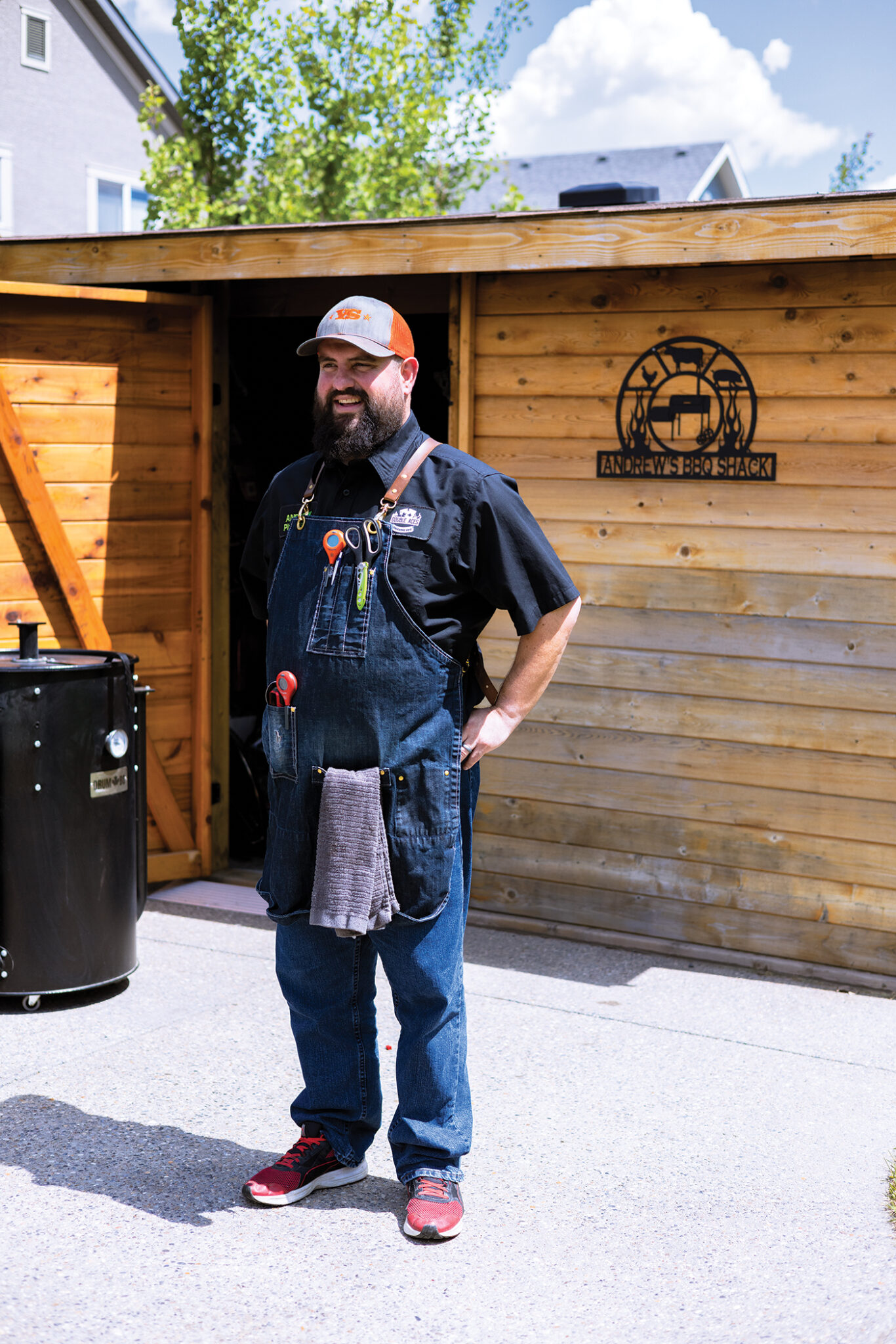 Grilling in the Great Outdoors
Whether you're in a campground or a city park, cooking over an open fire is a primal activity. Something about having control over the entire process — starting from kindling and firewood and ending with a meal — connects you to your food in a way that no other cooking style can.
Chef Jenny Burthwright, owner of Jane Bond BBQ and a recent competitor on the Food Network show Fire Masters, says it's "in our DNA to cook over a fire."
When she's not smoking meats at her busy barbecue restaurant, Burthwright loves to cook over an open fire at home, on the rare occasion she has time to entertain guests. To cook over a fire like a pro (we're talking about tackling something more advanced than a hot dog on a stick), having as much control as possible over your heat is key. A laser thermometer will help with this, although you should also rely on your own intuition and manipulate your fire accordingly. Many firepits in Calgary parks have a built-in grill, which helps to create different heating zones. A tripod-style grill that can be adjusted to move your food closer to or further from the coals is a useful tool.
Coal-management is everything when cooking on a wood fire. A long-handled shovel or heat-proof gloves will allow you to move coals around and control your fire. Shovelling coals to one side creates a slow-cooking arena, says Burthwright, which is helpful for warming, resting or melting, too. "Don't be afraid to manipulate your fire to the needs of your food," she says.
One super-pro move when cooking over fire is not to use a grill at all. "When I competed on Fire Masters, I cooked a whole side of salmon directly on the coals," says Burthwright. This technique also works well for hardy vegetables like squash or pumpkin. "Due to the lack of oxygen when cooking on coals, you can develop an amazing char and flavour without burning."
Overall, Burthwright says cooking on a wood fire is about patience, trial and error, and, most of all, enjoying the company of those around you. "The first time I cooked on a fire, my friend was in charge of the beer, and I tried making a stew," she says. But, she accidentally dropped the meat on the ground and had to wash it clean from dirt and pebbles. "The stew was a little crunchy and the beer was warm," she says. "But it tasted good and we still had fun."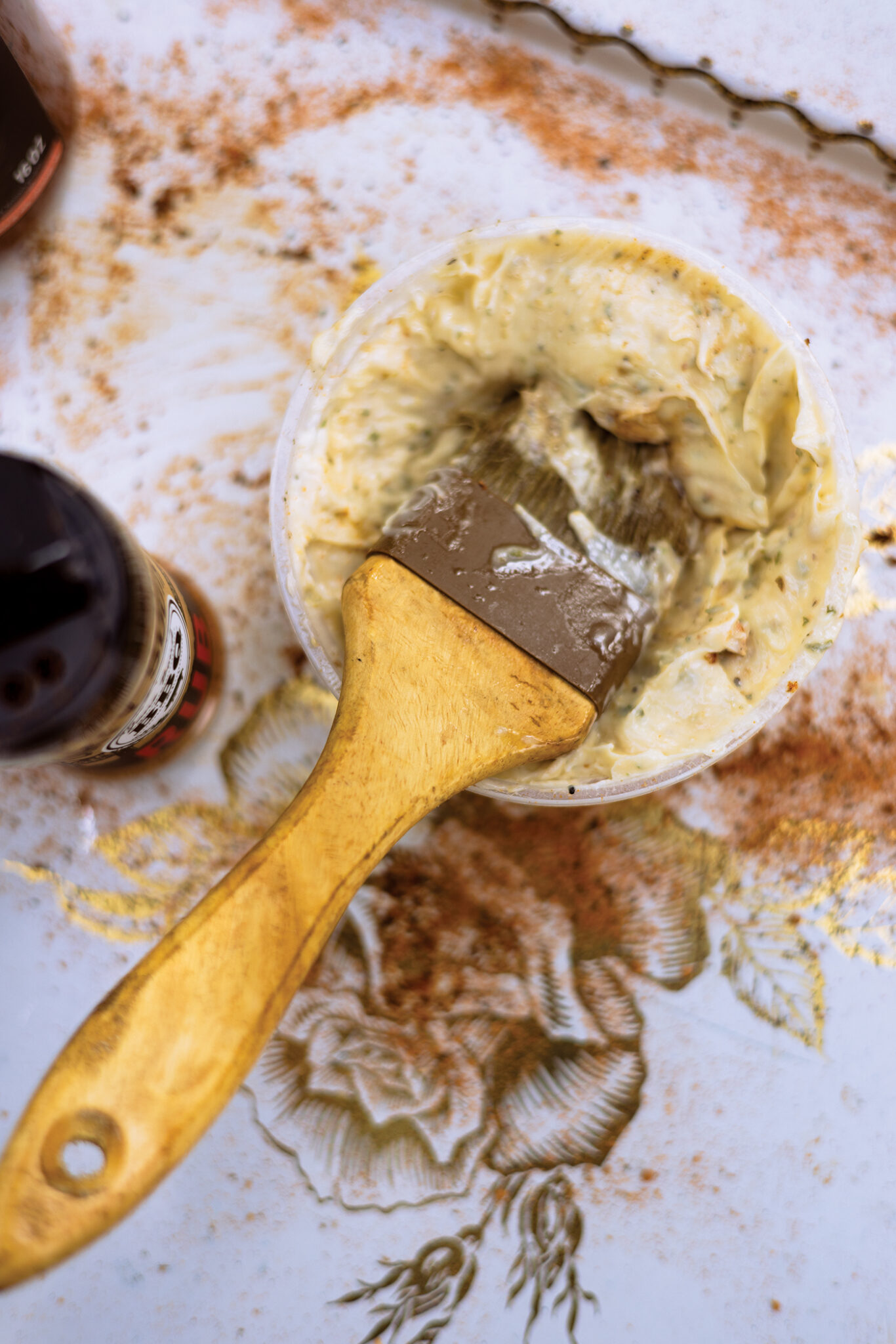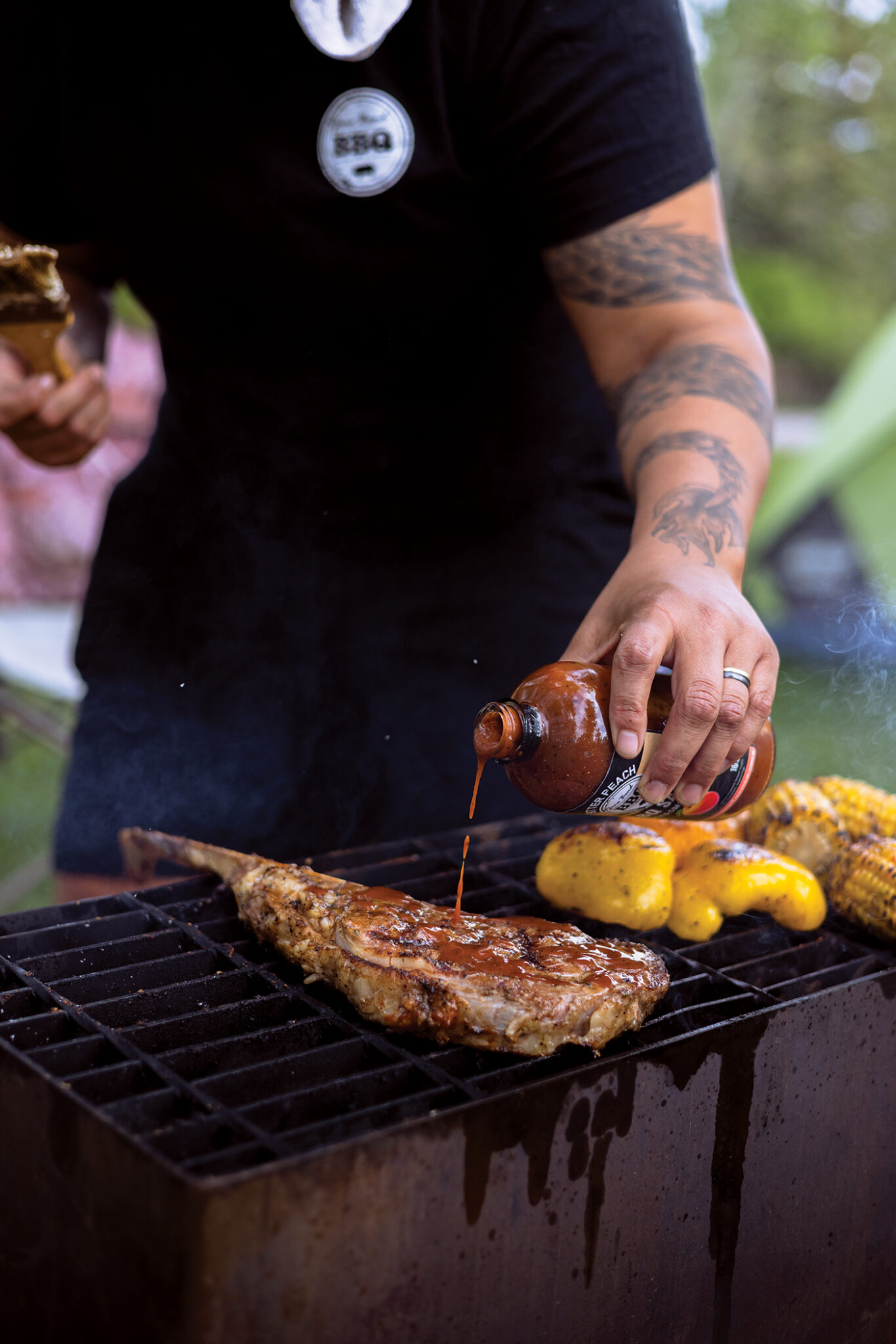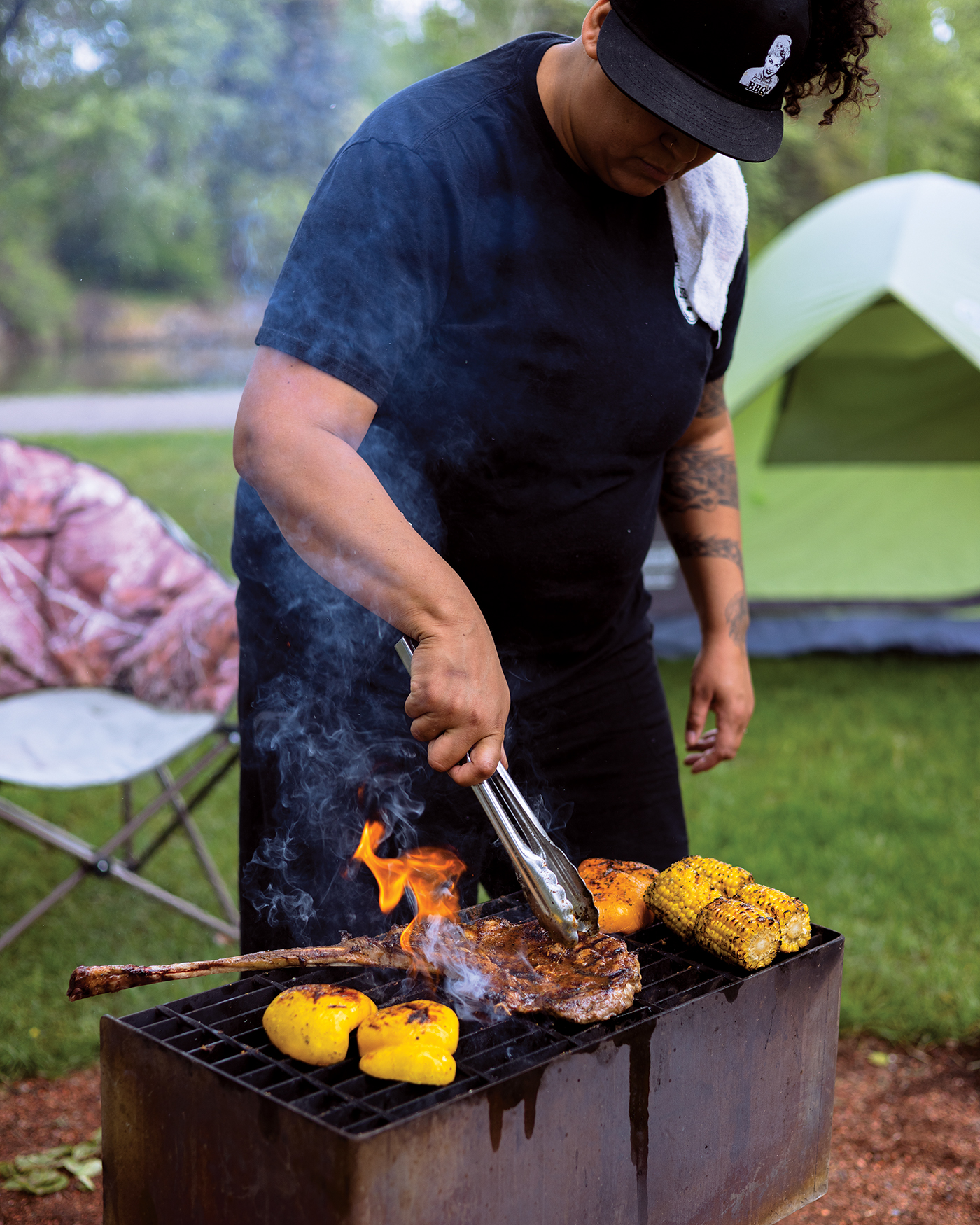 Game-Day Grilling
Tailgating is really the epitome of North American grilling culture — gathering around a portable barbecue with friends and family, celebrating your team and drinking cold beer. As a kid, football fan Brock Shepherd grew up tailgating at games in the U.S. When he moved to Calgary from southern Ontario, he saw a need to build a tailgating community for his new local CFL team, the Calgary Stampeders.
What started as a group of friends enjoying grilled food in the parking lot before cheering on the Stamps eventually turned into a full-fledged tailgating operation dubbed the "Nik Lewis Nation" after their favourite player. Though Lewis moved on from the Stamps following the 2014 season, his Nation lives on in the West parking lot at McMahon Stadium at every home game.
The Nik Lewis Nation is sponsored by Shark Club, Spolumbo's and the Calgary Stampeders. The tailgate parties are free for fans and Shepherd can be found cooking up Spolumbo's sausages, burgers and more at every home game. "We've even hired a DJ, so we have a full setup in the parking lot. It's a great atmosphere for any fan looking for a good time before the game," Shepherd says.
While he acknowledges that the tailgating scene in Calgary is nowhere near what it is in the U.S., it's a way to bring people together around delicious food and a common interest. With set-up, teardown and planning, it's a lot of work, but it's an important part of football culture, and going to a game wouldn't be the same without the atmosphere in the parking lot, he says.
Looking to get into tailgating? Ease is the name of the game, says Shepherd. Get yourself a small, portable propane grill for efficient set-up and takedown. Everyone is welcome to tailgate before a game; the only stipulations are that you must restrict yourself to one parking stall (which are first come, first served), and the sale of food is prohibited — everything should be done in the spirit of adding to the pre-game excitement. Get your tailgate on when the Stamps host the B.C. Lions on August 13, and at the annual Labour Day Classic versus the Edmonton Elks on September 5.
At the end of the day, wherever you are, grilling is all about kicking back with family and friends to enjoy good food and cold drinks. In Calgary, where summer doesn't last long, there is no time like the present to head outside and spark up the grill.