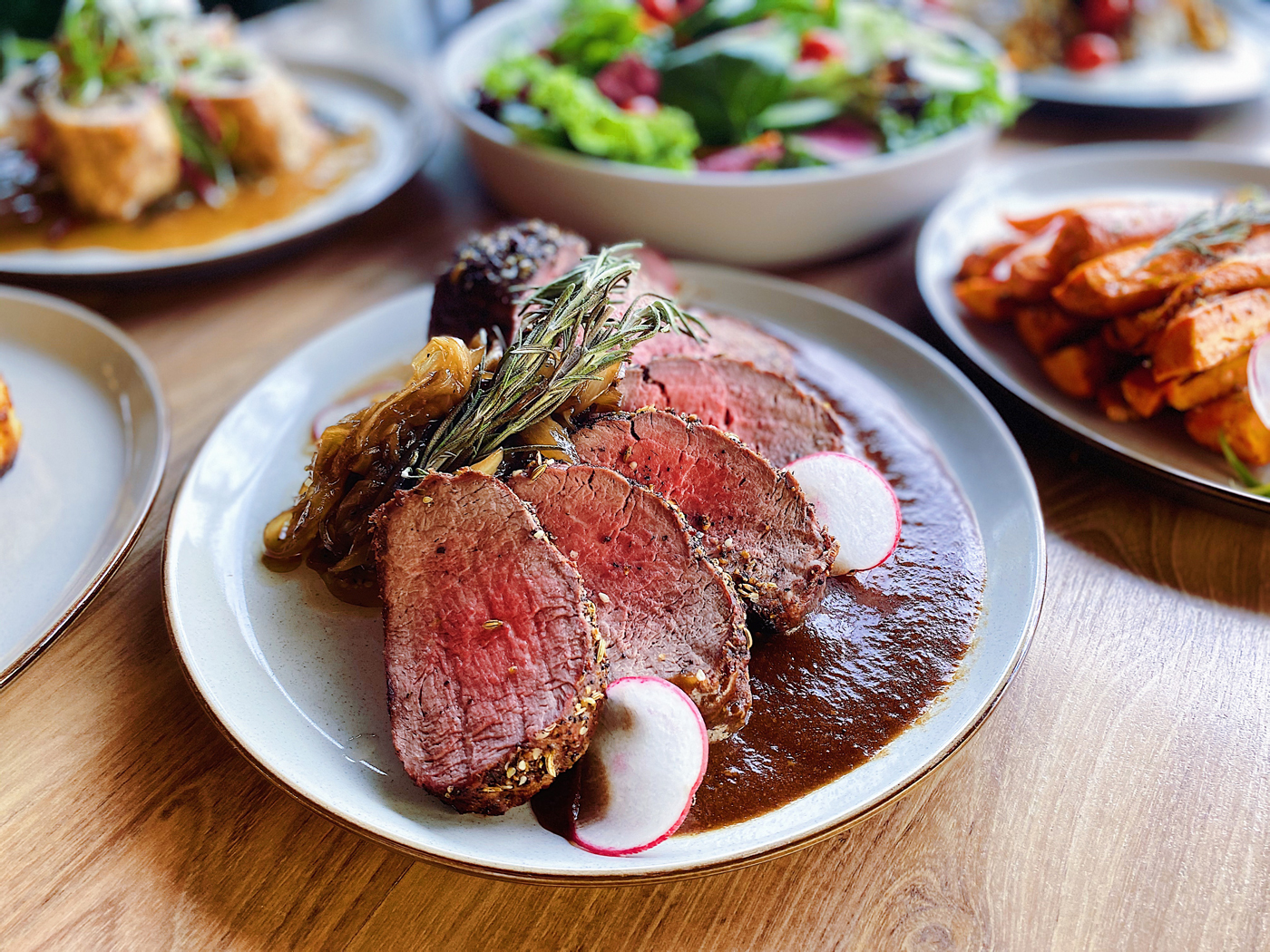 Alforno has come up with two fun brunch kits for Mother's Day this year. Choose from the avocado toast kit or the waffle kit, both of which come with additional treats like scones, a bag of coffee, macarons, bread and bacon. The kits serve two ($50) or four ($75). May 9 is the deadline for pre-orders.
222 7 St. S.W., 403-454-0308, alforno.ca
Have brunch or dinner delivered from Bow Valley Ranche Restaurant for a memorable Mother's Day weekend. Choose from mains like baked crepes, slow roasted beef Tenderloin, bison and vegetable hash, pan seared sablefish and more. These come with a wide range of accompaniments including market greens, pastries and roasted sweet baby peppers.
15979 Bow Bottom Tr. S.E., 403-476-1310, bvrrestaurant.com
Bridgette Bar has come up with a delightful box of treats to celebrate Mother's Day this year. Filled with macarons, brown butter blondie sandwiches, coffee caramel truffles and more, this $50 box is sure to please. Pre-order a box to pick-up on May 9 or 10.
739 10 Ave. S.W., bridgettebar.com
Cravings Market Restaurant is offering several menus for Mother's Day. There's a $22 waffle brunch and a $19 chicken crepes brunch, as well as dinner packages featuring steak, chicken, salmon or vegetarian options ($30.95 to $35.95). Orders are available for pickup and delivery.
7207 Fairmount Dr. S.E., 403-252-2083, cravingsmarketrestaurant.com
Treat mom to a lovely Mother's Day brunch from Deane House. The meal features leek, caper and kale quiche, wild boar sausage patties, hash browns, mixed greens, fresh fruit and Saskatoon berry and lemon squares. The brunch is available for two people ($50) or four ($95), though you can also add on additional treats like Aperol spritz and mimosa kits, sourdough bread and wine for an additional cost. You can pick it up on May 9 to enjoy on together on Sunday.
806 9 Ave. S.E., 403-264-0595, deanehouse.com
Flores & Pine gives you the option of Mother's Day brunch and dinner for pick-up. The brunch option, which serves four people for $165, features dishes like spring onion and chèvre quiche, Belgium sweet waffles, patatas bravas and pastries. The dinner option, which serves four people for $249, features glazed heirloom carrots, baby gem potatoes, Alberta beef tenderloin, triple chocolate mousse and more. Click here for more information on the restaurant's Mother's Day offerings.
254028 Bearspaw Rd. N.W., 403-241-7611, floresandpine.com
Great Events Catering is offering a family-style Mother's Day brunch that gives back to the Calgary Women's Emergency Shelter. The brunch is $38 and features a farmers' frittata, sugar waffles, strawberry rhubarb crumble and more. You can also order Mother's Day dinner featuring entrees like quiche Florentine, braised beef short ribs or vegan grilled cauliflower steak for $36 to $39.
Hotel Arts brings brunch to your home this weekend with a menu of eggs Benedict, hash browns, mini pastries and fruit salad. Plus, you can add a mimosa kit. Pre-orders should be placed by 5 p.m. on Saturday so you can pick up the meal on Sunday.
119 12 Ave. S.W., 403-266-4611, hotelarts.ca
After a brief hiatus due to the pandemic, Lulu Bar is back for Mother's Day. Pre-order the Honolulu high tea box for $50 to enjoy fried masalas with pineapple jam, volcanic salted maple fudge, cucumber baos, spam musubi and more. You can also add on a Coconut Cooler cocktail package for an extra $25. Available for curbside pick-up.
510 17 Ave. S.W., lulubar.ca
Next Door's tasty Mother's Day brunch offering includes fritatta, waffles and steak and eggs for $18.95, plus you can add a mimosa kit for $29.95. Make sure to pre-order for pick-up to get 15 per cent off on May 10.
8330 Macleod Tr. S.E., 403-255-1222,, nextdoorwinebar.ca
This weekend, enjoy a lovely brunch with mom courtesy of Our Daily Brett. The local market and cafe is serving up Deepwater Farms baby kale salad, mushroom and asparagus quiche, Montreal bagels with multiple toppings and lemon meringue tarts. Place your pick-up/delivery order before May 7 at noon.
1507 29 Ave. S.W., 403-457-0422, ourdailybrett.com
Sunterra Market has you covered this Mother's Day weekend with its prepared meal options. For $28.99 per person, you get salad, soup, a choice of three entrees and dessert. If you want an experience that's a bit more interactive, get one of Sunterra's two $74.99 brunch kits to make French toast or ham and eggs for four people together.
Multiple locations, sunterramarket.com
Toscana Italian Grill is offering the same deal and Mother's Day menu as Next Door, where you can get brunch for $18.95 and mimosa kits for $29.95. Make sure to pre-order for pick-up to get 15 per cent off on May 10.
8330 Macleod Tr., 403-258-1212, toscanagrill.ca
Vin Room's $60 Mother's Day brunch is a delightful treat for two people to enjoy. Enjoy yogurt and granola parfaits, a vegetarian or bacon frittata and mini cinnamon buns for dessert. Plus, the meal comes with coffee and mimosas. Click here for more information on the restaurant's Mother's Day offerings.
2310 4 St. S.W., 403-457-5522 and 8561 8A Ave. S.W., 587-353-8812, vinroom.com