Imagine if Willy Wonka's chocolate factory got a modern-day HGTV makeover — the result might look a little like the new, beautifully designed storefront and production facility for Calgary-based chocolatier cōchu.
Located in East Village, next to the Central Public Library, cōchu's new headquarters is a chocolate lover's dream. The front retail space has a cafe with a fountain that flows with drinking chocolate for customers to sample, as well as a frosted-glass window that provides a behind-the-scenes glimpse of the chocolate-making process.
Indeed, owner Anne Sellmer's love of all things chocolate is evident throughout cōchu's new space, designed by Sarah Ward Interiors. Above the front counter, the wavy and colourful custom-built lighting is inspired by the way chocolate molecules form when chocolate is tempered, and the geometric floor is modelled after the moulds used for cōchu's chocolate bars. Eventually, Sellmer plans to have chocolate sculptures on display here, too.
While the cōchu storefront is new, Sellmer's business is already well-established in the chocolate world. Since launching in 2017, cōchu has won numerous accolades, including gold, silver and bronze medals from the International Chocolate Awards — all of which were earned while Sellmer was working out of a commercial kitchen in her basement.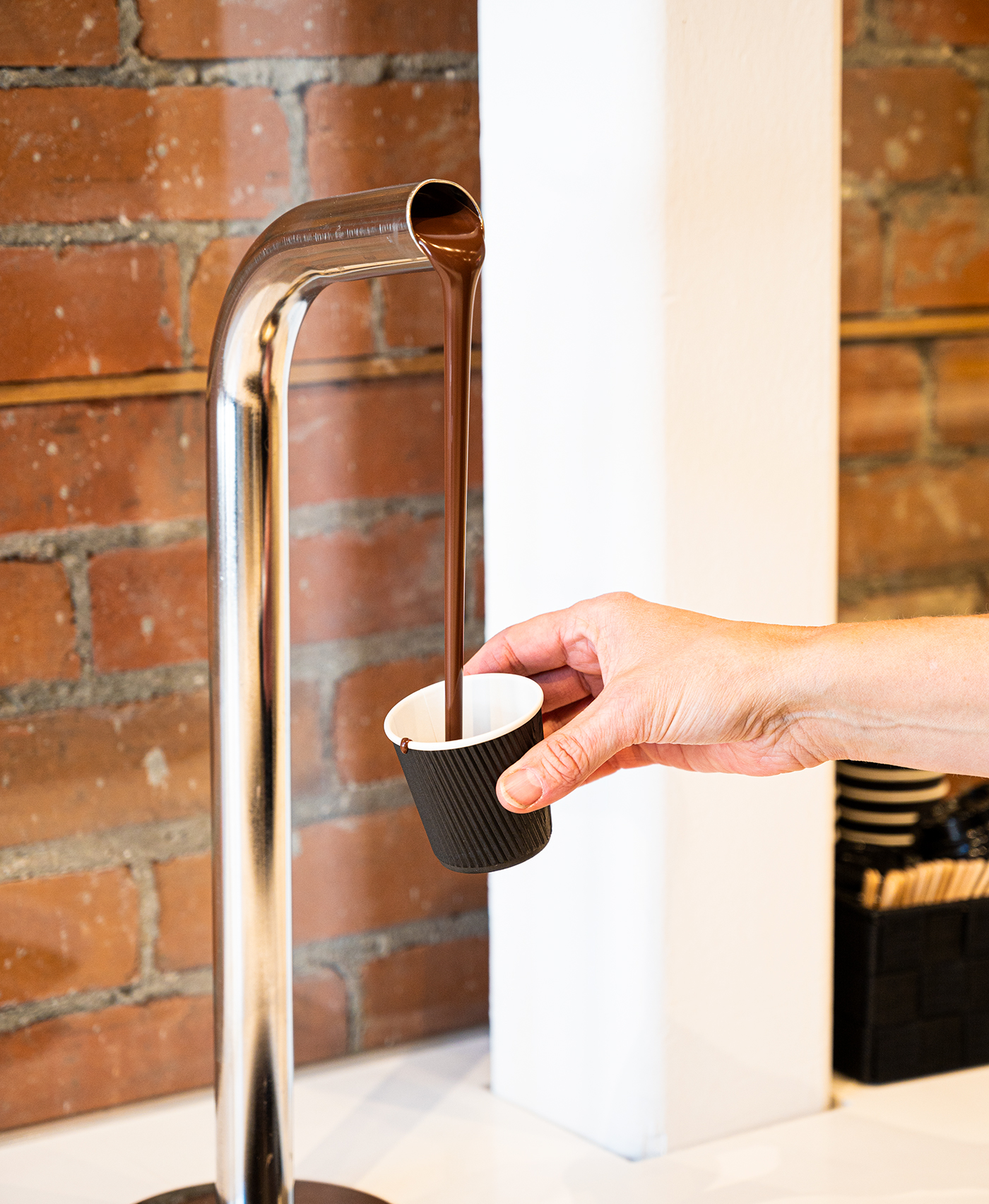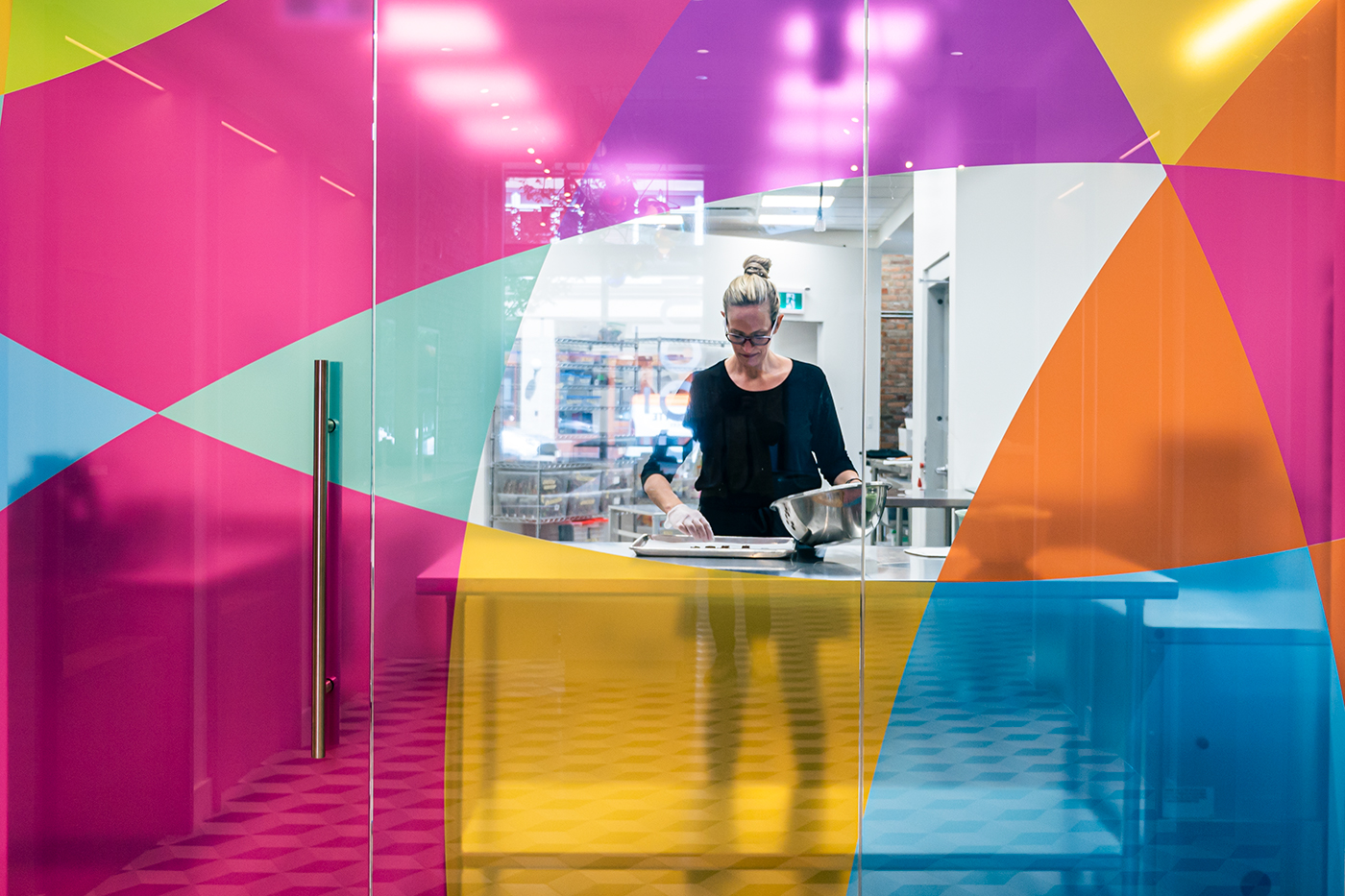 When Sellmer started cōchu (named after her children Cole, Charlie and Hugo), she was a stay-at-home mom looking for a change. "I had this realization that you could change, start fresh and do whatever you want," she says. "I thought what I wanted was something to do with food. [When I] discovered chocolate, I completely fell in love."
Sellmer's love for her trade is evident in every cōchu product she creates, including the ultra-popular handcrafted bonbons — thin, chocolate shells that surround flavourful fillings like passionfruit, tonka bean, whisky, salted caramel and more. A great deal of care and attention is put into pairing the flavours inside the bonbons with the encompassing chocolate. For example, the passionfruit bonbon uses chocolate made with beans from Madagascar, which tend to have fruitier notes.
The chocolate-makers at cōchu also work to ensure that each bonbon option has at least three layers of flavour. "We really want all of our flavours to be really distinct and stand out," says Sellmer. "When you put [a bonbon] in your mouth, it will start with the smooth and sweet chocolate, then maybe you will get something fruity, and maybe finish it off with salty."
The same rules apply to cōchu's chocolate bars and other confections, which include the delectable 'racha bark — a spicy, salty treat consisting of sriracha, sponge toffee and pretzels or peanuts covered in milk or dark chocolate (this is one of Sellmer's favourites) — as well as a caramelized white chocolate bar with cocoa nibs, chocolate-covered sponge toffee and candied orange peels, to name a few.
To experience everything cōchu has to offer, stop by the new shop, and when you do, don't be shy about drinking a cup of chocolate from that fountain.
429 8 Ave. S.E., 825-431-2402, cochu.ca