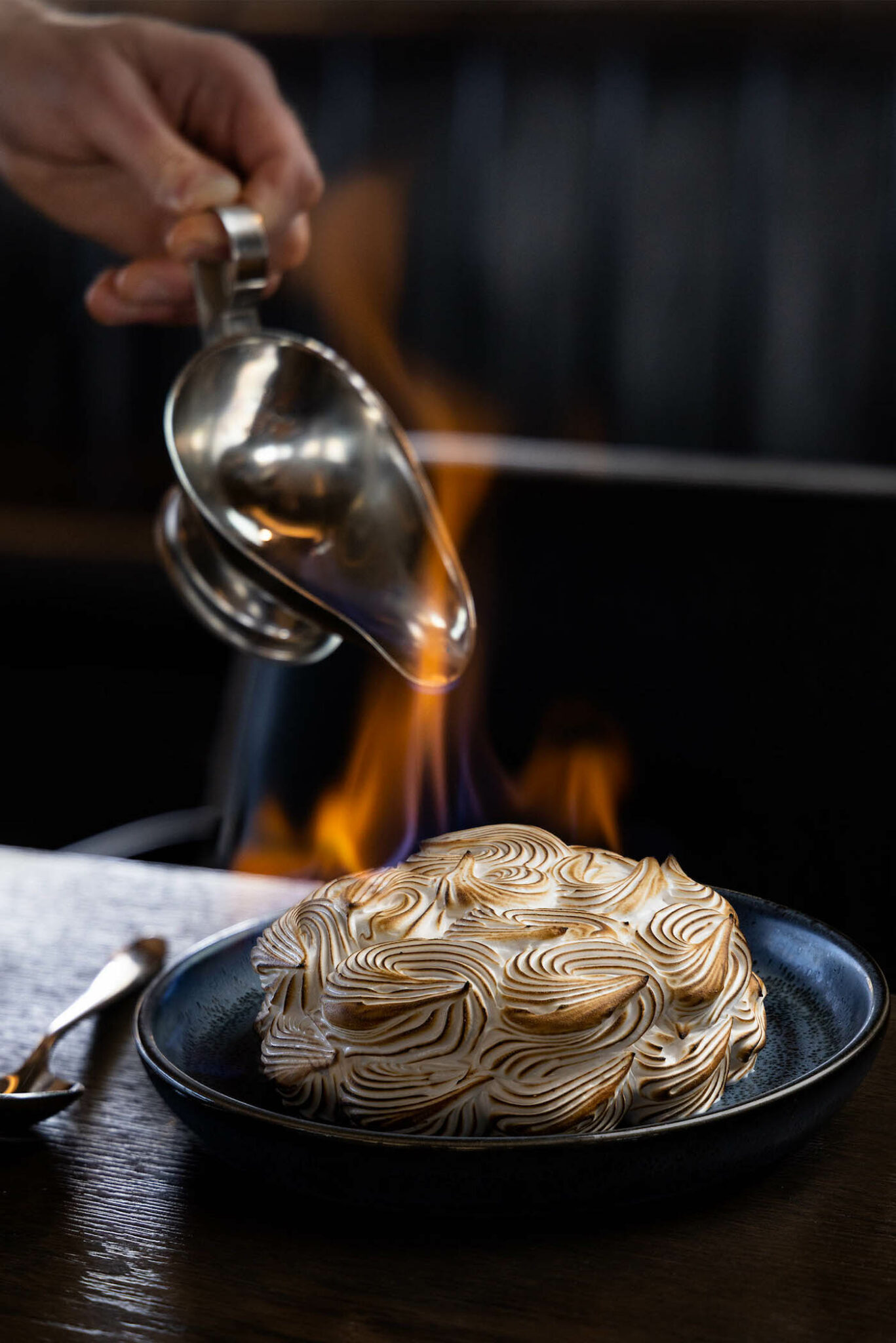 When they're done right, nothing beats the beauty and luxury of a restaurant-quality dessert. Unfortunately, the "done right" part can be tricky business. Many otherwise-stellar restaurants view the final course of a dinner as an afterthought, often relying on unimaginative or overly stylized desserts that don't deliver when it comes to flavour. The key to a great restaurant dessert is a combination of emotional resonance (often evoking childhood memories or nostalgia) and sheer deliciousness. But, putting out a phenomenal dessert that is cohesive with a restaurant's overall vision is no easy task. These Calgary pastry chefs have unlocked the secrets to creating the perfect restaurant dessert experience, right down to that last sweet bite.
Jordan Hartl
Major Tom and Concorde Entertainment Group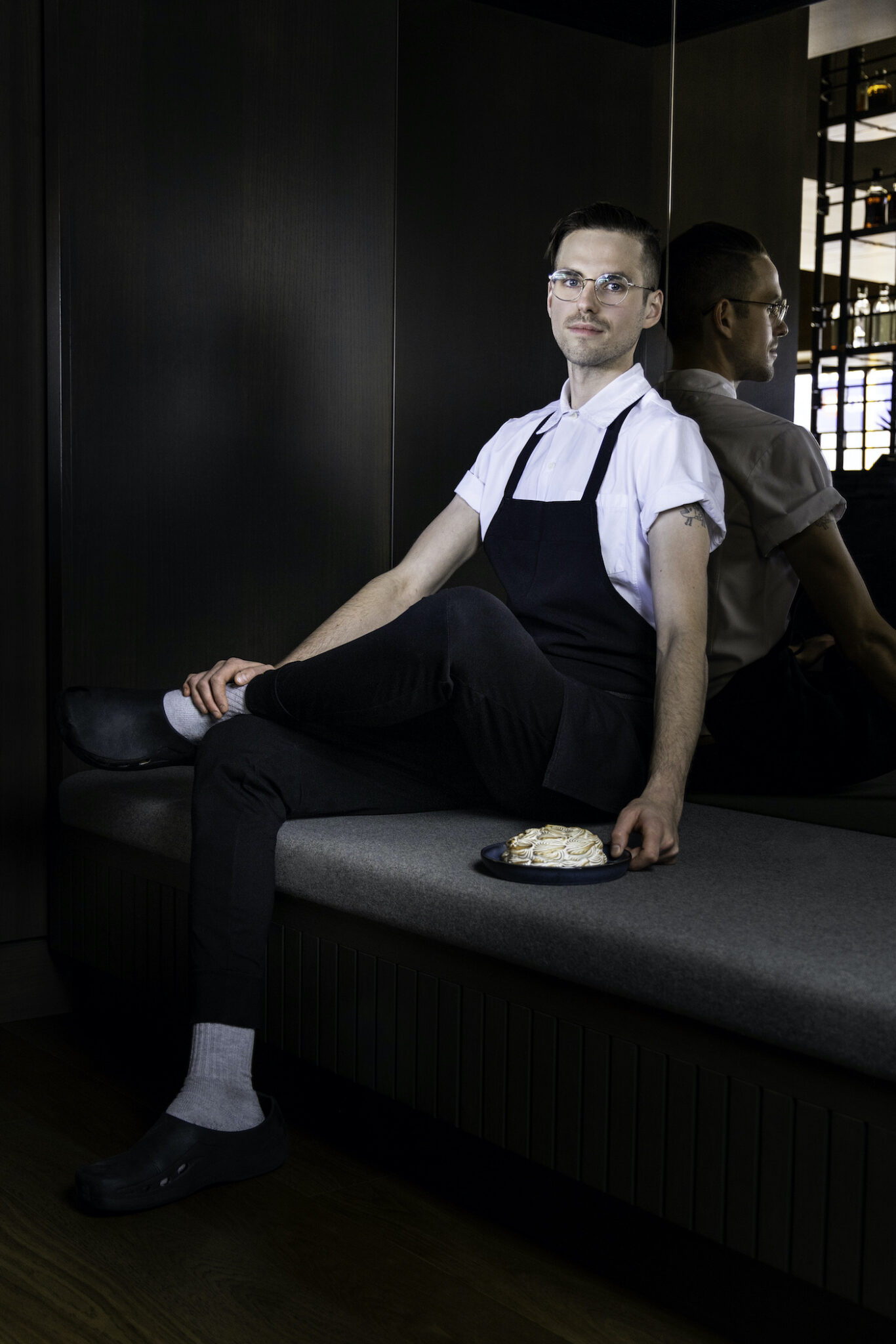 When Major Tom opened last summer, customers raved about the high-rise restaurant's extraordinary views, cocktails, steaks and, surprisingly, its desserts. Items like the "old fashioned" (as in the drink) baked Alaska and the London Fog verrine with Earl Grey mousse, lavender and vanilla became instant Instagram stars.
The mind (and palate) behind those beloved desserts is Jordan Hartl, executive pastry chef for the Concorde Group. Hartl, who is originally from Saskatoon, was finishing up a non-food-related university degree when he headed off to Paris for a vacation and fell in love with the art of French patisserie. This led him to sign up for pastry school at Le Cordon Bleu Ottawa Culinary Arts.
After graduation, he baked his way through patisseries and restaurants in Toronto. Life brought him to Calgary in the middle of the pandemic and, after accepting a job formulating the desserts at Major Tom, Hartl quickly worked his way up to become the chef in charge of pitching new dessert ideas to the chefs at Concorde's various restaurants, including Bridgette Bar, Lulu Bar and Sky 360, as well as any new restaurants the company has in the works.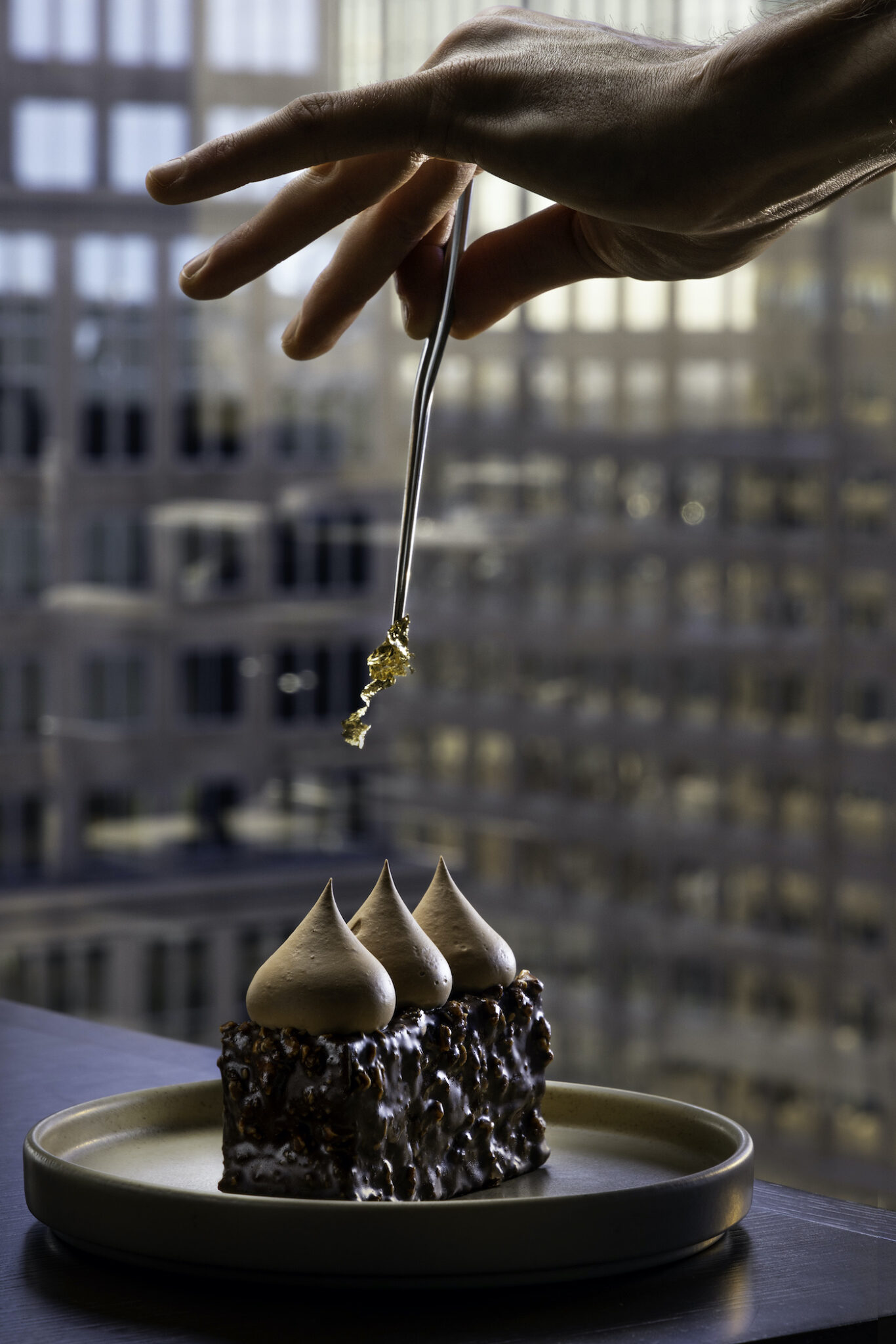 While restaurant desserts are a little different than the pastries Hartl started out making, he doesn't think there's a huge gap between them. "I can see a lot of the patisserie side coming through on my menus," he says. "I've taken what I've learned and adapted it into a restaurant setting, where you can have a piece of cake, but reimagine it into something that has more elegance and panache than a classic piece of cake."
In addition to thinking about what will work with each restaurant's concept and chef, Hartl likes to focus on things that he would actually want to eat, while adding of an element of surprise. That's the vision behind Major Tom's most talked-about desserts. "I like reimagining not just dessert, but things people might like to have after dinner in general," he says. "The baked Alaska is about taking the flavours of a cocktail and making it into a dessert, while bringing a bit of a show to it."
700 2 St. S.W. (40th Floor), 403-990-3954, majortombar.ca
Ryan Tiqui
Amihan Grill and Bakeshop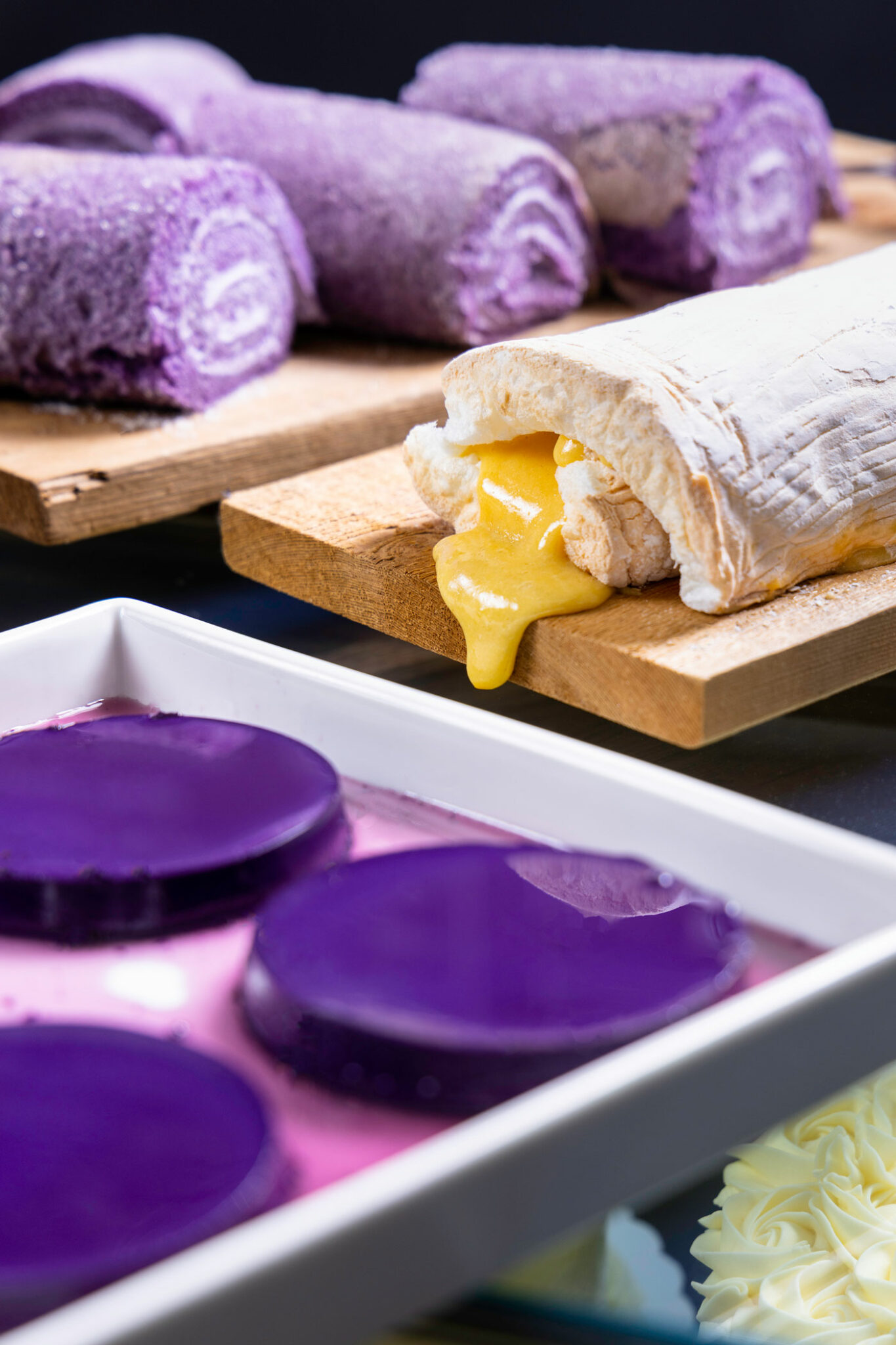 Asian-style bakeries abound in Calgary, but Amihan Grill and Bakeshop excels at serving Filipino desserts (and breads, which are often sweet enough to be dessert) in a casual restaurant setting. Amihan's in-house pastry chef is co-owner Ryan Tiqui, a self-taught baker who started delving into the world of cakes and pastries after arriving in Canada from the Philippines. Tiqui says he was always fascinated by how cakes are made, since many houses in his home country aren't fitted with ovens.
A quick learner, he has mastered the art of fluffy and only lightly sweet Filipino cake slices, with bright purple ube (yam) as his signature flavour. "Filipino desserts and breads and pastries are very different from Western baking," Tiqui says. "They have influences from different cultures, especially Spanish culture and different Asian countries, so our desserts are very diverse."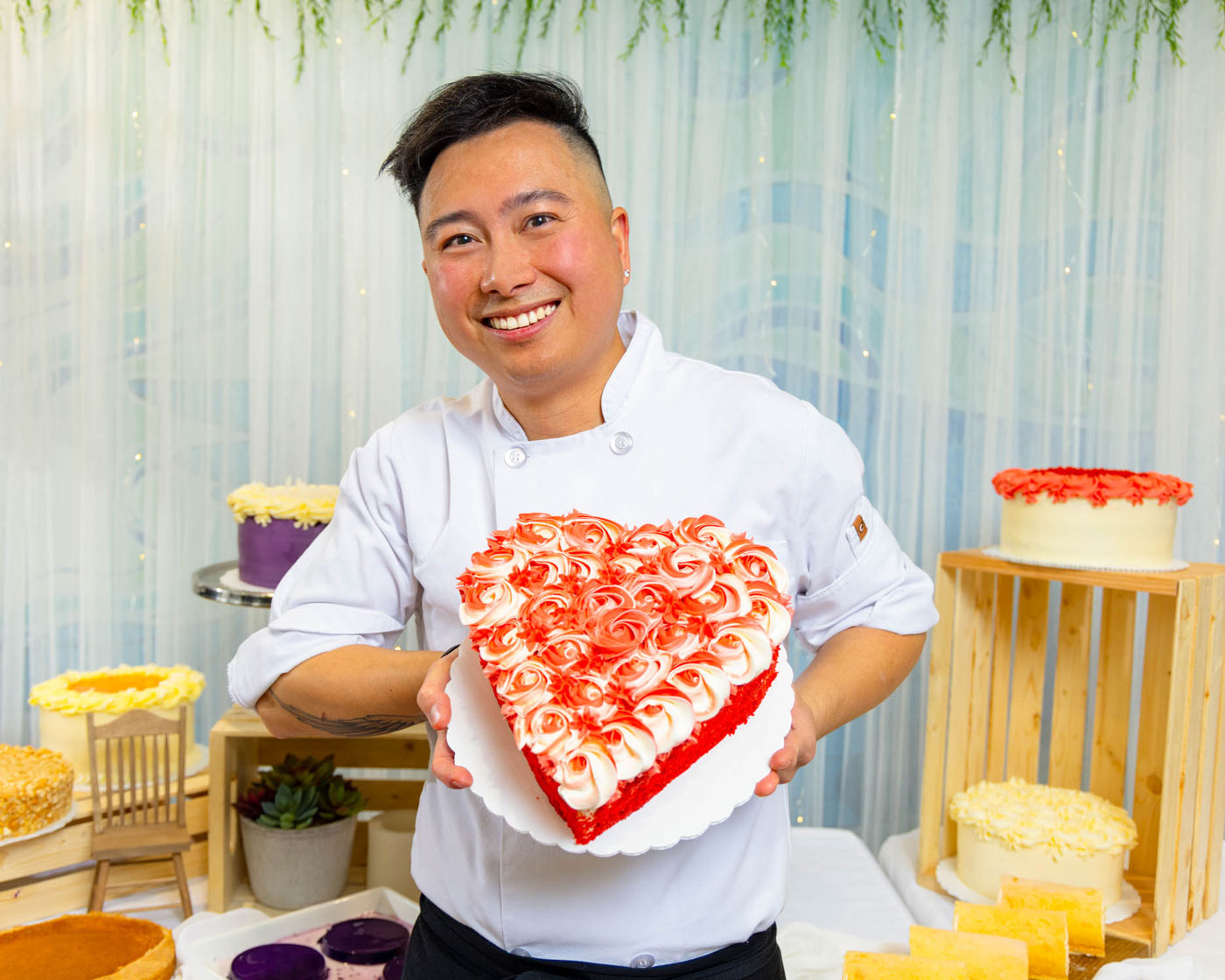 While the cake slices are the stars at Amihan, Tiqui also makes a delectable ube-flavoured custard flan and turon de coco, which are spring roll-like tubes stuffed with bananas and deep-fried until crispy, then served with a macapuno (a more gelatinous form of coconut) sauce. Those looking for treats to take home can also browse the bakeshop's wider range of Filipino breads and pastries.
#208 3132 26 St. N.E., 403-455-6050, amihan.ca
Arin Hiebert
Hawthorn Dining Room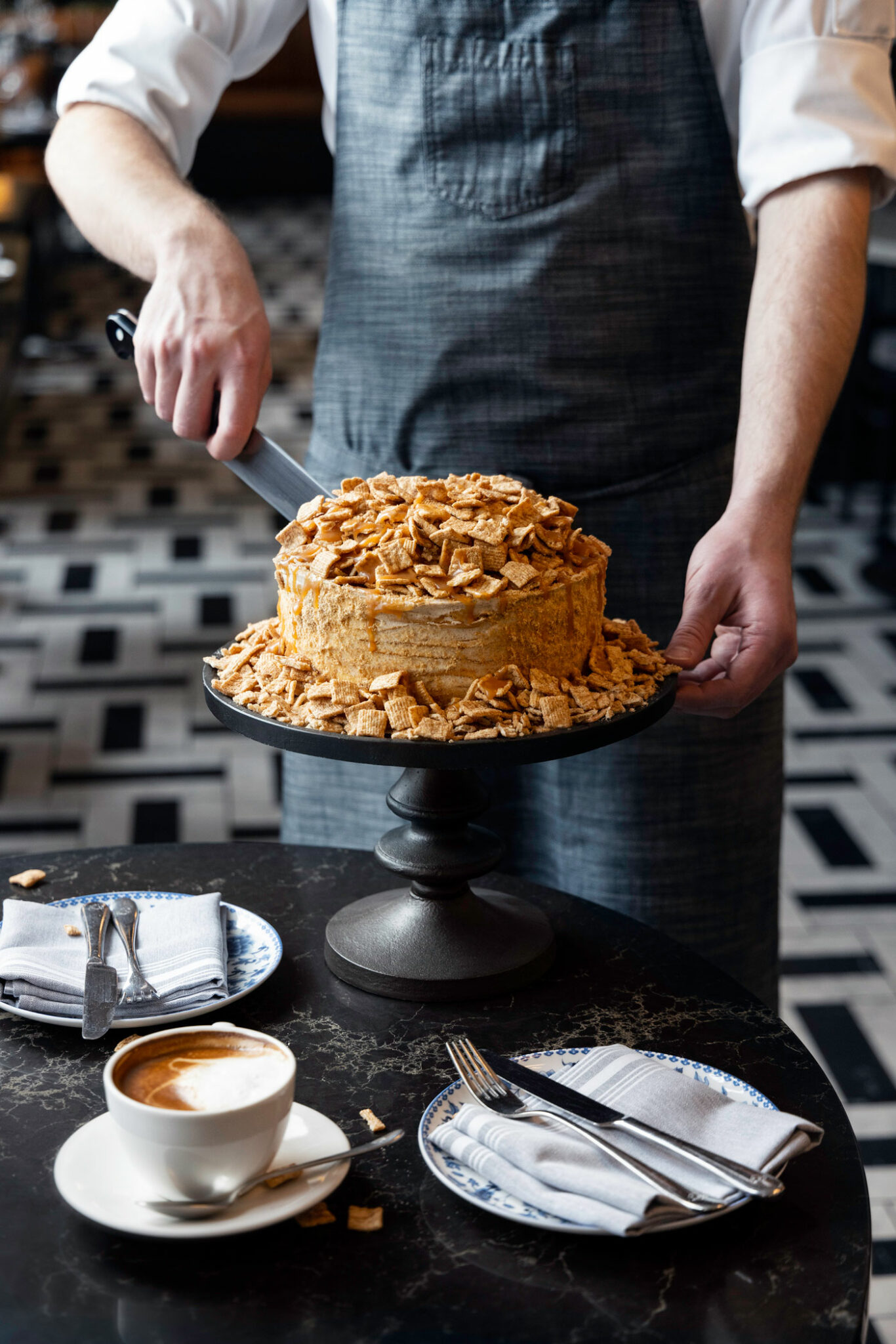 As a pastry chef at the Fairmont Palliser and its Hawthorn Dining Room, Arin Hiebert's job is largely behind the scenes. But, thanks to a successful appearance on Food Network's Spring Baking Championship (he made it to the finale), and a new online baking company he started during the pandemic, Hiebert's star is rising.
The chef, who hails from small-town Manitoba, was part of the team that created Hawthorn's most famous dessert, a breakfast cereal-inspired mille crepe cake. The cake is a stack of paper-thin crepes with layers of cinnamon-spiked creme filling and a Cinnamon Toast Crunch cereal garnish. The restaurant swaps out flavours in the summer (in 2021, it was a peach and Alberta Premium whisky caramel affair with cornflakes), going back to Cinnamon Toast Crunch once the snow flies.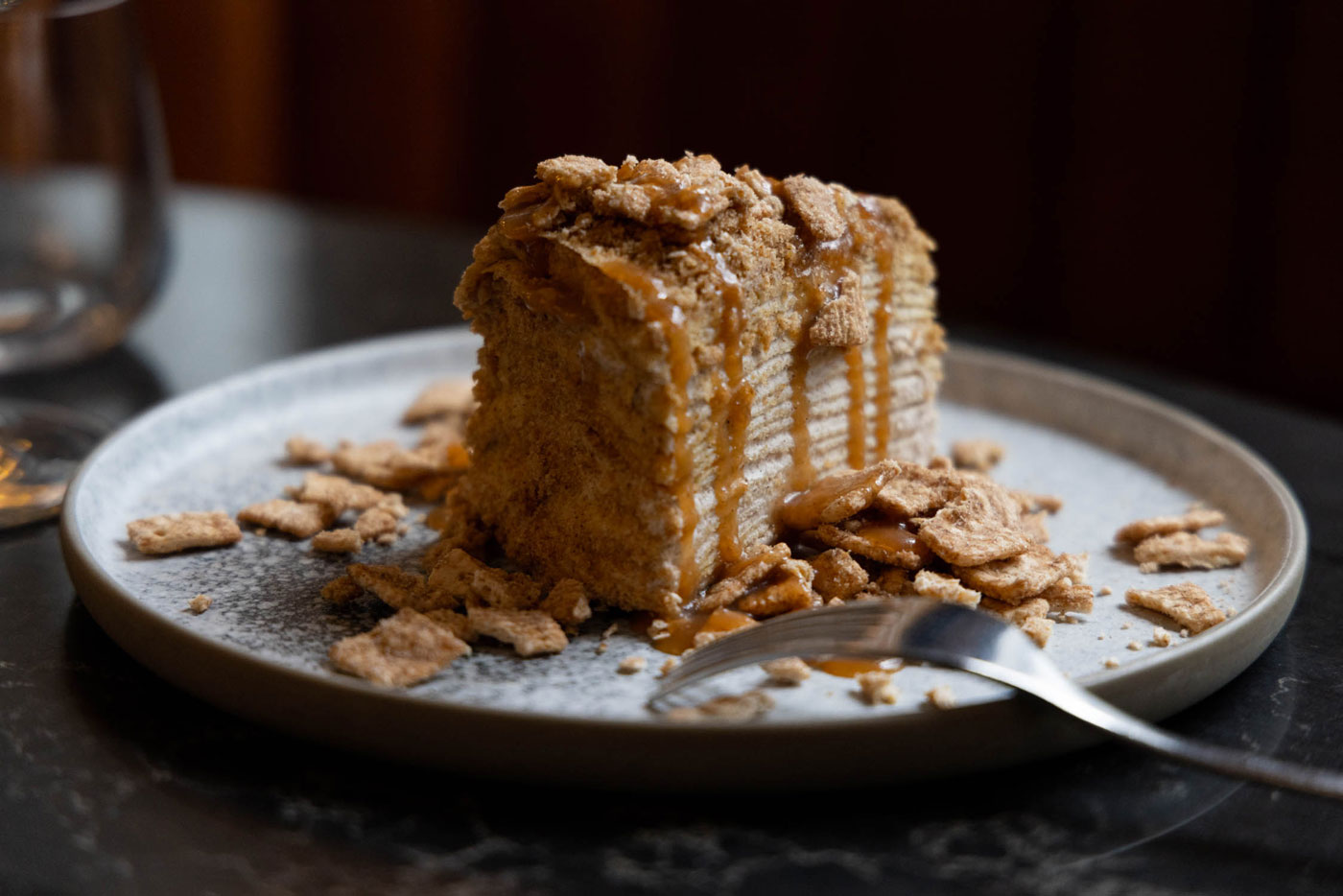 Hawthorn also serves a seasonal panna cotta and other dessert offerings. But the mille crepe has become its calling card, thanks to its retro flavours, paired with some deft technique. "I always think about something from childhood when I'm creating a dessert," Hiebert says. "Everyone grew up with Cinnamon Toast Crunch, but how do you make that cereal into a restaurant-worthy dessert? It's about playing on those nostalgic flavours … and turning it into something special."
133 9 Ave. S.W., 403-260-1219, hawthorndiningroom.ca
Daniel Ramon
Teatro Group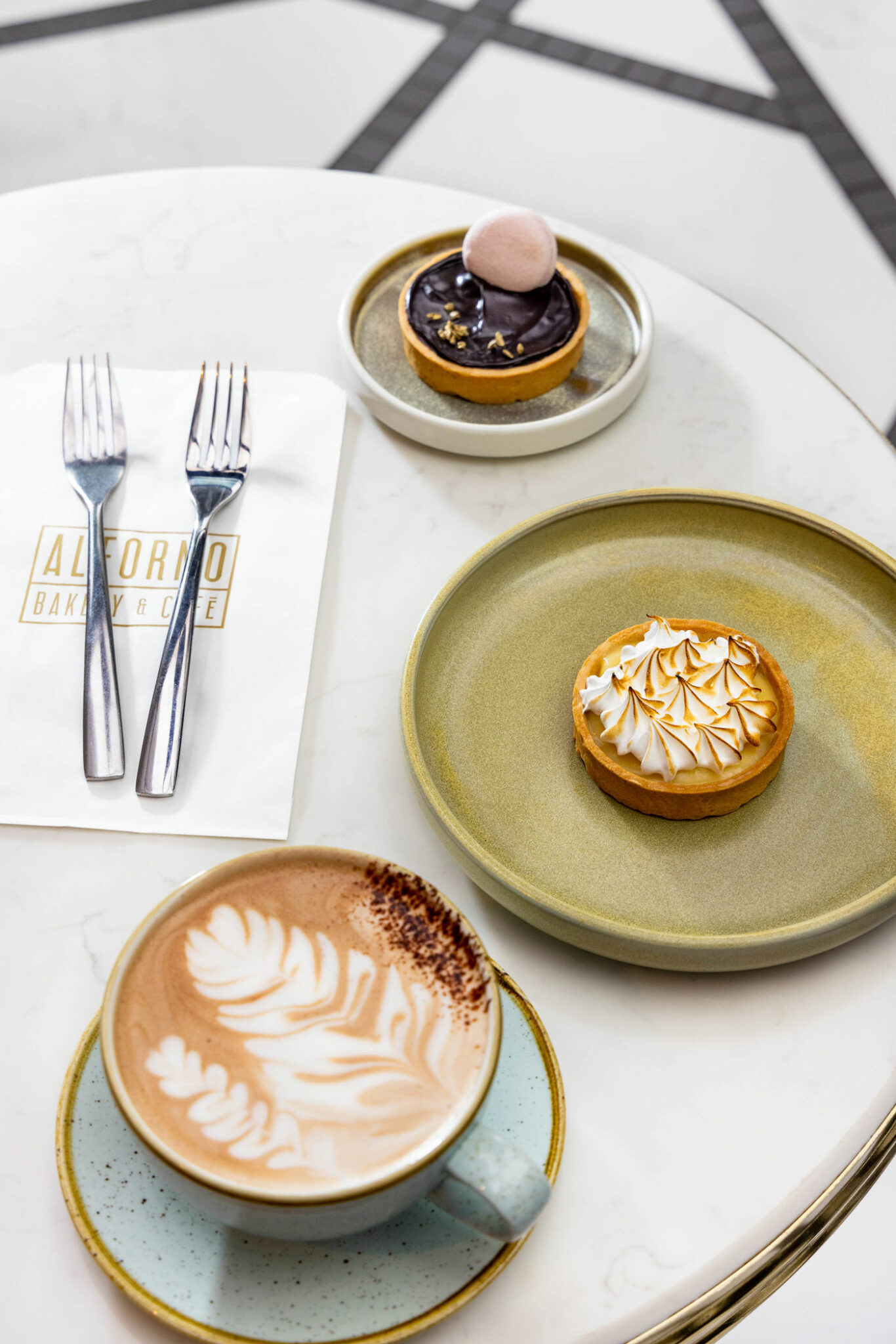 Not many pastry chefs in Calgary have what one would call "celebrity status," but one of the best-known dessert masters in town has got to be Daniel Ramon.
Ramon began his career as a savoury cook, working with chef Dave Bohati at several restaurants, including Market. When that restaurant lost its pastry chef, Ramon decided to learn to make desserts — despite not having a sweet tooth. Before long, he was delighting diners with his signature chocolate bonbons and other creative treats.
In 2017, Ramon moved over to Teatro, becoming the restaurant's in-house pastry chef and introducing an even more elegant chocolate program. He has been with the Teatro Group ever since (though he also has a side hustle as one of the masterminds behind Con Mi Taco). He has since shifted to become head chef at Alforno Bakery & Café, though he still has a hand in the other restaurants in the group, as his kitchen supplies baked goods to the entire company.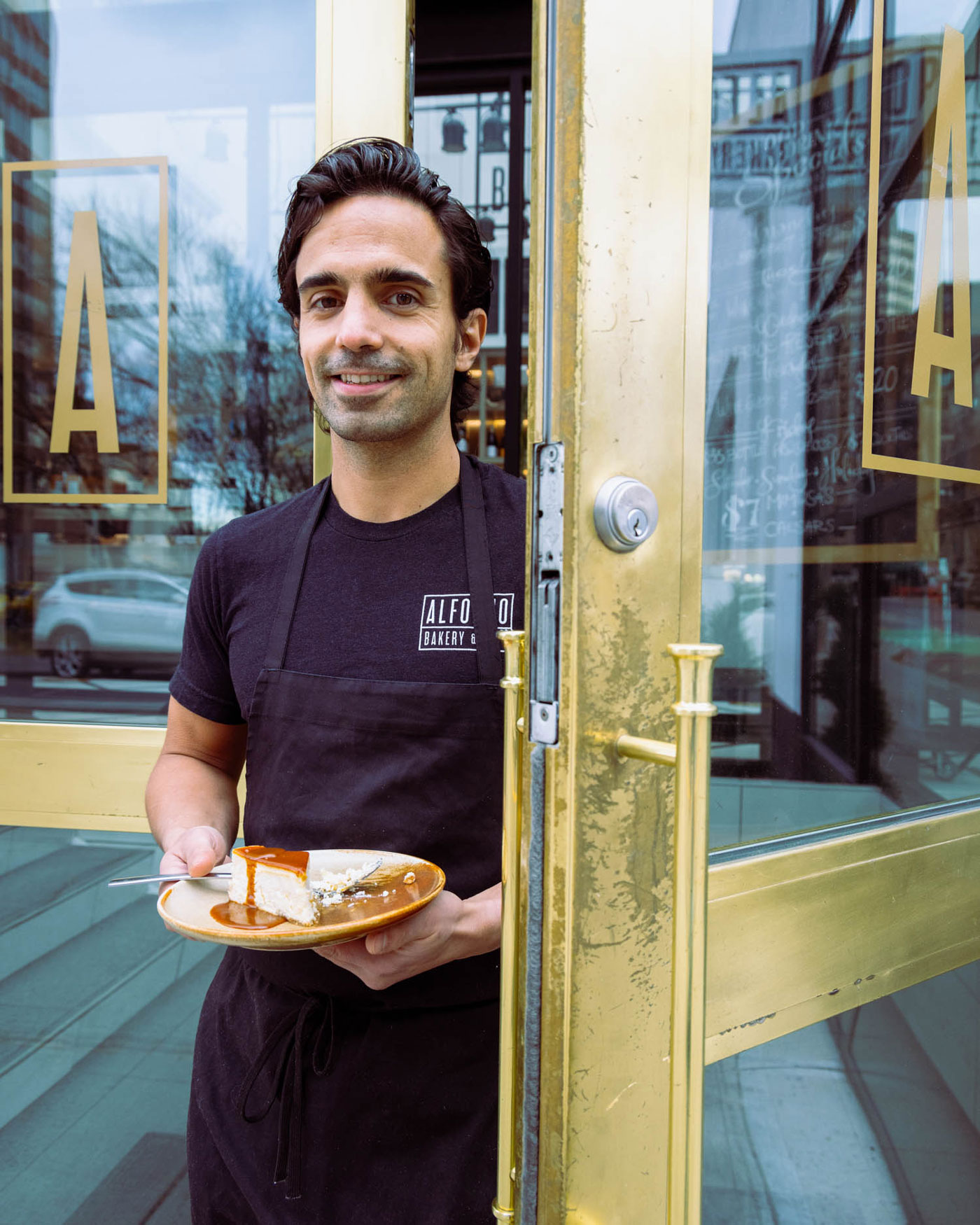 Ramon's journey has left him with a lot of ideas about what makes a good restaurant dessert, citing the importance of hiring an experienced pastry chef, who knows how to complement the head chef's menu. "If you go to a place like Teatro for dinner, you almost have an expectation of what you're going to order before you walk into the room," he says. "If you can match your dessert menu to the chef's menu, customers know they're going to get a dessert that matches those expectations."
Under the leadership of recently departed pastry chef Esther Hagen, the team at Alforno developed a salted-caramel cheesecake that has become that restaurant's calling card (though Ramon's personal preference is tart desserts made with lemon or passionfruit). As a head chef with extensive pastry experience, Ramon believes that dessert — especially in a fine-dining restaurant — can't feel like an afterthought and has to be well-conceived. "Dessert is the last thing you give to a customer, often right before a massive bill, so it better be good," he says. "It's the restaurant's last opportunity to leave the customer feeling good about their meal."
222 7 St. S.W., 403-454-0308, alforno.ca
Katelin Lavoie
Pastry Arts Instructor, SAIT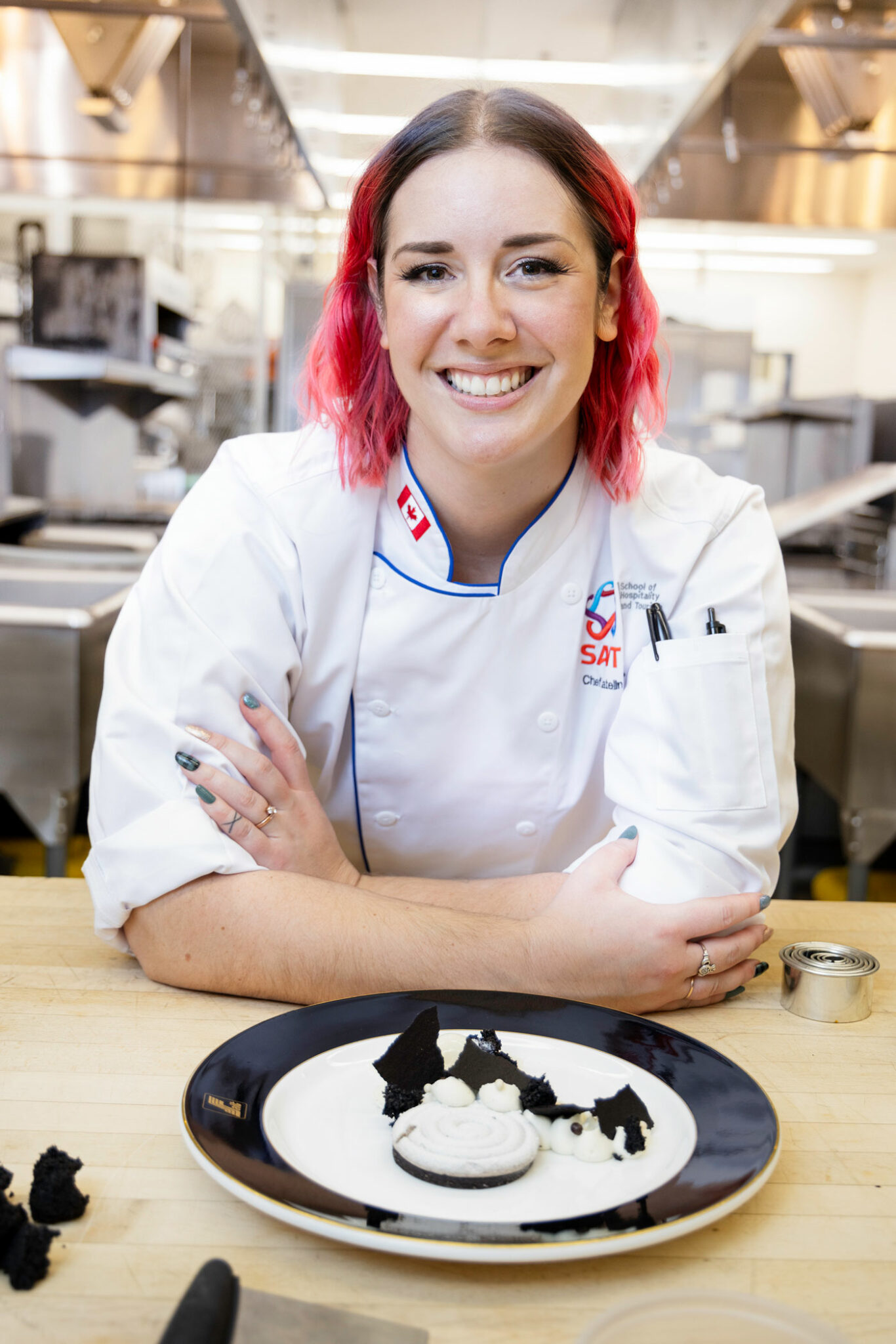 Katelin Lavoie (who, before her recent marriage, went by Katelin Bland) has spent the last decade impressing sweet tooths with her fine-dining desserts. Lavoie held pastry chef positions at some of Calgary's most celebrated restaurants, including Deane House, the Fairmont Palliser Hotel, and Bridgette Bar, Lulu Bar and other Concorde Group restaurants. Known for her inventiveness and over-the-top desserts like Lulu Bar's ambitious baked hula (think a baked Alaska, but Hawaiian-style), Lavoie is all about adding a little "wow factor" to familiar favourites.
These days, Lavoie is spreading her expertise to a new generation of pastry chefs as an instructor at her alma mater, SAIT. She says that it has always been her goal to become an educator and share her passion for professional baking. Expect Calgary's next crop of pastry pros to follow Lavoie's philosophy of creating nostalgia-tinged treats that can please even the most sophisticated of palates.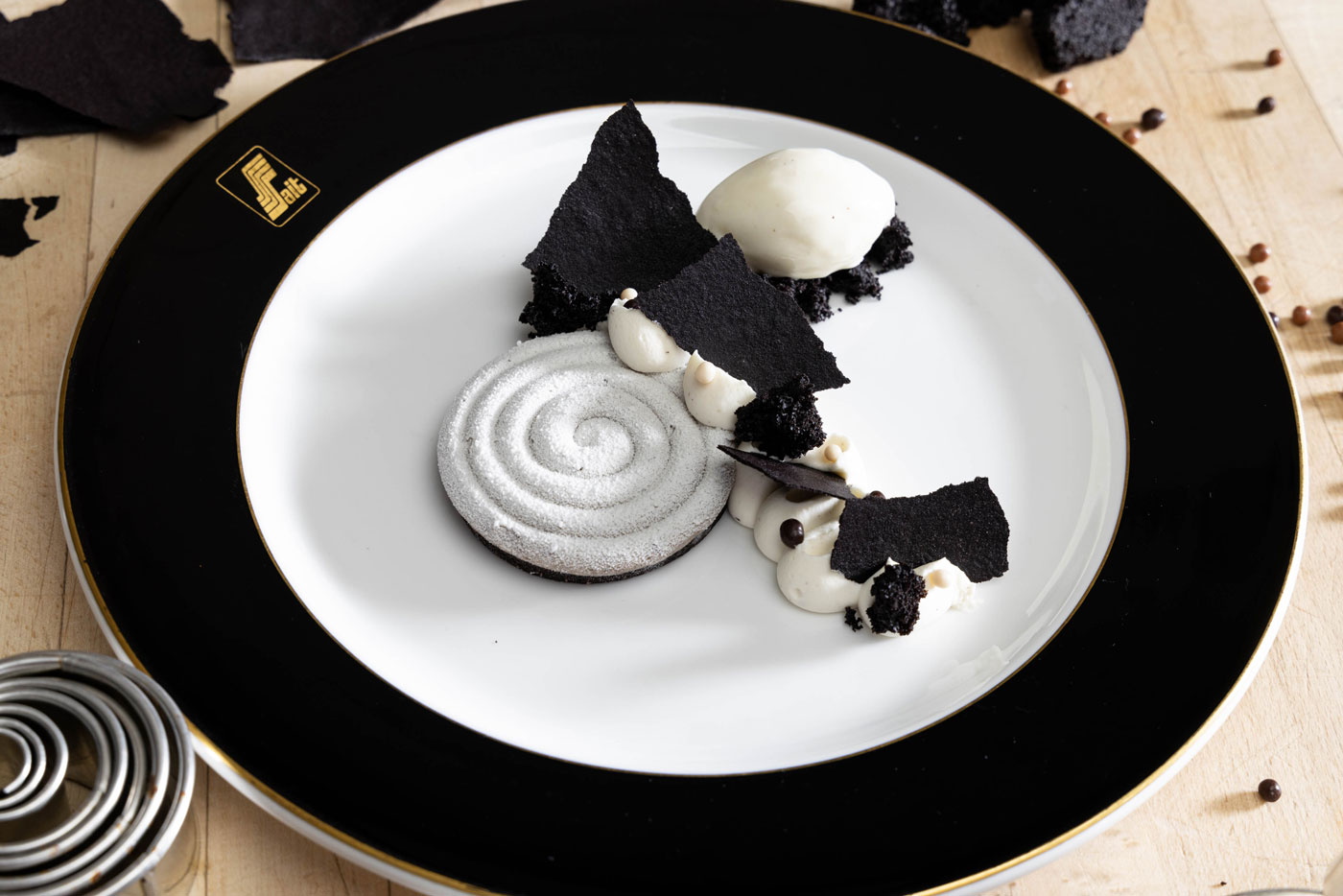 "I always talk about balance and contrast," Lavoie says. "All of my recipes have a larger amount of salt and of acid than most desserts, because that helps to balance the sweetness. Then, I look for contrast in texture and temperature so that it's not all one-note and you experience something new with each bite."
SAIT's Baking and Pastry Arts program contributes to The Highwood, a fine-dining restaurant on campus; and The Tastemarket, 444 7 Ave. S.W., tastemarket.ca
Alysha Tubera
Ten Foot Henry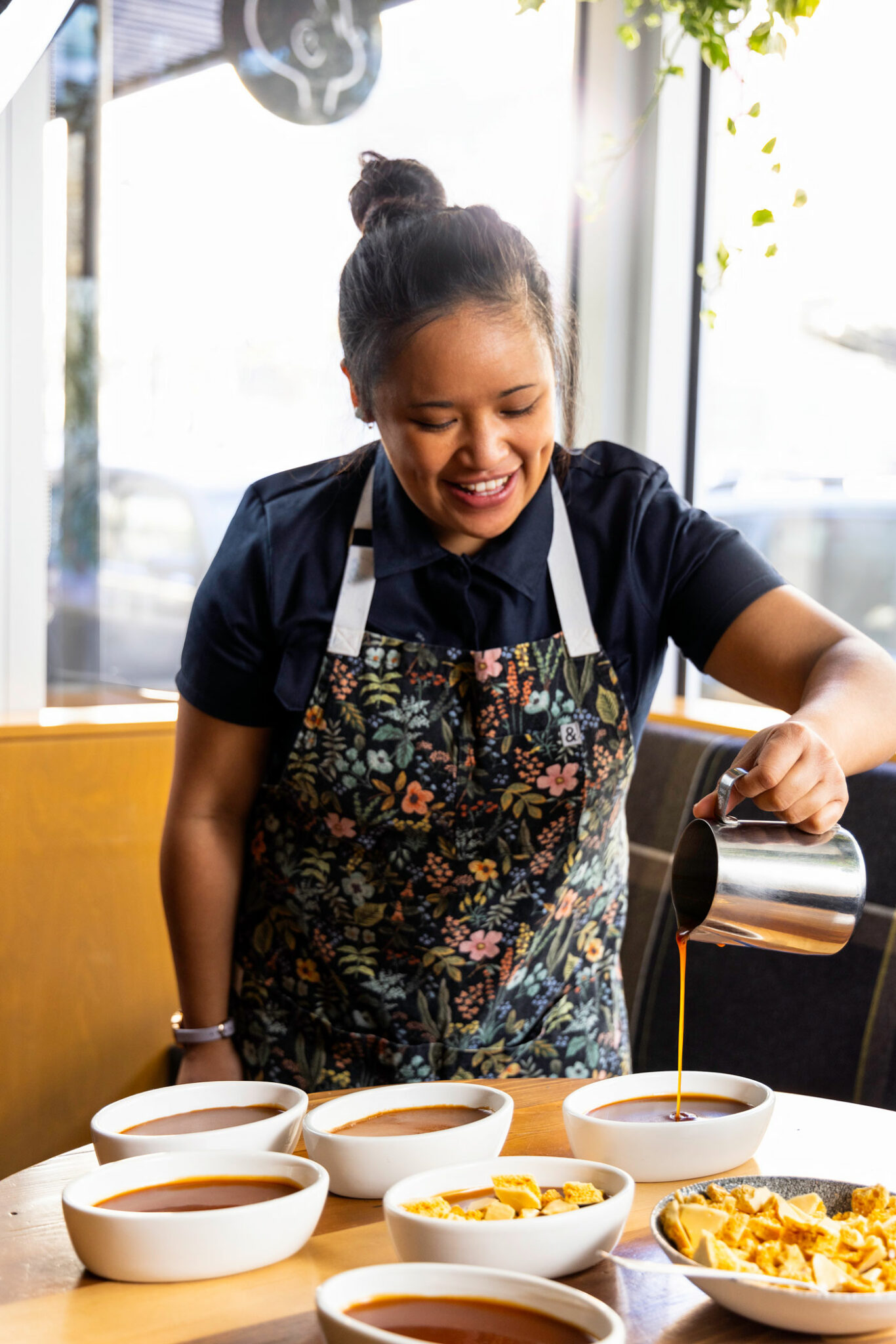 While the savoury dishes at Ten Foot Henry draw raves, the restaurant's signature dish has long been its creamy butterscotch pudding topped with sponge toffee. This admittedly elevated version of a dessert usually relegated to school and hospital cafeterias has become the thing to order at one of the city's coolest restaurants, thanks to pastry chef Alysha Tubera, who has been at Ten Foot Henry since it opened in 2016. Tubera applied to be a savoury cook, but once management saw her experience baking at Crave Cupcakes on her CV, she was offered the dessert portfolio.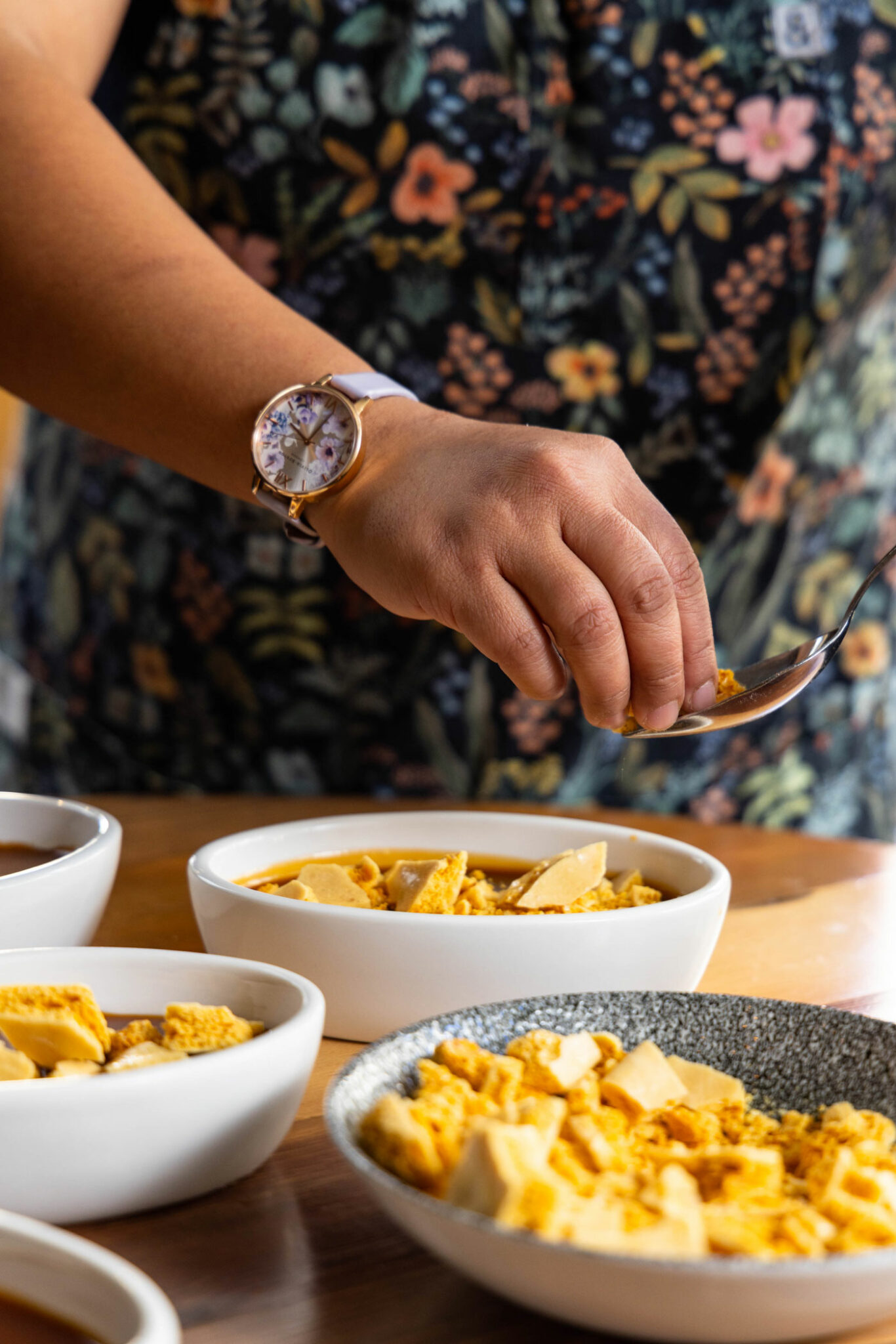 Ten Foot Henry's regular menu consists of veg-forward family-style shared plates and small plates, but, by contrast, the desserts — which include a majestic coconut cake and a creamy vegan chocolate torte — are generously portioned and luxurious guilty pleasures. The butterscotch pudding started as a "pot de creme," but, once the less fussy "pudding" was added to the menu, it became the legendary dish that it is today. "Riots would definitely happen if we took it off the menu," Tubera says, laughing. "I try to do things that you don't see all the time, but that you'd remember. We're not really trying to reinvent the wheel. We're just trying to remind people of what they already like."
1209 1 St. S.W., 403-475-5537, tenfoothenry.com