Patio days are precious in Calgary, so when the sun is shining it can feel like a win just to score a table — any table — on a bit of sidewalk in front of a restaurant. But bistro chairs and bus fumes do not an epic patio session make. Fortunately, there are plenty of rooftop patios, including buzzy new ones and solid standbys, that can accommodate your desire for a more elevated experience where you can eat and drink in the open air in comfort and style. Here's a rundown of 25 of our favourite rooftop patios to hit when it's hot, with bonus suggestions on what to order.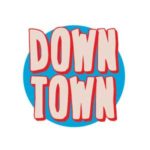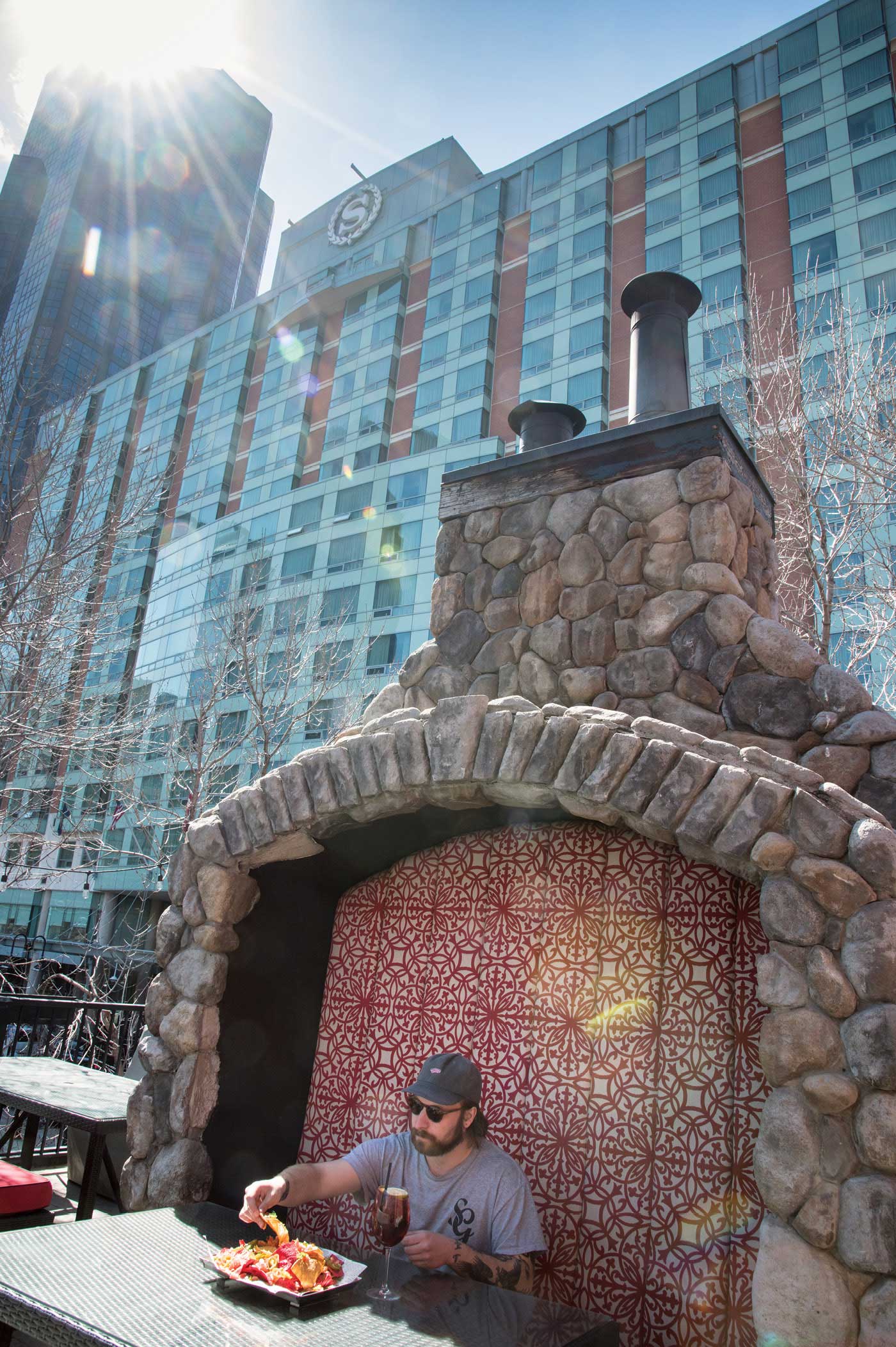 Barley Mill's rooftop overlooks Eau Claire. In your best Scottish accent, order "a wee 
dram of Highland Park, mussels and a foot of nachos, please." If subsequent rounds of Scotch and strawberry mojitos continue for a wee while, walk it off in Prince's Island Park.
201 Barclay Parade S.W., 403-290-1500, 
barleymillcalgary.com
Located in the new Modern Steak location on Stephen Avenue, this premium patio is close to the Calgary Tower and 60-storey Telus Sky, both of which light up the night, pulsating in groovy patterns and swirls of colour. Order the wagyu dumplings with Champagne and prepare for an immersive experience. An elevator makes the patio wheelchair accessible.
100 8 Ave. S.E., 403-244-3600, modernsteak.ca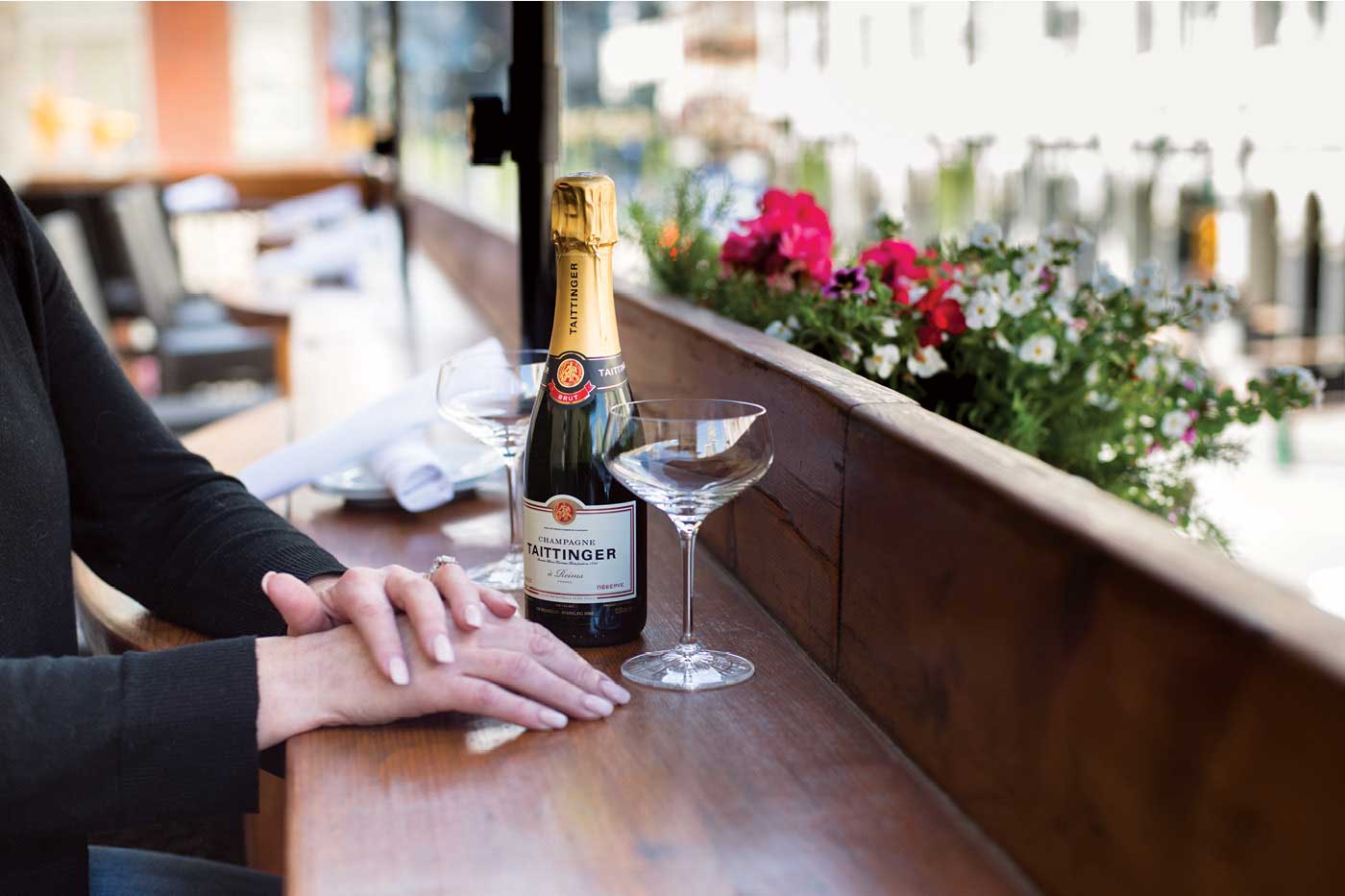 Murrieta's beef- and seafood-driven menu is best enjoyed from a bar stool on the balcony of the century-old Alberta Hotel building. Pair your bird's-eye view of Stephen Avenue with a plate of miso-ginger-roasted organic salmon and something crisp and white.
200, 808 1 St. S.W., 
403-269-7707, murrietas.ca
At this flowery rooftop beer garden, you (and your kids) can play ping pong and cornhole until around 9 p.m. There are 60 beers on tap and Clive burgers on the grill.
360, 225 8 Ave S.W.,
403-237-5556, ntnl.ca
This new rooftop pop-up at the Calgary Marriott Downtown Hotel is an extension of the in-house restaurant One18 Empire, and is set to open in late June, 2019. Focusing on creative cocktails and casual, locally sourced food, this west-facing deck offers views of Stephen Avenue and the Calgary Tower and promises to be a perfect spot for après-work sips and bites.
820 Centre St. S.E., 
403-269-0299, 
one18empire.com
One of Calgary's many stellar traditional Italian joints, Prego has been operating for 25 years. Order the orangini and the spaghetti pescatore with a Carpenè Malvolti sparkling rosé to sip on while you drink in the view of Prince's Island Park.
Eau Claire Market, 403-233-7885, pregocalgary.com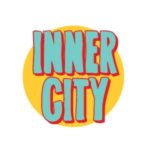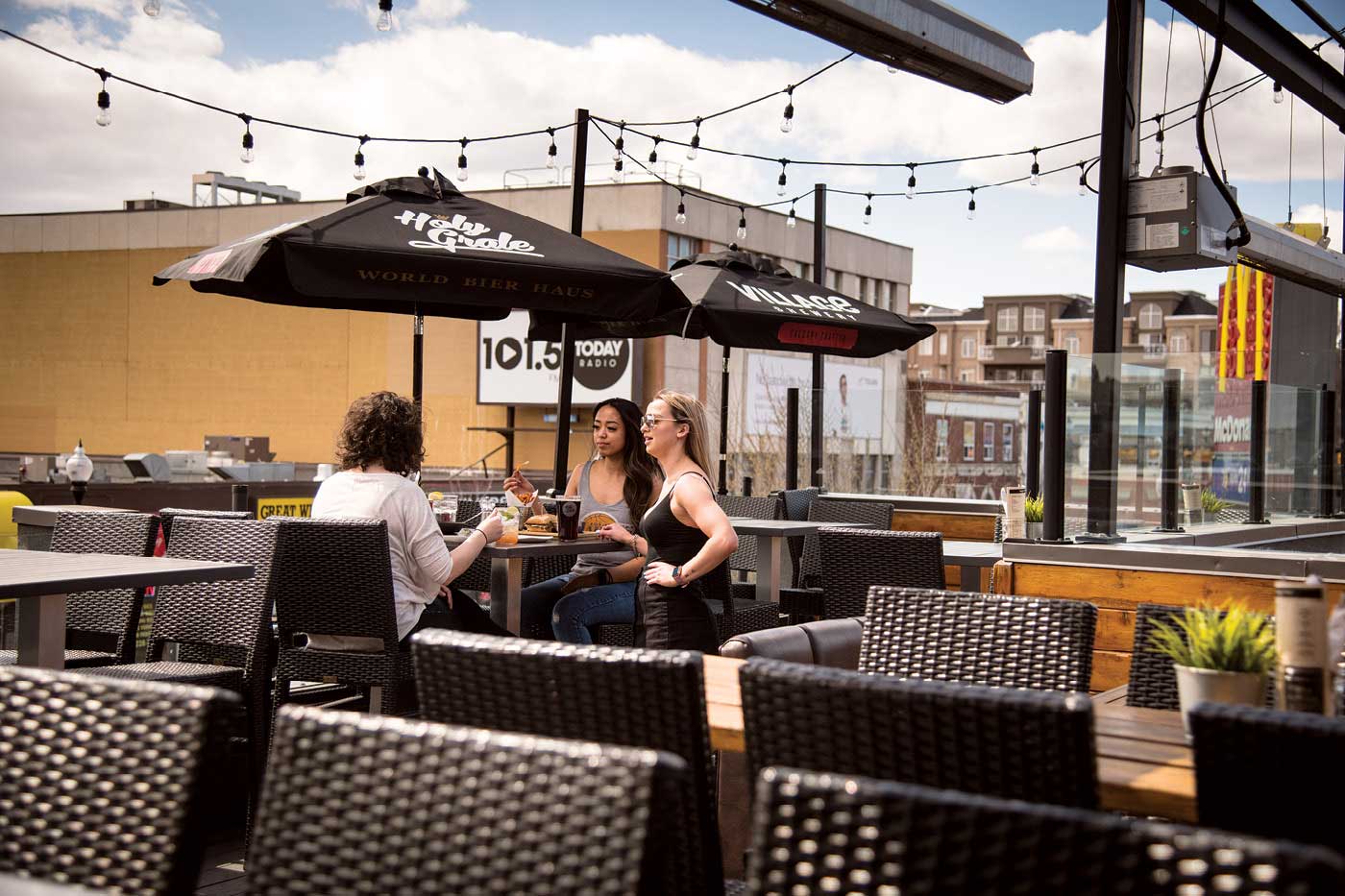 There's more than beer here. Bottles of wine are half-price on Thursdays and happy hour runs 3 to 6 p.m. and 9 p.m. 'til close, plus all day on Sundays. Poke towers feature ginger-sesame-marinated ahi tuna, mango, edamame, avocado, togarashi, sambal aioli and wonton chips. As for beer, there are more than two dozen on tap, and frozen drinks are always an option during heat waves (or whenever).
1410 17 Ave. S.W., 403-229-1410, 1410bierhaus.ca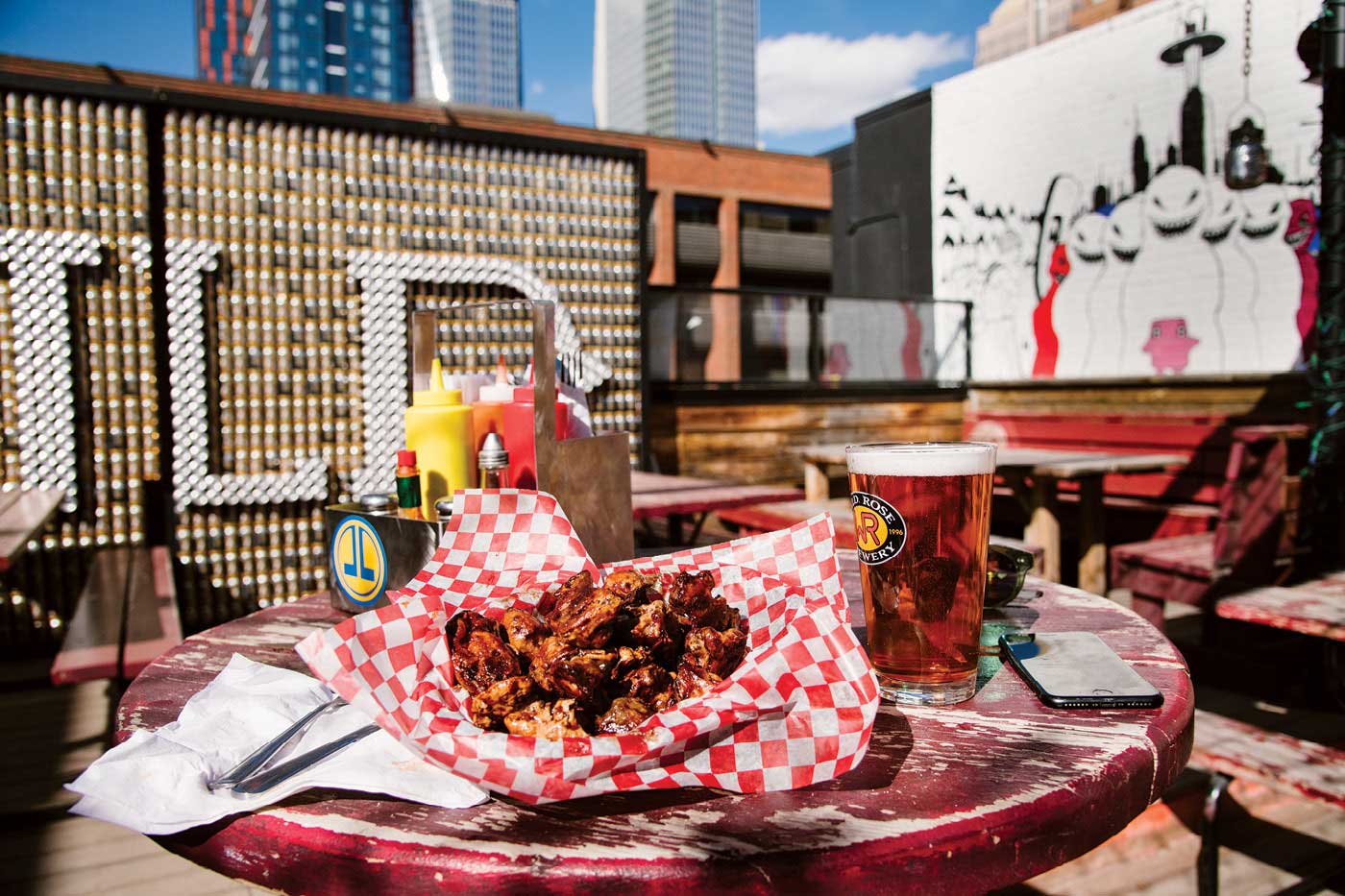 Blue sky and heat? Broken City tweet: "Today's Partio Forecast: Open!!" Above old Electric Avenue (paddywagon central in the '90s), this live-music venue makes 95 per cent of its menu from scratch and serves cauliflower wings so wicked they even outsell the chicken ones.
613 11 Ave. S.W., 403-262-9976, brokencity.ca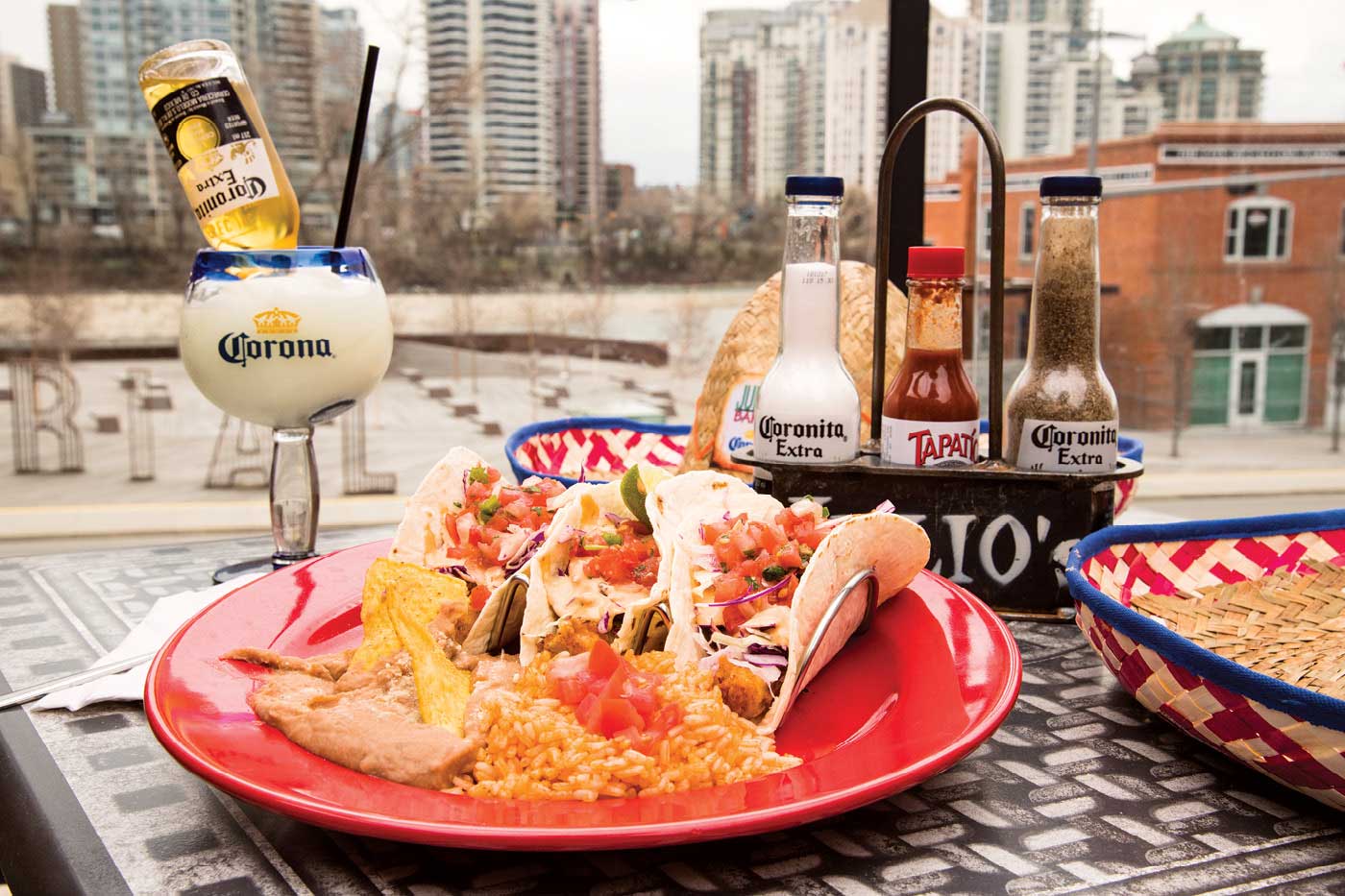 At Julio's in Kensington, it's fish tacos with cervezas or margaritas and a view across the river to the condo towers of downtown's west end. Without that scenery, you'd swear you were in Cancun.
1110 Memorial Dr. N.W., 
403-203-3066, juliosbarrio.com
Okay, it isn't really a rooftop, it's the balcony at Kensington Pub, but it's worthy of mention because it's up above the sidewalk and, more importantly, it rocks! Settle in with a shepherd's pie and a Pimm's cup.
207 10A St. N.W., 403-270-4505, kensingtonpub.com


Michael's
Michael's is on 10th Avenue S.W., right behind the Calgary Tower, and they have been 
serving Caesar salads, pizzas and AAA Alberta steaks there since 1981. Its patio on the roof of the adjoining parkade gets rushed at lunch by the downtown office crowd, so make a reservation if you want a spot.
139 10 Ave. S.W.,403-264-6731, 
michaelspizza.ca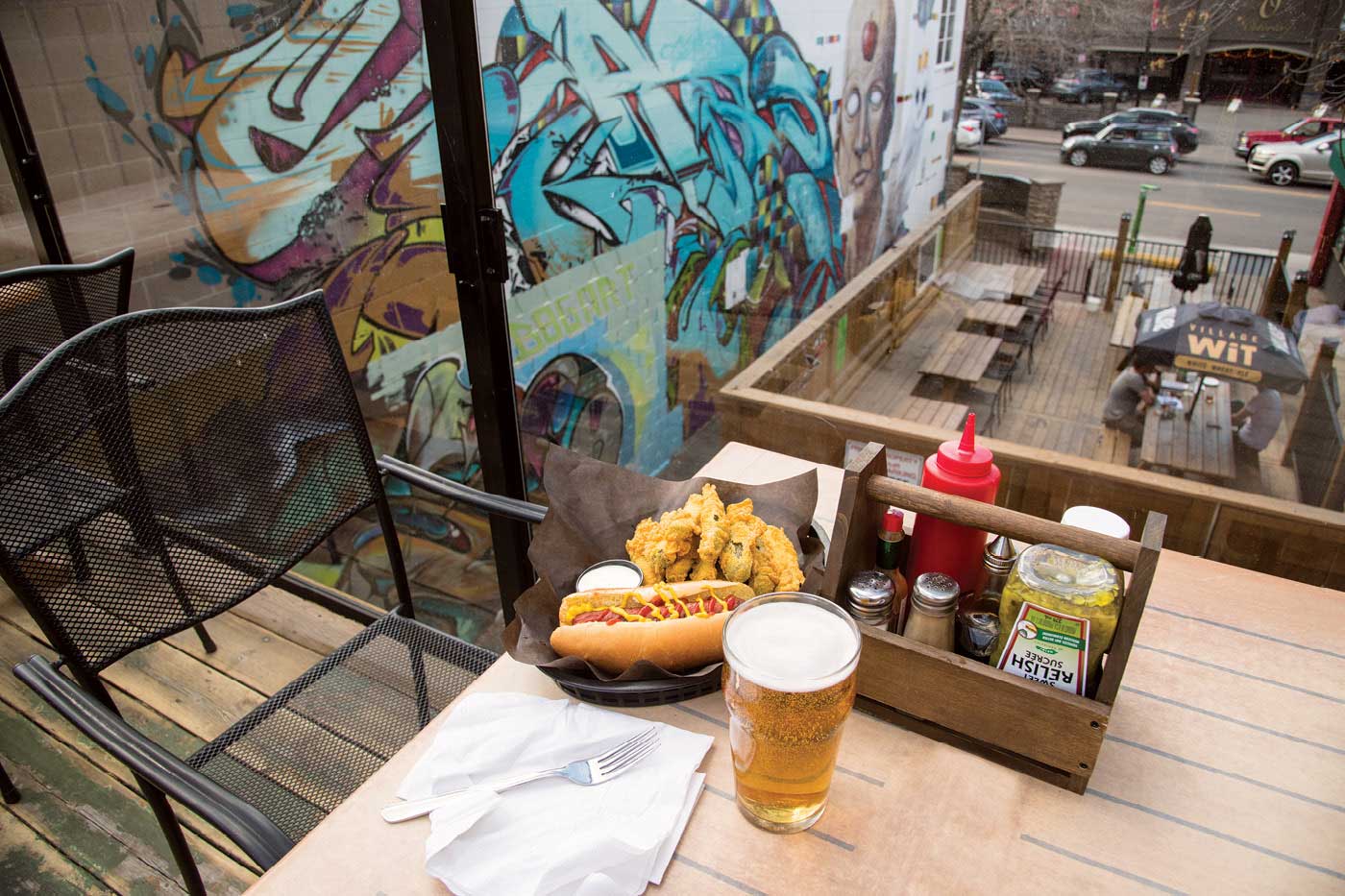 Take a seat on the deck at Oak Tree for views of downtown and the Bow River and try the signature cornmeal-battered deep-fried pickles with a hot dog and a beer.
124 10 St. N.W., 403-270-3347, oaktreetavern.ca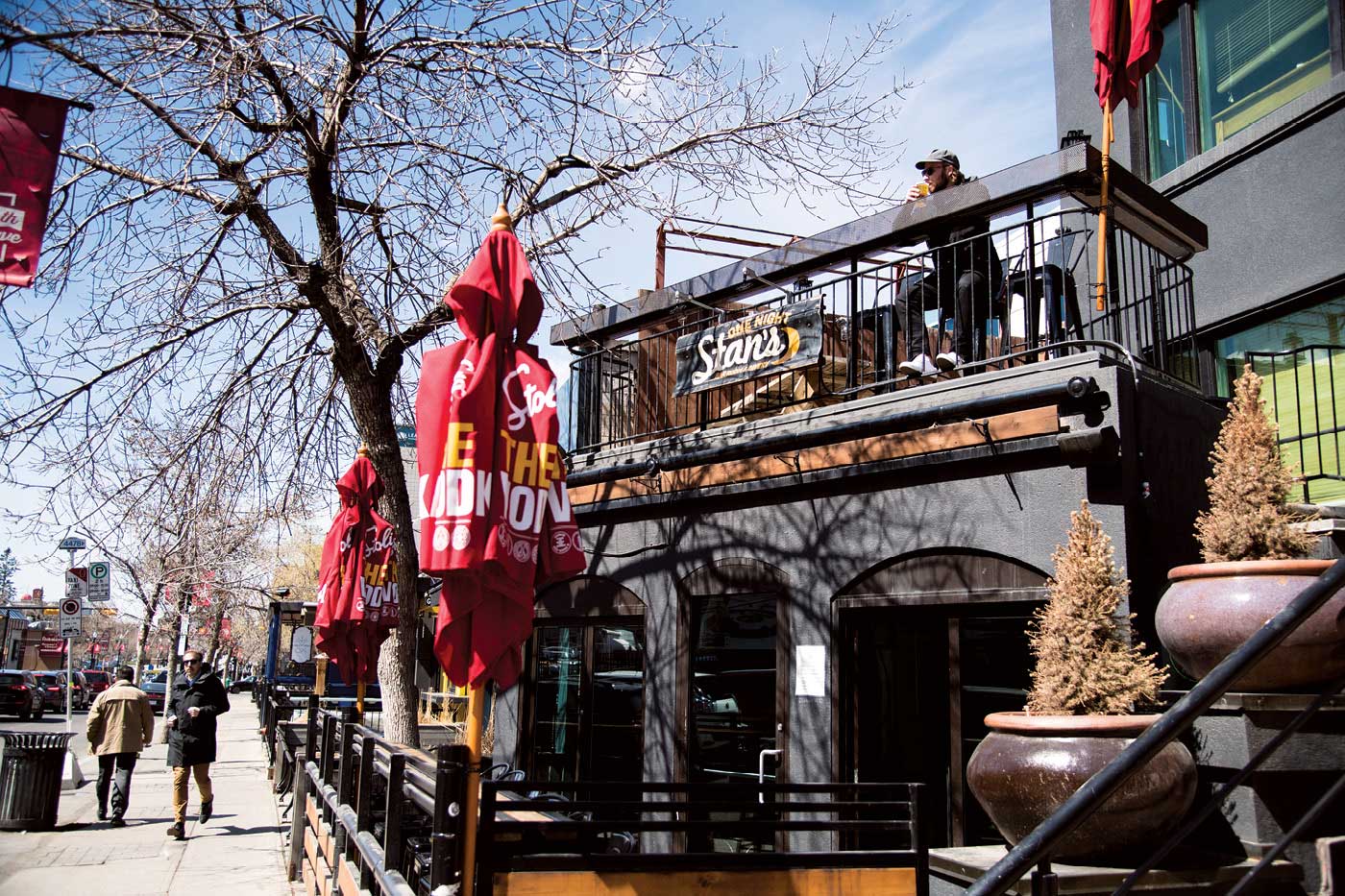 Formerly Ming, this self-proclaimed "barroom and divery" on 17th Avenue S.W. has a 15-seat second-storey patio. The unpretentious menu includes the likes of chili-cheese fries and ice cream sundaes, and if that's not enough, it's dog-friendly, too.
520 17 Ave. S.W., 403-452-4407, onenightstans.ca
The view is picture-perfect: gleaming towers, busy bridges and the fast-flowing waters of 
the Bow. Operated by Charbar, Rooftop Bar is inspired by a Mexican taqueria, with several varieties of sangria by the pitcher.
618 Confluence Way S.E., 
403-452-3115, rtbsimmons.ca
Your early morning or late-after
noon caramel macchiato will taste even better on this Mission rooftop, with views of 4th Street S.W. On hot days, order your coffee iced and pair with a protein bowl or wrap.
2219 4 St. S.W., 403-229-3008, starbucks.ca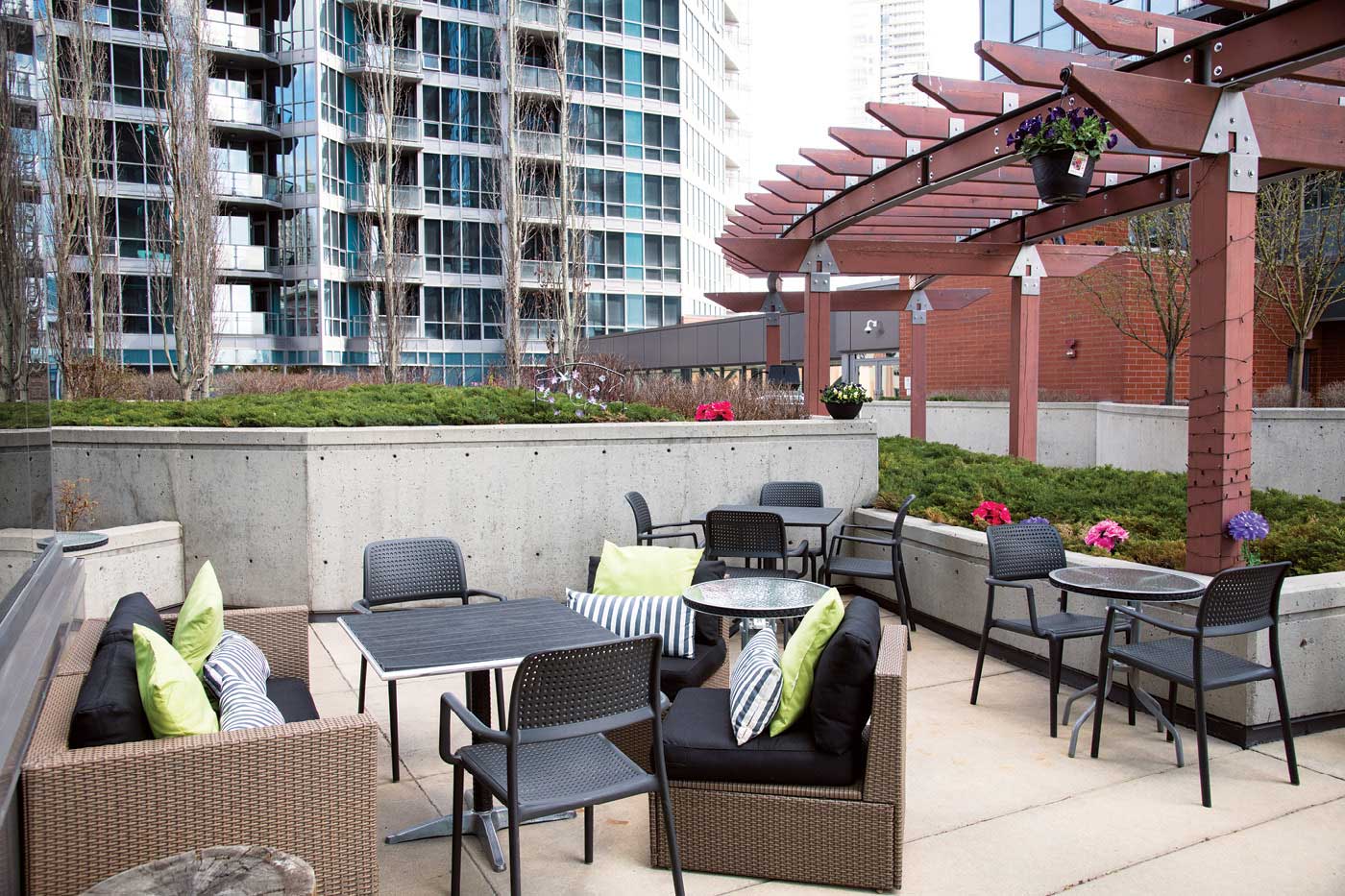 With live bands during Stampede, underground parking and close proximity to the Stampede grounds, Sunterra's upscale Marketbar rooftop restaurant is an urban oasis. The "fresh, casual fare-to-share" includes ribs, prawns and thin-crust pizza, and the full-service bar serves up drinks.
200 12 Ave. S.E., 403-261-6772, 
sunterramarket.com
Vin Room on 4th Street S.W. offers an extensive selection of fine wines by the glass or bottle with a food menu to complement those wines. Impress a date with oysters and Champagne on this comfy, cozy rooftop with pretty views of Mission's treetops. Vin Room also has a street-level patio that welcomes dogs.
2310 4 St. S.W., 403-457-5522, vinroom.com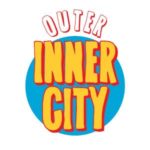 Every day at Double Zero it's half-price pizzas and drinks from 2 to 5 p.m. These are airy-crust 
Neapolitans, made with cold-fermented dough. To pair, the boss suggests a bubbly red Italian lambrusco.
CF Chinook Centre, 403-457-7677, doublezeropizza.ca
Suffering from shopping fatigue? Head to the Joey rooftop, an upscale escape where you can indulge in a yellowfin tuna salad with cilantro-ginger sauce paired with a Seven Terraces sauvignon blanc. Note that the roof space is divided, with an adults-only lounge on one side and family dining on the other.
CF Chinook Centre, 403-692-6626, joeyrestaurants.com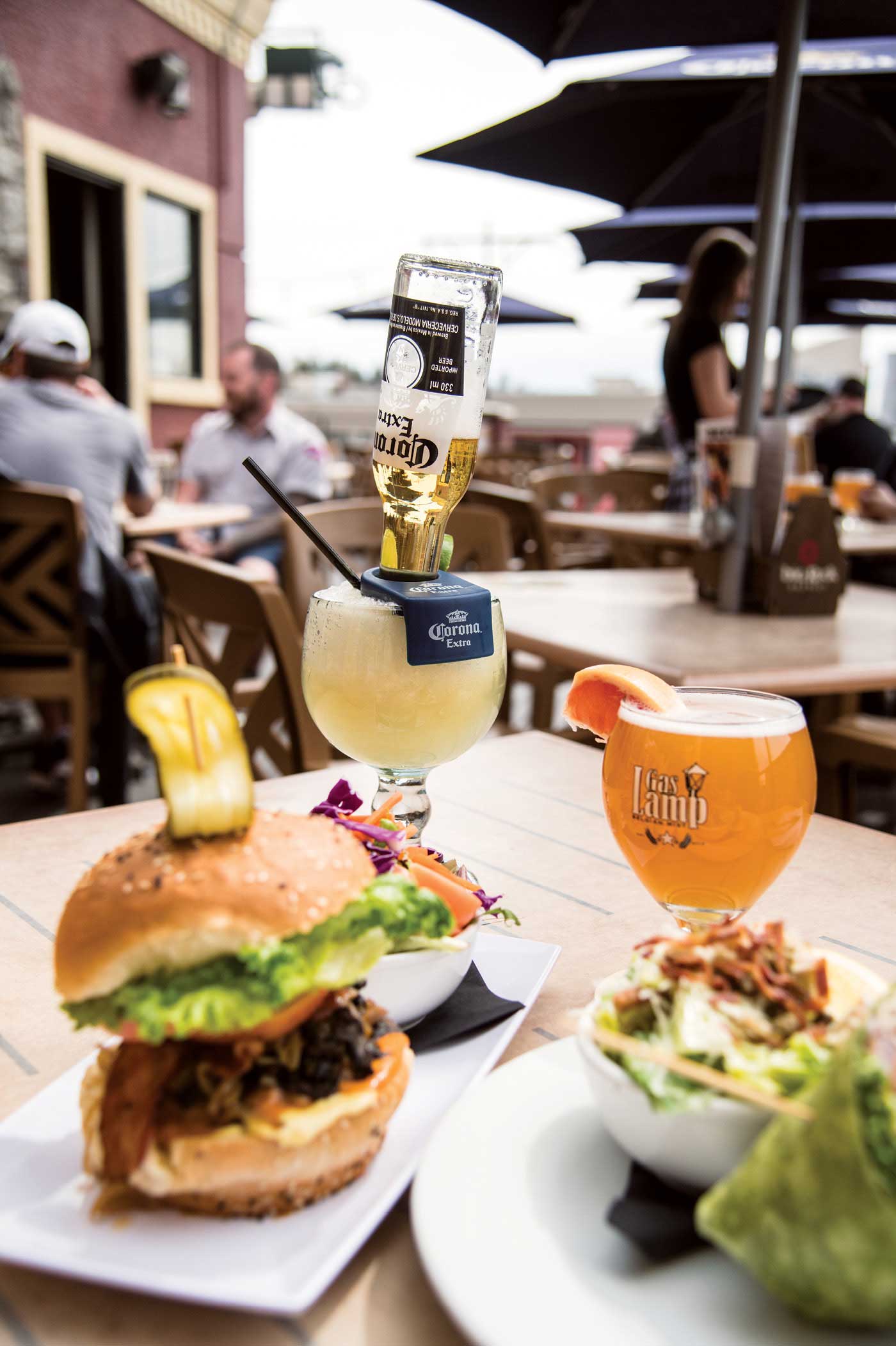 This Scottish-Irish-Canadian-themed public house with an elevated deck boasts beautiful stained-glass, antiques and pints of beers. The wraps are highly recommended and burger buns are (optionally) gluten-free.
7304 Macleod Tr. S.E., 403-252-9190, 
calgarysbestpubs.com/limericks
Sho Sushi
High above Macleod Trail, Japanese sushi chefs march fire dragon rolls to your table under the night sky. The drink menu doesn't stop at sake, with mojitos, Caesars and an extensive wine list. The patio accommodates up to 15 people. Better yet, book the entire upper floor, with room for up to 55.
110, 7212 Macleod Tr. S.E., 
403-252-5199, shosushi.ca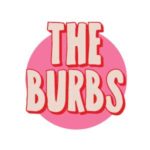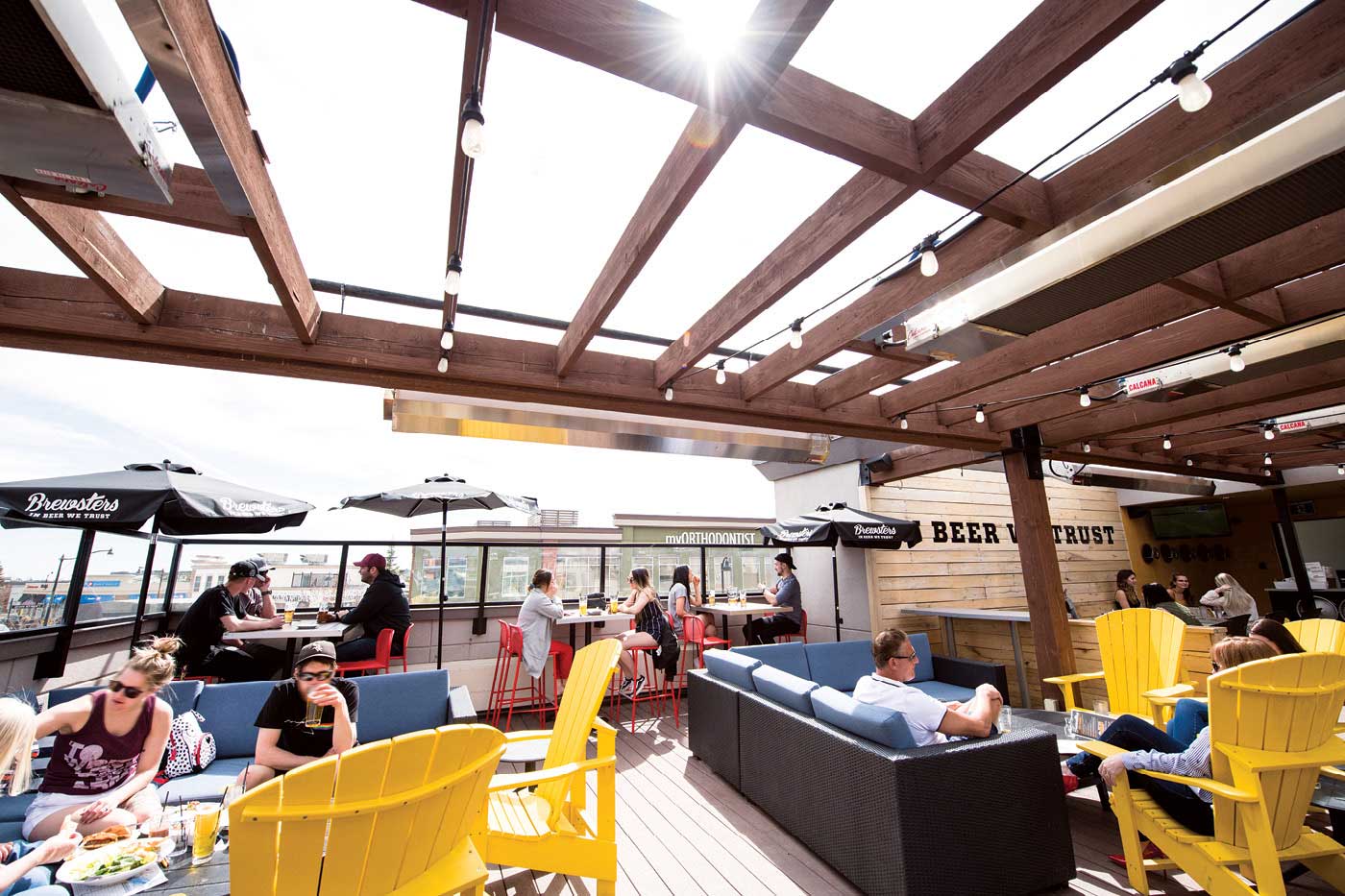 People in the south love this deck for good reason: with TVs, couches, high and low tables and Adirondacks, it's a laid-back lounge that serves elevated pub grub and house-brewed raspberry, blueberry and peach ales. There's elevator access for those with mobility issues and children are welcome, as well.
100, 11 McKenzie Towne Ave. S.E., 
403-243-2739, brewsters.ca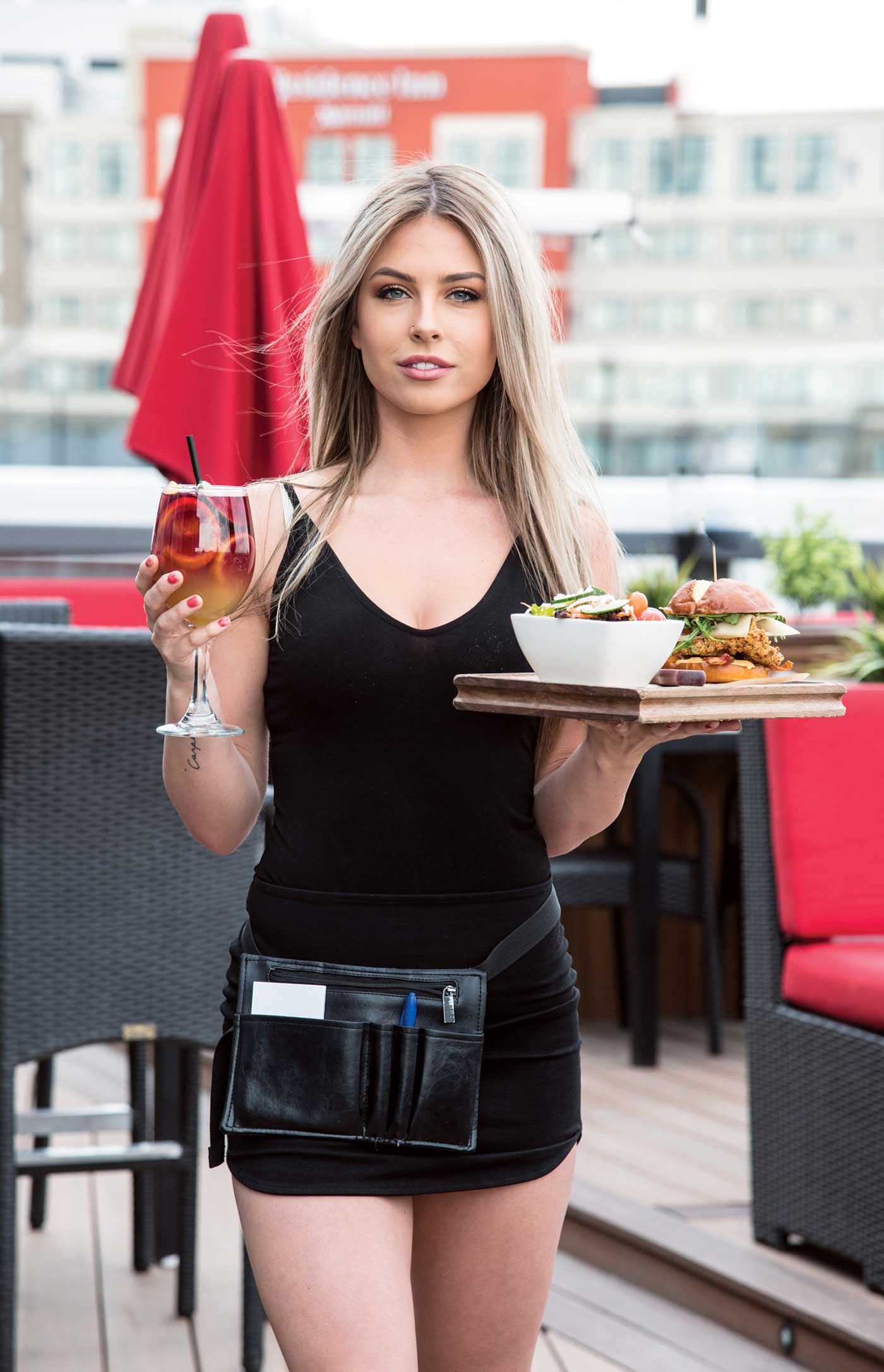 You can share romantic nightcaps around the outdoor gas fires at each table here, or mingle indoor/outdoor-style when the big, glass doors of this southeast Calgary pub slide open. Try a chicken gastro club with sangria under the stars.
920, 19489 Seton Cres. S.E., 403-726-6330, 
tommyfieldgastropub.com
During summer, the Toad chain opens its "Toad on Top" patios. All meats are smoked in-house, daily food and drink specials abound. Kids are welcome at the south location until 8 p.m.
2475 27 Ave. N.E., 403-717-0670; 5155 
130 Ave. S.E., 587-387-2635; toadnturtle.ca
This sunny rooftop in Walden serves up fish tacos and something called "potato nachos" — lattice fries topped with ooey-gooey cheese, beef and jalapenos. Add to that a slushy machine, margaritas and bulldogs. Fun!
530, 151 Walden Gate S.E., 403-256-5156, 
windsorrosepub.ca