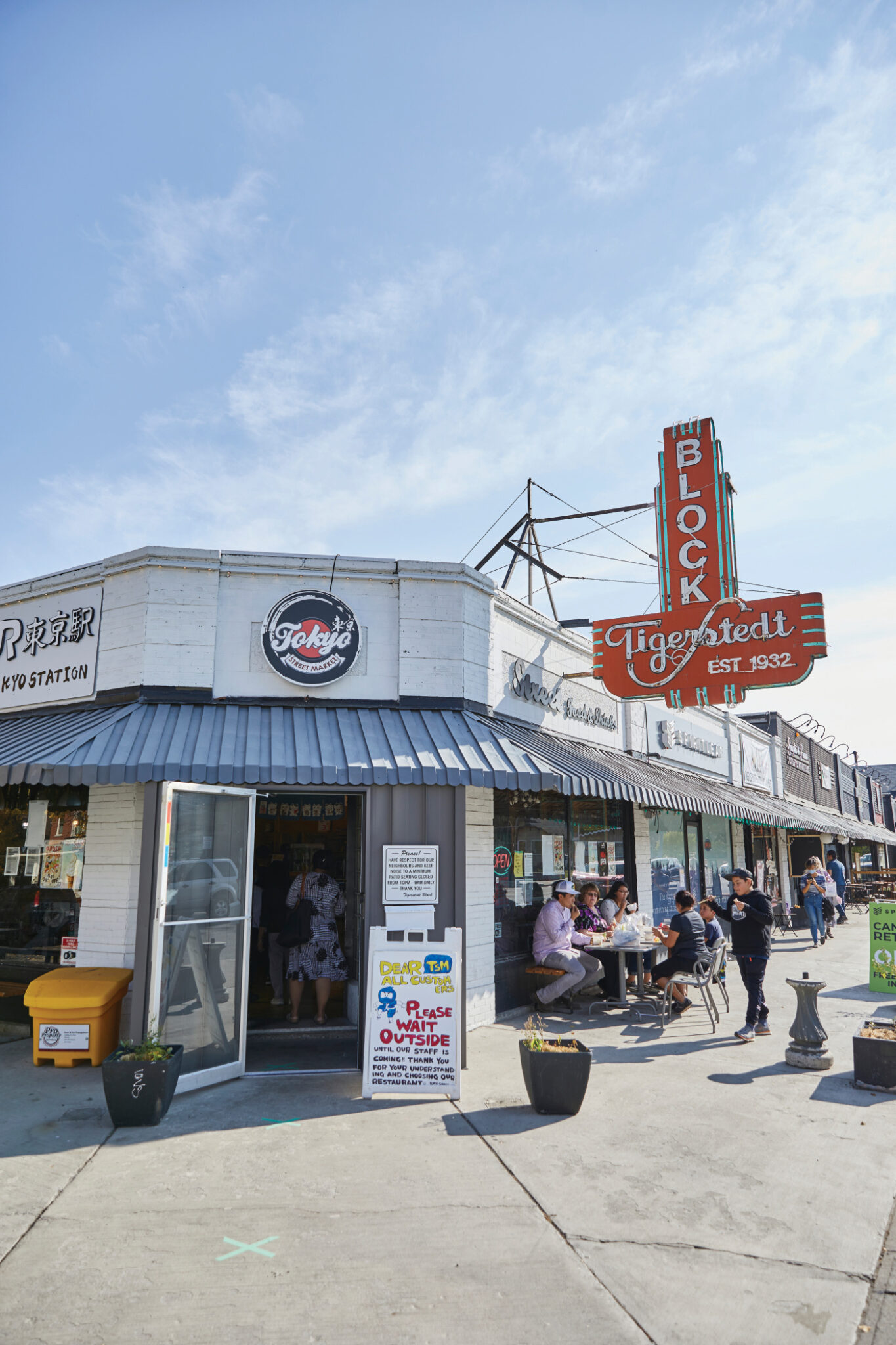 As the pandemic and resulting lockdown changed the way we can dine out in Calgary, local restaurants came up with creative ways to adapt to the social-distancing era. Each approach is unique to its restaurant and shows the resiliency of both the restaurateurs and their staff. These diverse changes come in many forms: curbside pizza pick-up, patio ramen, hybrid restaurant-convenience stores and more. Here are some of the ways restaurants changed in order to serve fan favourites while trying out new menus and service styles that appeal to an evolving customer base and world.
A New Approach to Shareables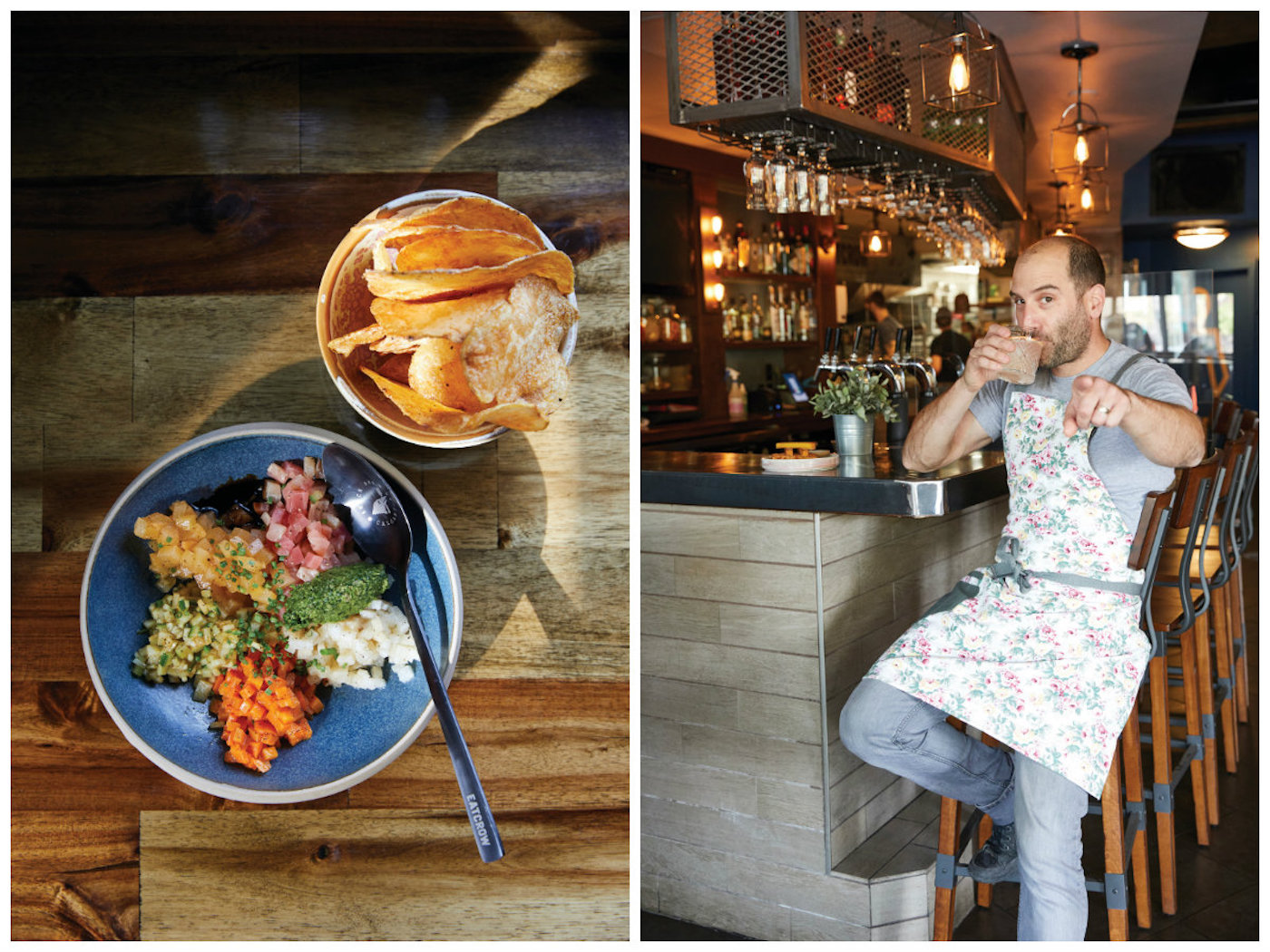 While Kensington diners may have been worried when the Brasserie Kensington closed amidst the pandemic, owners Cam Dobranski and Jacqueline Warrell had been planning their new, affordable concept Eatcrow Snack Bar as a replacement for some time. The lockdown gave them the opportunity to further rethink their approach, accommodate social-distancing guidelines in the design and test out new menu items.
By designing the space themselves — they call themselves Warranski Design Co., a cheeky combination of their last names — they were able to put a personal touch on the restaurant. The renovations took longer than expected but, on the plus side, the lockdown inspired them to support local businesses when acquiring their signage and bar cages.
With the change in concept that comes with Eatcrow, Dobranski says they wanted to "design a menu that felt very much like us," and offer "a choose-your-own experience, especially because of COVID, so that someone could have one drink and leave, or stay all night and have high-quality cocktails and food without breaking the bank."
Dobranski and Warrell, who also operate the adjoining Container Bar and Winebar Kensington, say they worked to "unthink" and "unlearn" what they knew about restaurant food, and focused on offering more healthy and vegan options.
The menu focuses on shareable, approachable food, with a number of gluten-free, dairy-free and vegan options to suit many dietary restrictions. The "'un'ribs" made of seitan and the root vegetable "tartare" are both vegan, and the restaurant offers quick-serve cocktails made from recipes by Danny Ronen, a top mixologist and spirits consultant in California.
At the price point, Eatcrow Snack Bar encourages a unique dining experience while retaining a casual feel. You can get items from the restaurant's distinct Crow to Go menu, which includes a popular "Warranksi" burger, for pick-up by direct order or for delivery via DoorDash.
100, 1131 Kensington Rd. N.W., 403-457-4148, eatcrowyyc.com
From Basement to Underground Tokyo Subway Station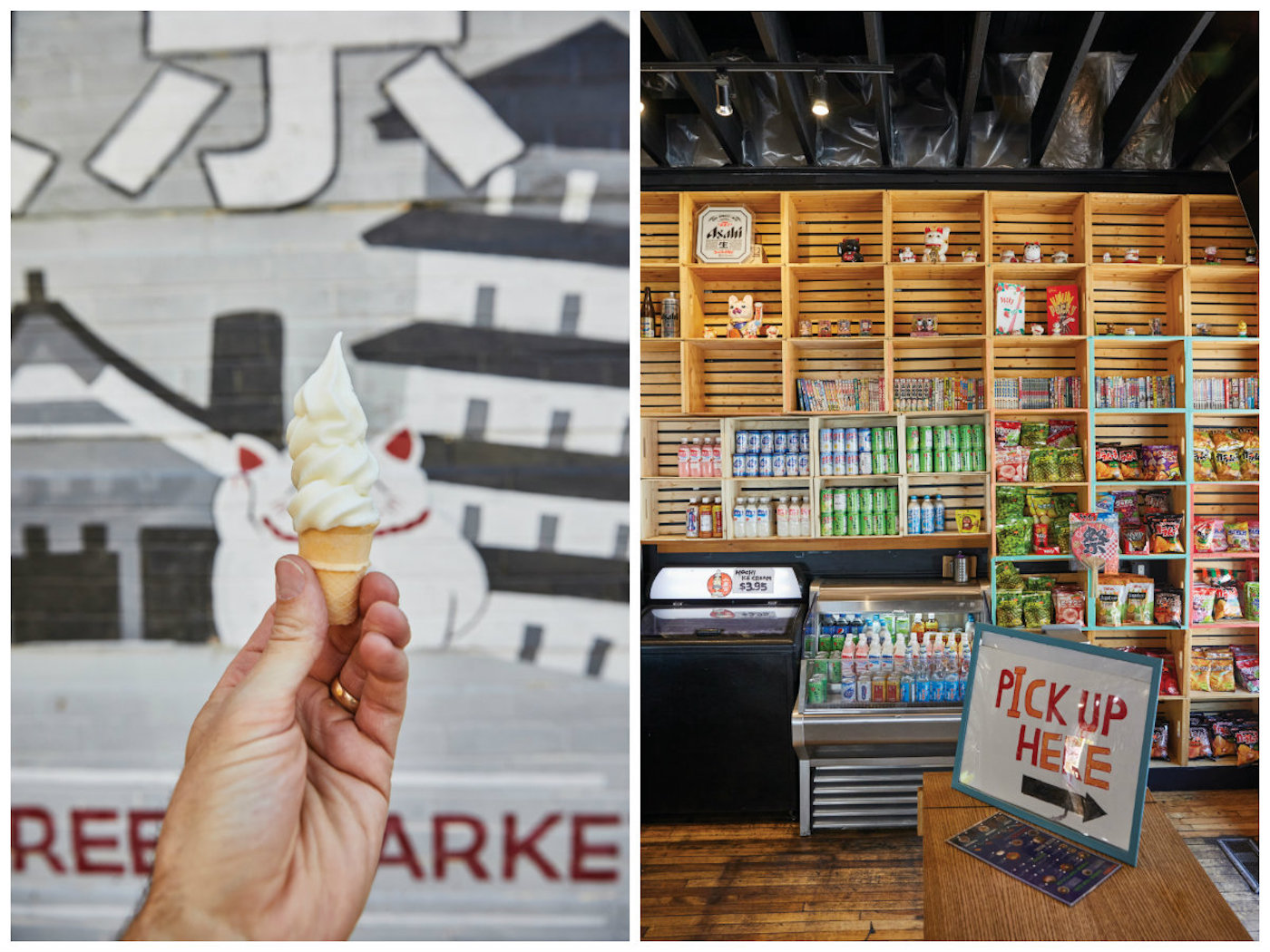 Tokyo Street Market owner Terry Ke sees a silver lining on the pandemic: "Where there is challenge, there is opportunity as well," he says. Keeping this in mind, Ke and his team used the lockdown to take a step back and think creatively about their restaurant.
Beyond adjusting all customer areas with dividers and distanced tables, they decided to create the subway-system inspired Tokyo Station in the basement of Tokyo Street Market, and add Hokkaido-style soft-serve ice cream and donburi bowls to the menu. Designed by David Lam of Meiga Development Corporation, the colourful basement's main feature is a convenience store selling to-go bento boxes and Japanese tapioca tea.
Ke, who acquired Tokyo Street Market earlier this year, says that the Japanese food scene in the city is due for a diversification. "The majority of the market is dominated by sushi and ramen," he says. "There's so much more I want to introduce to Calgarians to really show what Japanese cuisine is."
He aims to do this by encouraging his cooks to create special menu items. The restaurant offers a "chef's table" concept similar to omakase with a menu of Japanese dishes that are not widely available in Calgary.
Considering the precautions taken and new offerings from Tokyo Street Market, it's no wonder that it's enjoying a steady flow of customers — the new design is highly Instagrammable, and the variety of menu choices including matcha-flavoured soft serve have been making their way into popular TikTok videos. Tokyo Street Market offers delivery through SkipTheDishes and pick-up via phone orders and its website.
922 Centre St. N.E., 403-452-3794, tokyostreetmarket.com
Bringing a Neighbourhood Feel Downtown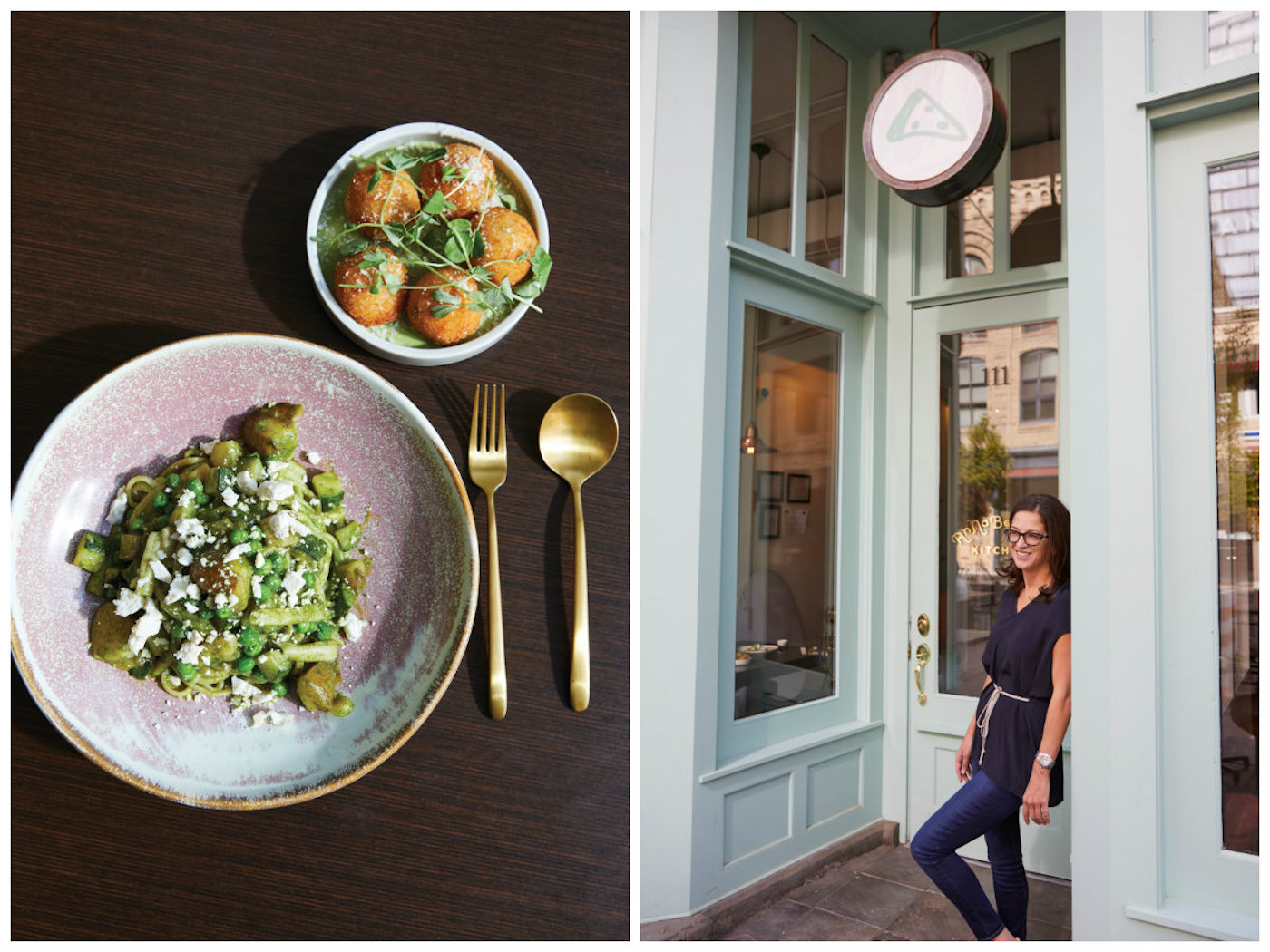 Predicting that a slow economy posed a threat to fine dining in Calgary, Leslie Echino decided to replace her long-running Blink concept on Stephen Avenue with a second location of Annabelle's Kitchen (one of Avenue's Best New Restaurants 2020). Aiming to bring the "neighbourhood feel" of Marda Loop to downtown, the menu at Annabelle's offers an approachable array of pizzas and pastas, as well as a daily happy hour with half-priced pizza and specials on drinks and pasta from 3 p.m. to 5 p.m.
"Comfort food is necessary during a time of uncertainty," she says. "Right now, more than ever, a feeling of a neighbourhood place with fresh pizza, fresh pasta, and salad [is something] everyone is really drawn to."
At Annabelle's Kitchen Downtown, Echino eschews exclusivity to allow a variety of clientele to have an enjoyable experience. With a kids' menu, many vegetarian options and non-alcoholic drinks (including Annex Soda and True Büch Kombucha), the restaurant covers a wide range of needs.
Echino worked with Walker McKinley from McKinley Studios to achieve an open and airy restaurant that leaves plenty of room for social distancing. Elbow grease from staff, 26 gallons of paint and some refurbished furniture later, she and her team created a mid-century modern interior that complements the signature seafoam green exterior.
For those more comfortable eating at home, Annabelle's sells fresh pasta and chili oil, as well as take-home meal kits. Delivery and takeout are available via DoorDash.
111 8 Ave. S.W., 403-263-5330, annabelleskitchen.ca
Take-home, Grab & Go or Try a Sando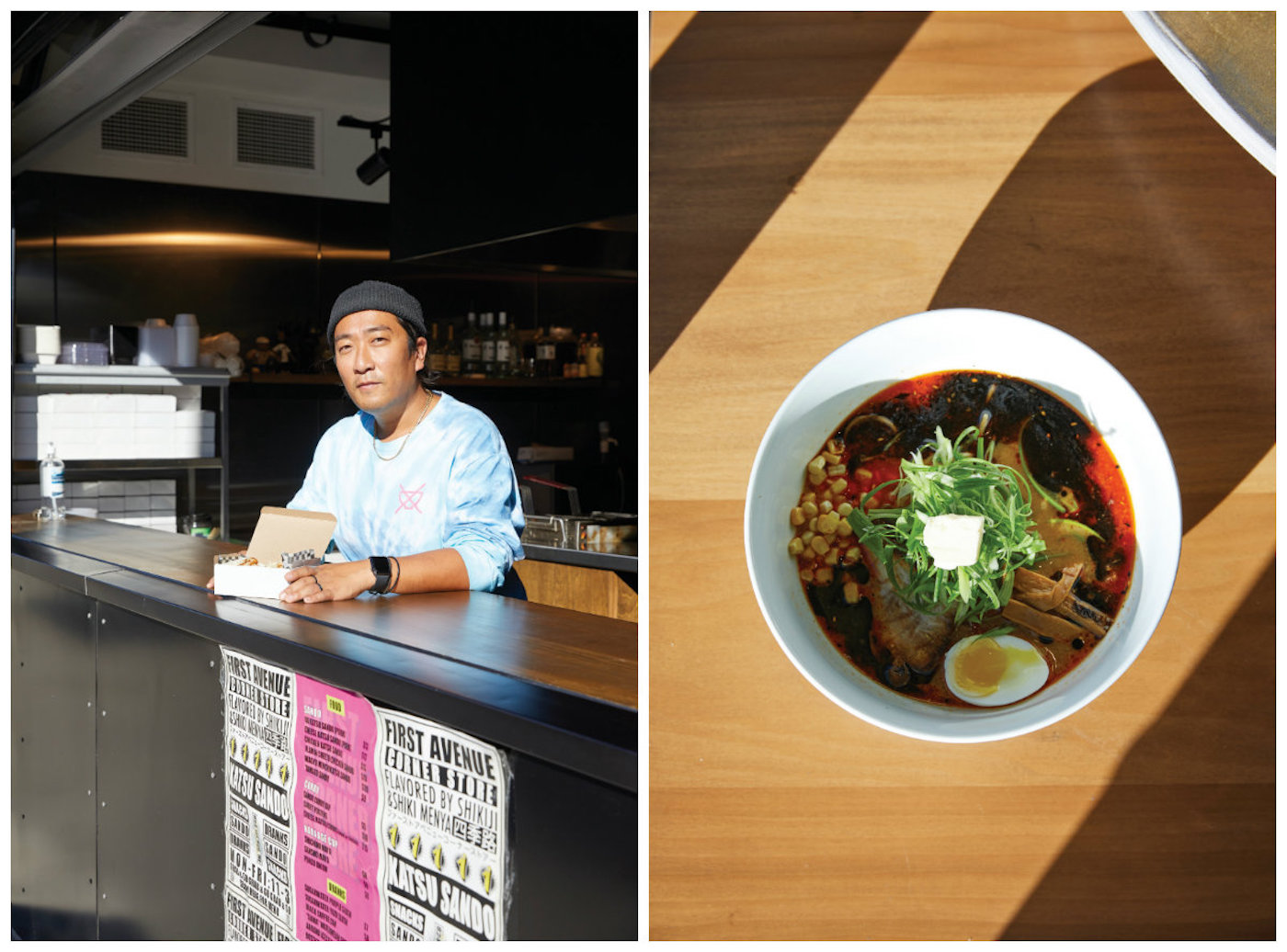 Shiki Menya's ramen kits quickly became much sought-after when Calgary went into lockdown. For a restaurant that did not previously offer takeout, its owners and staff quickly adapted to this change in direction. Koki Aihara, the co-owner of the restaurant, says his team of three kitchen staff and three drivers was "pumping out 500 bowls in three days each week." Kits were also available for pick-up at nearby Bridgeland Market.
The restaurant has now moved across the street from its old location and boasts new furniture, new paint, and a new look by Korr Design — as well as a spacious patio. "[For Shiki Menya], we originally wanted a small, busy place. People are comfortable with the patio because of the garage door," Aihara says. The new space also has a larger kitchen that allows Shiki Menya to make noodles in-house instead of at sister restaurant Shikiji Japanese Noodles and Sushi.
The move also allowed Shiki Menya to open the First Avenue Corner Store, a Japanese "grab-and-go" spot with limited capacity inside and a takeout window. It focuses on Japanese street food including curried poutine and its signature range of katsu sandos. Ramen kits were paused at press time but are expected to return this fall.
This new concept is distinct from Shiki Menya's ramen offerings and appeals to those looking for a quick snack with limited interaction. "There's a lot of foot traffic because of the window. It's more approachable and faster," says Aihara. "Our thing is being a quick place where you can go and get dope food." With the convenience the pick-up window offers, and the open design of the new Shiki Menya space, Aihara has created two ideal spots to eat during a pandemic.
824 1 Ave. N.E., shiki-menya.myshopify.com
New York Pizza in Our Own East Village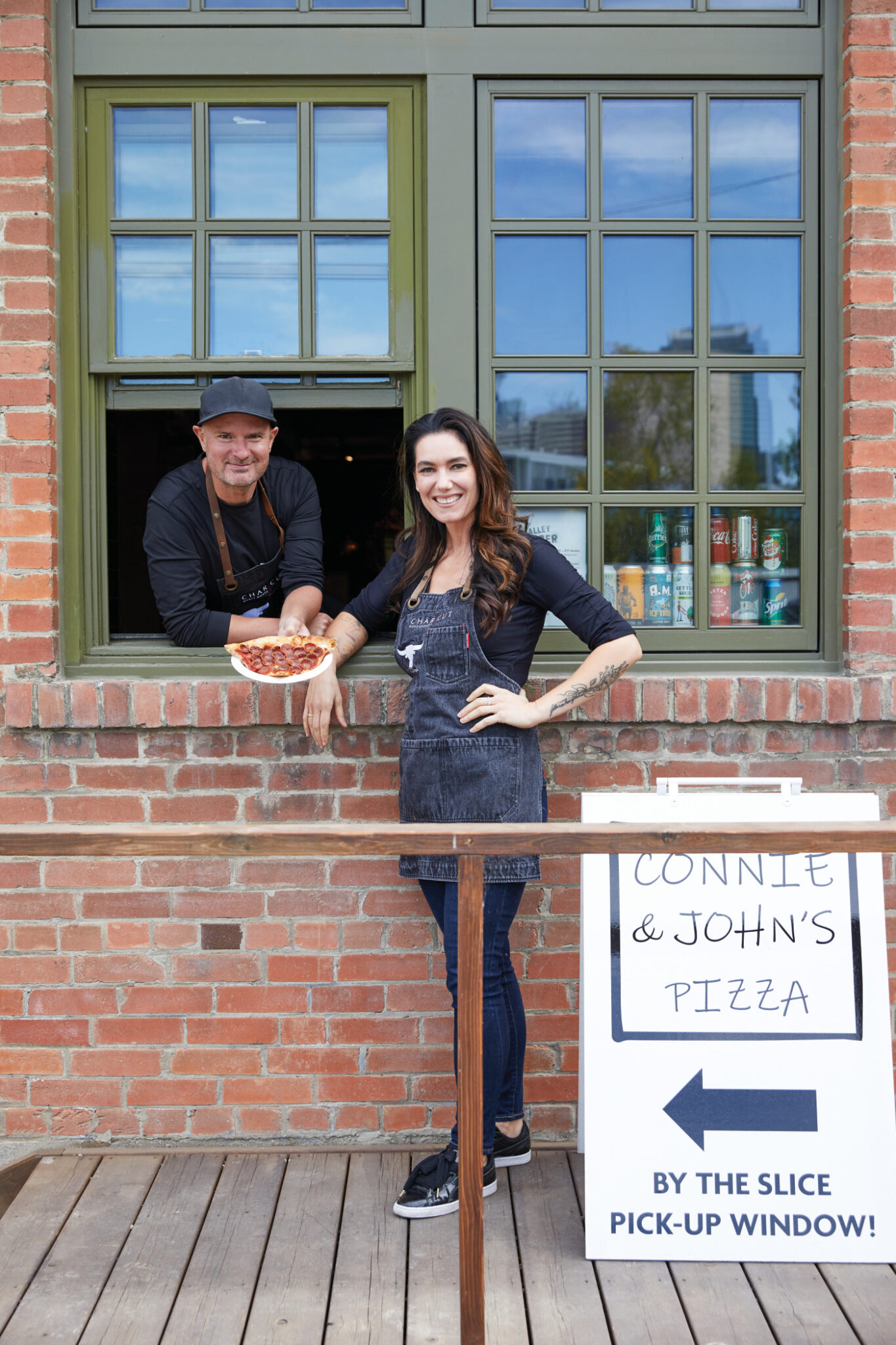 Connie DeSousa and John Jackson planned to open Connie & John's Pizza in 2021, but the pandemic convinced them to modify those plans. Instead of opening up a regular dine-in restaurant, the pair got to work in their event kitchen in the Simmons building and launched a takeout concept instead.
After the sell-out success of its pop-up trial run, they knew they were on to something good. The restaurant offers New York- and Detroit-style pizzas with vegetarian options, optional gluten-free crust and even the "Connie and John's Beer," a pilsner made by The Dandy Brewing Company.
There is a socially distanced queue for pick-up and guests can wait inside, subject to capacity. You can enjoy a drink on the patio while you wait, and the proximity to the East Village RiverWalk offers the perfect picnic area. Delivery is currently available through DoorDash and Connie & John's plan to launch in-house delivery service soon.
Proudly speaking about the approach to the restaurant, Jackson says, "the baking component of the dough is gratifying, and absolutely every single piece of our ingredients is top quality."
The restaurateurs also created an online shop where customers can order from another of DeSousa and Jackson's restaurants: Charcut. The store also includes the Charcut Butcher Shop, which sells make-at-home goods like a backyard barbecue kit, whole chickens ready for roasting and a butcher box packed with assorted meats. As the pandemic changes the restaurant industry, DeSousa and Jackson seem to be right there to keep up with it.
618 Confluence Way S.E., 403-710-2145, connieandjohns.com
Burger Pop-up Turns Bricks-and-Mortar Success
For Stephen Deere, operating a good restaurant is about more than just good food. The owner of the upscale Modern Steak and Modern Ocean concepts met the roadblocks of the pandemic and lockdown by offering a new concept called Modern Burger.
He created an a-la-carte menu specifically for the pandemic inspired by the classic American burger stand. Using a custom-blend patty, Deere created a burger that is made with "hyper-local Alberta beef" from his local abattoir rancher — the same one Modern Steak prides its premium cuts on.
Seeing how popular this burger was with customers, Deere couldn't help but notice essential workers could use a treat, too. The restaurant gave away more than 500 burgers to nursing units, paramedics and Woods Homes to show support as they continued working through the pandemic.
Originally intended as a pop-up, Deere says Modern Burger "was so successful that people were hoping we would make it into a bricks-and-mortar restaurant." To accommodate this, he moved Modern Ocean to Kensington to make room for Modern Burger on Stephen Avenue.
While Modern Burger is a response to those looking for wallet-friendly dining options during the pandemic, Deere says there are still those who wish to splurge — and he is happy to oblige them.
"If I saw one trend that's unique [during the pandemic], it's that people are treating themselves more," he says. "Life is stressful as it is, and when people are going out to restaurants, they are doing that in a 'staycation' fashion."
Modern Steak and Modern Ocean are open for diners in Kensington, and Modern Steak and Modern Burger are also open for dine-in on Stephen Avenue. Modern Burger is available for takeout by direct order and for delivery through DoorDash.
100 8 Ave. S.E., 403-244-3600, modernburger.ca