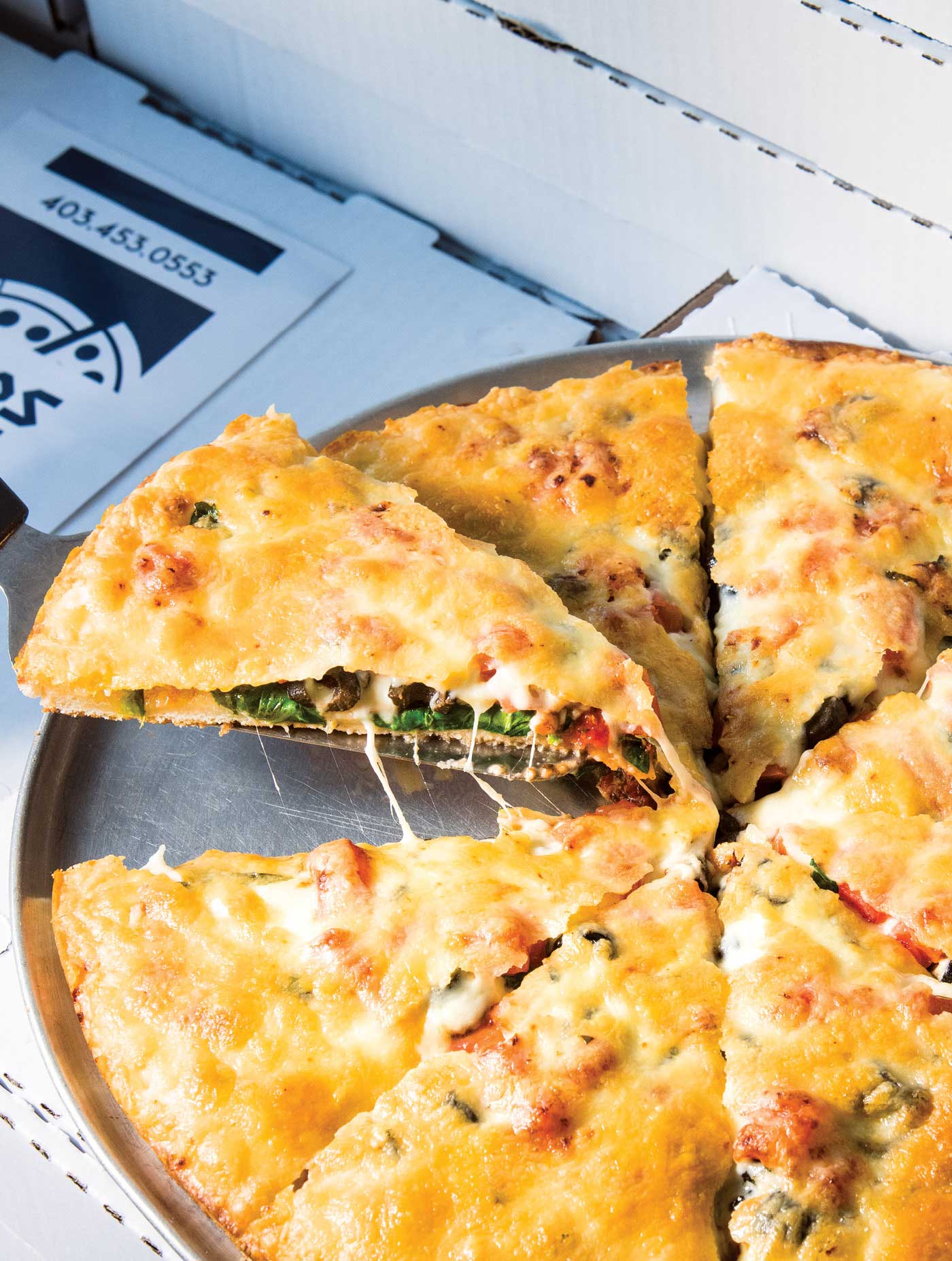 If the room is dimly lit, the pizzas are numbered on the menu and there's a house special with five or more toppings, you're probably at a Greek-style pizza joint. Contrary to popular belief, Greek pizza has nothing to do with feta cheese and olives and everything to do with a hearty crust, oregano-rich sauce and toppings buried beneath a mountain o' mozza. At Niko's the two are not mutually exclusive — the Toms special with beef, mushroom, onion and banana peppers is just as satisfying as the Athenian covered in baby spinach, tomato, black olives and feta.
1405 11 St. S.W., 403-453-0553, nikospizzacalgary.com
More Greek
Calgary's Greek pizza is closely associated with neighbourhood sports bars: your favourite is often just a matter of geography. That said, Atlas Pizza in Marlborough makes our shortlist for over 40 years of amazing bar pizza. We're suckers for the perfectly simple cheese pizza, but there are close to 40 to choose from.
6060 Memorial Dr. N.E., 403-248-3344, atlaspizzasportsbar.com
Matador Pizza in Varsity opened in '76 and continues to up its game. Career-long advocates of Greek-style tradition, the business has added a special crust that is free of gluten, dairy, egg and soy. We like it best as the hot one, topped with jalapeno, onion, pepperoni and Italian sausage. If you want to learn more about Calgary Greek, check out Matador's blog.
4625 Varsity Dr. N.W., 403-286-3133, matadorpizza.com
Avenue's writers and editors are occasionally invited to eat at local restaurants as a guest, including some of the spots in this story. Neither complementary meals nor advertising are required for coverage in Avenue. Neither companies that advertise nor those that provide other incentives are promised editorial coverage, nor do they have the opportunity to review or approve stories before publication.