YYC Pizza Fest is back! Organized by Calgary Meals on Wheels, this 10-day festival kicks off on September 16 and runs until October 2, giving you more time than ever to try all the 'zas on offer.
More than 40 restaurants in the city are participating in this year's festival, each offering a pizza creation to be judged in a friendly competition, decided by the public. New categories for 2022 include the best-rated pizza, the most sold, the most out-of-the-box and best crust. Votes can be cast here, or on the brand-new YYC Pizza Fest app.
In support of Calgary Meals on Wheels, a slice of the profits from every pie will go toward making sure the stomachs of all Calgarians are filled with good, healthy food.
From Neapolitan to Greek-style crusts, and from pepperoni to pickle-themed toppings, there are a lot of options to try this year. Here are just some of the eye-catching offerings to consider, or you can check out the full list here.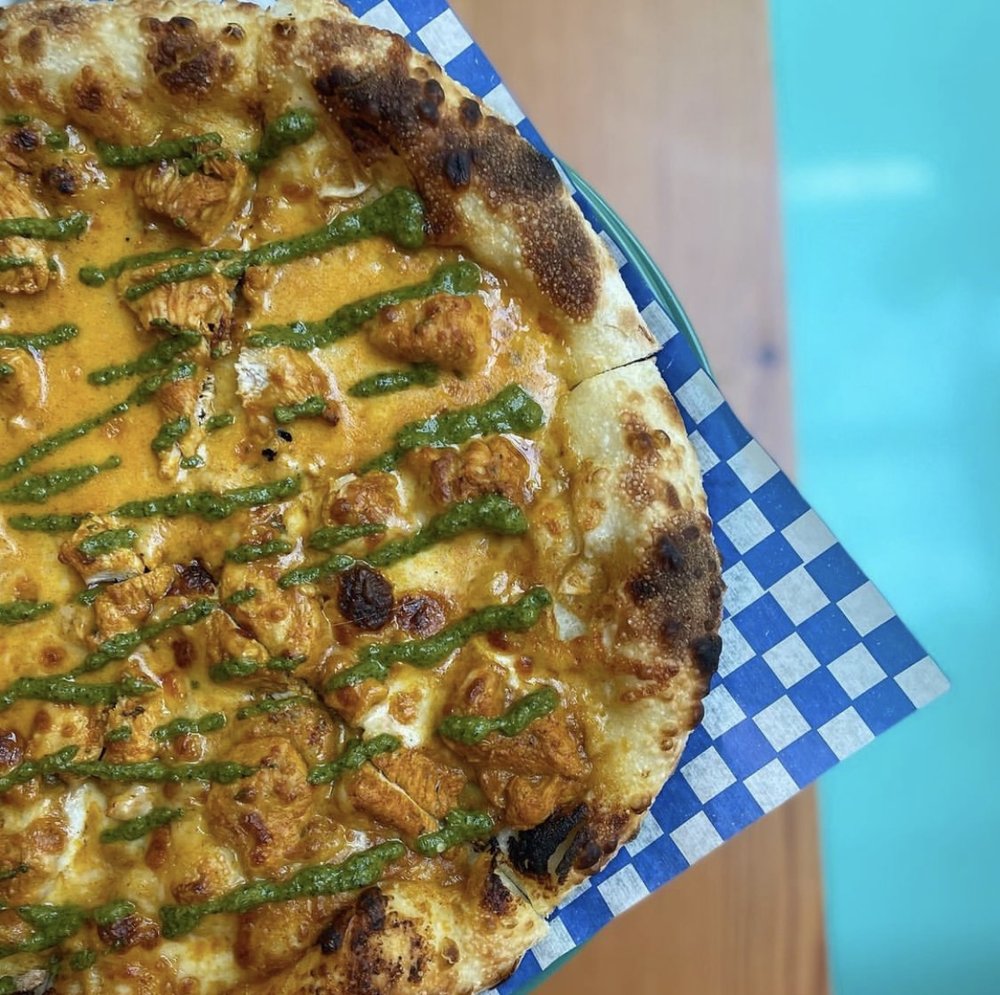 Created by JJ, a long-time chef at Actually Pretty Good (APG), this butter chicken pizza is one of the most popular creations APG has ever had, and it's back for YYC Pizza Fest. The pizza is topped with butter chicken, mozzarella, and mint and tamarind chutneys.
2509 14 St. S.W., 403-475-9384, actuallyprettygood.ca
Pickle-lovers unite! This pizza from The Attic pairs house-made dill pickles and spicy pickled pepperoncini with a blue cheese sauce and fresh dill. The mix of tangy and creamy is a luxurious combination that even the pickle-averse might like.
1413 9 Ave. S.E., 403-475-4741, theatticyyc.ca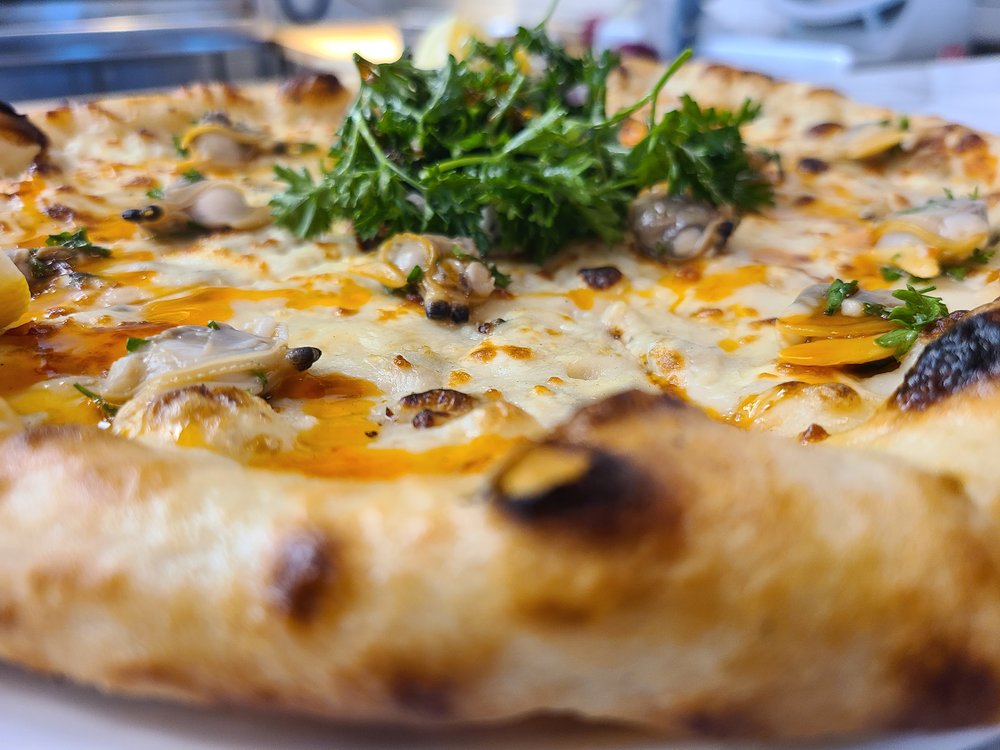 Buffo Ristorante, a rustic Italian eatery located in CF Chinook Centre, celebrates good, simple ingredients, which is reflected in this pie. Featuring clam nectar cream sauce, fresh clams, provolone and hot honey, this creamy, indulgent choice pairs best with an ice-cold Italian lager or white wine.
6455 Macleod Trail S.E., 403-351-2316, buffocalgary.com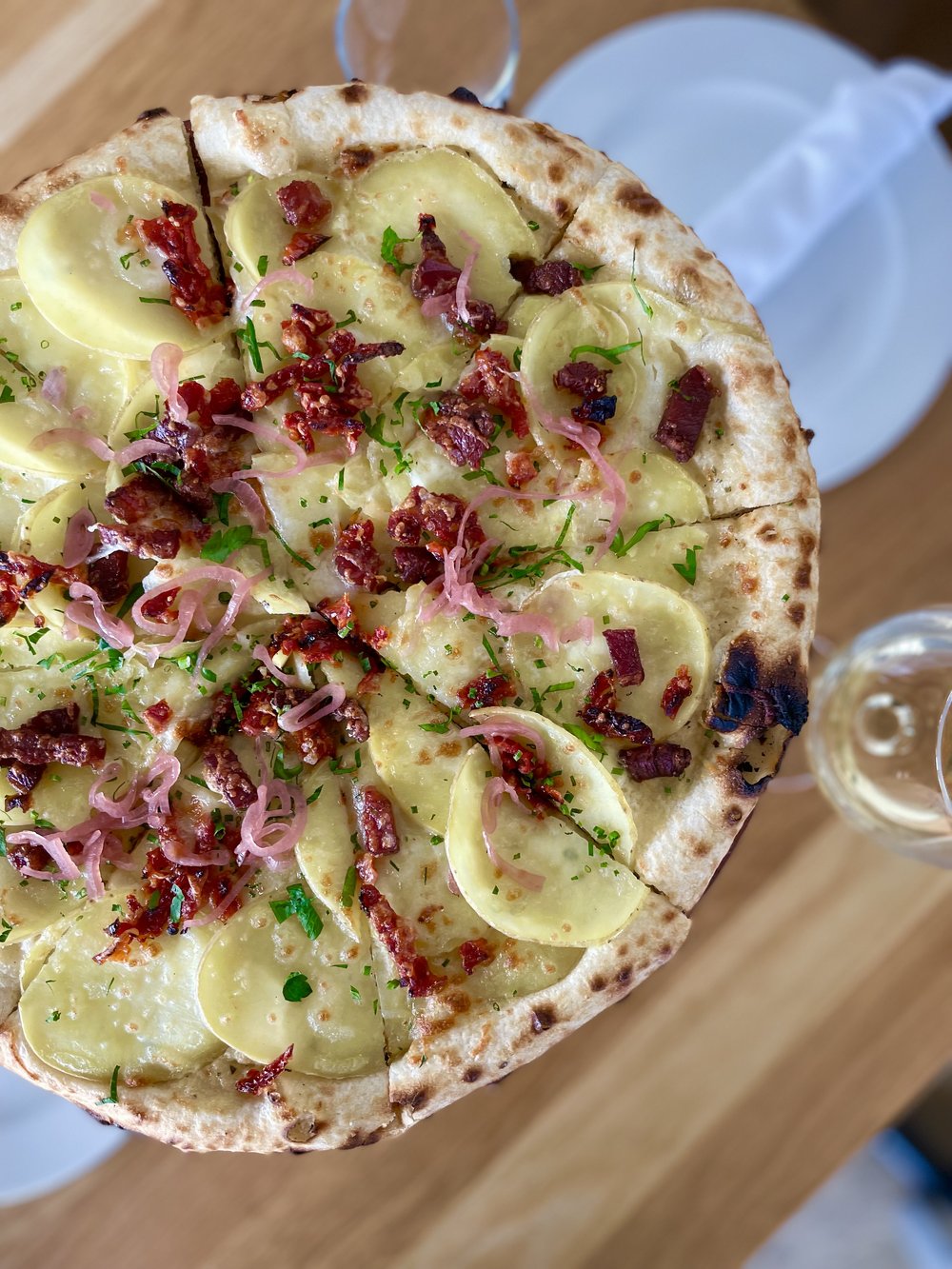 Inspired by the flavours and fixings of a fully loaded baked potato, this pizza is topped with thinly sliced potato, pickled shallots, parsley and sundried tomatoes, along with mascarpone, asiago and provolone cheeses. This makes the Half Baked a great option for pizza- and potato-lovers, alike.
6455 Macleod Trail S.W., 403-457-7677, doublezeropizza.ca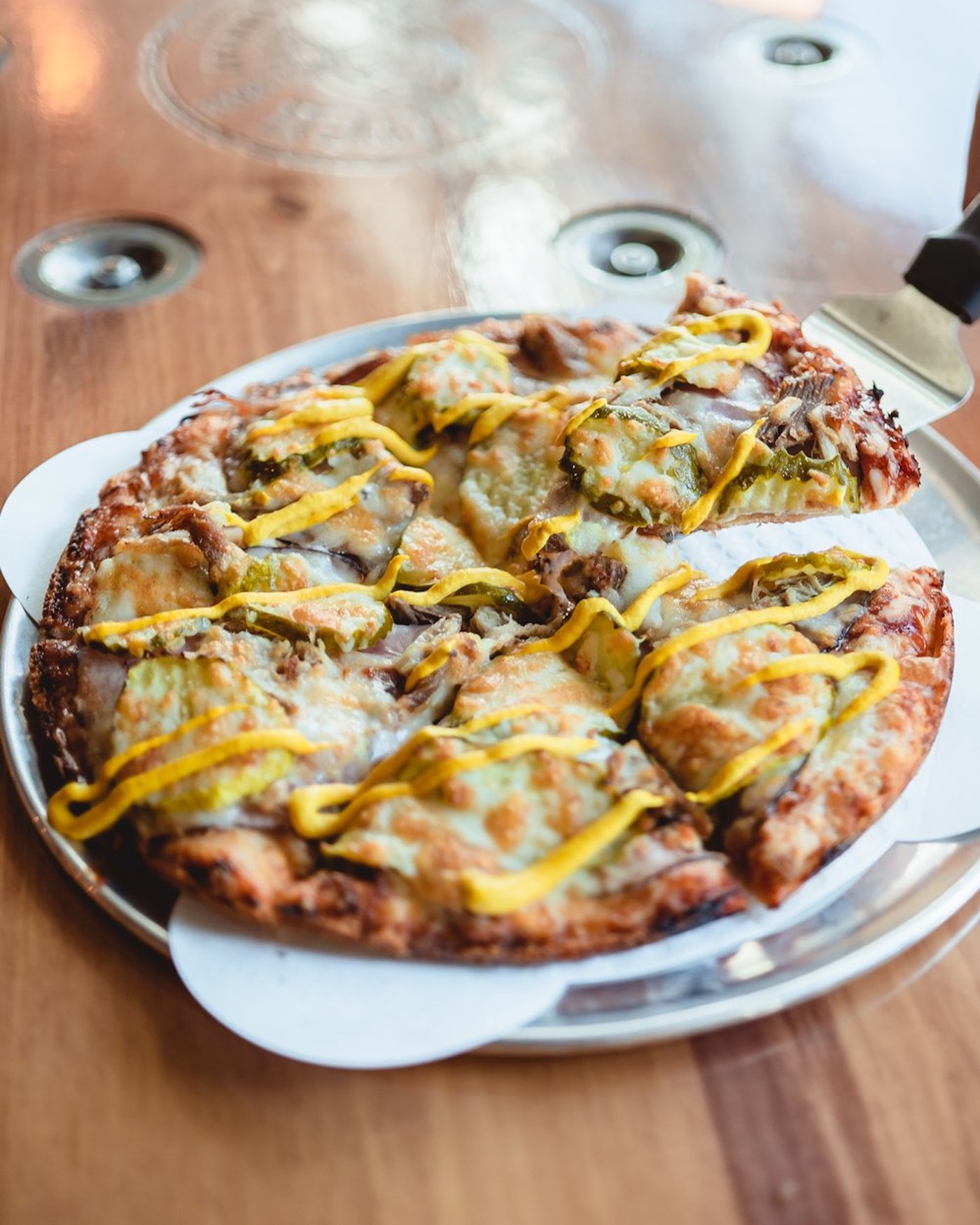 The Mash is serious about using sustainable ingredients, and The Cuban pizza is no exception. The crust is made with upcycled spent grain (from locally brewed craft beer) and topped with Cubano sandwich-inspired ingredients — pulled pork, ham and a tangy barbecue sauce are complemented by pickles and a mustard drizzle to cut through the rich meats and cheese.
Five locations in Calgary, masheats.ca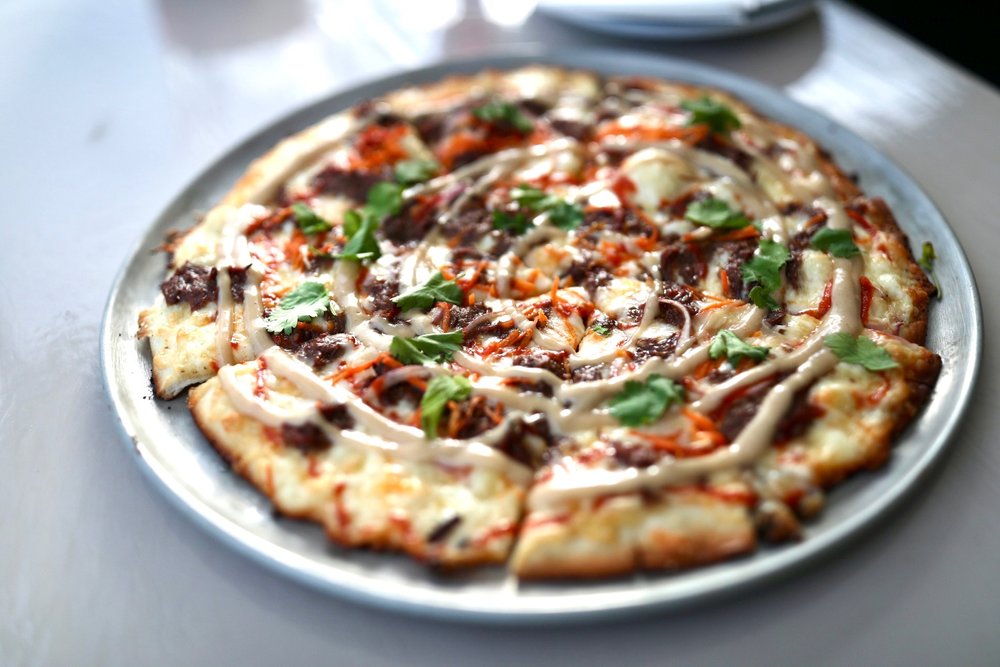 Combining everything you love about bánh mì and pizza, this pie features hoisin-braised beef, pickled carrots and onions, all piled onto a thin Neapolitan-style crust and drizzled with honey garlic mayo and cilantro. This fresh take is great for those who love spicy, sweet and savoury flavours.
2610 Kensington Road N.W., 403-283-2041, pizzabobs.ca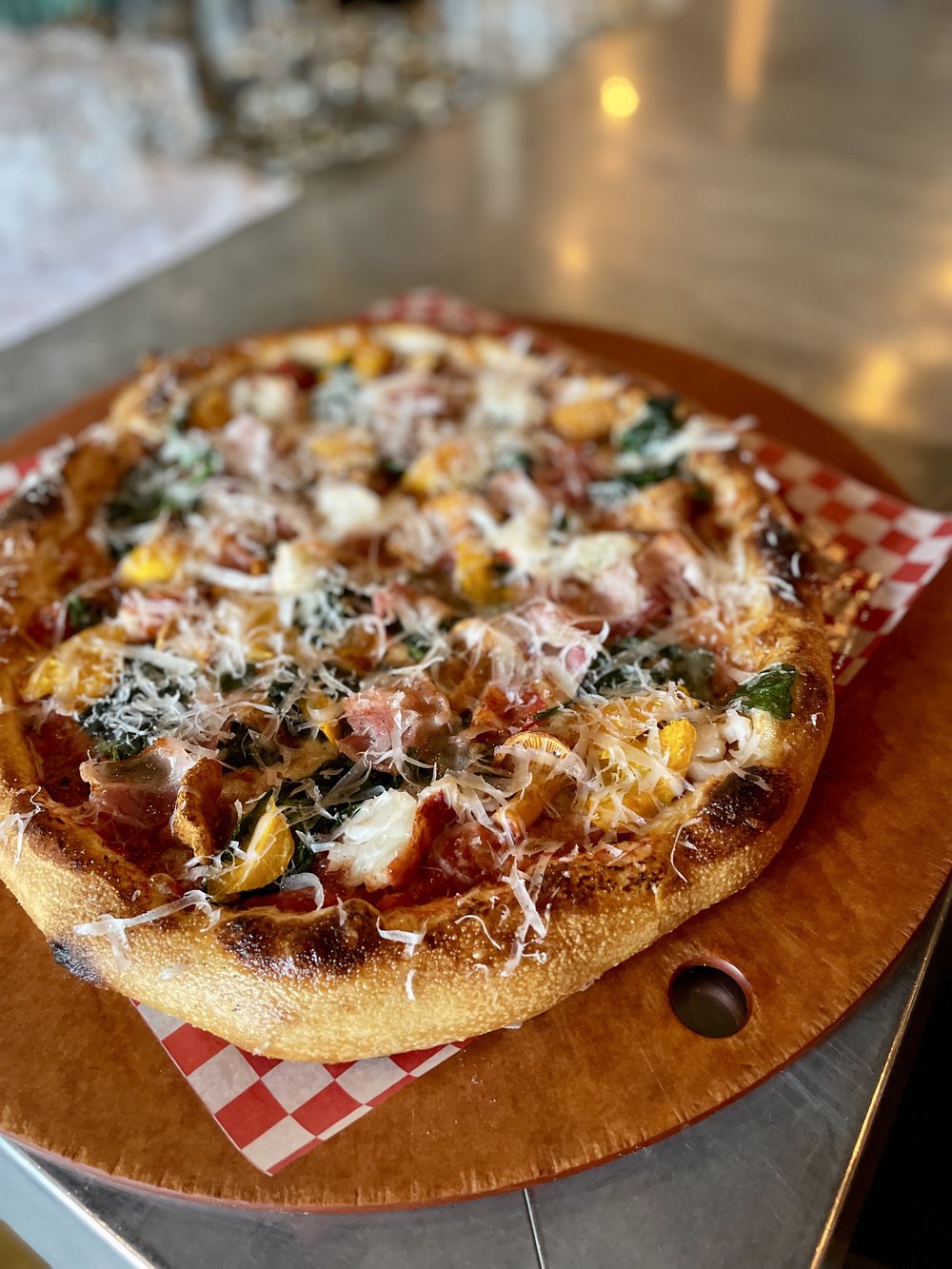 Another favourite spot for pizza-lovers throughout the city, Posto has created a rich yet delicately balanced pie for this year's YYC Pizza Fest. The pizza is topped with pieces of lobster, guanciale and chanterelle mushrooms, as well as roasted squash, spinach and fontina cheese — all served on a delicate, Neapolitan-style crust.
1014 8 St. S.W., 403-263-4876, posto.ca
One of Calgary's most recognizable pizza spots, Una has created an equally iconic pizza for YYC Pizza Fest. The carbonara-inspired extravaganza has a garlic and truffle cream base, topped with house-made bacon, black pepper and free-run egg yolks. Truffle oil and fresh-shaved black truffles make it an extra-fancy offering.
616 17 Ave. S.W., 403-453-1183, unapizzeria.com
World Bier House puts shrimp front-and-centre with this festival entry. Chipotle-marinated shrimp are joined by red onions and peppers, along with a house-made ranch drizzle. World Bier Haus recommends pairing the pizza with Village Holy Grale amber ale, brewed especially for the restaurant.
601 722 85 St. S.W.; 100A, 1600 90 Ave. S.W.; worldbierhaus.com