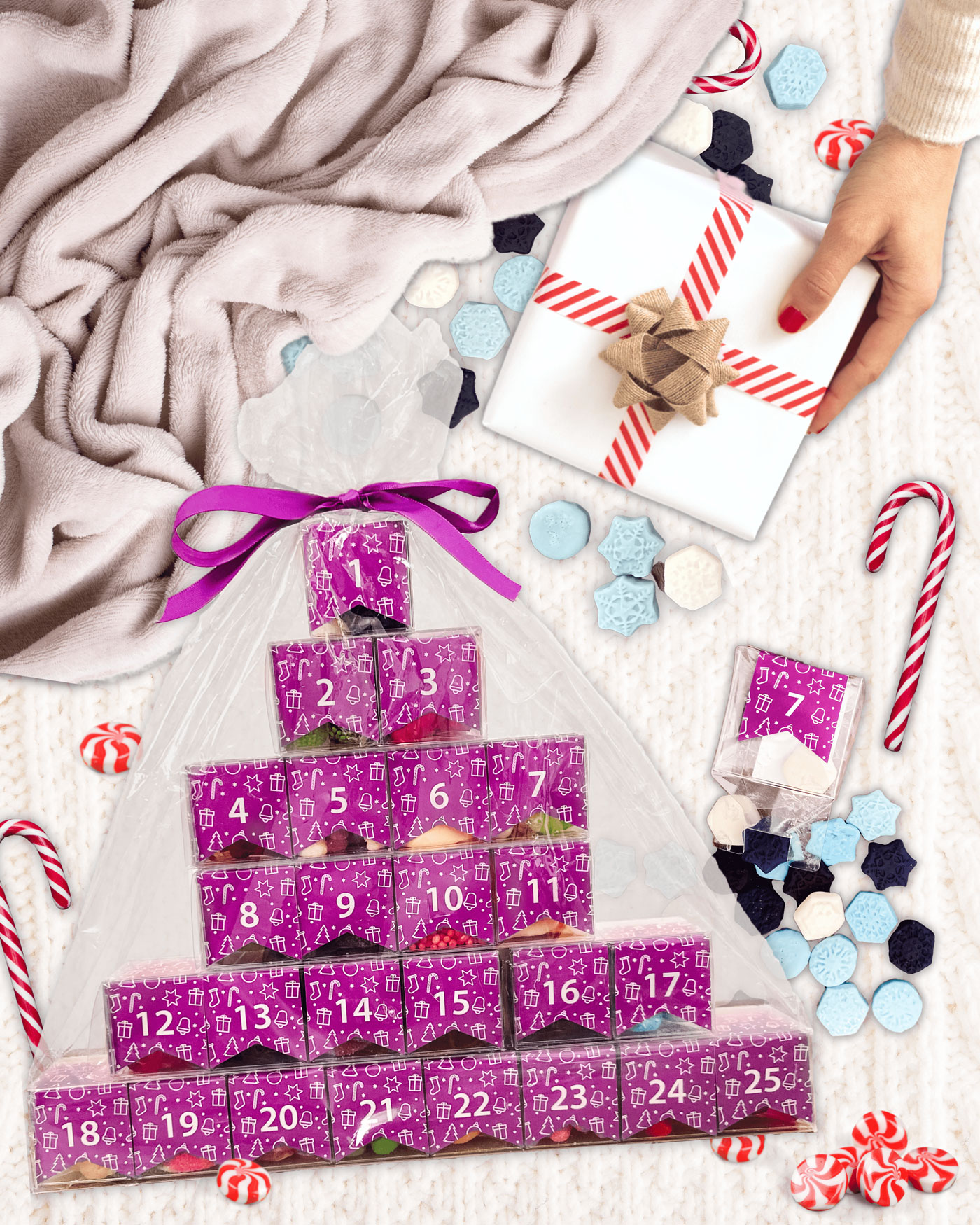 Excited about the holidays? Order an Advent calendar to help build up the excitement all December long. Savour the countdown to Christmas with items like chocolate, wine, whisky or candy that you reveal each day, or gift the experience to a loved one this year.
View this post on Instagram
Don't be surprised if you're tempted to eat all of the delicate, handmade sweets in The Chocolate Lab's Advent calendar ($59) at once. If you can hold out, relish in 25 days of gorgeous chocolates. This year's flavours will be released on November 15, but past calendars have featured flavours like bourbon pecan caramel, guava lime, eggnog, coconut custard, cranberry cardamom orange and more.
4, 21 Highfield Circle S.E. and 203 8 Ave. S.W., chocolatelab.ca
View this post on Instagram
This Edmonton-based company has launched its 2022 holiday Advent calendar ($64.95) full of 15-ml bottles of vinegars, oils, sea salts, and oil and vinegar blends. Use them in your favourite meals or try the video recipe idea that comes with that day's item. The calendars also feature beautiful artwork by local artist Jason Carter.
CF Market Mall, 3625 Shaganappi Tr. N.W., 587-353-3866, evoolution.ca
View this post on Instagram
The Italian Centre Shop's Advent calendar ($59.98) went quickly last year, so if you missed out, you can try to snag the second edition this year. Expect 24 items that will add a little bit of excitement to each day leading up to Christmas. There are two ways you can try to get your hands on one: on November 15 at 10 a.m., there will be 100 calendars available for purchase through Eventbrite, and on November 17 at 9 a.m., there will be 120 calendars available for purchase at the Calgary store.
9919 Fairmont Dr. S.E., 403-238-4869, italiancentre.ca; eventbrite.ca
View this post on Instagram
Kensington Wine Market's popular whisky Advent calendar ($459.99) returns for a ninth year and usually sells out quickly. Shoppers can expect 24 50-ml whiskies in their calendar, as well as a 100-ml whisky from the Scotch Malt Whisky Society as a special treat for Christmas Day. Drink them from the Glencairn glass that's included with purchase.
1257 Kensington Road N.W., 403-283-8000, kensingtonwinemarket.com
View this post on Instagram
Market Wines has you covered with a selection of wines to celebrate the upcoming holidays. Each Advent calendar ($249.95) comes with 12 full-size bottles to enjoy in the days leading up to Christmas.
Multiple locations, marketwines.ca
Local company Master Chocolat is offering a children's Advent calendar ($19.95) this year (though really, we're sure anyone would enjoy it). The calendar comes with a mix of milk crispy rice and milk chocolate treats.
Multiple locations, masterchocolat.com
View this post on Instagram
The Sugar Cube is making the lead up to Christmas a little bit sweeter with its candy Advent calendars that come in a variety of sizes (starting at $35). You can get a 25-day calendar in individual or family size, or opt for a 12-day calendar in mini, individual or family size. Depending on which one you choose, there are candy options for a variety of dietary needs, including halal, vegan, gluten-free, dairy-free, gluten- and dairy-free, peanut-free, or nut- and peanut-free options.
View this post on Instagram
Tiramisu, blueberry cheesecake, holiday spice, caramellow, cinnamon caramel — these are just a few of the 24 chocolate flavours you can expect to try in Those Chocolates' Advent calendar ($56). Order one now for a special treat that you can look forward to each day.
View this post on Instagram
This Advent calendar ($40) by Volio's Confections will put you in the holiday spirit with a different mini candy cane flavour to enjoy during each of the 24 days leading up to Christmas. Plus, they are vegan and gluten-free.
704 8 Ave. S.W., 403-324-0743, voliosconfections.com