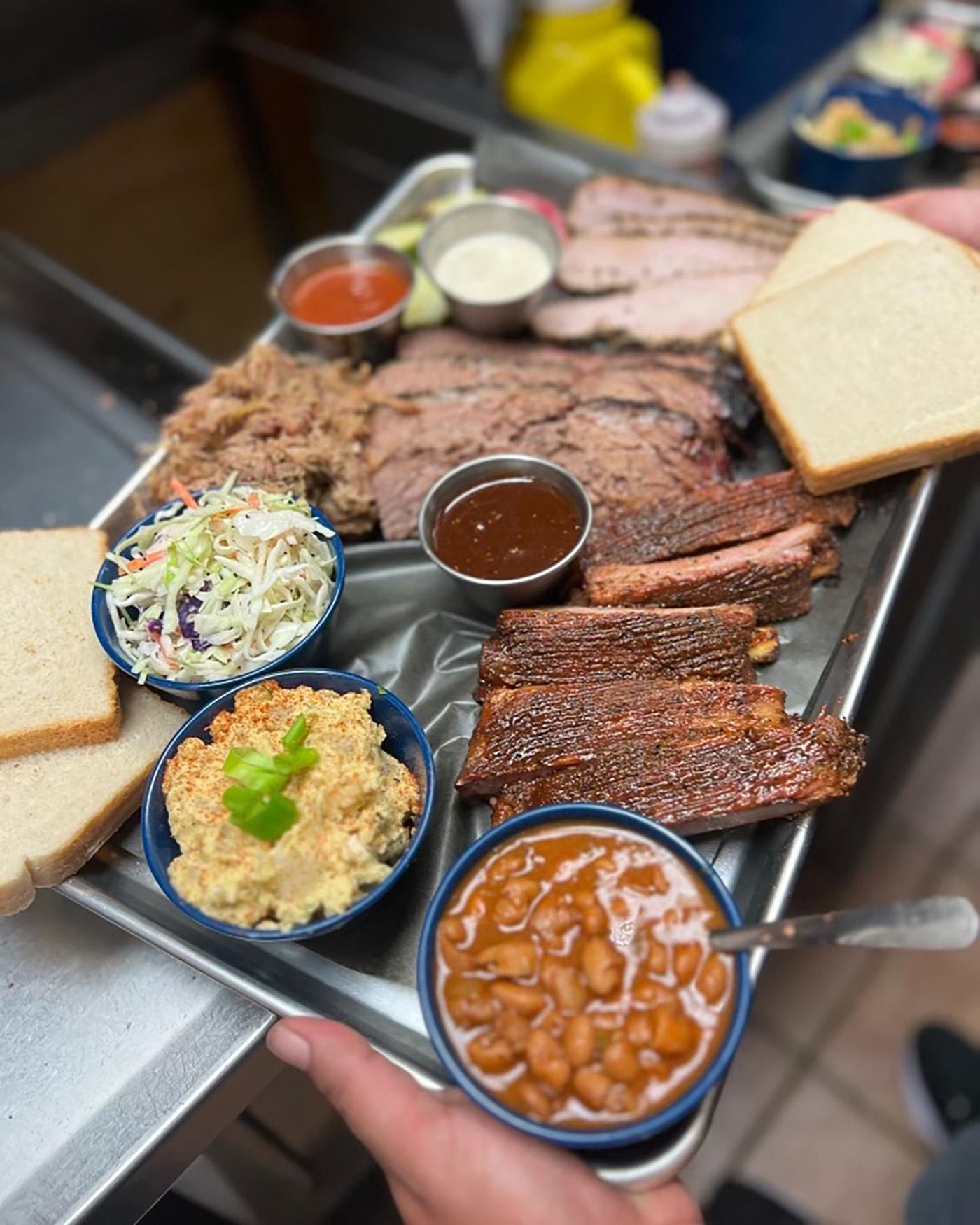 A new spot for authentic Texan barbecue has made its way to Calgary. Pit-masters, partners and co-owners Tex (originally from Texas) and Robyn (originally from Ontario) first started Traylor Parker's Real Texas BBQ during the pandemic as a food truck and trailer in Rondeau, Ontario. Now, the success of that venture has allowed them to open a second location inside an iconic Calgary locale: Big Rock Brewery.
This Traylor Parker's location features family-style seating at long tables in Big Rock's taproom where guests can dig into a robust selection of platters, sandwiches, sides and even meat by the pound, including slow-cooked and smoked wings. Guests can also get an up close and personal view of Traylor's custom-built, Bog Line Smokers outside of the taproom, where brisket is smoked for more than 12 hours.
There's also a pairing menu of Calgary craft beer and barbecue like smoked ribs (a signature dish and Robyn's speciality) with Big Rock's Grasshopper Wheat Ale or pulled pork with Big Rock's Nebula NEIPA. Diners can try four Traylor Parker's and Big Rock pairings in total.
For those interested in a sweet surprise to top it all off, Traylor's also has Tex's award-winning banana pudding, which is delicious on its own or paired with Big Rock's Fuzzy Cowboy (a concoction of peach cider and the Rhine Stone Cowboy brew).
5555 76 Ave. S.E., 403-236-1606, traylorparkers.ca
Avenue's writers and editors are occasionally invited to experience dining or adventure experiences as a guest, including some of the experiences in this story. Neither complimentary experiences nor advertising are required for coverage in Avenue. Neither companies that advertise nor those that provide other incentives are promised editorial coverage, nor do they have the opportunity to review or approve stories before publication.