Something has felt different about 17th Avenue S.W. since the sudden closure of Melrose Caf and Bar more than two years ago. The spot that became synonymous with the Calgary Flames' run for the cup in 2004 had its fans and its detractors, but no one could argue it didn't bring some energy to the stretch of road known then as the Red Mile.
Now, the addition of Trolley 5 has breathed new life into the space left vacant by Melrose's closure in 2014. Though the restaurant side of the establishment was filled by the short-lived Corbeaux Bakehouse (now home to Royale Brasserie), the massive and popular bar side of Melrose remained empty until Trolley 5 co-owners PJ L'Heureux and Ernie Tsu decided a brewpub was just what was needed.
Starting with a complete rebuild, the two have created an airy yet welcoming three-level space that weaves together the restaurant and the brewery – literally, considering brewing equipment and a moving conveyor belt of growlers is as much a part of the decor as the mustard-yellow banquettes and wall-to-wall windows that allow patrons to enjoy a brew with a view.
Named for the no. 5 trolley that once trundled through the Beltline neighbourhood, the brewpub features "rails" of seating along the windowed expanse on two floors, which make for great people-watching and a chance to enjoy the good weather – when we have it.
Of course, it's also about the beer. On tap are the creations of brewmaster Jeff Demaniuk, which are brewed on site, as well as beers from fellow Calgary brewers: Big Rock, Last Best and Tool Shed. They also serve collaboration and seasonal brews besides their core pours. (Get a beer flight and sample several at a time.) For those not sure what to choose, the servers are helpful in narrowing picks but also quick to offer small samples to make it easier to commit to a pint. Although beer is the focus, wine and cocktails are also available.
Bringing his Bookers BBQ and Crab Shack experience to this new spot, executive chef Myles Learning has created an eclectic menu with a strong barbecue focus. Wings, ribs, pulled pork, brisket and their standard sides – from cornbread and beans to macaroni and cheese – all have a place on the menu, alongside more unexpected offerings such as salt-and-pepper squid, chicken chow mein and tuna poke.
728 17 Ave. S.W., 403-454-3731, trolley5.com
---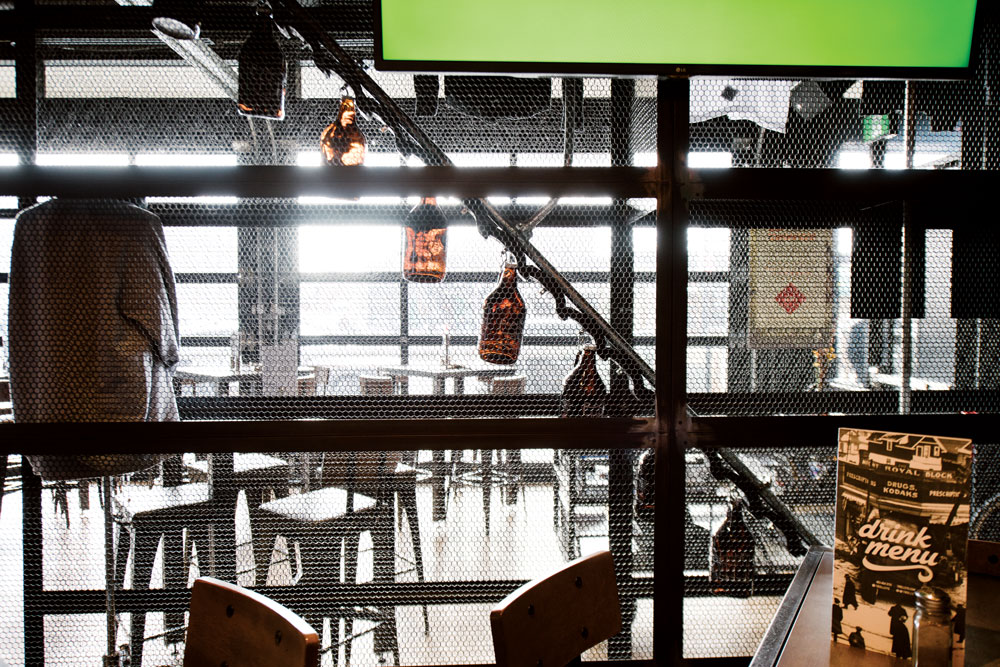 A moving conveyor of growlers makes beer part of the decor at Trolley 5.