The answer to where to drink a Caesar in Calgary is basically anywhere that serves drinks. It was invented in this city after all. Walter Chell came up with the concoction in 1969. He was the bartender at The Westin and was asked to create a cocktail that complimented dishes at the hotel's new Italian restaurant. And so the clam, tomato and vodka juice was created.
Chell's basic Caesar recipe includes 1.25 ounces of vodka, six ounces of clamato juice, a dash of Worcestershire, a squeeze of lime and salt and pepper to taste served in a glass with a celery salt rim.
These Calgary restaurants that each has its own spin on the Caesar.
Shin Ramen Caesar at Anju
In addition to using Irish whiskey in its Caesar, Anju's twist on the classic includes adding ramen noodles.
344 17 Ave. S.W., 403-460-3341, anju.ca
View this post on Instagram

A classic Caesar is always on the menu here, but on Saturdays and Sundays the drink gets extra special. The Beltliner's Weekend Caesar Bar, available Saturday and Sunday, starts with the base of Walter's Craft Caesar Mix, Bad Dog Bloody Mary Bitters and spices. Then you have options. Choose gin, vodka or tequila. The simplest Caesar on the menu is The OG with a pickle and pepperoni. The most outrageous is the Loaded AF with bacon, chicken and waffles, lamb sausage, perogies, avocado, pickles, pepperoni and celery.
243 12 Ave. S.W., 587-955-1555, thebeltliner.com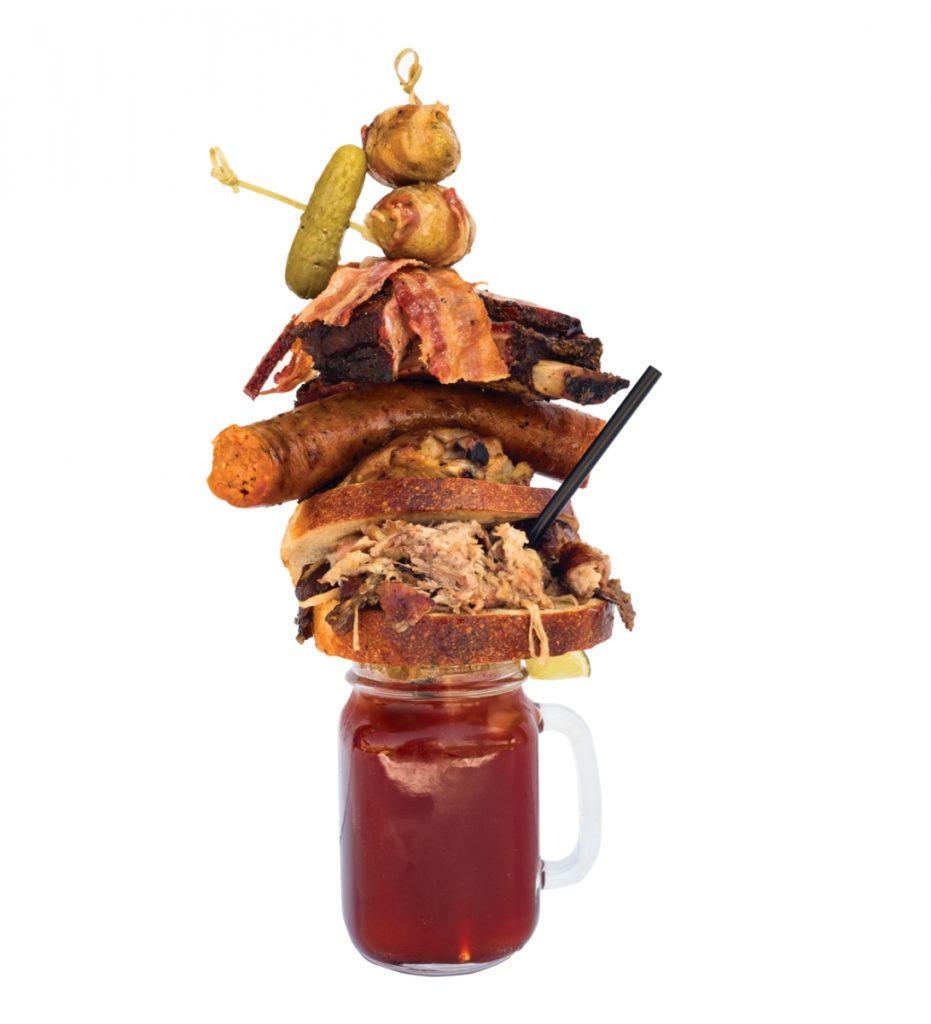 Big Sky BBQ Pit isn't technically in Calgary, but it is worth the drive south. Stop at the roadside joint just before you get to Okotoks. Big Sky is all about smoking and Texas barbecue. It's the kind of place that goes big and sells its meat by the pound. It's Caesar goes just as big, stacking on a lot of the meaty menu items.
306016 15 St. E., Okotoks, 403-938-0701, bigskybbq.ca
Caesar Stack at Cleaver
View this post on Instagram

Cleaver puts this Caesar in the main dish of its brunch menu. It comes with a chicken wing and drum, a waffle, a corn dog and a slider along with bacon, pepperoncini and maple syrup.
524 17 Ave. S.W., 403-452-1211, cleavercalgary.com
El Caesar at Local
The drink itself is traditional – vodka, clamato juice, hot sauce and spices. What makes this Caesar different is that it is served in a boot. It also comes with a pepperoni stick.
310 8 Ave. S.W., 403-264-7808, localon8thave.com
The skewer on this drink is a sizeable snack that includes a pickle and house-made pepperoni. National also adds a splash of IPA to its Caesar and gives it an extra kick with horseradish.
Four locations in Calgary, ntnl.ca
The Westin Caesar at The Westin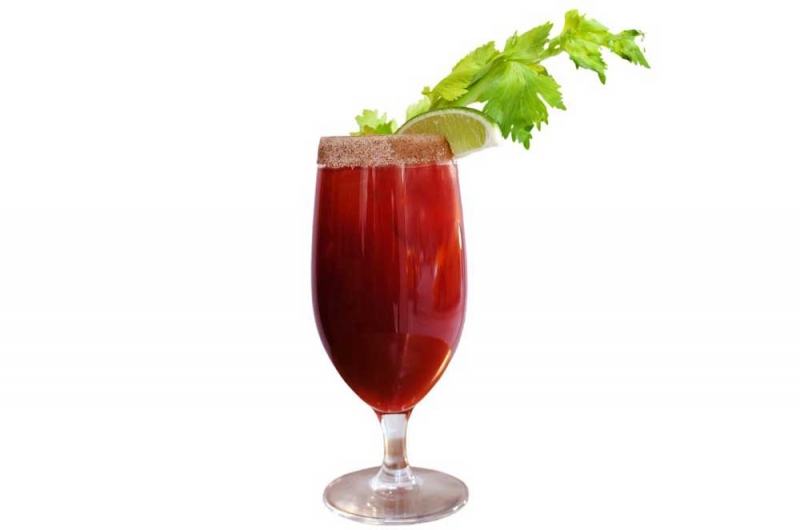 For the mother of all Caesars go to where it all began. The new version of The Westin Caesar, created by Daniel Boychuk, goes above and beyond Walter Chell's original blend and includes cherry wood to create a smoked tomato puree. Making this drink is a process, but can be done at home.
The Westin, 320 4 Ave. S.W., 403-266-1611, westincalgary.com
Recipe for The Westin Caesar
Ingredients
Celery salt
2 oz premium vodka
5 oz. Walter Craft Caesar Mix in classic spice
1oz smoked pured tomato (see instructions below)
Cherry wood chips
Dash Worcestershire sauce
Celery salt and sea salt
Celery
Lime wedge
Directions
To make the tomato puree, place a handful of cherry wood in water and soak it for 30 minutes. Drain the cherry wood and make an aluminum pouch for the wood. Seal and poke several holes on top of the pouch with fork. Place the pouch in you barbecue on the heat plate above the burners or on coal. Cut vine ripened tomatoes in half and season with sea salt. Place the salted tomatoes on the top rack of your barbecue (not on the grill). Close lid and smoke tomatoes for 30 minutes. Cool tomatoes to room temperature, place in blender and blend until smooth.
To make the Caesar, fill shaker with scoop of ice, add vodka, a dash of Worcestershire, smoked tomato puree and chilled Walter Craft Caesar Mix. Roll the drink into another shaker three times. Pour into a glass rimmed with celery salt. Garnish with celery and a lime wedge. Serve.