When an interior designer has carte blanche to design her dream space in an essentially blank canvas, the possibilities are endless. When Laura Tonopa, principal designer and owner of Laura Tonopa Interiors (LTI), and her husband Mike purchased their 1982-built Woodbine home in 2012, they had their work cut out for them. The 2,100-square-foot, two storey, shed-style home was renovated nearly entirely by the pair over the past four years and has been transformed into a fresh, beachy space for their children William and Emily, and their Yorkshire Terrier, Gus.
What is your design philosophy?
For me, interior design is about people. It's about who we are and the inherent value we place in the spaces we live, with the things we love, and in our time spent together as families and with loved ones. I believe your home should be a reflection of you, where you came from, what you love, how you live, and where you're going.
As a designer, this is the idea behind the way I develop every project, whether it be at home or with my clients. I want people to love their homes as much as I love mine. I want them to love the way their homes function, and love the way they look. And everyone is different. Every LTI client has a different priority for their space, a different list of needs and wants, likes and dislikes, must-haves, no-thank-yous and never-evers. Sometimes we can talk them into the no-thank-yous when it means a better end result, but never the never-evers.
What is your favourite room in your home?
Hands-down, our living room is my favourite space in our home. We moved into this house in 2012 in all of its original 1980s glory. We hunkered down into the basement, set up camp and began renovating from top to bottom. During one phase of the renovation on the main level, we ripped out all the old original carpets and installed a classic oak, mid-tone hardwood. We took out an old banister between the living and dining room, squared off the step down into the sunken living space, and installed a beautiful hardwood stair tread and painted riser that runs the length of the room.
The space feels so great now with a high, vaulted cedar ceiling that we had painted a high-gloss version of the wall colour. The effect is really beautiful. I've decorated with a mix of old and new pieces: a comfortable off-white, linen-blend sofa, two vintage rattan chairs I picked up at a ranch outside of the city and had new cushions made for. The rug was a steal at Homesense and the tables were inherited. The mahogany nesting tables I had sprayed a high-gloss white lacquer and the coffee table is a beautiful burl oak with a cane shelf adorned with antique brass hardware – it's stunning! I'm a big believer in investing in custom drapery and toss cushions, so I did up the Deconstructed Stripe fabric by Miles Redd into toss cushions and had the custom drapery made from inexpensive IKEA panels. Above the sofa is a photo I took of the lake at Victoria Beach in central Manitoba where I spent summers growing up. The whole effect is a calming, relaxing space we use to unwind at the end of a busy day with friends and family.
What is your most treasured item, and where is it from?
We have inherited a few special pieces from family over the years that I absolutely cherish. An antique curved glass-front china cabinet in our dining room that houses my parent's wedding china and sat in our dining room growing up. As a kid I always loved helping mom use the old key to open the cabinet and take out the china to set the dinner table, but not so much having to carefully hand wash all the dishes afterwards. I also have an oak pedestal that was built mid-century by my Dad's blind uncle on the family farm that I can't part with for all the obvious reasons.
We have acquired an incredible collection of vintage family photos, some of my husband's father growing up at their cabin in Muskoka and others of his great aunt attending galas in New York, travelling, and even smoking and drinking on airplanes with friends. They are incredible. I've framed my favourites and have them hanging in different rooms around the house. I love sharing stories of where these pieces came from. As my kids get older I hope these pieces will help us to impart a better understanding of our family history and where they come from.
What is your favourite decor find?
This is hard – I have so many. One of my most treasured finds is an African goat-skin hand drum I purchased in a souk in Dubai when I lived there in 2001. It's so unique and reminds me of the extraordinary time I spent in the Middle East and the amazing people I met there. It recently came out of storage and found a spot on my family room bookcases so I'm thrilled to have it out to enjoy and it's a great conversation piece.
Where do you seek out inspiration?
Inspiration is everywhere. I love to travel. It's incredibly inspiring to experience whole new cultures rich with history, language, art, architecture, industry and people. The time I spent living in Dubai and the UK, and adventures travelling throughout the Middle East, Europe and the Mediterranean has honed my appreciation and love for textiles, architectural detail and classic interiors.
In thinking about style, I look to art and design books and study the work of my favourite designers like India Hicks and Nate Berkus. I love fabrics and can design a whole room around a spectacular printed or embroidered cotton or linen. Antique and vintage finds and authentic, natural woods and materials, great interiors of the past, architecture, design, fashion, contemporary art and art history – honestly, I could go on and on.
What is your favourite thing about living in your home?
I love how light, bright and airy it is. This home was built in the early '80s and encompasses many attributes of the "shed style" which began in California in the 1960s with the work of architects Charles Willard Moore and Robert Venturi. We have these floor-to-ceiling windows all over the house that let in amazing amounts of light and the entire interior is painted white enhancing the effect. During the summer months it feels like a beach house which I absolutely love. In the winter it feels light-filled and happy.
Where do you like to shop for decor locally?
I'll always start sourcing in-house. LTI offers custom drapery and toss cushions that are made locally at a phenomenal workroom I've been working with for years. In addition to soft furnishings we procure custom upholstery and a beautiful collection of case goods, lighting and accessories from a select group of suppliers. For retail, I have an array of go-tos depending on my clients' style and budget. Shopping for and with clients is seriously fun and I get excited when I hear of a new or must-see furniture store in and around the city.
Did you encounter any decor challenges?
The biggest decor challenges for me come from a particular room layout or when a room needs to function in two very different ways. For example, when a dining room needs to function as an office, or a guest room as an office (and vice versa). It takes more time to work out the final aesthetic of the room when there are multiple demands for particular storage needs, seating, sleeping, etc. The layout of my house is a center stair plan. It's quite comfortable in terms of space. Most of the rooms are easy to work with and have lots of seating and sleeping arrangement options, but I have struggled with working at home and making space that accommodates both my work projects and family life. The dining table is my current go-to to layout samples and architectural drawings so it's been a few months since we've hosted a large family dinner. My home office converted into a guest bedroom for my parents to stay with us when Emily was born, but now that she's a little older and we are no longer using the space for guests, I am currently planning the new office design which I'm really excited about.
What is your favourite view from your home?
The house backs onto a large green space. From the kitchen table we can see across the field to soccer practices, flag football and baseball games. We also see lots of wildlife: deer, rabbits, birds and even the occasional bobcat in the park. I personally love looking out at it all from the hanging chair in the family room – it's so relaxing.
What would you want your next home to be?
A vacation property would be amazing. We adore our beachy suburban sanctuary but we'd love a real beach house someday. I dream about taking our kids up to "the cottage" to spend our summers at the lake, much like I did growing up in Manitoba. It's exciting to dream and plan for that next chapter in our life.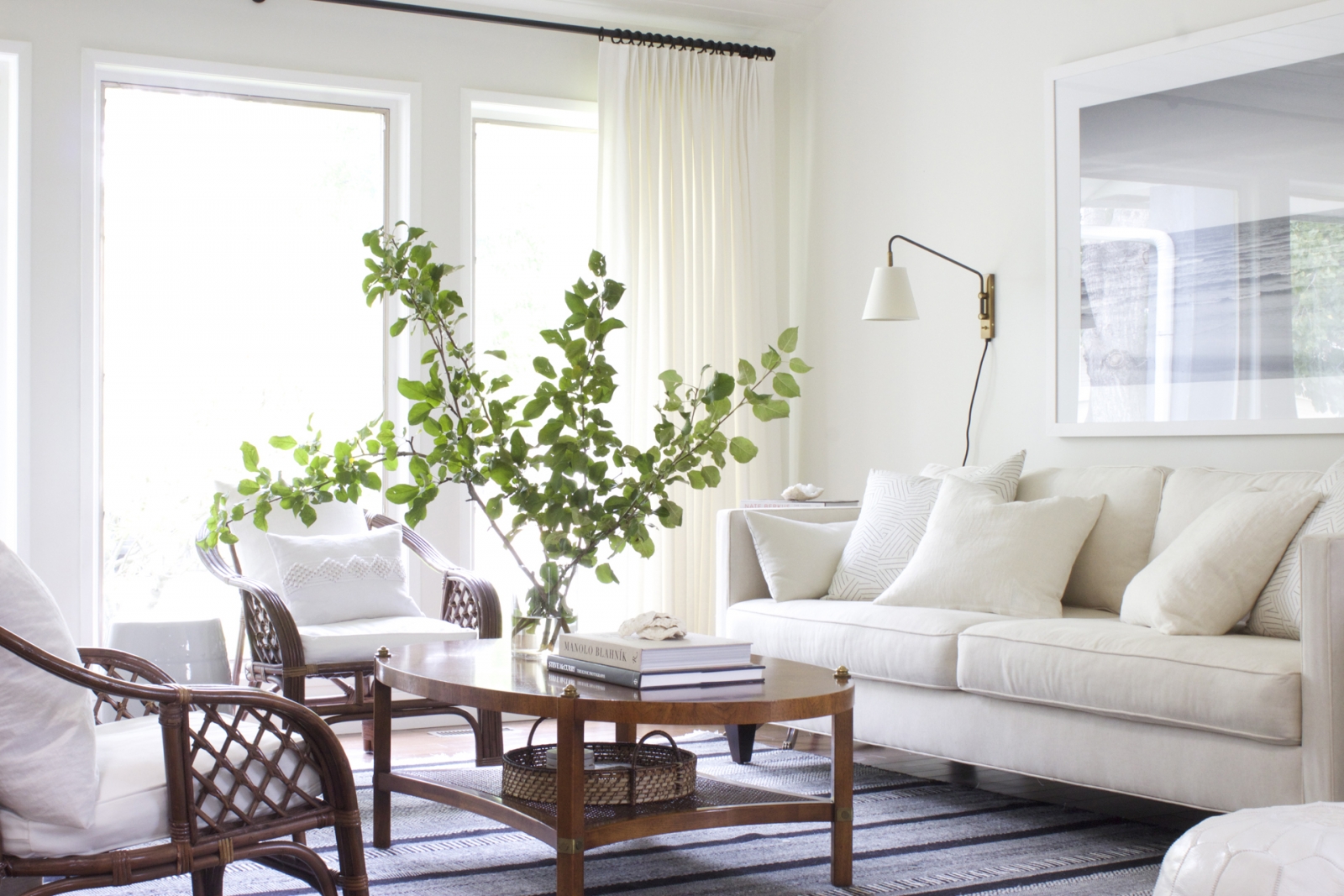 The living room has more of a traditional vibe yet it still maintains a fresh and modern take on a beach-inspired property. The palette is neutral, with the wooden chairs and coffee table ground the space.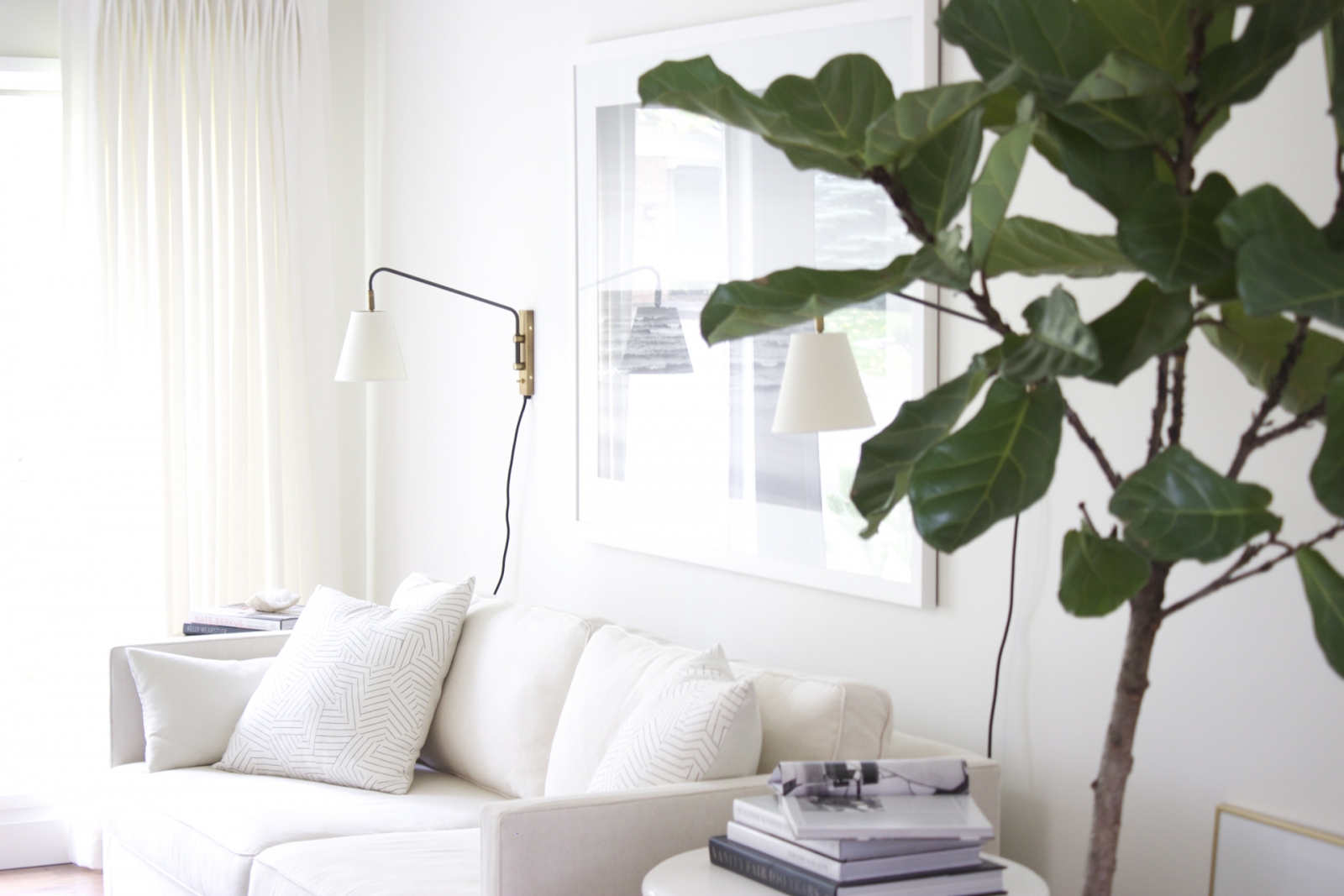 Touches of green, in this case from a fiddle leaf fig tree, enhances the beachy feeling in the home, and adds pops of colour.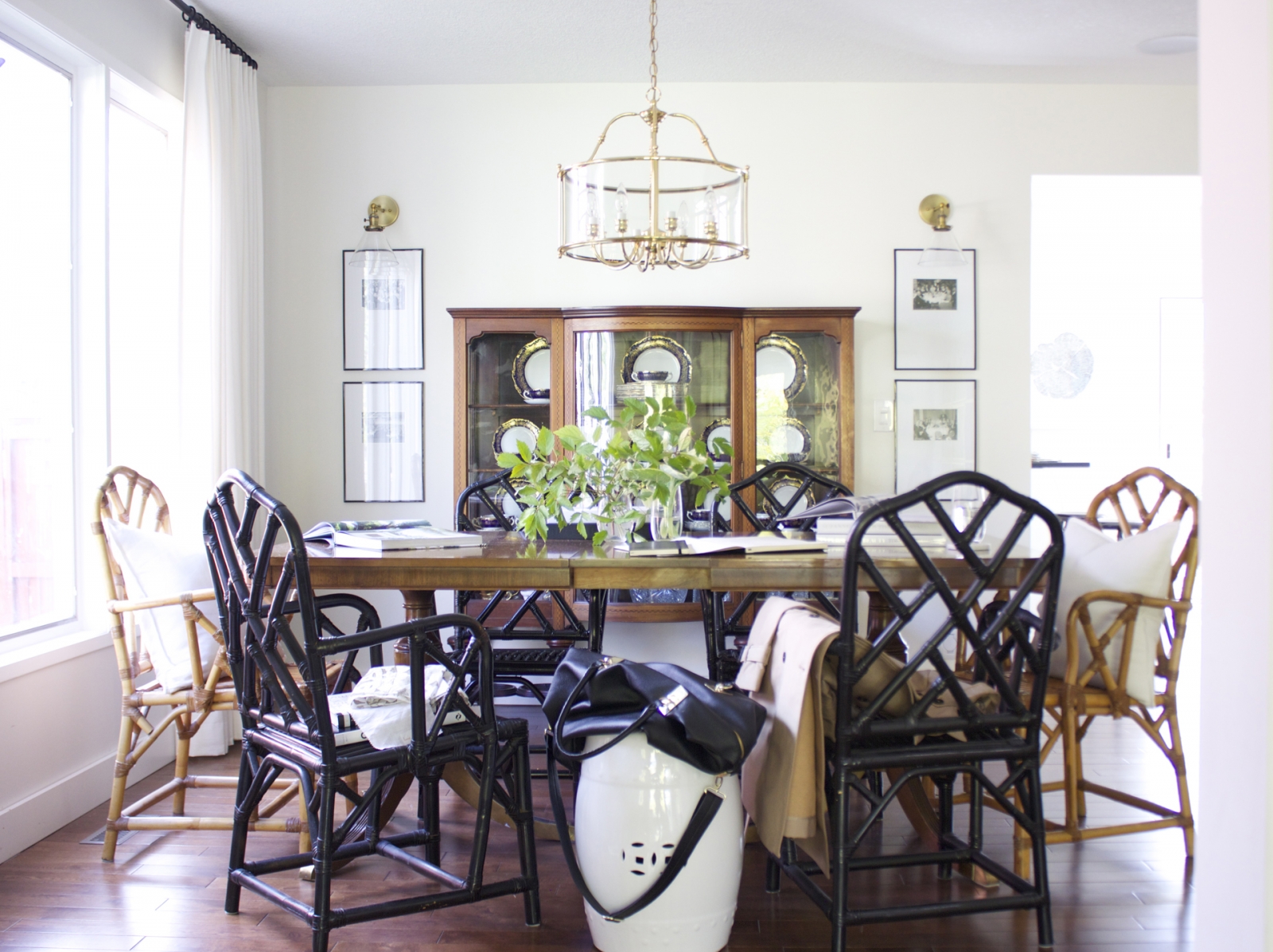 Tonopa's most treasured object is an antique curved-glass-front china cabinet in their dining room which houses her parents' wedding china.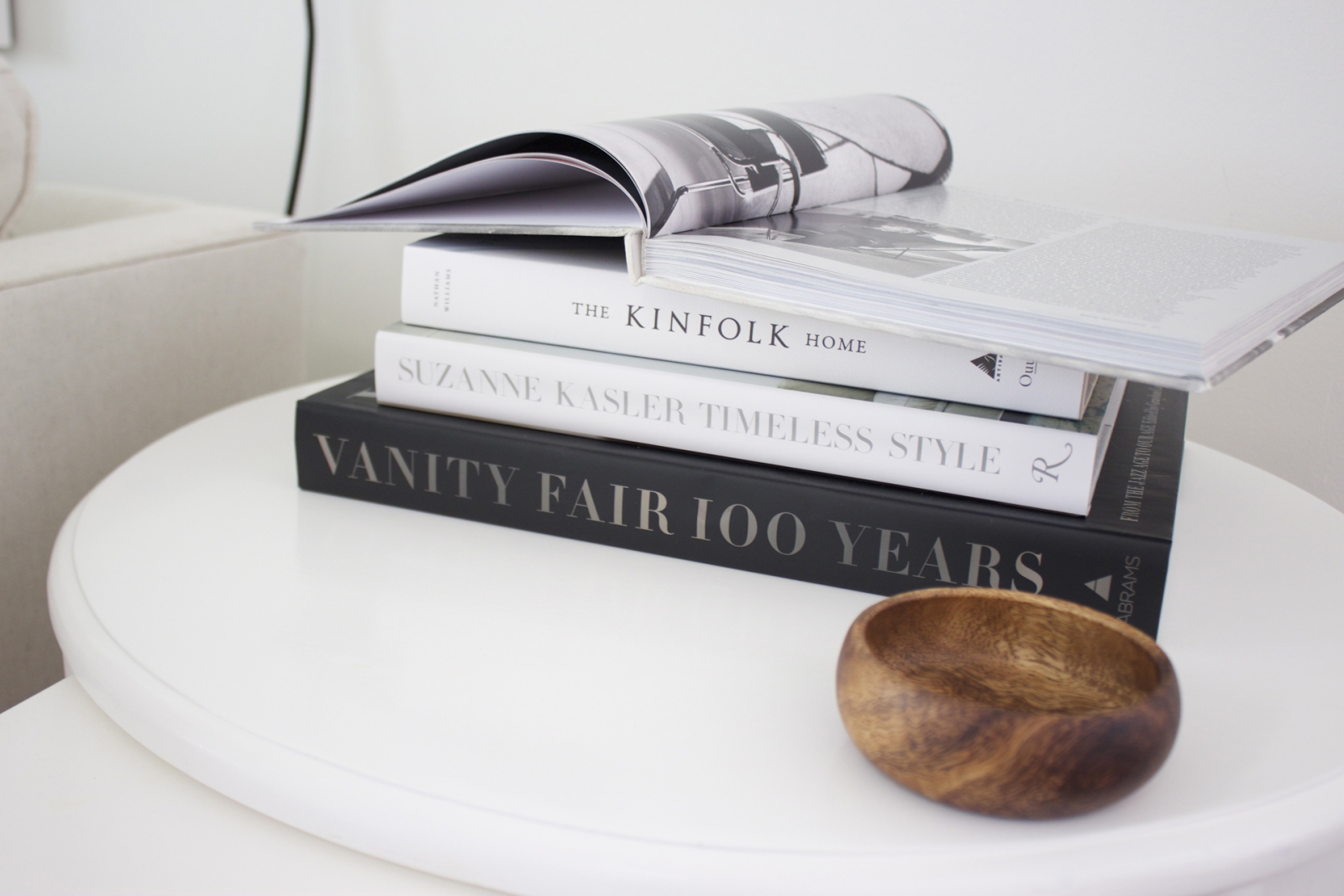 A selection of Tonopa's favourite coffee table books.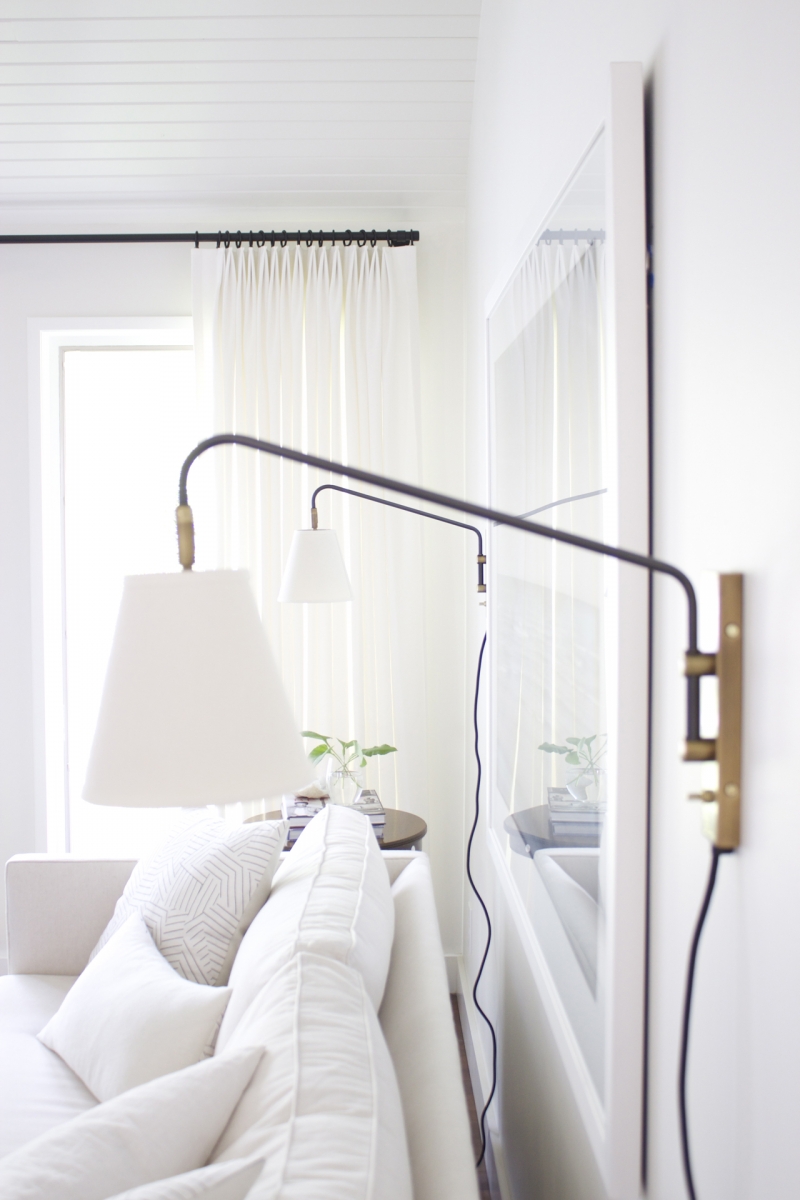 A pair of modern wall sconces flank the bright white sofa and Tonopa's custom-framed photograph of Victoria Beach, Man.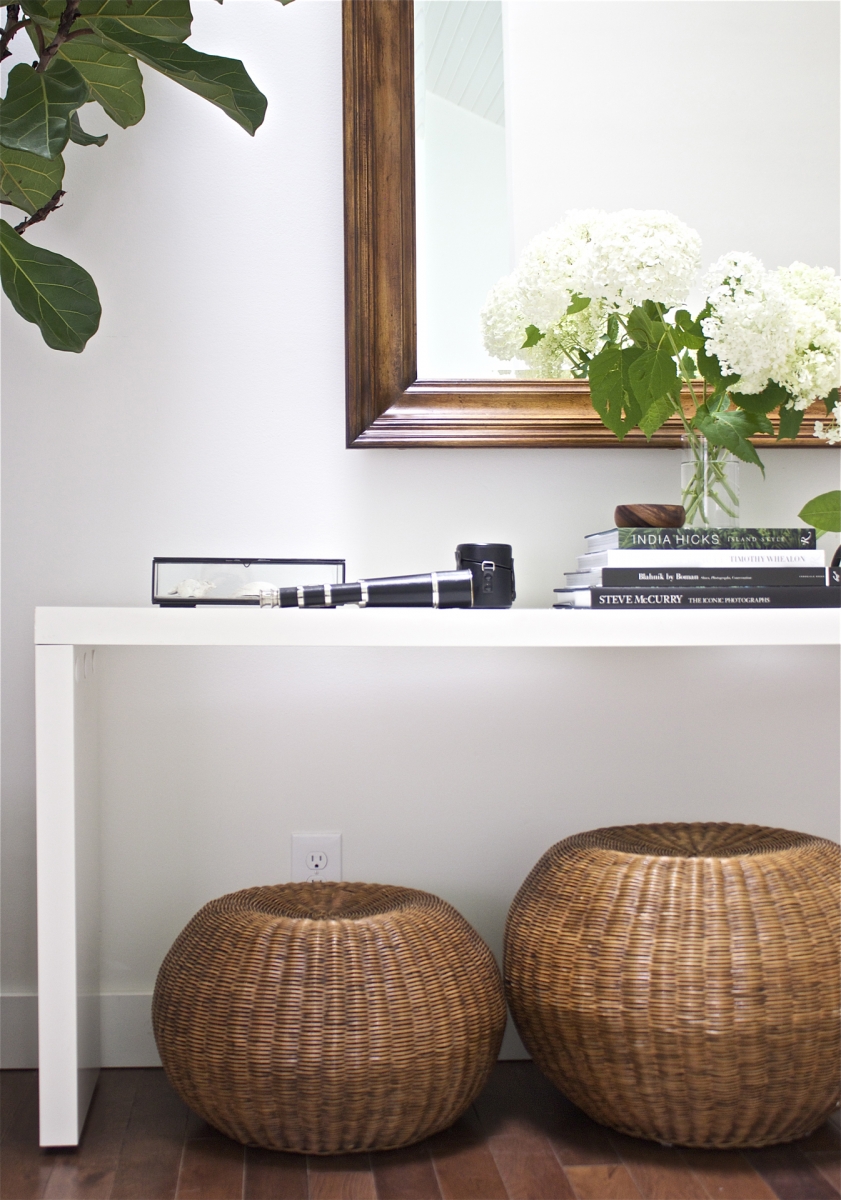 Tonopa has a knack for curating objects that are simultaneously beautiful, sentimental and useful.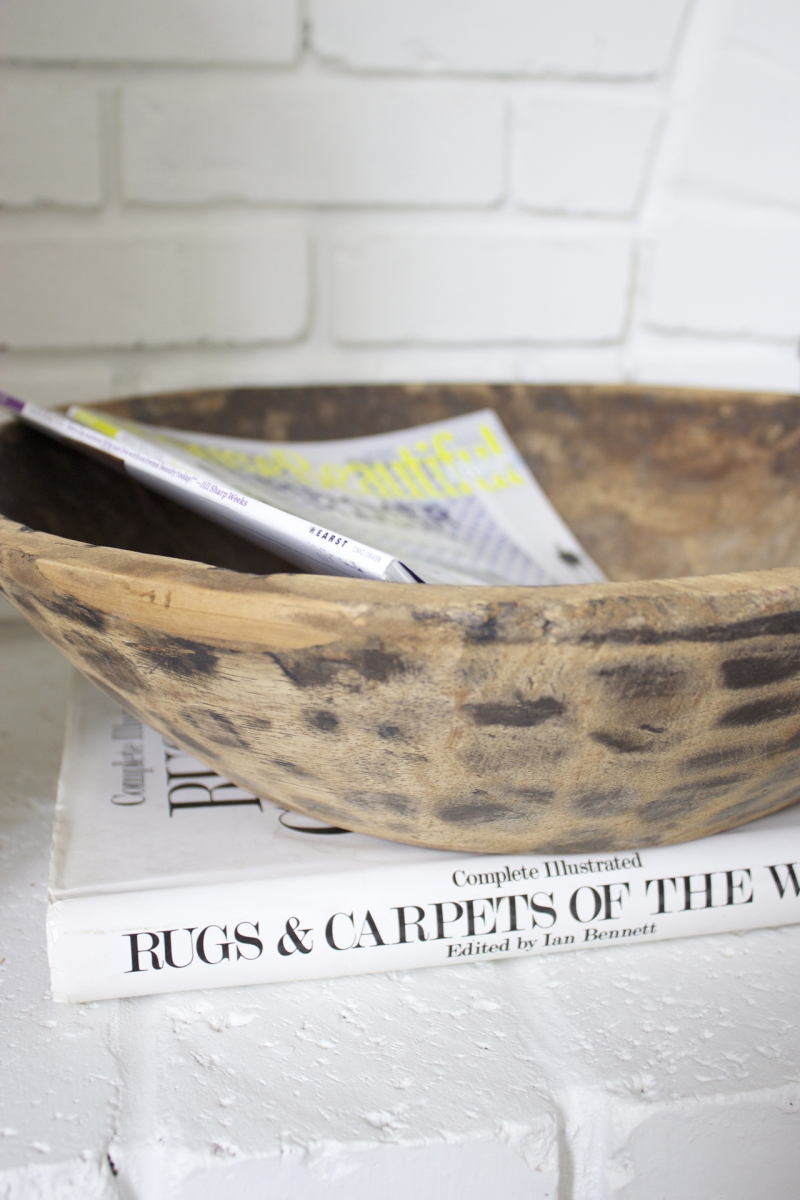 Injecting unique textures and finishes throughout her home, Tonopa is constantly finding new sources of inspiration in the most unexpected places.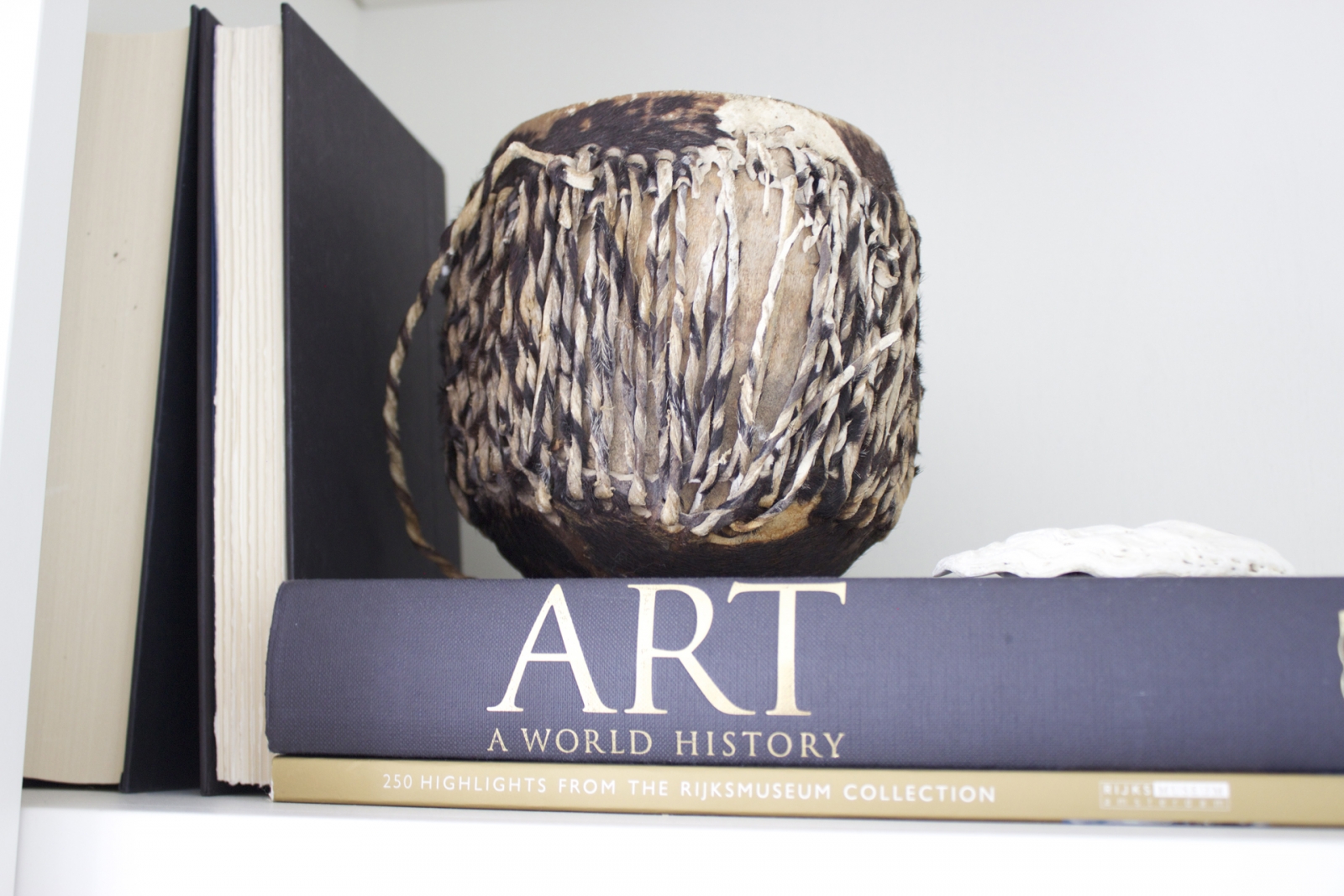 Tonopa's most treasured decor find is an African goat-skin hand drum that she purchased in a souk in Dubai while living there in 2001.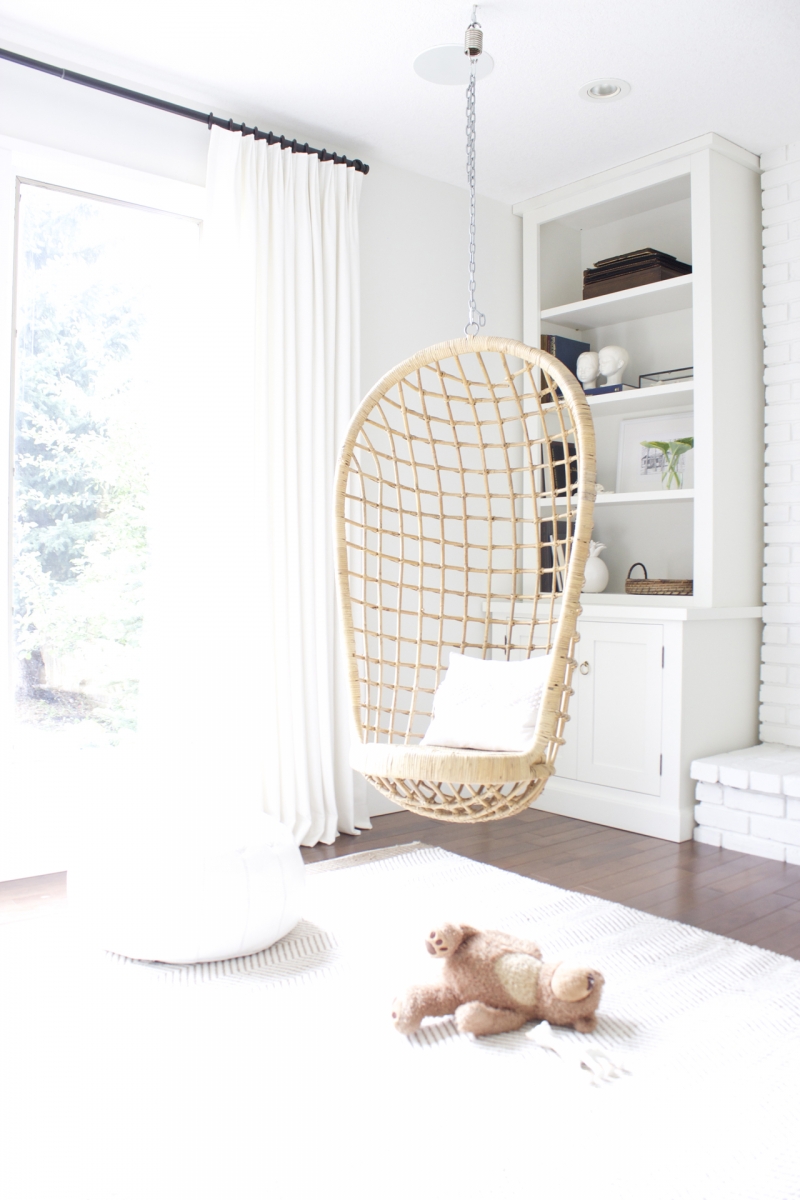 Every beach-inspired home worth its salt has a hanging chair. Tonopa loves to sit in hers and watch the wildlife pass through the green space outside her home.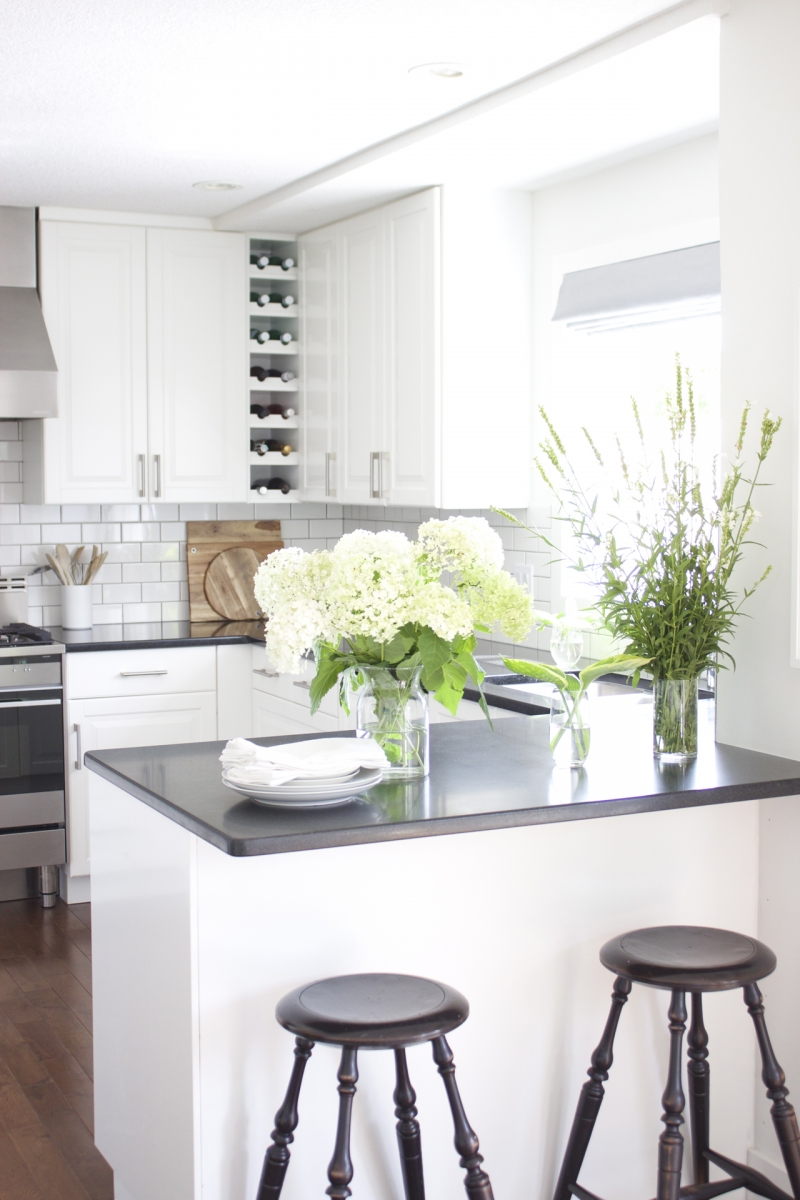 The kitchen is classic with a subway tile backsplash and plenty of storage, with spots for the Tonopa's two children to perch while meals are made.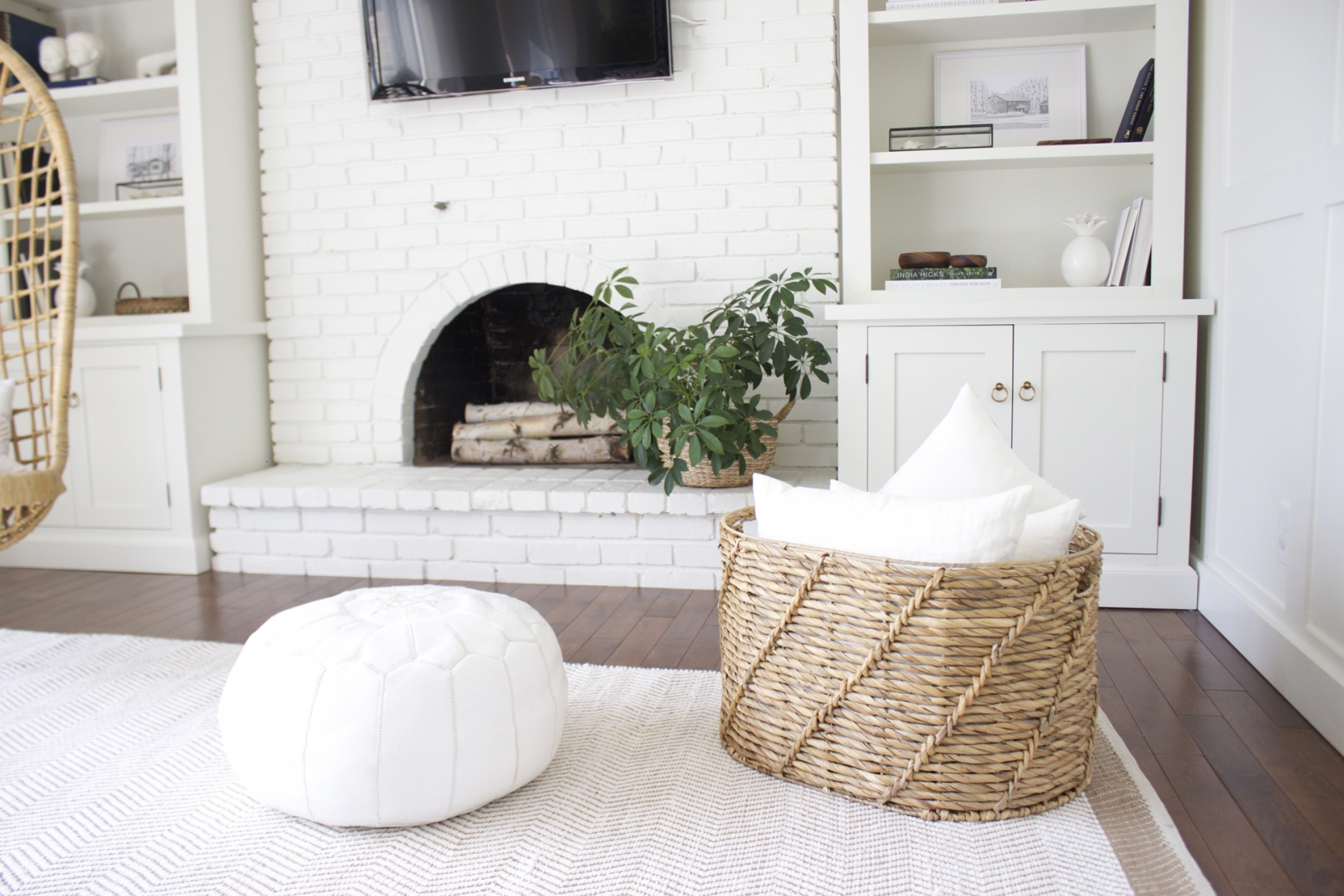 The painted white fireplace brightens up the space while the herringbone carpet, wicker accents and greenery all add a West-Coast vibe to the home.