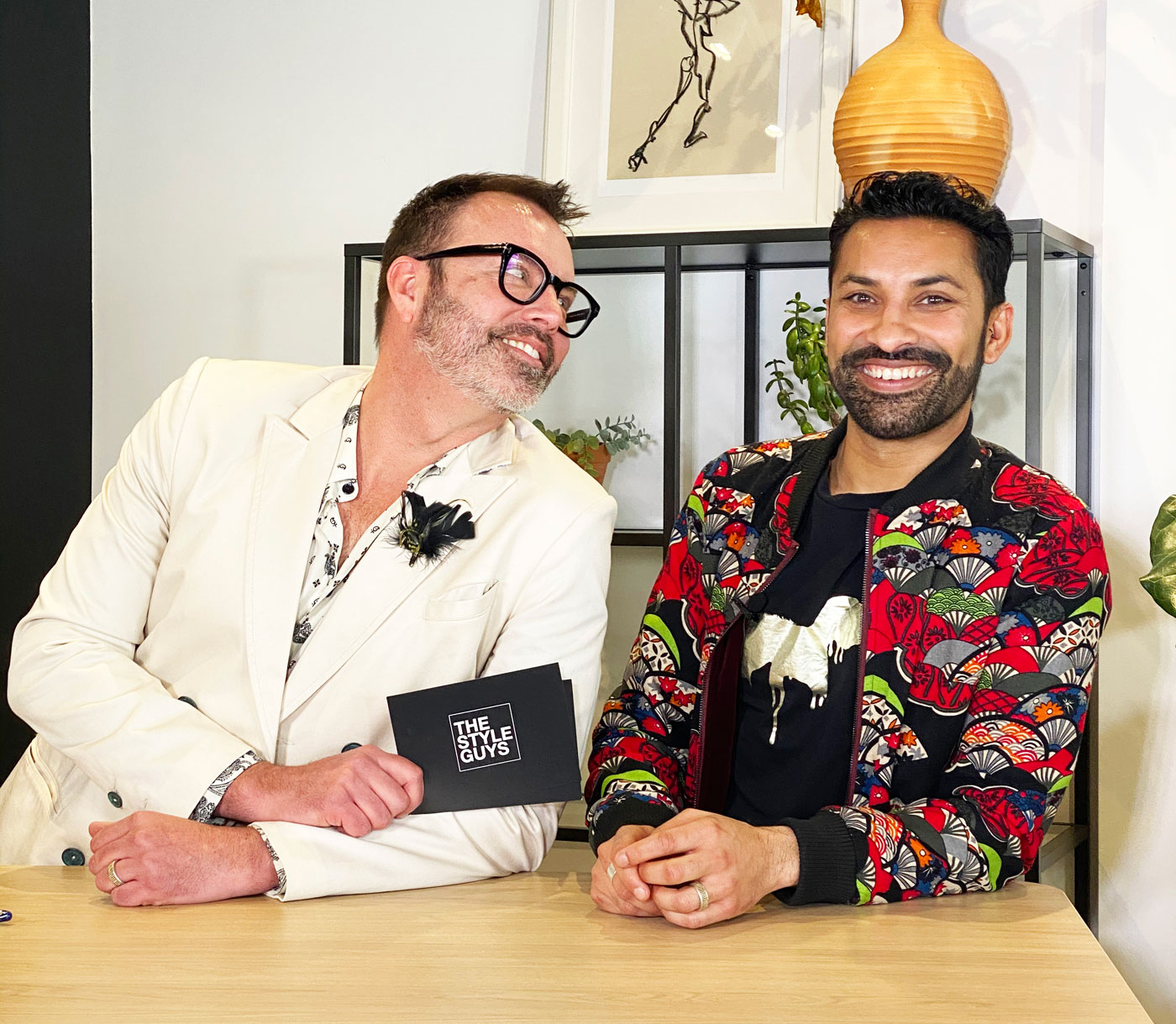 As The Style Guys, Calgary's Jason Krell and Alykhan Velji have become a fixture of the TV morning-show circuit, dispensing expert advice on fashion, shopping, decor and more. But when the onset of the pandemic dried up opportunities to present and travel, the duo (who are also a real-life couple) started to wonder about what might be next.
Around this time, Krell and Velji were becoming aware of live-stream shopping — an online retail format that fuses elements of old-school TV home-shopping-channel broadcasting with present-day live-streaming and e-commerce capabilities. During a live-stream shopping event, viewers watch as items are presented to them in real time and can interact with the hosts and retailers or brand representatives to request more information, or see the item from a different angle. Viewers can then purchase items in real time if they choose or go back and purchase later.
Krell and Velji immediately recognized the potential for The Style Guys as live-stream shopping hosts. The format doesn't necessarily require a host, however, having an experienced broadcaster (or two, in the case of The Style Guys) interacting with the audience and the featured retailer, brand representative or service provider will generally make for a more dynamic experience, which can result in increased sales.
Krell and Velji jumped in by upgrading their live-streaming set-up and doing practice events on YouTube. As they honed their process they began looking at aligning with a specialty live-stream-shopping platform that would expand their reach and grow their profile. In March, they signed on with talkshoplive as the platform's first Canadian-hosted live-shopping channel, joining a roster of celebrity-hosted channels that includes Paul McCartney, Garth Brooks, Dolly Parton and Alicia Keys.
The Style Guys have been hosting events on talkshoplive since March 26 for Calgary brands and retailers like Kate Hewko, espy Experience, Adesso Man and XO FACEcare. They'll be doing a stream with a Calgary-based tarot card reader. They've also done a remote live-stream shopping session with a Montreal-based designer — one of the advantages of the format being that they're not limited to working with brands in their hometown.
By incorporating the personal element of in-person retail with the convenience and lack of geographical barriers of online shopping, the live-stream-shopping model shows huge potential for both retailers and hosts, especially since the shows remain shop-able after the livestream (you can stream Velji and Krell's shows on talkshoplive and thestyleguys.ca). "This is a way for any seller of anything, anywhere, to reach a wide audience really quickly," Krell says. "And I think that people like watching it. I think it's info-tainment."