On the hunt for an adventurous summer activity, but don't have time to head out of the city? WinSport at Canada Olympic Park's zipline is thrilling, fun and affordable. Here are 5 reasons to try out this activity this summer.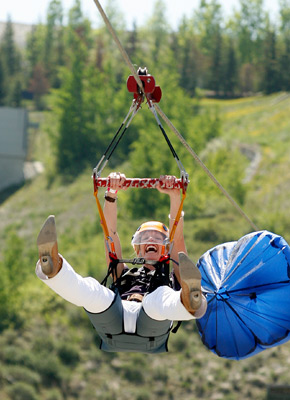 photo courtesy of winsport
It's safe
First things first: we realize that not everyone sees the appeal of travelling at incredible speeds from great heights. For those who are only doing this activity on a dare or to get out of doing the dishes or to please the kids, know that it's safe. All participants get a full safety briefing from a qualified instructor before going down the biggest zipline, "The Monster." You'll learn the proper braking technique and you'll get a practice run down a small zipline at the base of the hill.
Think of the views
After the practice mini zipline, all participants get transported (by shuttle or chairlift) to the biggest ski jump at Canada Olympic Park. As you sit on the edge getting ready to thrust yourself from the tower, think of the ski jumpers in the 1988 Olympics who competed right where you're sitting and take some time to admire the view – on a clear day, you'll see out to the mountains and get a great look at the whole city.
The zipline goes faster than your car
That's right, speed demons.
Unless you're an incredibly unsafe driver who has a heavy foot when behind the wheel of a car, chances are you don't often travel at 140 kilometres per hour (km/h). "The Monster," which is a 500-metre long zipline with a vertical drop of 100 metres, is the fastest zipline in North America. Expect to reach speeds between 120 km/h and 140 km/h while zipping down this line.
You'll have time to do other activities in the park
After "The Monster," there's a third zipline to conquer. It's smaller, but it's more than fast enough to get a little extra adrenaline pumping through those veins.
The entire activity, including the safety briefing and the transportation up to the ski jump, takes roughly one hour. Your adrenaline levels will be through the roof after rushing down three ziplines, so why not take some time to explore the park and see what other activities can keep that heart racing, like summer bobsleigh rides or the new Skyline Luge.
You'll have bragging rights
Not a lot of people have the guts to jump off a building to travel at high speeds. But you have. And that's worth sharing at every dinner party and barbeque you attend this summer.
The Winsport Zipline costs $65. Secure footwear is required. 88 Canada Olympic Rd. S.W., 403-247-5452, winsport.ca.