CIFF returns for 2020 as the first Calgary film festival to offer in-cinema screenings in the wake of COVID-19. Organizers have taken a hybrid approach for presenting the lineup of more than 165 films, with both theatrical screenings and the vast majority of titles available to stream online within Alberta, Saskatchewan and Manitoba. We have highlighted eight options below that show what the festival does best: showcase the best in local and Canadian cinema while attracting critics' favourites from around the globe. The full lineup can be found here and more information on admission and streaming are here.
This new documentary from Shalini Kantayya examines civil rights and democracy through the lens of tech. Beginning with a discovery from MIT researcher Joy Buolamwini that facial-recognition software fails to correctly identify dark-skinned and female faces, Kantayya goes on a quest to find out what other racial and gender biases exist within machine-learning algorithms and how they influence our world.
Coded Bias is showing at Cineplex Eau Claire on Saturday, September 26 and will be available to stream for the duration of CIFF.
This drama about mortality and reflection upon one's life blends the surreal with the starkness of harsh reality — all set to the sounds of Leonard Cohen. Samuel O'Shea, a man of many vices, begins to experience hallucinations before being diagnosed with a brain tumour. He's forced to reexamine his selfish ways and confront what could be the end of his life. There are many interesting music docs on the CIFF lineup this year, but this title ought to scratch the itch of music fans who also crave drama.
Death of a Ladies' Man screens on Saturday, September 26 at Cineplex Eau Claire and will be available to stream throughout the festival.
This quirky comedy stars Tony Hale (Arrested Development, Veep, Toy Story 4) as loner Sid, an awkward man co-chairing a reunion for his alma mater. Things get complicated when Sid becomes obsessed with inviting his former classmate (and real-life Hollywood A-lister) Elizabeth Banks. Hit with a restraining order, Sid sets out to prove he really does know Banks and pull off the epic reunion despite rising costs to his personal and professional life.
Eat Wheaties! will screen at Cineplex Eau Claire on Friday, September 25 and online throughout CIFF.
This local film is the first feature written and directed by Ted Stenson and the second feature from production house Kino Sum. An antidote to the format of the conventional sports movies, the film centres on the eccentric personalties within and around a basketball team that just plain stinks. While the film is built on the strength of its ensemble cast, Andrew Phung has a notable starring role as an assistant coach obsessed with victory.
The film's two in-cinema screenings sold out fast, but you can reserve a stream between September 27 and October 4. CIFF also has two events in its Behind the Screen section relevant to this film — Stenson will be part of the live-streamed panel Filmmaker Chat: Telefilm Talent to Watch on Wednesday, September 30, and a conversation between Phung and Richard Crouse will be available to stream September 26 to October 4.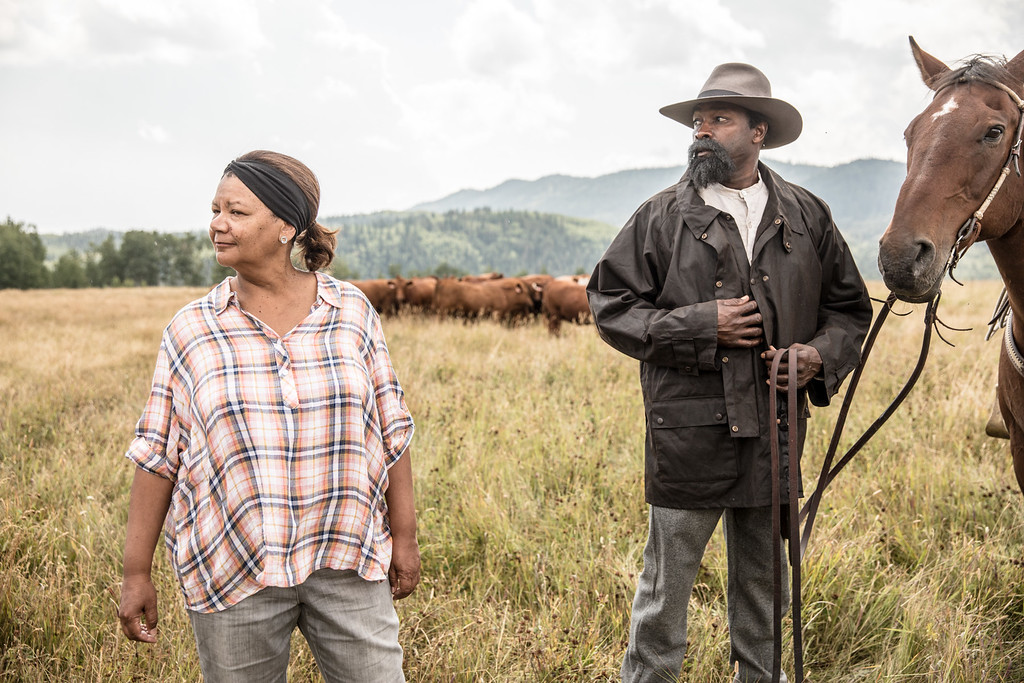 Calgarian author, playwright and filmmaker Cheryl Foggo has explored turn-of-the-century Black cowboy John Ware before, and now her epic new doc made with the National Film Board will further explore his life and work during its world premiere at CIFF. Ware was one of the first ranchers in Alberta and made significant contributions to Alberta's agricultural development. Reclaimed will cover that and how her own history is intertwined in his legacy.
Both in-cinema screenings are sold out but you can reserve a stream of the film starting Thursday, September 24.
Tilda Swinton narrates this epically stylized art film directed by late composer Jóhann Jóhannsson (Arrival, Sicario). Filmed against the backdrop of Brutalist Yugoslavian architecture, the film is set two billion years in the future when humanity is on the brink of extinction. The film is foreboding thanks to its ominous visuals and booming score, but Swinton's meditative voiceover adds a certain balance of calm resignation.
Last and First Men screens and Cineplex Eau Claire on Friday, September 5 and is available to stream for all of CIFF.
The 2020 CIFF lineup includes more than 85 short films, some of which screen before features and others as parts of shorts packages. Packages offer a great bang for your buck because you get to see upwards of six films for the same price as a single feature. One we suggest is Alberta Spirit, a collection of six works that span across numerous genres of narrative and documentary filmmaking. We covered one of these shorts, Key of T, last September.
Its lone in-cinema screening is sold out but you can stream the package at any point during the festival.
This anthology drama follows four military officials as they grapple with orders to commit executions in Iran. There is No Evil took home the Golden Bear for Best Film award at the Berlinale 2020, earning rave reviews from critics for its poignancy along the way. Director Mohammad Rasoulof has not been allowed to leave Iran since 2017 due to claims by its government that his work constitutes "propaganda against the system." With There is No Evil, he examines the psychological toll of being caught in a system of capital punishment rather that take aim at the system itself.
This film will be available for online streaming throughout CIFF.