While the very first Stampede was held by Guy Weadick in 1912, it was very different from what we know as the Stampede today. It wasn't until 1923 when Weadick's Stampede merged with the city's annual Exhibition show that the Stampede really made its mark as a city-wide Western celebration.
One of the biggest changes to the 1923 Stampede was Weadick's introduction of the Rangeland Derby chuckwagon racing competition. Known today as the GMC Rangeland Derby, the chuckwagon races were a completely new sport to the Stampede and to the world.
Weadick has since been credited with inventing the sport of chuckwagon racing. The competition at the Calgary Stampede is the biggest, most famous and most anticipated chuckwagon tournament in the world. Each year, 25,000 fans clad in jeans, cowboy boots and hats flood the seats of the Stampede Grandstand each night to watch chuckwagon champions compete for the biggest purse in the industry.
Today, 36 outfits compete at the Stampede for a total of $1.15 million in purses and prizes over the 10 day tournament, but back in 1923, only six outfits participated in the races for a total of $275 in prize money (adjusted for inflation, that is equivalent to about $3,984 in 2018).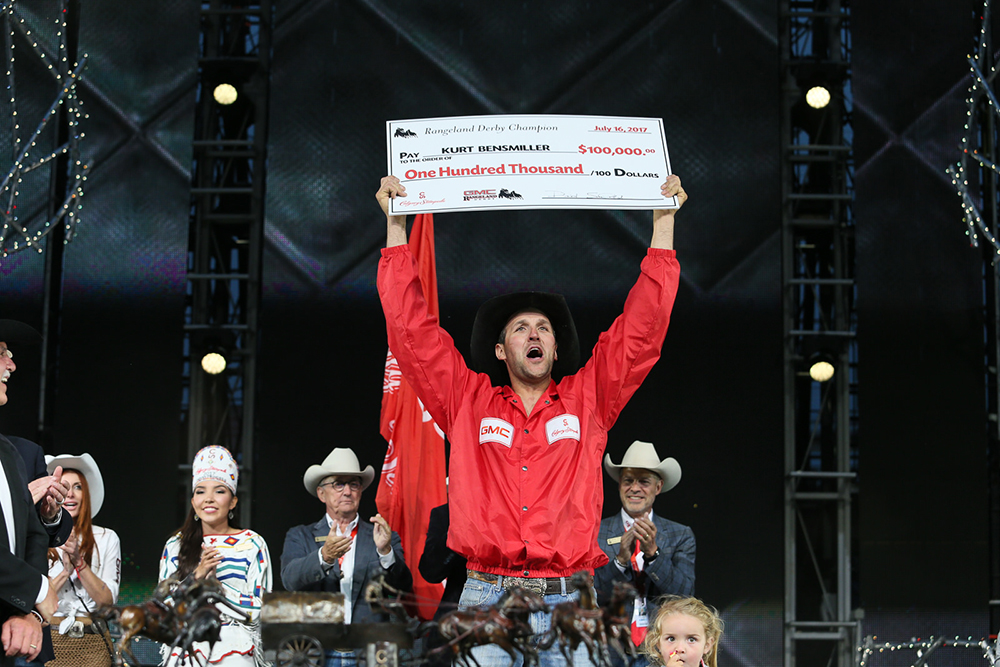 The 2017 GMC Rangeland Derby Champion, Kurt Bensmiller, holds up his $100,000 reward.
Weadick's first chuckwagon races were a lawless territory – there were absolutely no rules when the outfits first sped through the course, a far cry from the 30 page rule book that exists today. Aside from this, much of the competition remains the same almost a hundred years later.
Like the original ranchmen participants, today's outfits hurdle around barrels in a figure eight, then speed into the track and back to camp. Originally, the first outfit to build a fire and make first smoke was crowned winner, but today's cowboys are timed.
Although records on where Weadick's inspiration for the chucks came from are cloudy, there are a number of theories on where he got the idea. A prevailing thought is that he was inspired by ranchmen who would race their chuckwagons to the saloon with the last one there buying the drinks. Others theories say that Weadick got the idea from two chuckwagons that raced down the tracks to the exit gates after the 1919 Victory Stampede, while others suggest that Jack Morton, one of the original racers, gave the idea to Weadick.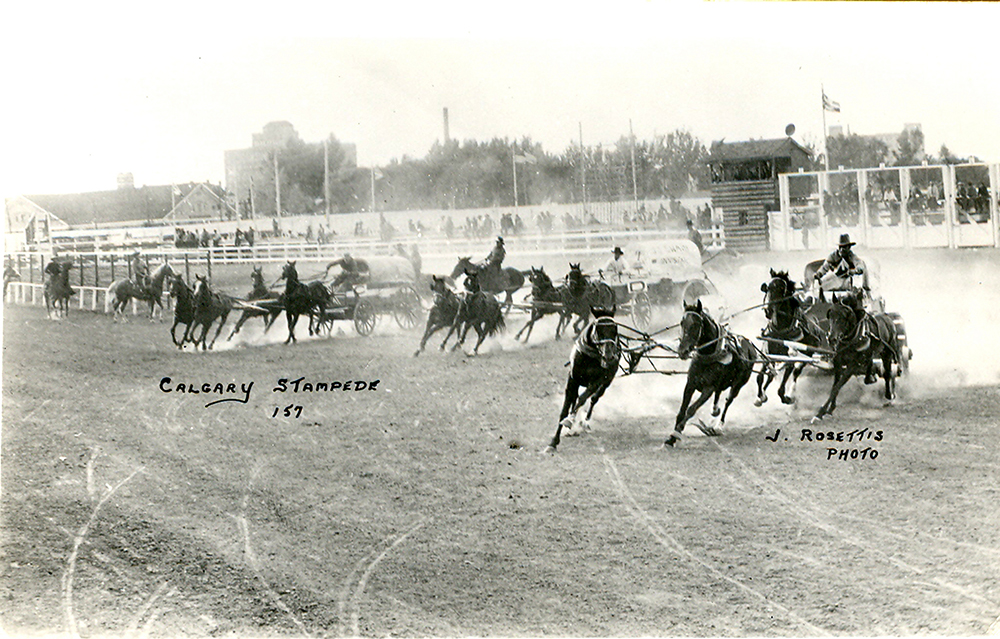 Racing chuckwagons entering the track from the infield, circa 1946. By this time, chuckwagon racing was a regular feature and it's popularity had spread throughout Western Canada. By the late 1940s, professional associations, like the Canadian Professional Chuckwagon Association (CPCA), began to form in farming communities in Alberta and Saskatchewan.
Witness the hoof-pounding excitement of chuckwagon racing for yourself at this years GMC Rangeland Derby. Tickets for the chucks are available on the Calgary Stampede website starting from $43.