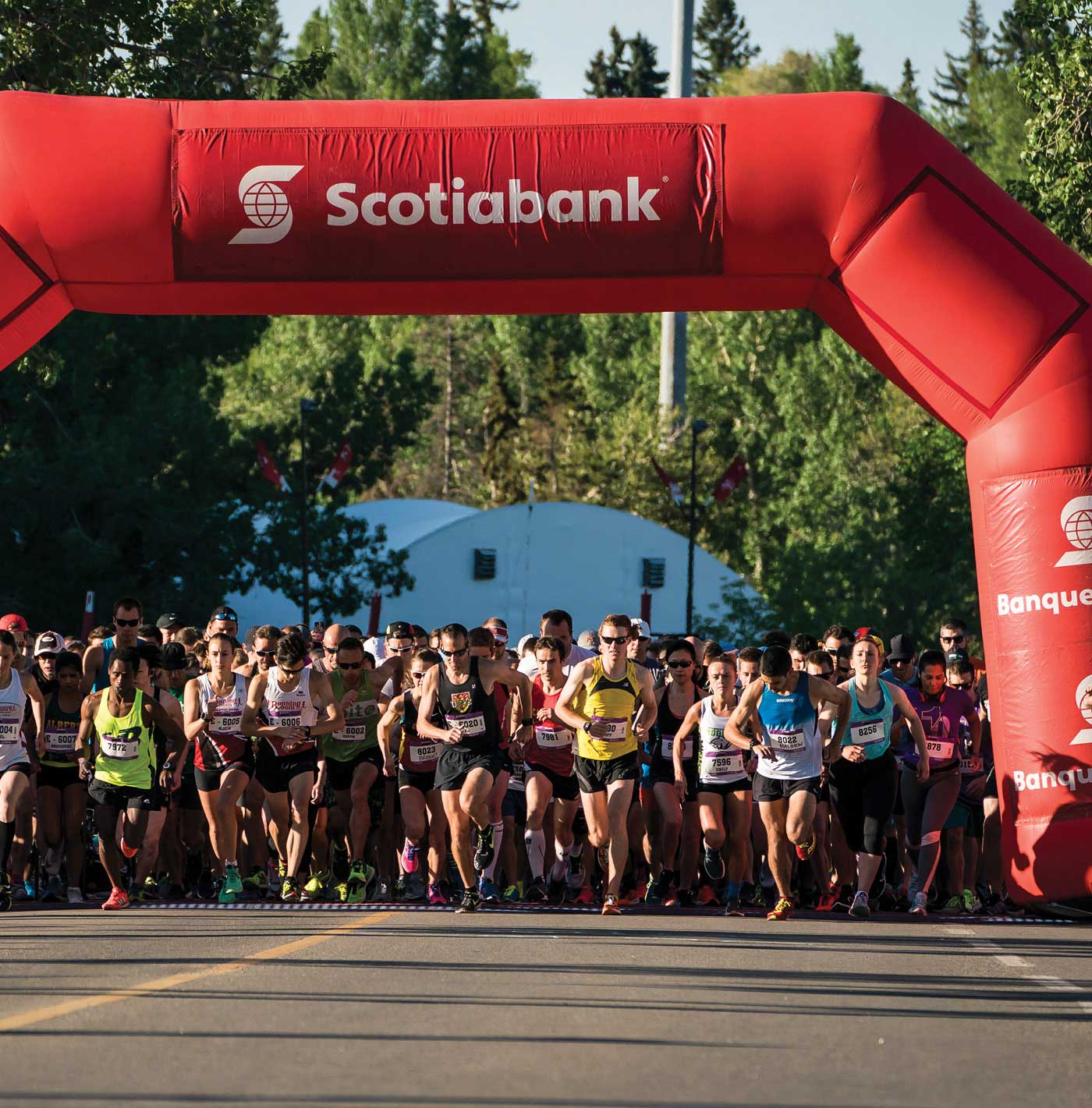 Calling the Calgary Marathon a "fitness goal" is like calling the Calgary Stampede a rodeo — technically accurate, but also woefully inadequate. Just like the "Greatest Outdoor Show on Earth" encompasses a range of sport and spectacle that has to be seen to be believed, the marathon provides a transformative physical, social and psychological challenge that can only be understood by going the distance. It's an epic rite of passage, like a super-sweaty prom, or the act of bringing your first-born child into the world, but instead of a squalling baby, you're handed a medal at the end of your Herculean effort. There is a before and an after.
After all, there has to be some sort of miraculous upside for thousands of otherwise-sane people to willingly embark on a 42.2-kilometre run, which is basically running from downtown Calgary to Airdrie and then tacking on another 10 km once you get to Airdrie just for kicks.
For non-runners and new runners alike, the marathon represents the biggest challenge possible, "a big, hairy, audacious goal, if you will," says Colleen Parsons, head coach of the University of Calgary marathon training team and herself a many time marathoner and Ironman finisher. It can even seem daunting for seasoned runners like Parsons, who ran the Calgary Marathon for the first time in 1995, heading into it just weeks after an injury and so worried about the outcome that she parked her car at the halfway mark the night before the race just in case she couldn't finish.
Parsons experienced her own marathon miracle midway through the race, confiding in some strangers-turned-race-buddies that she doubted she would be able to finish. "One said to me as we were nearing my car, 'you can't quit!' I looked at her and said, 'right!' So I didn't."
Though physical fitness is obviously a prerequisite to run a marathon, inner fortitude is the key to finishing. According to Kirsten Fleming, executive director of Run Calgary, which organizes the Calgary Marathon (and part of Avenue's Top 40 Under 40 Class of 2018), success at the marathon distance boils down to having a strong answer to the question you will inevitably ask yourself during both training and racing: Why am I doing this? In the decade since she ran her first marathon in Dubai, Fleming's "why" has evolved into nothing short of an entirely new perspective on life. "I appreciate my body — all of it, even the bits I consider imperfect — and am grateful every day I am able to walk and run and move," she says.
Matthew Boudreau admits to signing up for the 2018 Calgary Marathon almost on a whim, having never run a race of any distance before, but wanting to scratch "marathon" off of his bucket list. But he quickly found his "why" in the accountability of doing some very public fundraising for Inn From the Cold. "When I wanted to quit or skip a workout, I knew there were donors, a charity and those less-fortunate families counting on me to run it and not quit," he says. And when race day arrived, the idea of his wife and four-year-old daughter waiting at the finish line became Boudreau's ultimate answer to the "why" question. "It really got into my head … that my daughter was watching, learning and seeing her dad do something unimaginable. Setting that example for her really helped me," says Boudreau. "I needed to make it to them."
For Lindsay Nye, however, the "why" behind acing her first marathon had everything to do with who wouldn't be at the finish line. "A week before the race I went through a breakup, which I was really struggling with. He was supposed to be there at the finish line waiting for me and the thought of not having a cheering squad at the end almost derailed things for me," says Nye, but as she found out, revenge isn't just a dish best served cold, it's a dish best served fast. "Instead of giving into self-doubt, I rechanneled the energy and used it to fuel a Boston-qualifying time to prove to myself that I was strong on my own. What an incredible feeling to have achieved that." Indeed, if the marathon is like prom, the Boston Marathon, with its pomp and pageantry and challenging time standards for guaranteed entry, is the runner's Met Gala.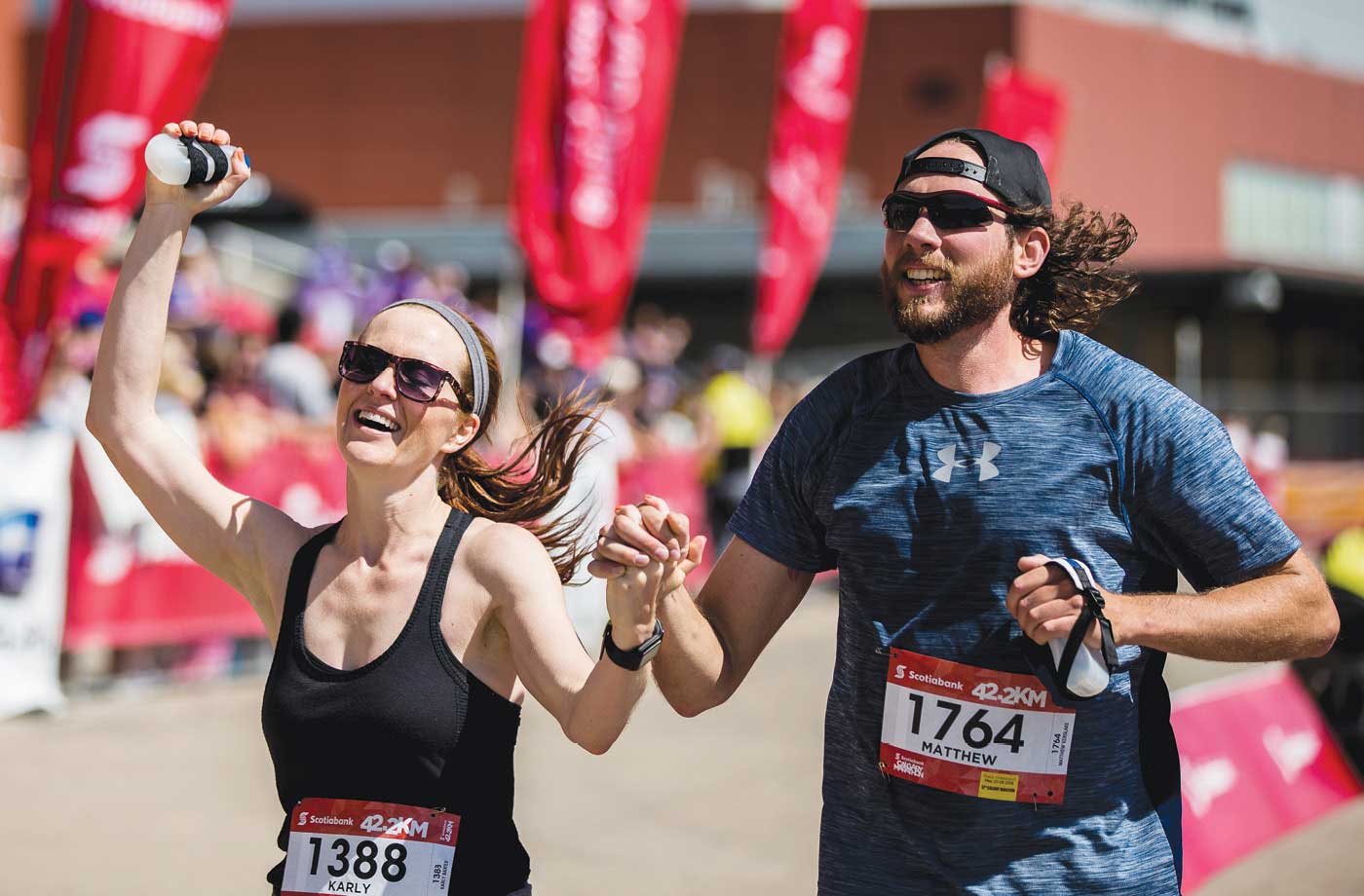 Extreme physical challenges like the marathon train not just the body, but the mind as well, helping us re-think our limitations and even our core identities. Sure, some runners will find any excuse to wear shorts/tights to show off marathon training's physical benefits, but most agree that its psychological benefits are even more transformative.
"You need to find a way to push yourself beyond what you perceive is your max effort, find something else to focus on and really understand your own mindset," Boudreau says. "We all have another gear, more to give, and an ability to keep going when we think we're done. It's all about not simply convincing yourself of this, but truly believing it."
The social component of marathon training shows how invaluable face-to-face support and accountability can be in achieving big, audacious goals. Parson's master's degree research demonstrated a strong connection between peer support and the likelihood someone would do more than one marathon. Most local running stores (Strides Running Store, Gord's Running Store, Running Room and MEC, to name a few) offer marathon clinics that unite similarly paced runners for training runs, including the all-important long run, when a unique combination of hilarious conversations and hive-mind wisdom-sharing can make three-plus hours of running fly by (well, almost).
"Long runs are much more enjoyable if you can share in some banter along the way," says Nye, who credits joining The Beaners, a running group that emerged out of a Crowfoot Running Room marathon clinic, with her own marathon debut going so smoothly. "They are an incredibly encouraging group with a lot of experience and tons of miles/marathons under their belts. I was the youngest in the group and the greenest when it came to the distance, but I showed up, listened to their advice and encouragement and it all paid off." A decade later, Nye still runs with The Beaners (so named for their Sunday run meet-up spot, The Extreme Bean in Parkdale).
If running groups serve as supportive cliques for marathon training, then marathon day, like the prom, is where all the cliques come together, united in that one big goal. "Logging so many miles together really solidifies friendships," says Nye.
"Or it could just be that we are nuts."
The 2019 Scotiabank Calgary Marathon is on May 26; for information visit calgarymarathon.com.