Arbour Lake – Sunnyside
Distance: 26 km one way. Return on the LRT.
Begin at the Crowfoot LRT Station, navigating some busier roads past the Crowfoot Crossing Shopping Centre before connecting to Arbour Lake side streets and a paved pathway up and over Stoney Trail to the Rotary/Mattamy Greenway. Soak up big mountain views as you coast downhill along paved pathways past the Royal Oak wetlands, the wilds of Twelve Mile Coulee and into Bowness Park. Continue along the Bow River Pathway to the Peace Bridge and into Sunnyside where a café stop could be the big finish.
Sandy Beach – Jack & Jean Leslie Riverwalk – Scotsman's Hill – Elbow Park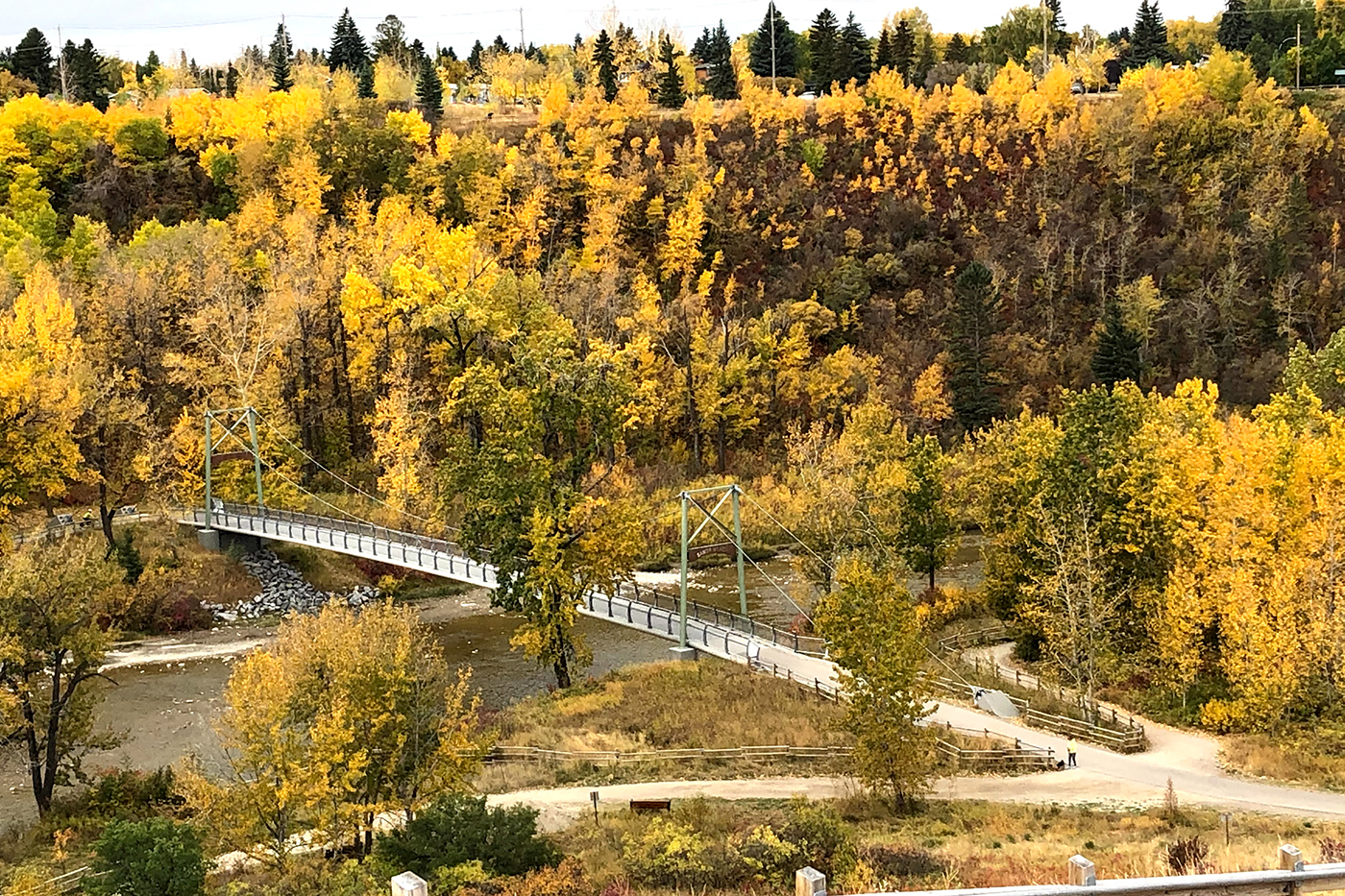 Distance: 7.5 to 20 km
Cycle from Sandy Beach to River Park, connect to Riverdale Avenue S.W. and then pass Stanley Park, cycling through the neighbourhood of Rideau Park. For the longer route, continue towards Scotsman's Hill before descending to RiverWalk and the Bow River Pathway.
Fish Creek Provincial Park: Shannon Terrace – Mallard Point
Distance: 14 to 33 km
Vast and peaceful, a bike ride through the wilds of Fish Creek Provincial Park recharges and refreshes. Follow the paved pathways the length of the park, from the forested west end to the wide-open east end, with an option to climb to the Douglasdale escarpment before looping back along the Bow River. Stop for a coffee or ice cream at Annie's Cafe.
West Nose Creek Park – Edgemont Ravine – Nose Hill Park
Distance: 20 km
Bike past willows along the riverbanks and shrubs through West Nose Creek before winding through tunnels and into the wilds of Edgemont Ravines. You'll cycle by wetlands and into the manicured ravine park before climbing to Nose Hill Park, where a paved pathway descent awaits.
Glenmore Reservoir Circumnavigation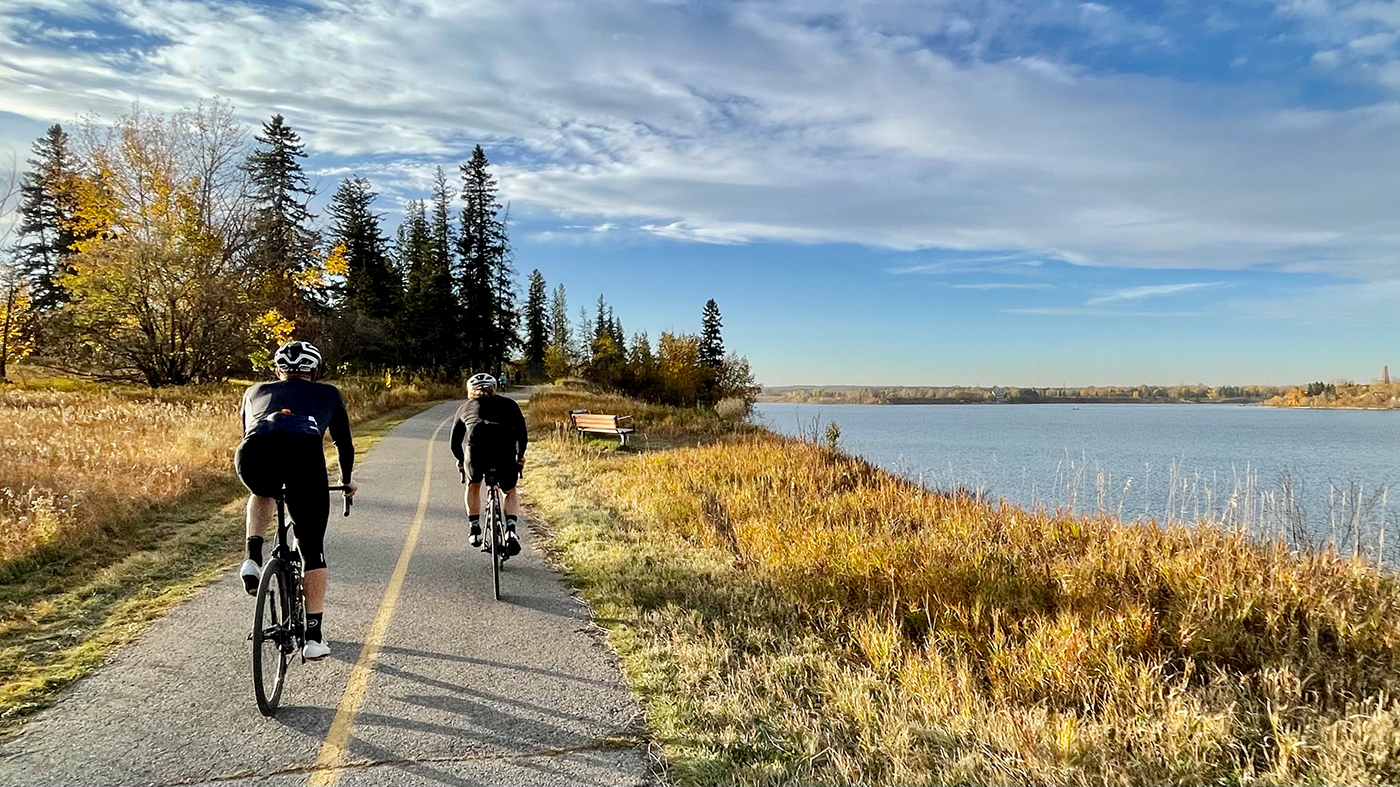 Distance: 16 km
Paved pathway riding, a stunning reservoir, Rockies vistas and wilderness immersion make this one of Calgary's most popular leisure rides. Views are immediate and constant as you follow the path at the top of the bluffs in North Glenmore Park into the Weaselhead wilderness and back up to South Glenmore Park.
Confederation Park – Tuxedo Park – Crescent Heights – Sunnyside –  Hounsfield Heights – Briar Hill
Distance: 6 to 15 km
Paved pathways wind beneath the poplars and alongside the creek in Confederation Park before connecting you to the bike lane in Mount Pleasant and continuing to the photo-worthy vistas from the Crescent Heights escarpment. Descend into Sunnyside and detour to see gargoyles and garage art along the residential streets or take a pit stop at a tasty eatery.
Barley Belt (Ramsay – Highfield – Elbow River Pathway)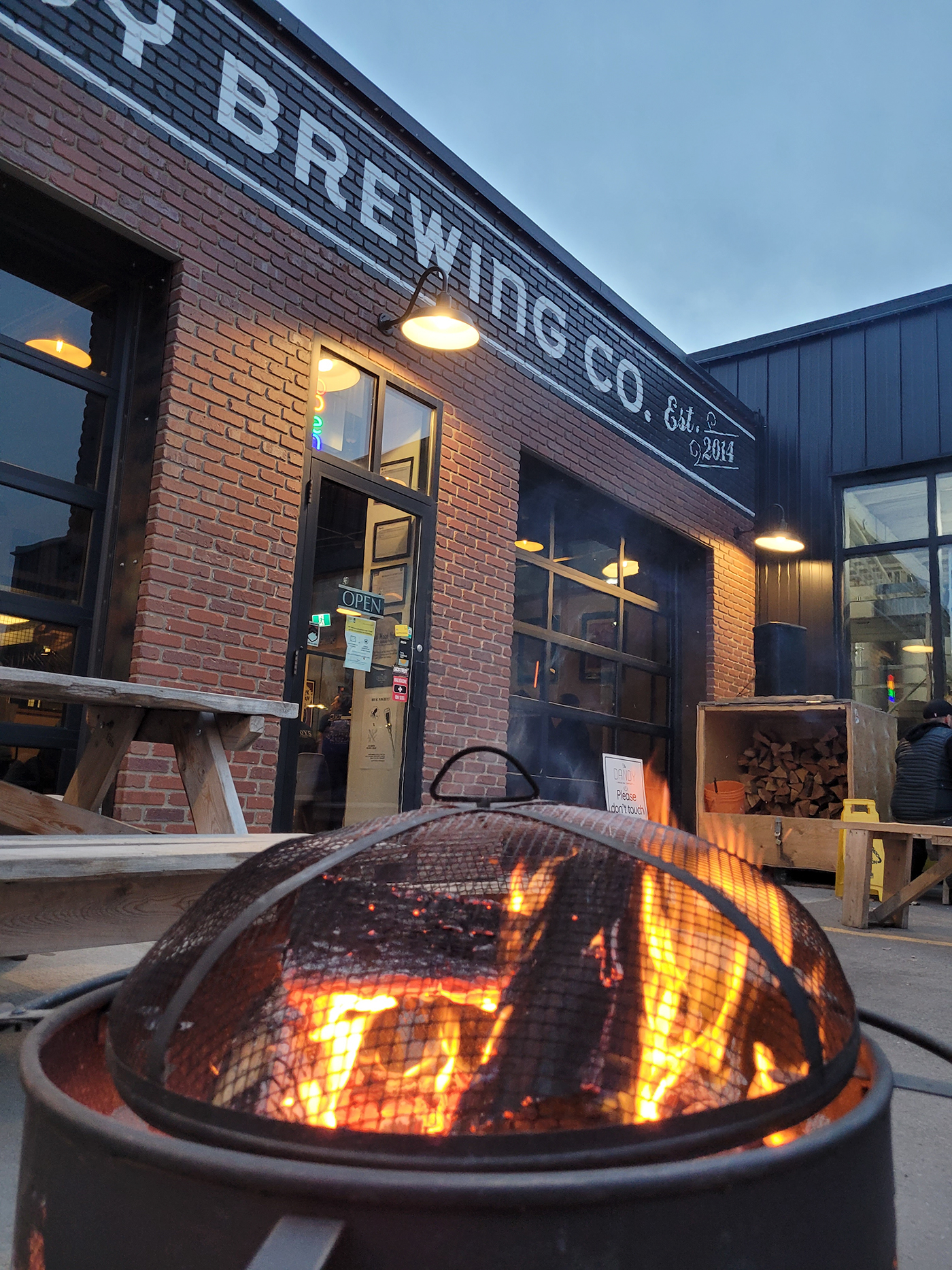 Distance: 18 km
This craft beer tour takes you along the 12th Street S.E. cycle track, through Ramsay and on the 42nd Avenue pathway. Taste-test at 15-plus breweries before looping back past Stanley Park and the Elbow River Pathway.
Bridgeland – Riverside – Downtown East Village – Beltline – Upper Mount Royal – Bankview – Bow River Pathway
Distance: 18 km
Connecting the northeast to the southwest, this inner-city ride offers a mix of cycle tracks, pathways and on-road bike lanes. Take in colourful murals, homes and gardens as you cycle through the Beltline and into Mount Royal. The panoramas from hilly Bankview are a highlight before connecting to the Bow River Pathway.
Nose Hill Park Loop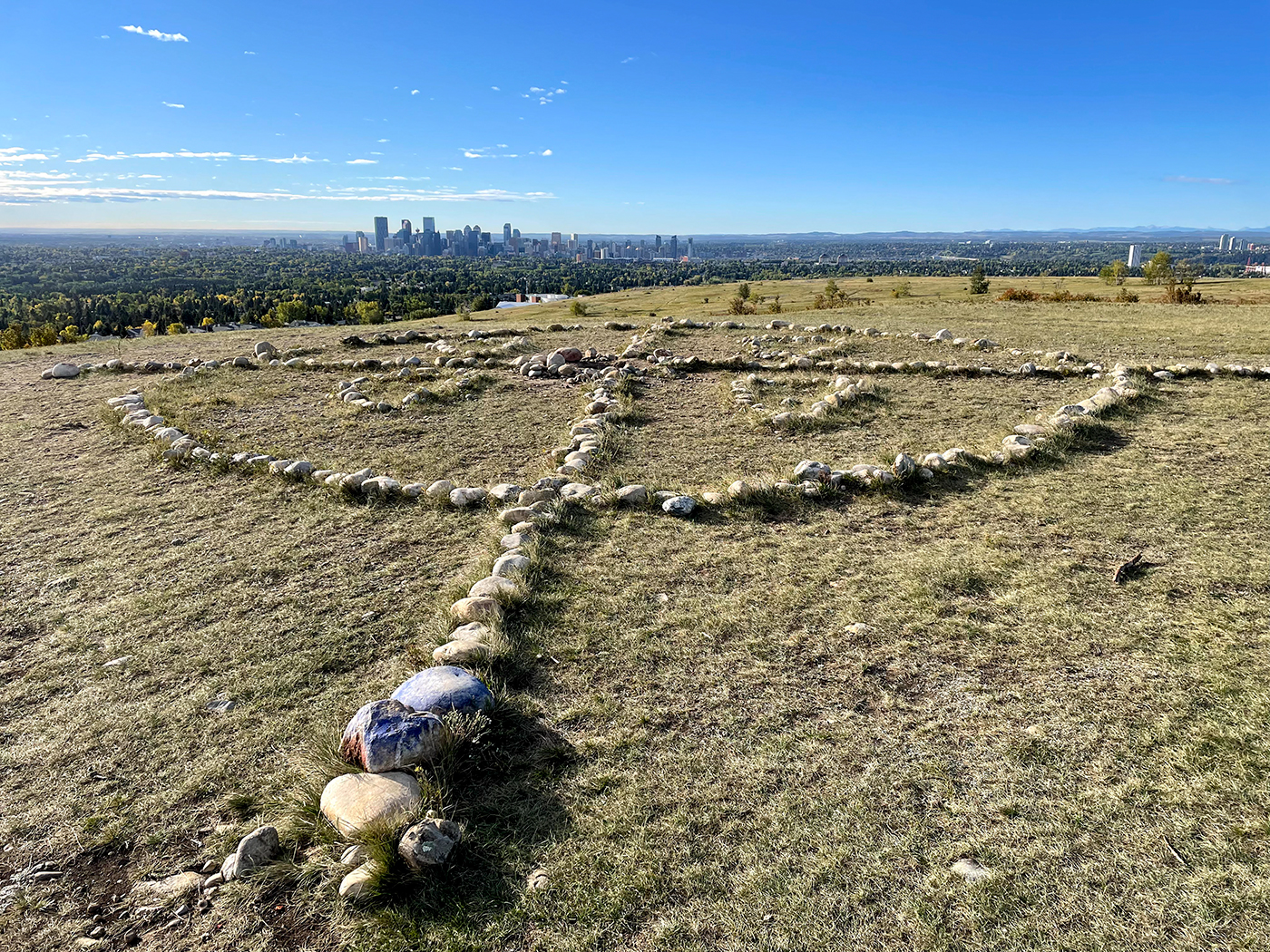 Distance: 9 to 16 km
Views begin immediately as you follow the paved pathway onto the Nose Hill plateau. Choose to stay high on the plateau, or drop down and climb back up. Highlights include the Siksikaitsitapi Medicine Wheel, the golden aspen groves and the stunning grasslands.
Bowmont Park – Baker Park – Bowness Park – Calgary Farmers' Market – Greenwood-Greenbriar – Bowness
Distance: 15 km; 22 km with farmers' market add-on
Travelling from wetlands to grasslands, this hilly ride climbs to reach spectacular Bow River views. Opt to continue along the Bow River or navigate Bowness side streets to fill your panniers with local produce from the Calgary Farmers' Market.
Calgary's Best Bike Rides: 50 Urban Cycle Tours and Pathway Pedals (May 2022, Fit Frog Adventures), $32, fitfrog.ca.