Name of hike: Old Goat Creek and Glacier
The area: Kananaskis Country
Distance to waterfalls: 6 kilometres round trip
Elevation gain to waterfalls: 169 metres
Difficulty: Easy
Distance to glacier: 10.4km round trip
Elevation gain to glacier: 739 metres
Difficulty: Moderate
How to get there
123 kilometres from the Calgary Tower
What to bring
As well as ample food and water, make sure you have a few extra layers of clothing in your backpack. Weather in the mountains is changeable, so be prepared for anything. (Yup, it still snows in the summer and there is snow and ice along this trail.) Remember that you're going to be in bear country so be sure to bring along bear spray.
The hike
If you're going with the whole family, hike to the waterfalls and back
This hike starts with a three kilometre walk through mossy forest along Old Goat Creek. You can get away with just wearing runners on this portion of the trail, but you will need to watch your step because there are roots and fallen trees. The elevation gain is minimal, so it won't be too challenging for little legs.
After about 45 minutes, the trail gets to a rocky ridge. Here, take some time to have lunch, admire the waterfalls or watch the hikers descending from the glacier.
If you're looking for a workout, hike to the glacier and back
Follow the trail directions above, but when you reach the area with the waterfalls, walk across the rocks and pick up the path again slightly to the left. Look for cairns if you're confused.
Walk up the snow on the right between the forest and giant boulders in the middle – it's easier to walk up on snow than on the large rocks and there is no path through the trees. Once you get past the snow, you'll follow an obvious path, climbing over dirt, scree and loose gravel. The going is steep, so staying on the trail is your safest, and best, option.
Travelling up, you will reach the trees on the right, then do one final push up some scree in order to see the glacier. Here you can stop and rest or continue walking along the ridge to get a closer look.
The best part of this hike is sliding back down the snow, a treat on hot, sunny days.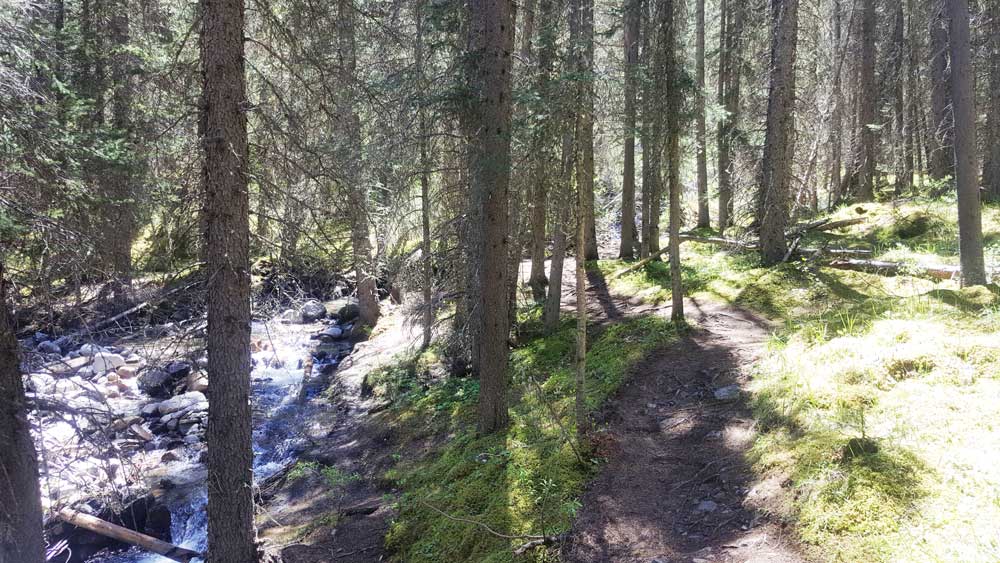 During the first half of the hike ,you'll be walking through the forest with a creek babbling on your left.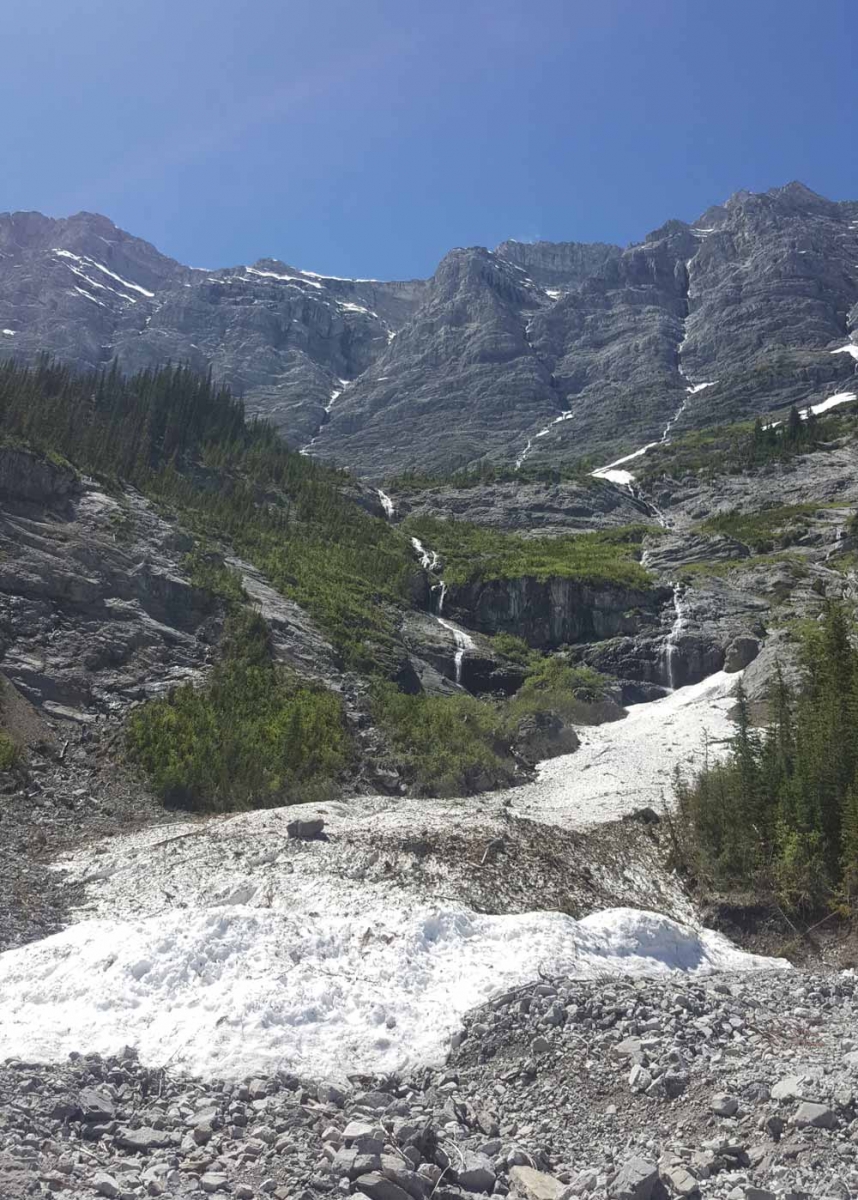 Once you leave the forest, you can stop here for a picnic while admiring the waterfalls.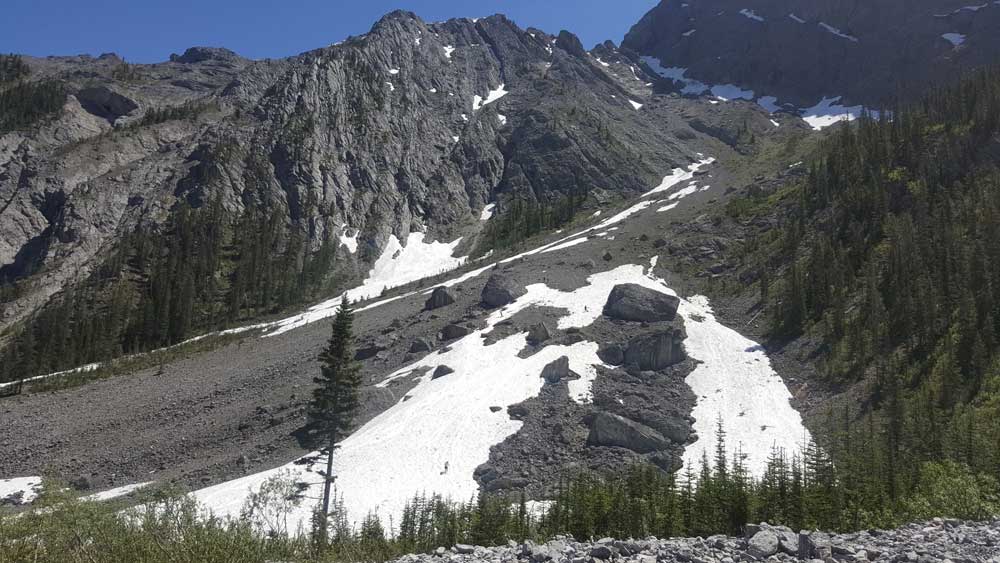 If you're continuing up to the glacier, climb up on the right patch of snow. The trail eventually loops up and around the trees on the right.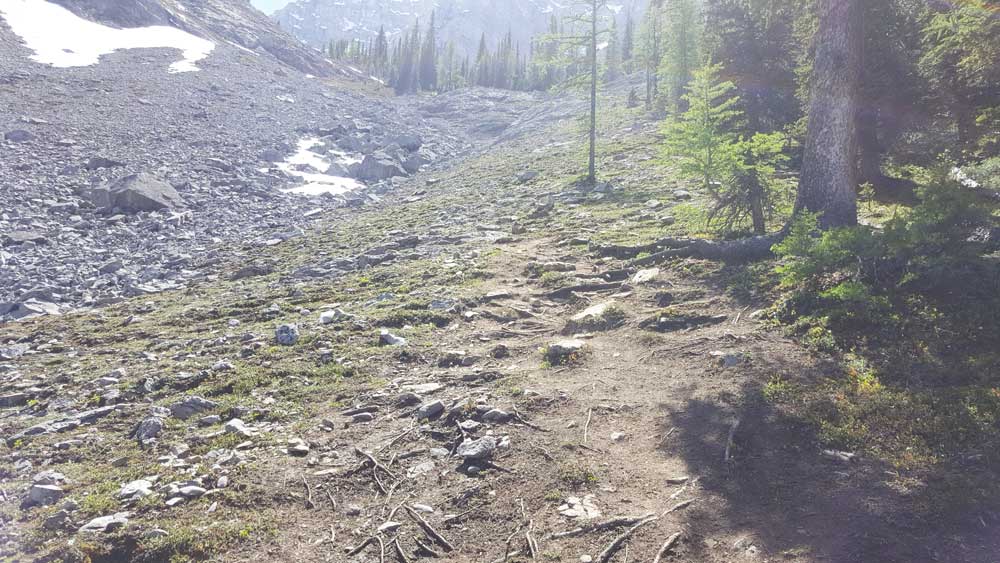 You'll be walking on packed dirt with protruding roots, climbing over large rocks and walking over scree.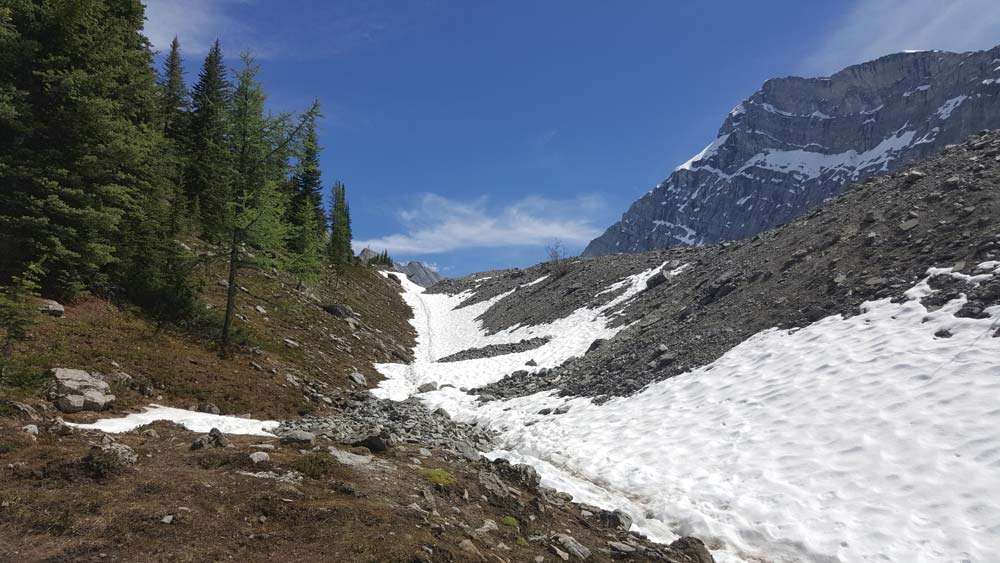 Walk up the scree on the right to get views of the glacier.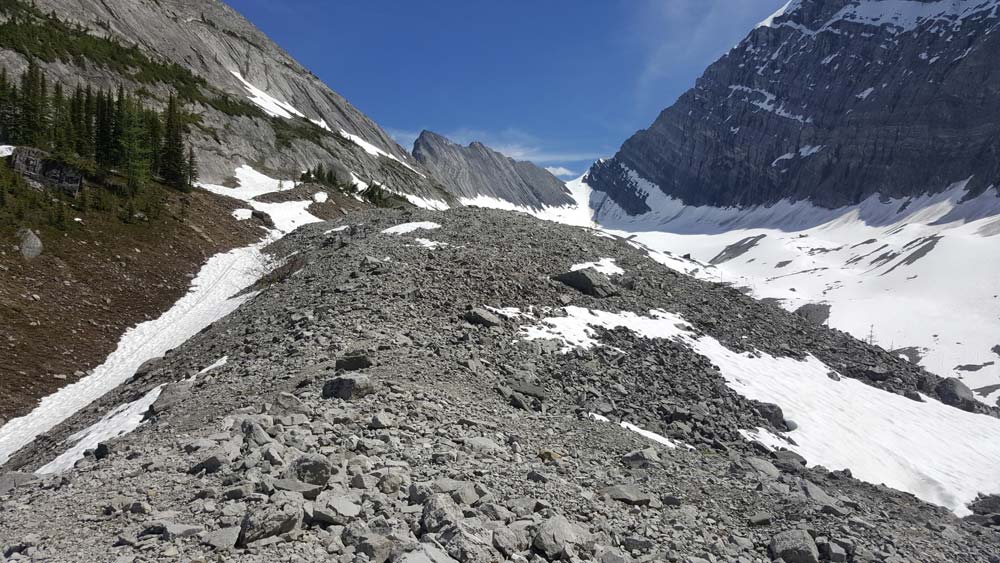 The glacier is visible in the valley on the right. Walk along this rocky ridge if you want to get a closer look.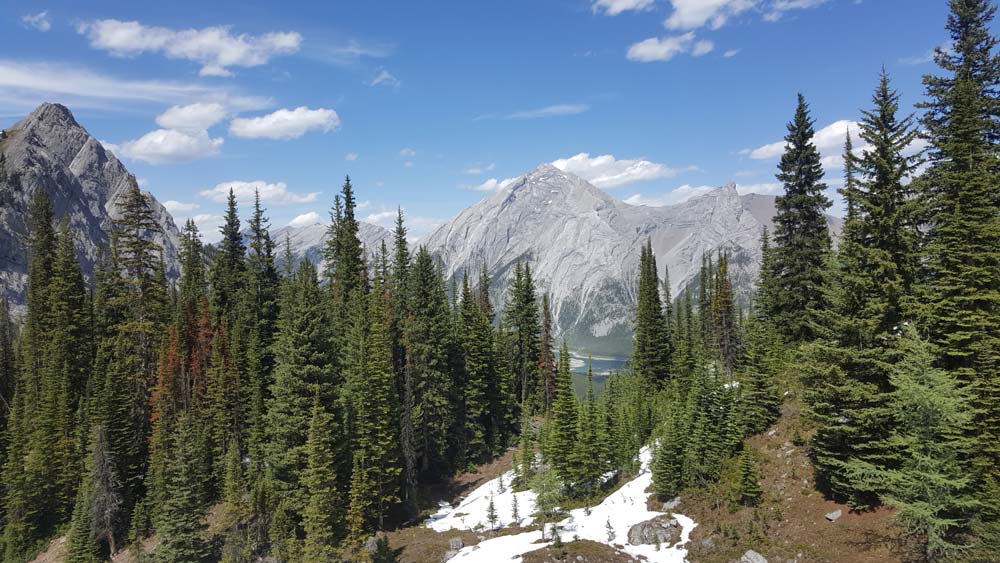 The views from the top of the trail, looking back the way you came with Spray Lakes visible in the distance.