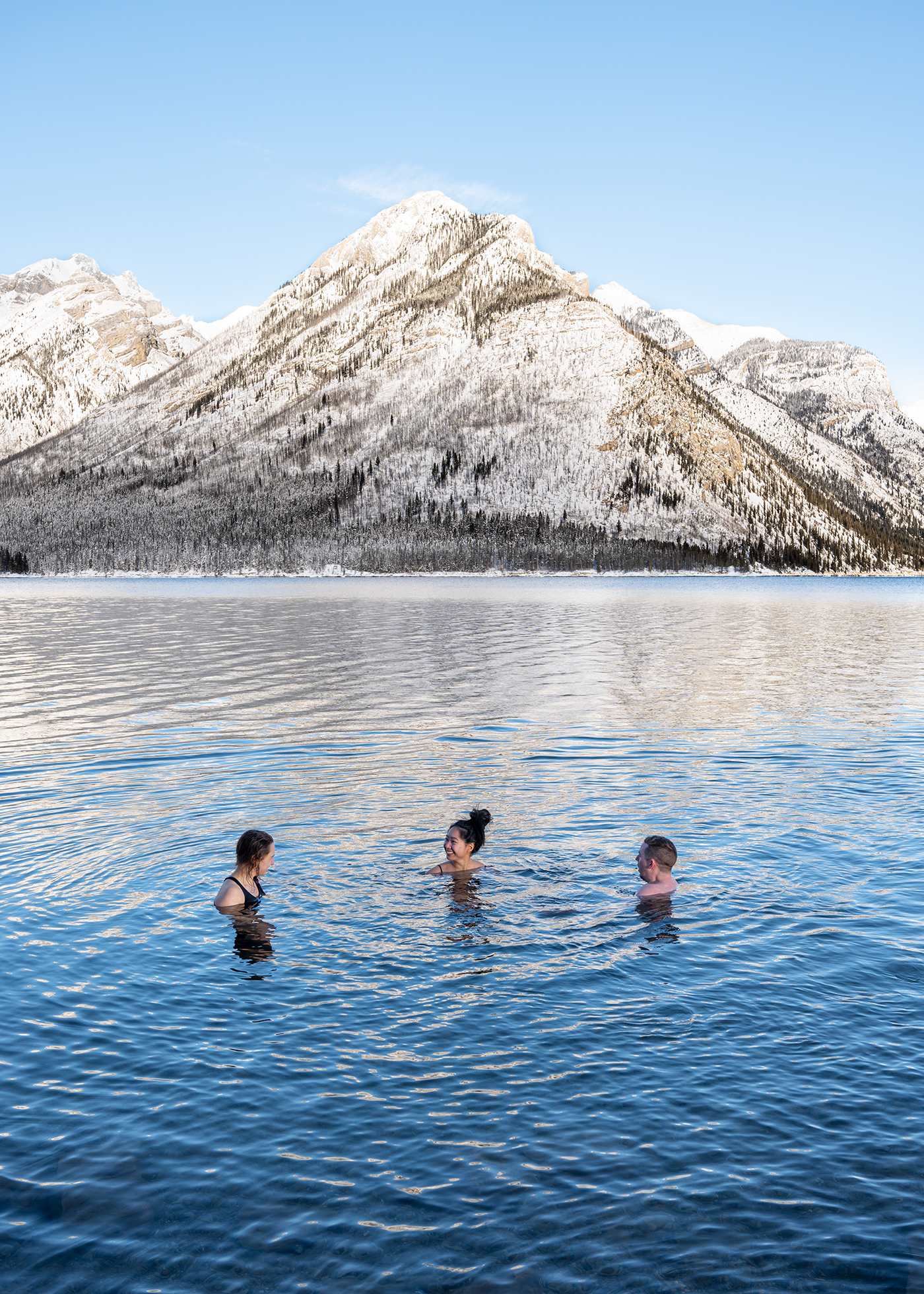 A quick dunk in cold water can be refreshing, awakening, invigorating and revitalizing. But, in recent years, science has begun to reveal the positive physiological effects immersing in cold water can have on your body, thanks, in part, to a Dutchman named Wim Hof.
Hof is famous for performing incredible feats of cold-resistance, like climbing Mount Everest in only shorts, or sitting in an ice bath for hours. In order to achieve these feats, he created a regimen that involves breathing, cold-water immersion and discipline. The Wim Hof Method, as it's known, is believed to awaken the immune system, increasing energy levels, decreasing stress levels and enhancing general well-being.
To get science-y, the combination of breathing techniques and cold-water immersion increases the release of epinephrine, which helps with the body's anti-inflammatory response. This means that a cold-water dip not only helps with healing inflamed joints and muscles, but it seems to have some effect on inflammatory autoimmune diseases as well. To be less science-y, the focus required to maintain breathing and calmness while freezing is a good way to practice mindfulness and awareness of your body.
Calgary-based cold-water diver and free diver Sabrina Figliomeni regularly swims and dives in the icy waters of the Alberta Rockies. While she notes there are a few businesses around Calgary, such as Redox Wellness, that offer cold-water therapy in a controlled setting, and a few natural spots within the Calgary city limits to jump in the water, nothing really compares to the experience of being in the quiet of the mountains, surrounded by nature.
Preparing for the Plunge
According to Figliomeni, there are a few things you should do to make your cold-water dip the best and safest experience possible.
No. 1? Breathe.
"Breathe beforehand, and as you get into the water," says Figliomeni. Doing deep-breathing exercises — long, deep breaths, in and out — before entering the water allows oxygen to enter the bloodstream. This prevents your limbs from getting too cold too quickly, since your body will begin to cut off blood flow to your hands and feet and send it to your vital organs. Maintaining calm breathing will also help you relax in the water. "The initial cold shock may make you gasp," Figliomeni says. "But don't hyperventilate. It may send you into a panic and make the whole thing seem harder than it needs to be."
Figliomeni also stresses the importance of proper footwear for getting in and out of the water, as any adverse sensations will distract you from staying calm and focused on breathing. The bottoms of mountain lakes can be rocky and painful on bare feet and the cold will only exacerbate that feeling. Water shoes, Crocs, or even a thick pair of socks will help you maintain the necessary focus for a safe cold-water experience.
Another important thing is to always have a spotter. Things can always go wrong, so it's best to stay close to the shore with a buddy watching you. "Make sure you and your buddy know the signs and symptoms of hypothermia and the first-aid procedures for it," Figliomeni says. (Signs of hypothermia include shivering, exhaustion, confusion, fumbling hands, memory loss, slurred speech and drowsiness.) Aside from the safety aspect, sharing the experience of jumping into freezing water with a friend is always more fun, she adds.
Safety is always the top priority, though, so her advice is, if you are feeling uncomfortable, then step back. "Don't be a hero. If this is your first time, proceed with caution," Figliomeni says. "Or, even better, try your first [dip] somewhere controlled, like Redox Wellness, so you have a safe environment." If you do decide to take a natural cold-water plunge, it's a good idea to bring a safety line. "Your first plunges will be short — with practice, you'll be able to extend them," she says. "The body is exceptional at protecting itself when it comes to the cold, so enjoy the sensations."
When coming out of the water, as much as your instinct might be to hop into your car and blast the heat, instead, have a few towels ready — one to stand on, and one to dry off with — and change into dry clothes as soon as you get out (Figliomeni likes to use a dry robe, like Red Paddle Co.'s changing robes, or something similar, that can be easily and quickly slipped on and off). The rush of cold blood from your extremities to your body core has the potential to send your body and organs into shock, so you'll want to allow your body to come back to temperature slowly and naturally.
Figliomeni's suggestion? "Go for a walk and marvel at the fact that you just did what you did."
3 Places to Go Cold-Water Swimming in the Mountains
1. Lake Minnewanka – Banff National Park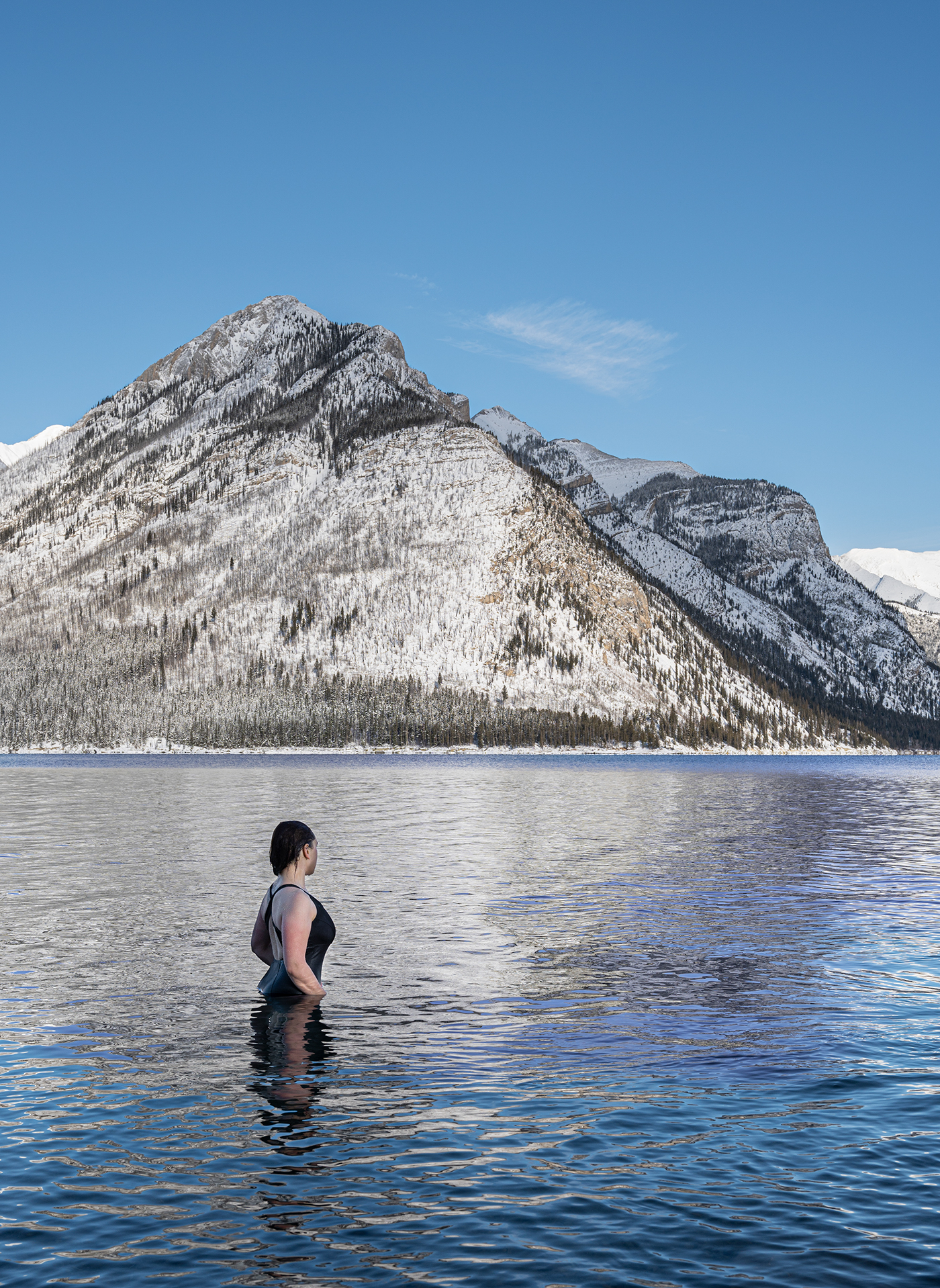 One of the most well-known lakes in Banff National Park, Minnewanka is an easily accessible and beautiful spot to take your first cold-water dip. It is also a popular scuba diving spot, on account of its underwater ghost town. Its popularity within the dive community extends to the gently sloping launch point into the water and a small flat beach for before- and after-dip activities.
TIP: Park at the plaque site before the causeway bridge and follow the signs for scuba diving down the stairs to the water's edge. Remember that you will have to walk back up, so shoes (and maybe even crampons) are a must here since the stairs can get icy.
2. ForgetMeNot Pond – Kananaskis Country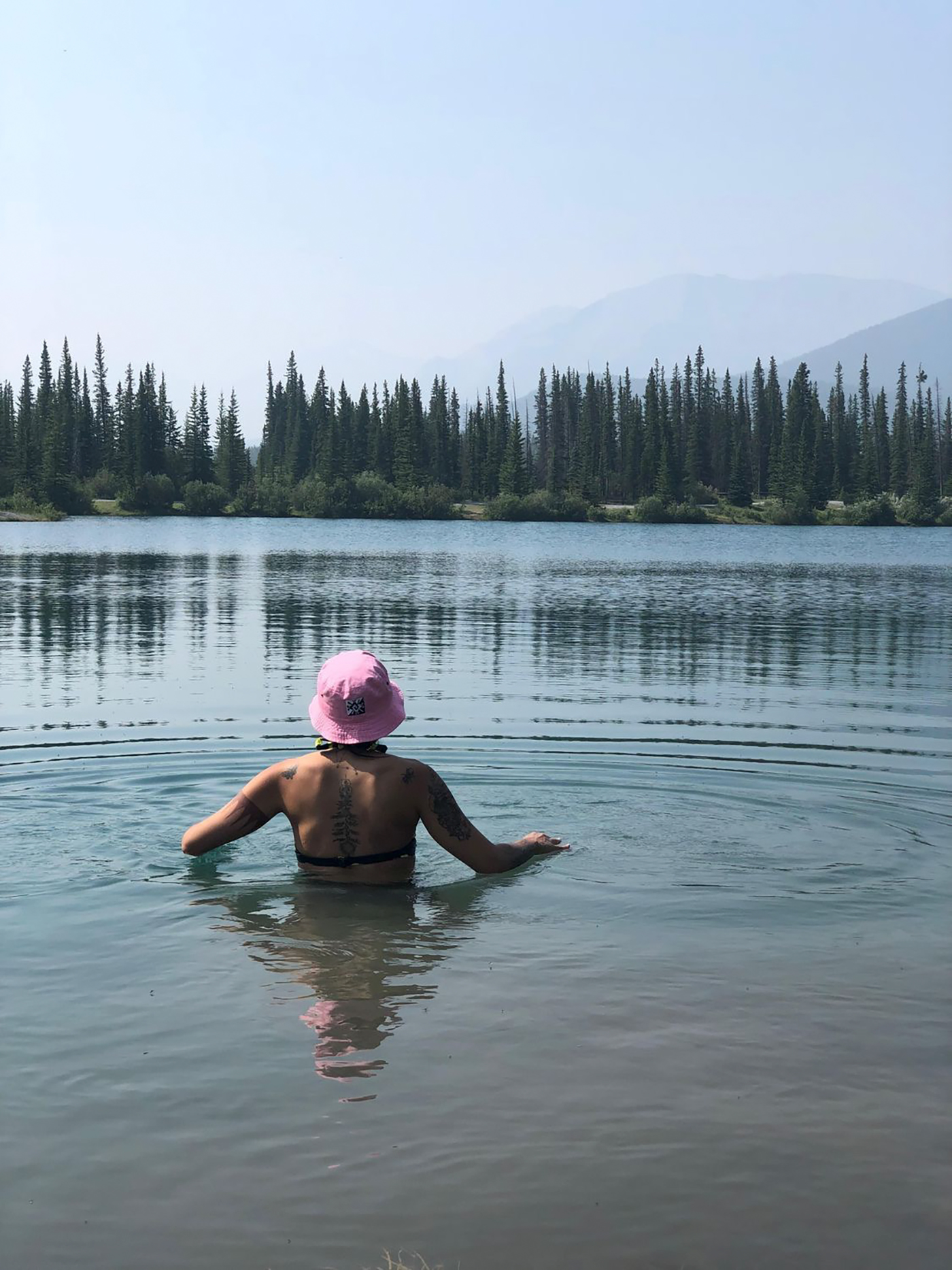 This crystal-clear pond south of Elbow Falls on Highway 66 is a man-made offshoot of the Elbow River. The highway is closed from December until May, but the pond stays consistently cold year-round thanks to mild water movement from the adjacent river, so you can still cold-water swim during warm-weather months. The bottom is a squishy silt that sticks to your feet, so entrance into the water is relatively pain-free. Benches and picnic tables surrounding the pond make for great pre-plunge-prep spots, and the pathway in makes it easy for your spotter to follow you if there are any issues.
3. Two Jack Lake – Banff National Park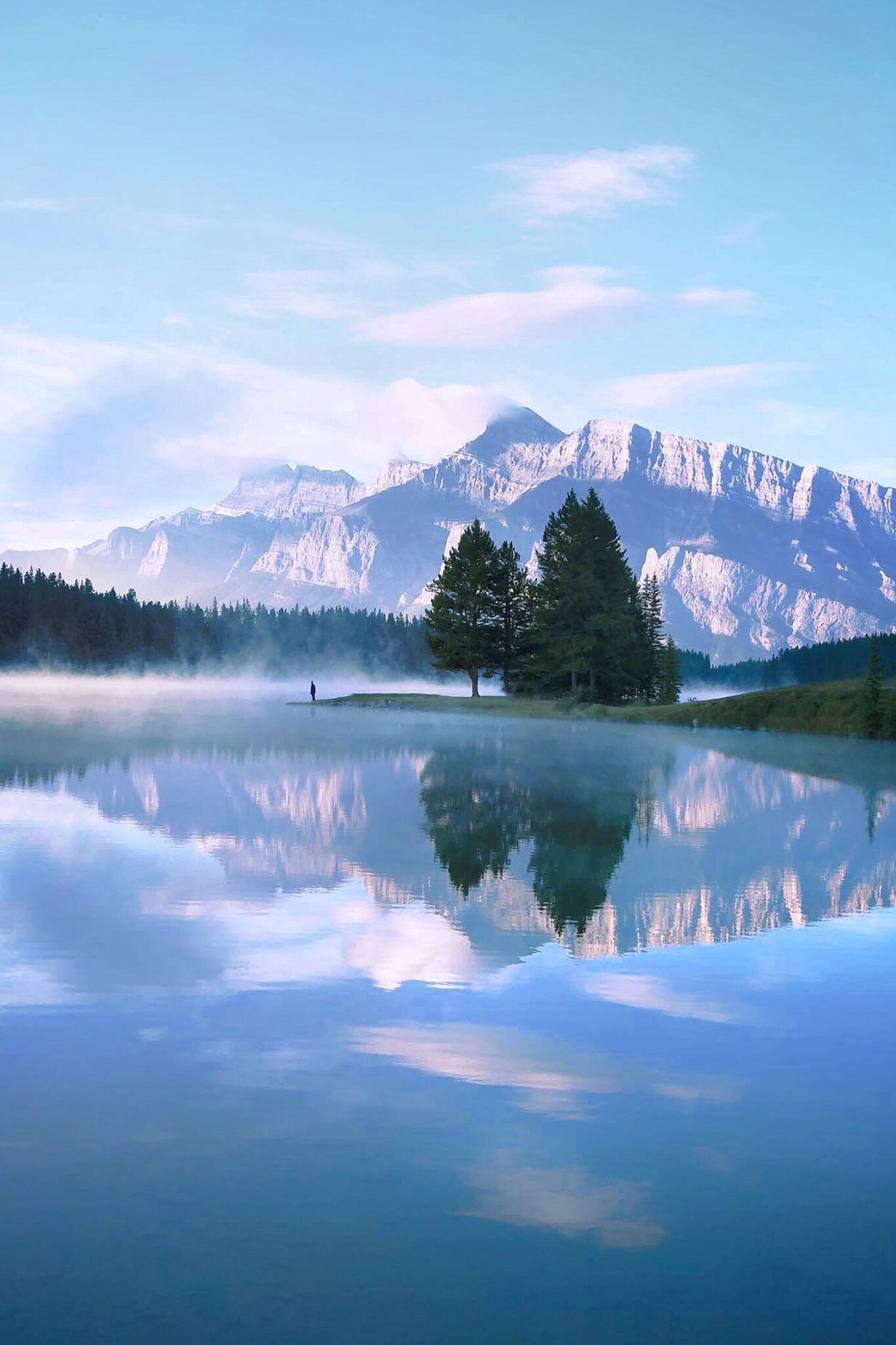 Two Jack Lake has another excellent launch area for novice cold-water swimmers. The parking lot for the launch point is easy to find, just past Two Jack Lakeside Campground on the way to Lake Minnewanka (There are also good launch points within the campground). Two Jack Lake's access can also be icy, so good shoes are a must here, as well.