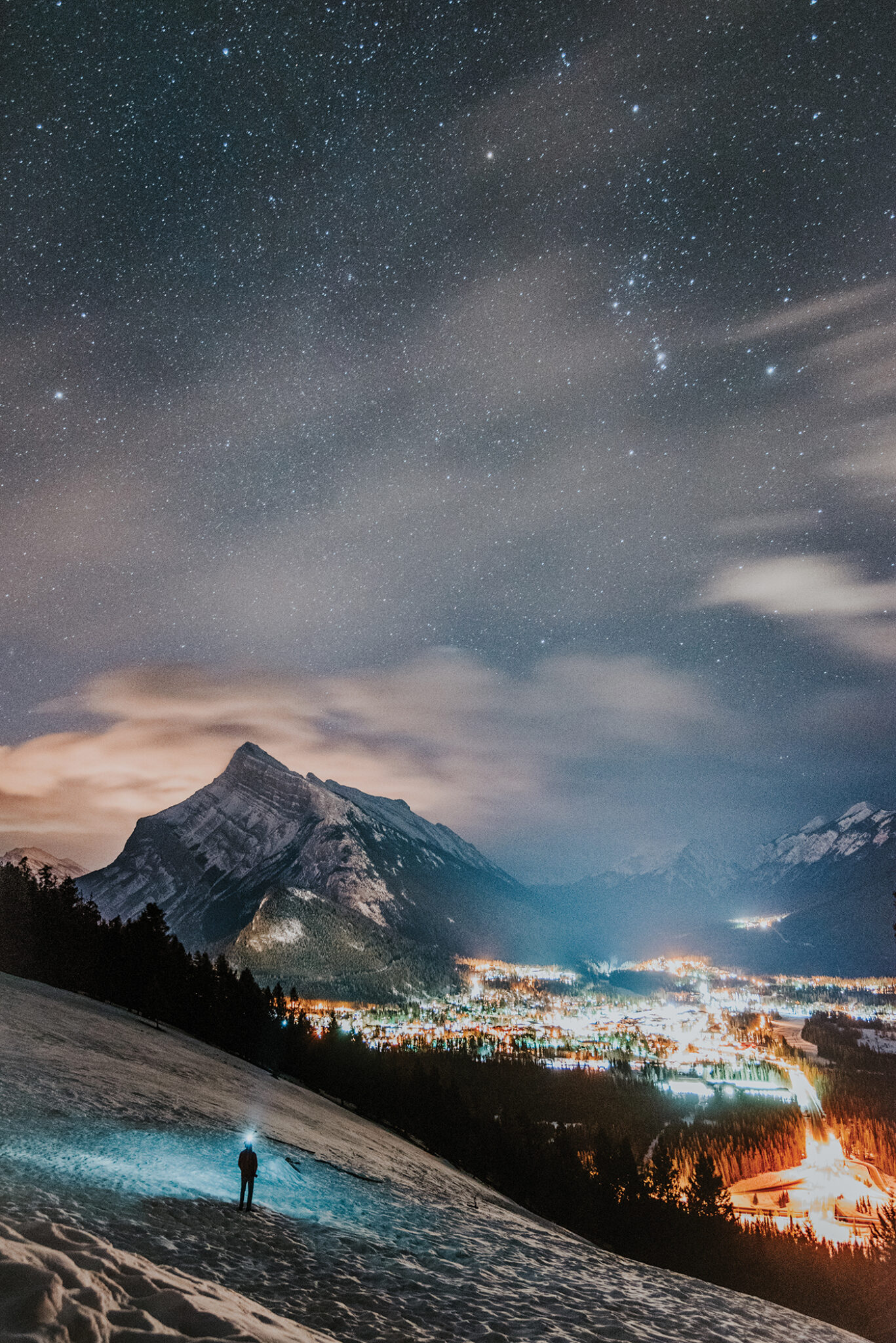 Sunset comes early in the mountains right now and you can pretty much expect it to be dark before dinner. But, just because it looks like nighttime out there doesn't mean you have to call it a day. Here are some great after-dark activities to try this winter in the nearby mountain areas.
Ice Walking in Grotto Canyon
Located east of Canmore near Exshaw, Grotto Canyon is a fantastic place for an evening ice walk during the winter months. The Grotto Canyon trail is a loop of just over 2.8 kilometres and has a low elevation gain. Canadian Rockies Experience offers tours of the canyon, which have grown in popularity over the past two years amongst experienced and novice hikers, alike. The guided, three-and-a-half-hour tours are perfect for small groups and families, and include safety gear like headlamps and traction aids, as well as freshly baked desserts and brewed hot beverages from local bakery Wild Grazing.
Soaking Up the Stars in Kananaskis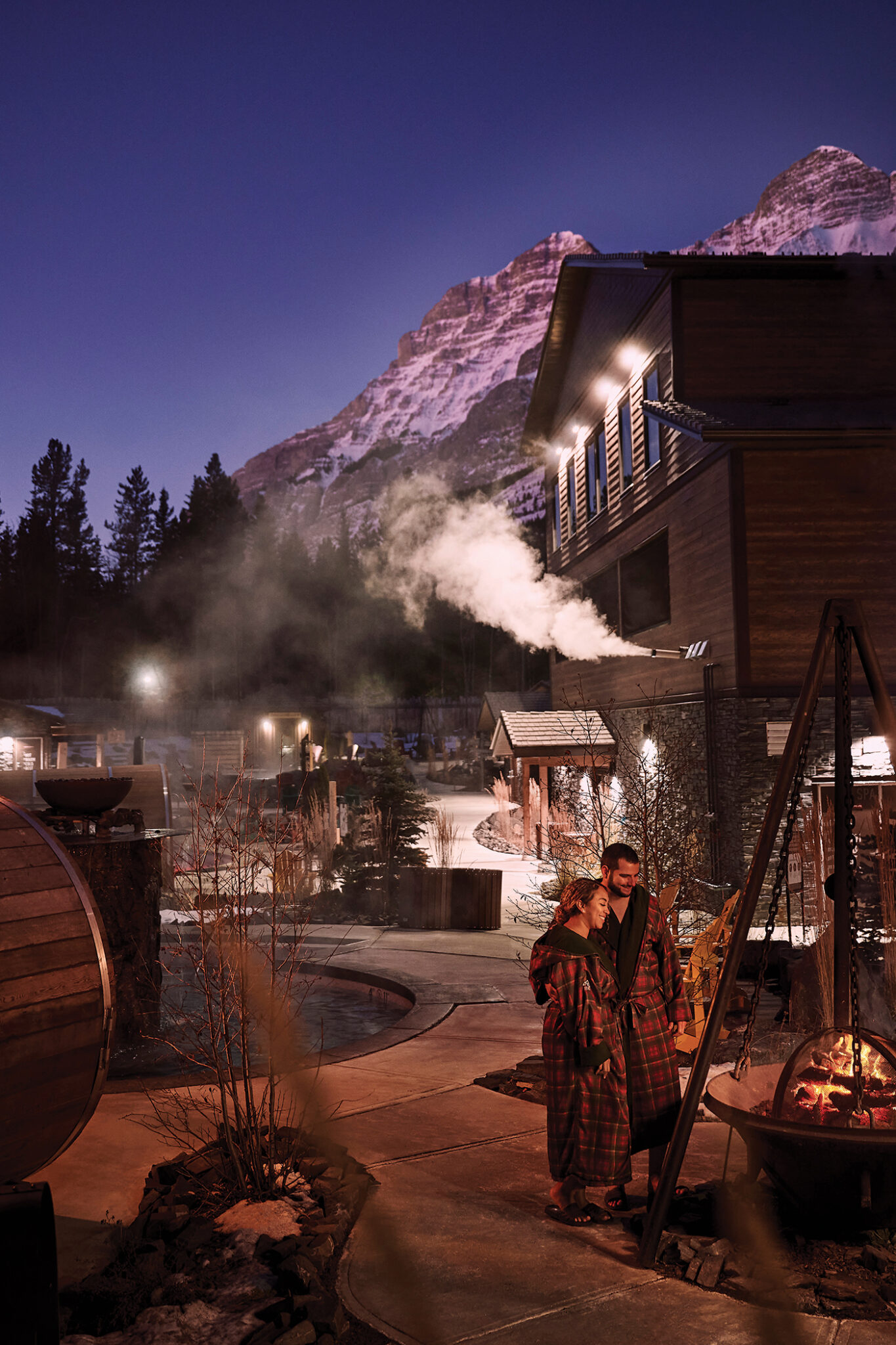 Relaxing in a heated pool or natural hot springs while being able to see your breath in the winter air is a must-do experience. Kananaskis Nordic Spa is open most evenings until 9 p.m., with hot and cold temperature pools to cycle through as well as various steam rooms and saunas. Pair your spa night with a stay at the adjacent Pomeroy Kananaskis Lodge so you don't have to drive home afterwards. Note that, as of June 1, 2021, all vehicles stopping in Kananaskis Country must have a Kananaskis Conservation Pass, which can be purchased online. (Some exemptions exist).
Outdoor Skating in Canmore
Canmore is an outdoor skating mecca, with a variety of natural skating spots in the nearby mountain areas. But you'll also find great outdoor ice right in the heart of town at The Pond. Conveniently located just two blocks from Main Street on 7th Avenue at Mallard Alley, the Pond's ice is maintained daily by the Parks Department and flooded several times per week (weather permitting). The public rink is lit up nightly until 10 p.m. for evening skating and there's a gazebo area with benches and heating if you'd rather just chill.
canmore.ca/recreation-facility/winter-activities
Night-Skiing at Norquay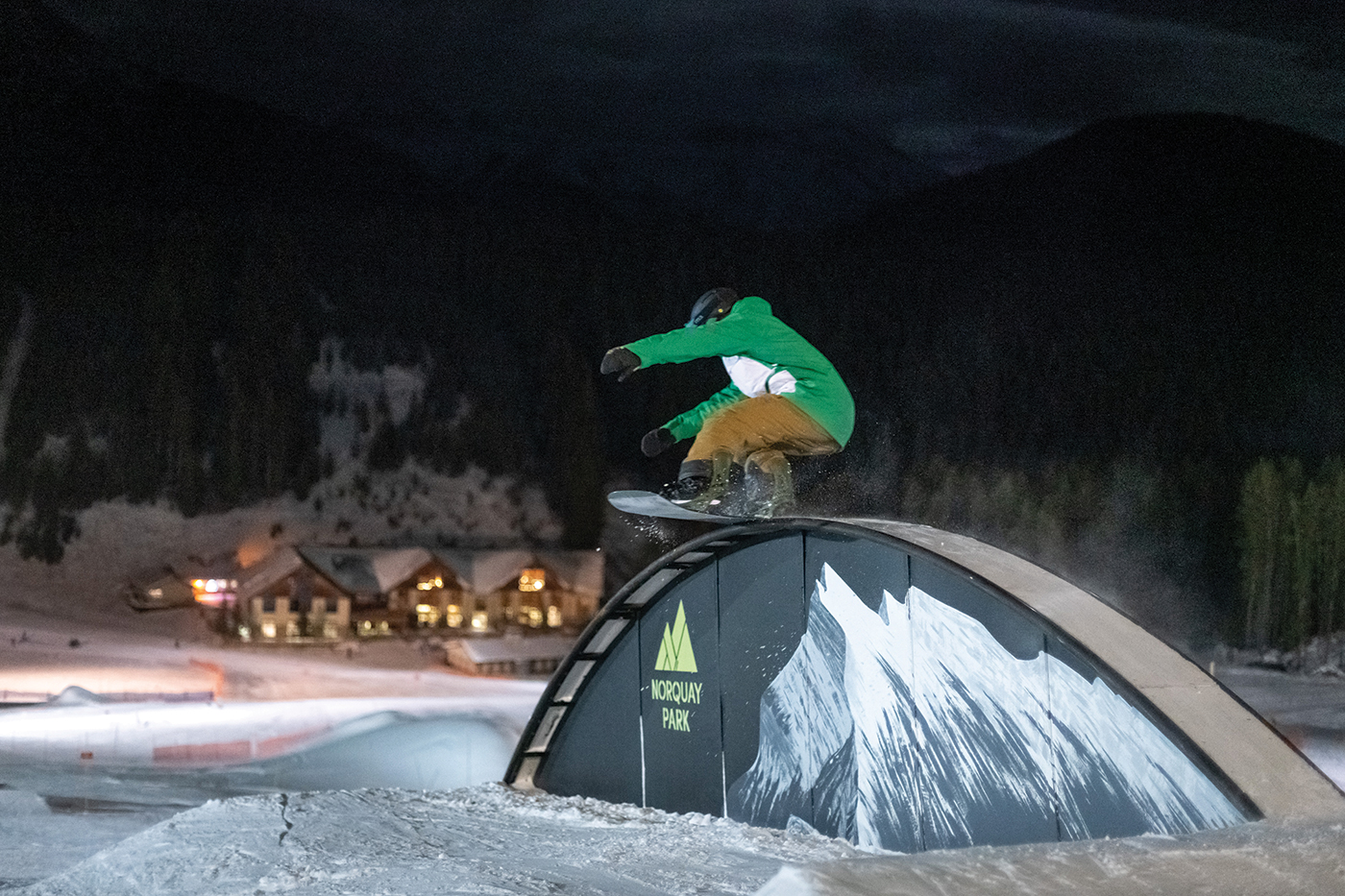 Norquay ski resort offers the only night-skiing experience in the Canadian Rockies. On Friday and Saturday evenings during the winter, Norquay opens three freshly groomed green runs. The night-skiing zone is lit up by floodlights and includes the terrain park for those who like hitting jumps and rail features. If you aren't much of a skier or snowboarding enthusiast, there's also night-tubing in the tube park. Cap off your evening at the Lone Pine Pub with a Norquay 95 Quality Time session ale from Banff Ave Brewing Co., created in 2020 in celebration of Norquay's 95th season.
Fat-Biking in Fernie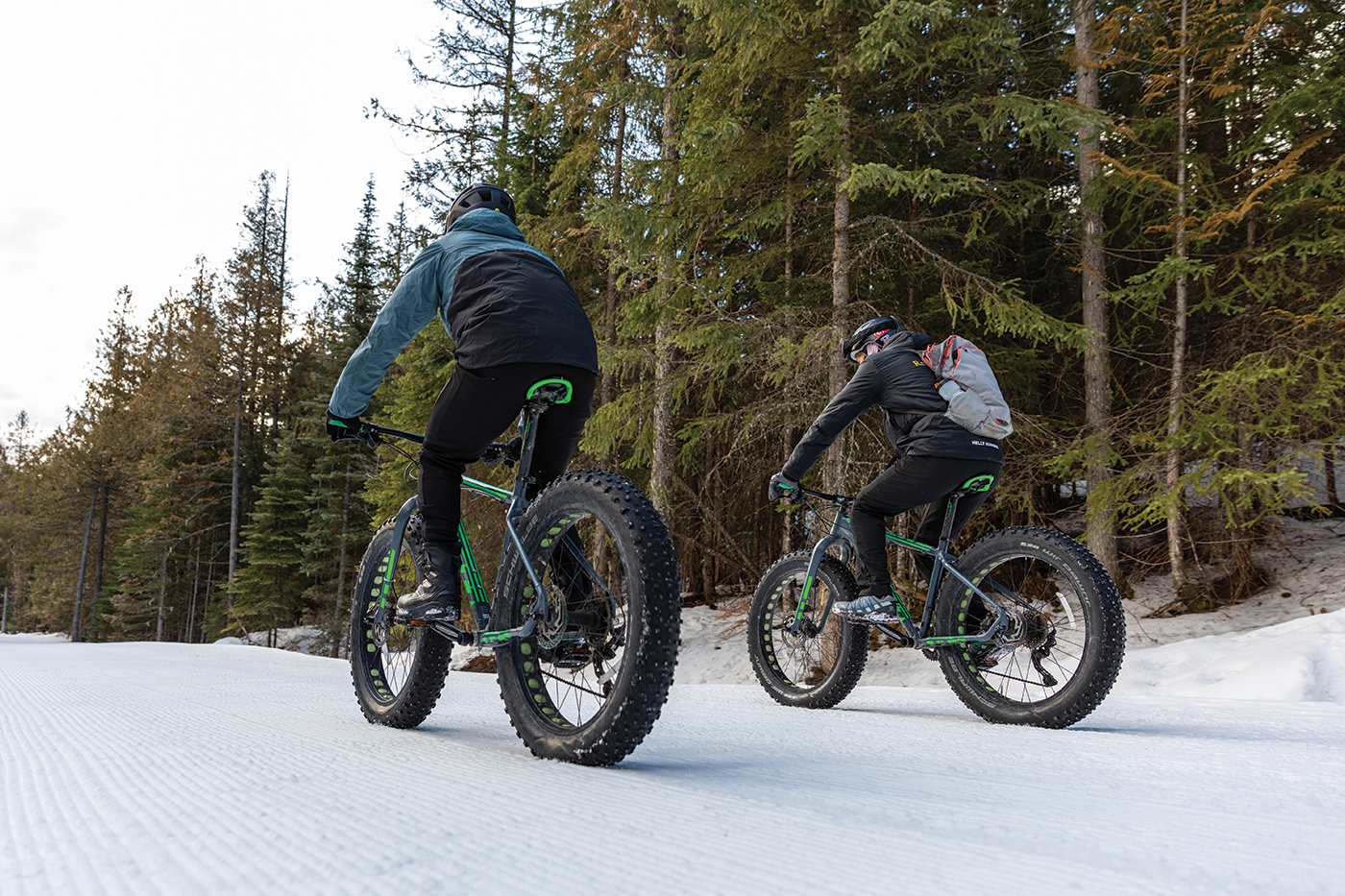 Fernie Alpine Resort offers guided fat-biking tours on Tuesday evenings throughout the winter starting at 5 p.m., and on other evenings by request. These family-friendly tours usually last about two hours and proceed along groomed snow trails at the resort and through the nearby forested areas. Dressing for winter cycling can be a bit of a challenge, especially when it comes to footwear — shoes that are warm and waterproof, but less bulky than full winter boots are the best option. Fat bike rentals at the resort include headlamps (very important for riding at night).
Sleigh Riding at Lake Louise
Those seeking a more serene way of enjoying the mountains can venture up to Lake Louise for an evening sleigh ride with Brewster Adventures. The 45- to 60-minute rides set out from the grand Fairmont Chateau Lake Louise hotel in a horse-drawn sleigh with cozy, upholstered seats. Brewster Adventures offers regular bookings for a maximum of 10 to 12 people, as well as private bookings. There's also a two-seater cutter-sleigh, for a more intimate experience. The evening sleigh rides offer the perfect setting for seeing the stars and a great opportunity to take photos.
Stargazing in Jasper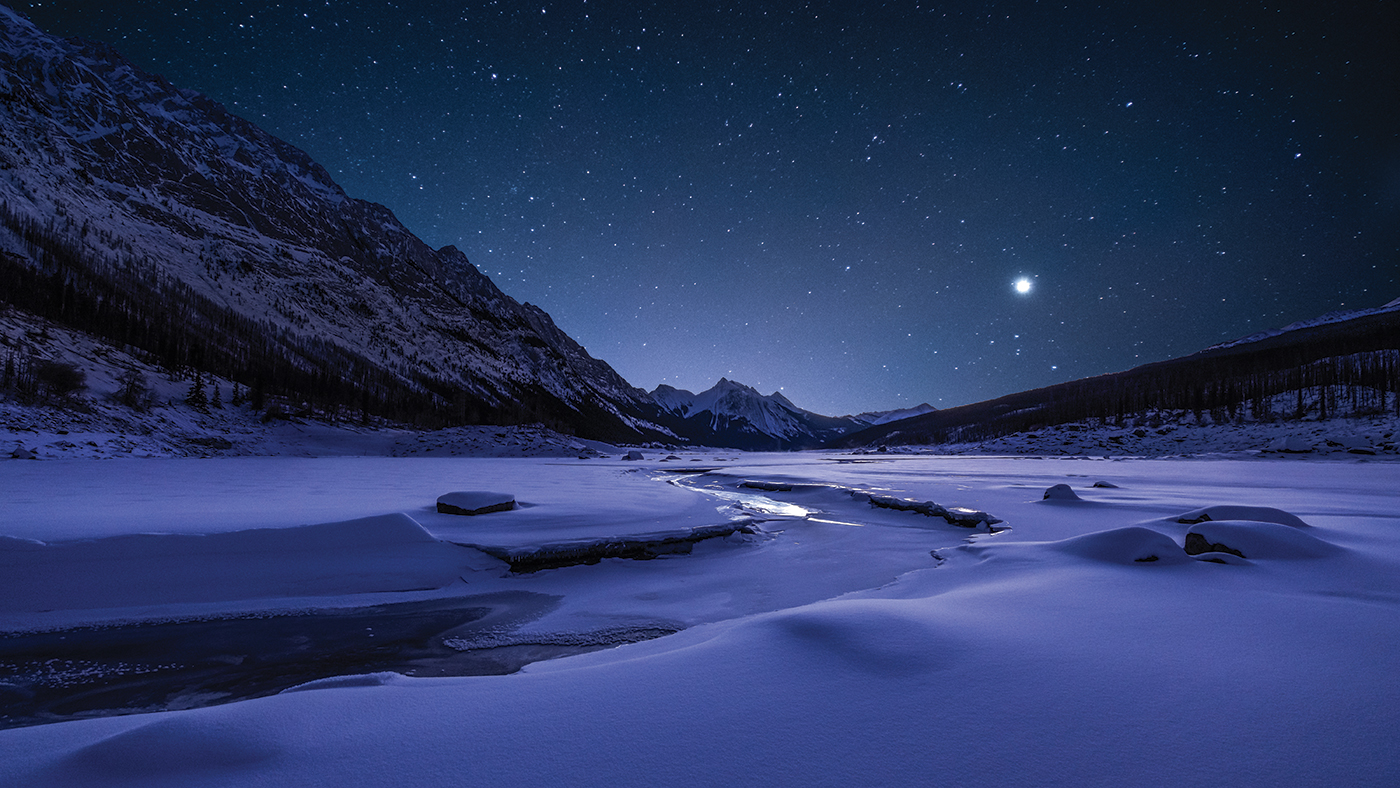 No list of after-dark activities in the mountains would be complete without stargazing in Jasper. With the area designated a Dark Sky Preserve in 2011, citizens of Jasper take light pollution very seriously — many of the streetlights in town point downward so as not to create excess light. The Jasper Planetarium offers a guided telescope and planetarium experience. You'll learn about local constellations of First Nations peoples, the Northern Lights and more inside the planetarium, while outside, you'll look through powerful telescopes and get the chance to handle meteorites, Mars rocks and moon rocks.