Around these parts, the first day of spring isn't necessarily a sign that you should put away your winter gear. This is especially true at mountain resorts. Most of the ski hills within a half-day's drive of Calgary stay open well into April at least, with Lake Louise Ski Resort usually staying open into early May and Banff Sunshine Village renowned for its marathon seasons that extend through the May long weekend. Those weeks in the mountains when it's technically spring, but there's still enough snow to do fun winter stuff essentially are a unique hybrid season — "sprinter" has a nice ring. Here are some ways you can make the most of sprinter and feel the late-season love.
Score a Pass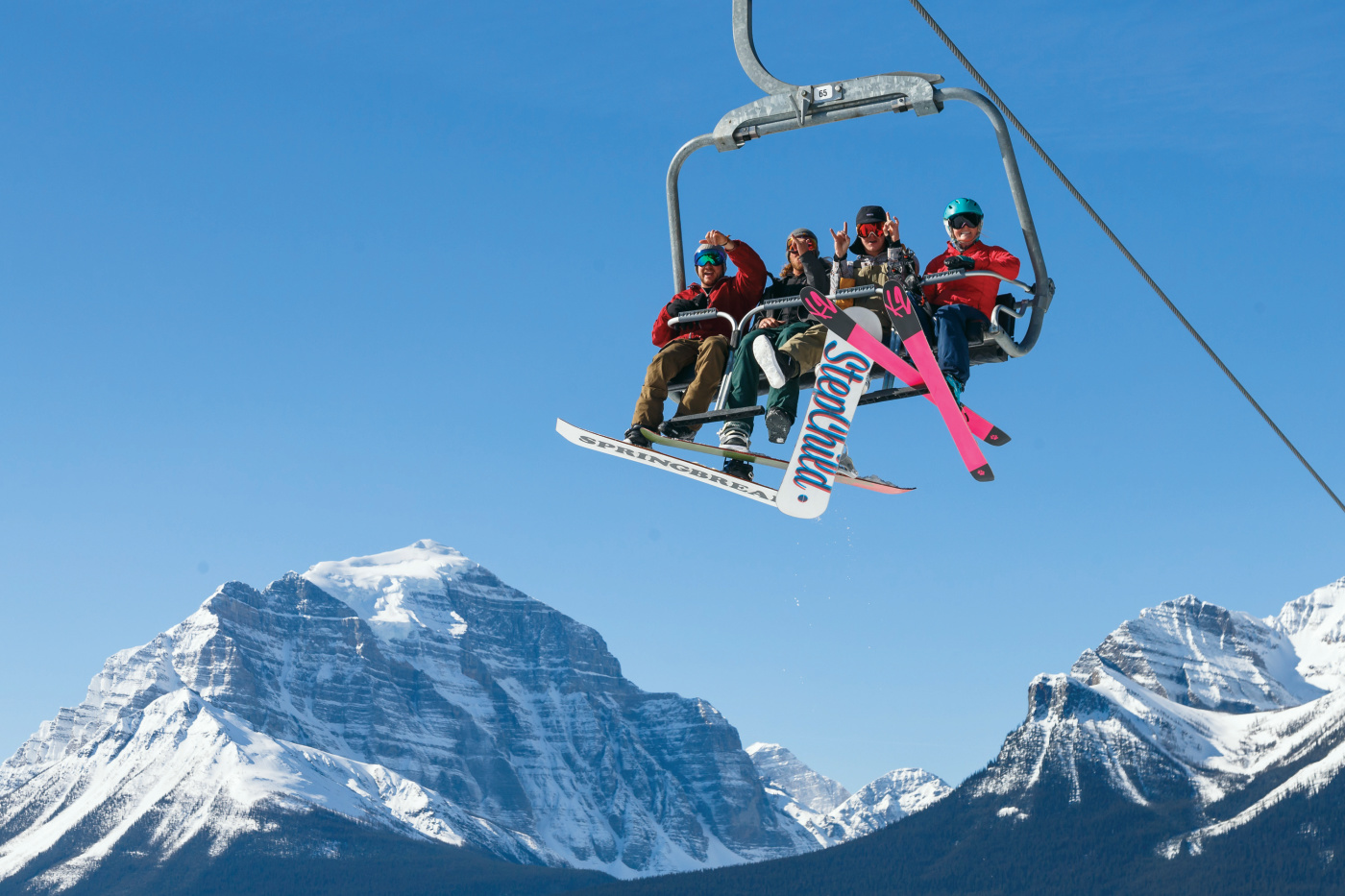 Maybe you weren't ready to fork out the cash for a resort pass at the beginning of the winter. Or maybe, at the time, you didn't think you'd use it that much, but now you foresee your schedule opening up for regular trips out to the mountains. Whatever the reason, if you're going to be hitting the slopes regularly through the sprinter, then you'll want to look into getting a spring skiing pass. Most spring resort passes will save you money if you plan to go at least three-to-five days. Last season, for example, Lake Louise Ski Resort priced its spring pass at $299. That provided unlimited lift access through to May 5, as well as discounts on resort dining, lessons, rentals, retail and lift tickets at partnering resorts — not bad, considering a single-day adult ticket at Louise is $124.
Get Schooled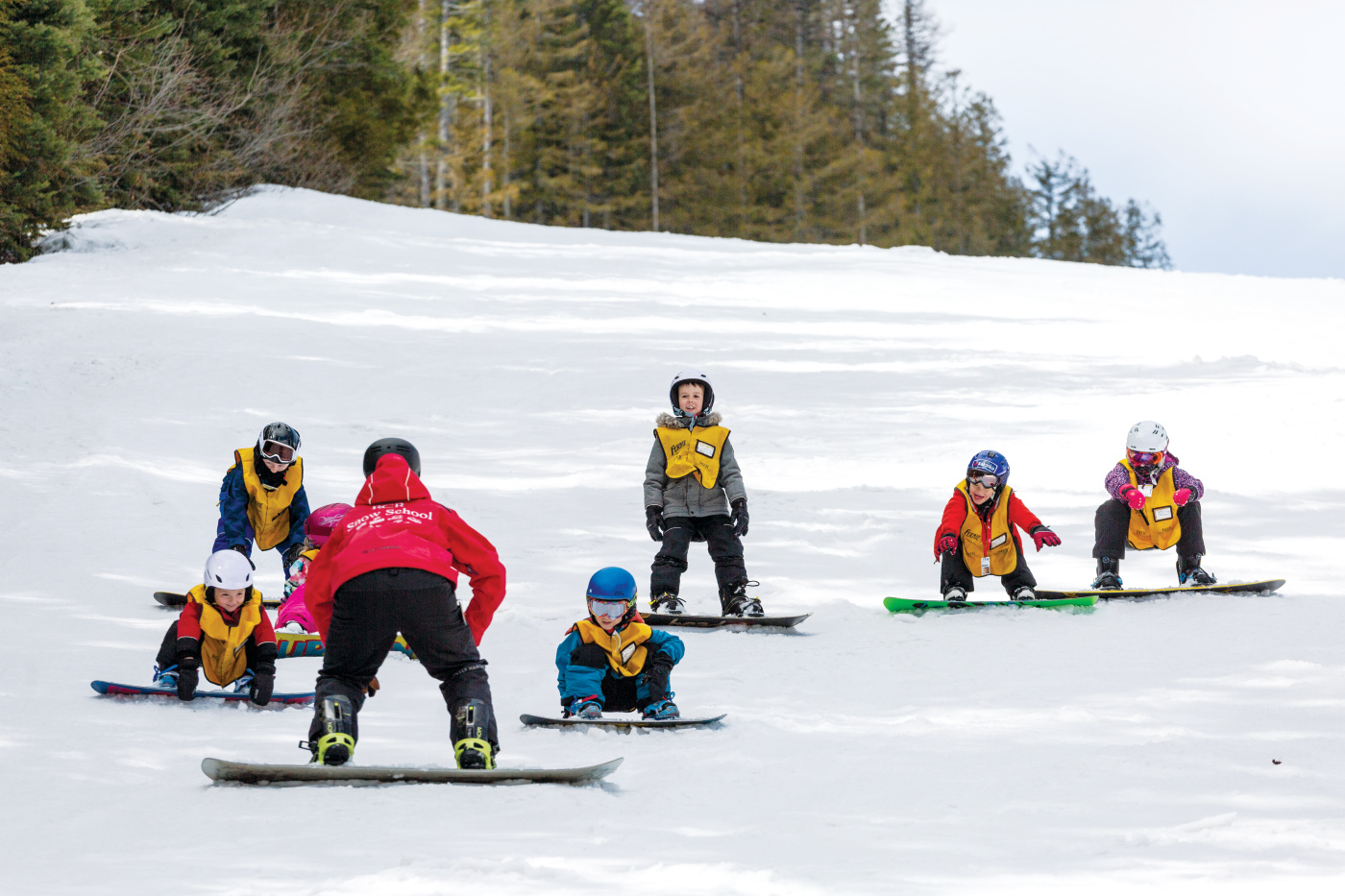 So you've always wanted to learn to ski, or you've been itching to learn to turn a snowboard. Would you rather take those first turns in the frigid days of January, or under sunny blue April skies? Sprinter weather isn't guaranteed to be perfect by any means, but for you (and even more importantly, your kids) the chances of your ski or snowboard lesson coinciding with an extreme cold snap are greatly reduced during the month of April. While springtime snow conditions can be a bit crusty in the early morning chill, the snow tends to soften up nicely as the day progresses, which is nice if you take a tumble while you're finding your ski legs.
Take Your Mark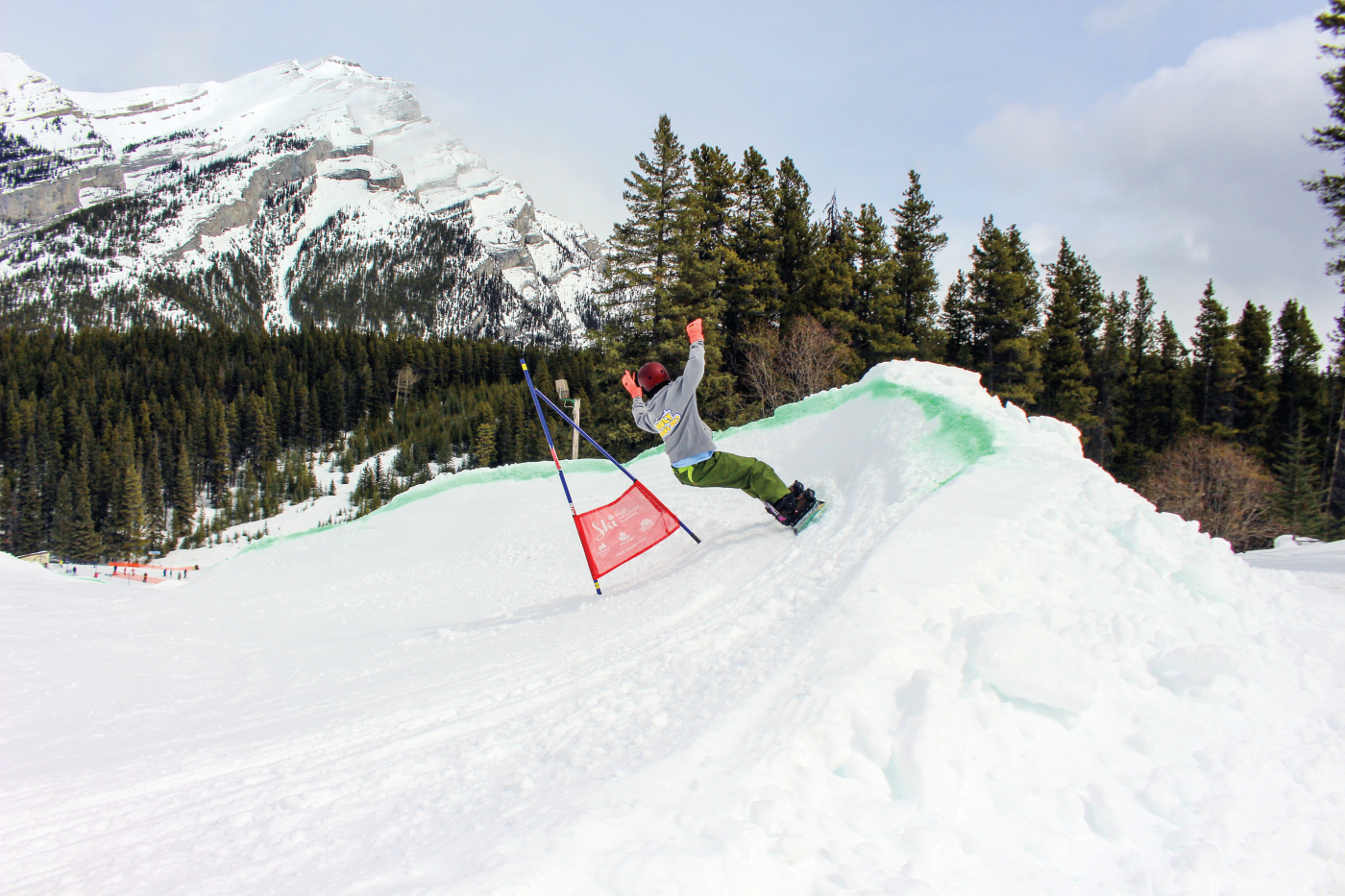 On the other end of the spectrum from the first-time beginner-lesson set are those who have been riding hard all season long and feel like they want to put their skills to the test. As it so happens, the sprinter season is chock full of fun (but still competitive) races and terrain-park jams open to any and all riders who have the bucks for the entrance fee. In particular, the last few years have seen a rise in variety of banked slaloms: a snowboarding tradition wherein riders barrel down a snaky snow-banked course in an attempt to clock the best time. If you're feeling up to the challenge, Mt. Norquay Ski Resort is staging a banked slalom this year on April 4. If that goes well (or if it doesn't go well and you feel the need to redeem yourself) sign up for The Gully Banked Slalom on April 18 at Lake Louise, a best-of-two-runs race down Jerry's Jungle with categories for snowboarders of all ages — from the eight-and-under "grom" category up to "masters" categories for men and women over 40. Speaking of groms, Louise is also amping up its Easter weekend family programming this year, with Easter Bunny visits and a rail jam (a trick contest held on a sliding rail feature commonly seen in snow terrain parks) for kids 12 and under.
Send the Season Off With a Party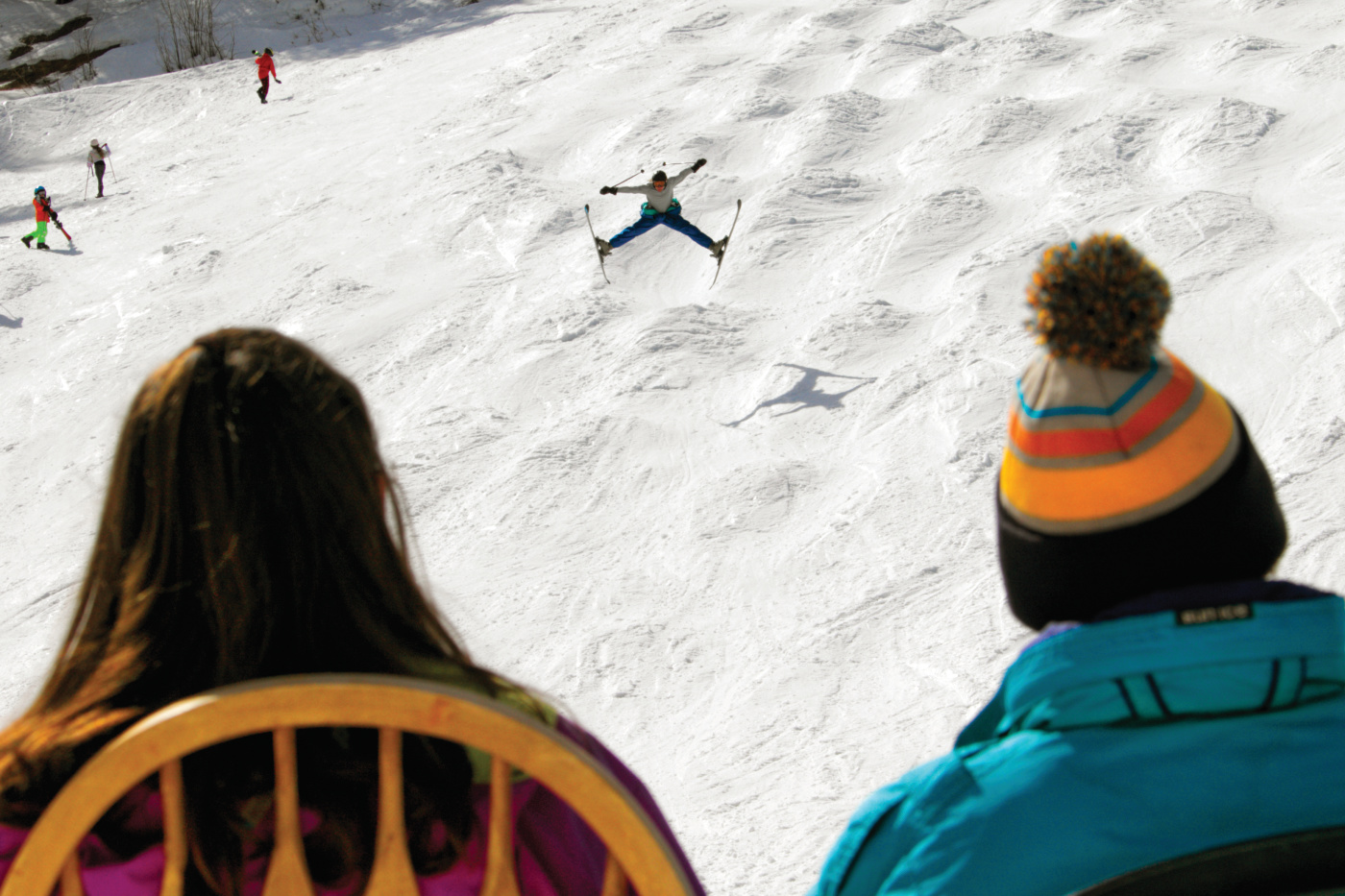 The parties that alpine resorts throw to mark the end of the season are key events on the sprinter social calendar. These parties generally involve retro ski wear, beer and a band or DJ playing on an open-air stage. Some season enders are notorious affairs — the Hot Tub Time Machine Party at the Griz Bar at Fernie Alpine Resort, or the festivities surrounding the annual Slush Cup on closing weekend at Sunshine Village, to name a couple.
But they can also be more family-friendly, such as Kimberley Alpine Resort's North Star Retro Day. In this case, it has much to do with Kimberley's overall family vibe. Part of the Resorts of the Canadian Rockies group (alongside Nakiska Ski Area, Fernie Alpine Resort and Kicking Horse Mountain Resort), Kimberley Alpine Resort is within the municipal boundaries of the town of Kimberley, B.C., which makes it kind of like a giant (and awesome) town park where neighbours meet up to recreate and socialize. The end-of-the-year festivities at Kimberley include a mogul race at the base of the mountain and face-painting for all the little rippers. The North Star Retro Day name is a throwback to the resort's former identity as North Star Mountain. You can take a two-hour guided ski tour of the mountain as part of the Retro Day programming to learn more about the history of skiing and mining in the area — with many of the ski runs named for mining claims and a range of geological features on the mountain that are a direct result of previous mining activity, the two are very much intertwined.
Enjoy Après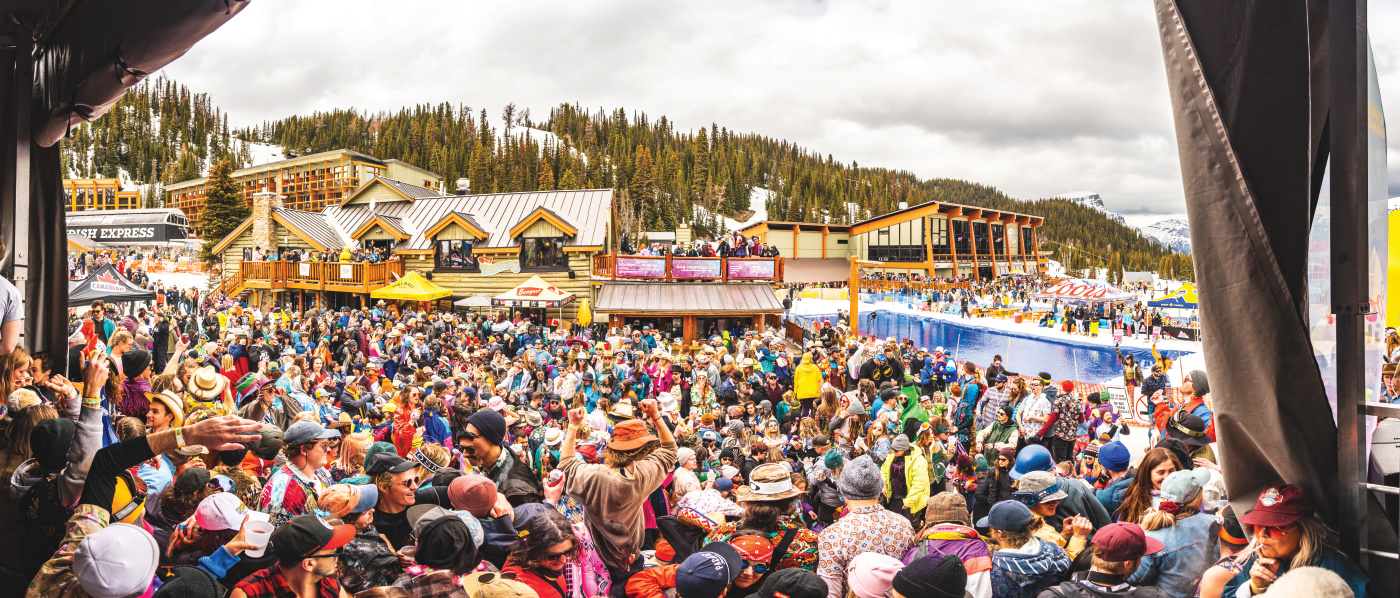 Where sprinter truly shines is at the social hour(s) known as après-ski. For many resort-goers, après is as much of a draw as the actual skiing, and during the late season it's hard to argue with that. Longer daylight hours and warm sun call out for patio pints, or perhaps something more refined. This spring, Sunshine Village will once again partner with Veuve Clicquot to create a branded Champagne bar in the snow up at the resort base, while Norquay has also embraced après-ski bubbles with "stay and après" wine and prosecco tastings in the Lone Pine Pub. The Norquay tasting events are free, but with limited spots it's best to register in advance if you have your heart set on attending the event on April 11.