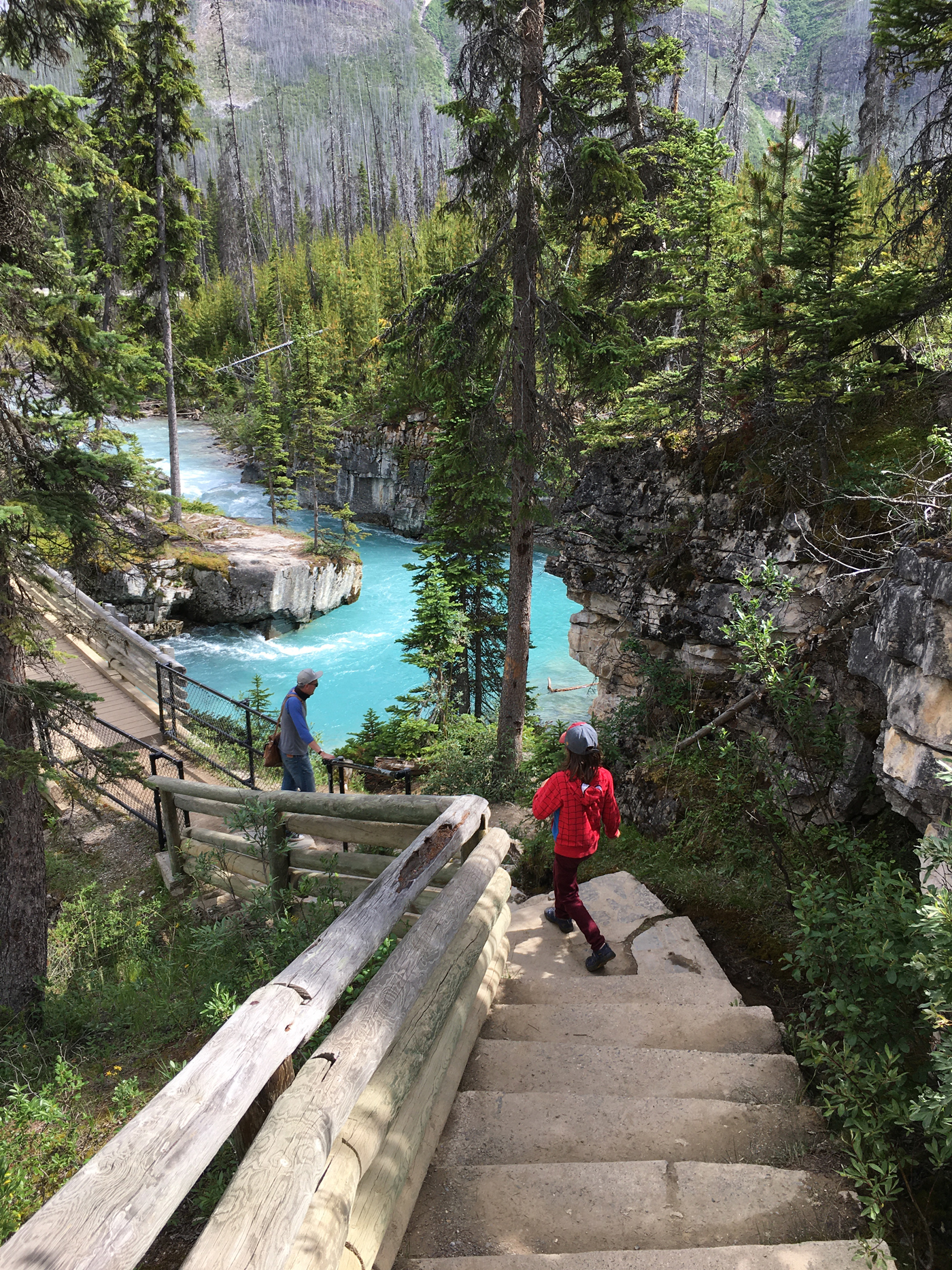 Banff National Park is so full of beautiful places that some of them are bound to fly under the radar. That seems to be the case for Marble Canyon, located on highway 93 a few minutes south of highway 1. Marble Canyon is not far from Lake Louise, and while it does get a steady flow of hikers, it is nowhere near as crowded as other nearby attractions including Stanley Glacier and Boom Lake.
While the washrooms are closed this year and the picnic area seems to have been removed for construction, the parking lot is open (it was closed in 2019). The trail and scenery start pretty much immediately. The quick payoff makes it a great hike for kids and other impatient people.
This is an easy 1.3 kilometre out and back trail that crosses several bridges providing amazing views across the canyon and down into the startling turquoise water of Tokumm Creek below. If you like a learning moment woven into on your hikes, stop to marvel at how this little creek carved through the creamy coloured sedimentary rock over millennia to create the canyon. Otherwise, just marvel at the beauty.
If you're feeling more ambitious, continue on the trail another approximately six km to the stunning Paint Pots and Ochre Creek. The orangish-red ochre, caused by the natural accumulation of iron oxide, has been used as a pigment by Indigenous people in the area and was later mined for use in paints. It can stain boots and clothing, so be careful where you step.
If you had two vehicles you could park one at each end of the trail to make this trip even easier.
This is a pretty spot for a picnic and there are several benches along the path at Marble Canyon, but currently no picnic tables. There are picnic tables (and outhouses) at the Ochre Creek parking area, but where they are set doesn't afford a great view with your meal.
Although not suitable for strollers or those who have difficulty with stairs, this is a great easy day hike for most people, and features everything you might want — a bit of history, not too much traffic and stunning views.