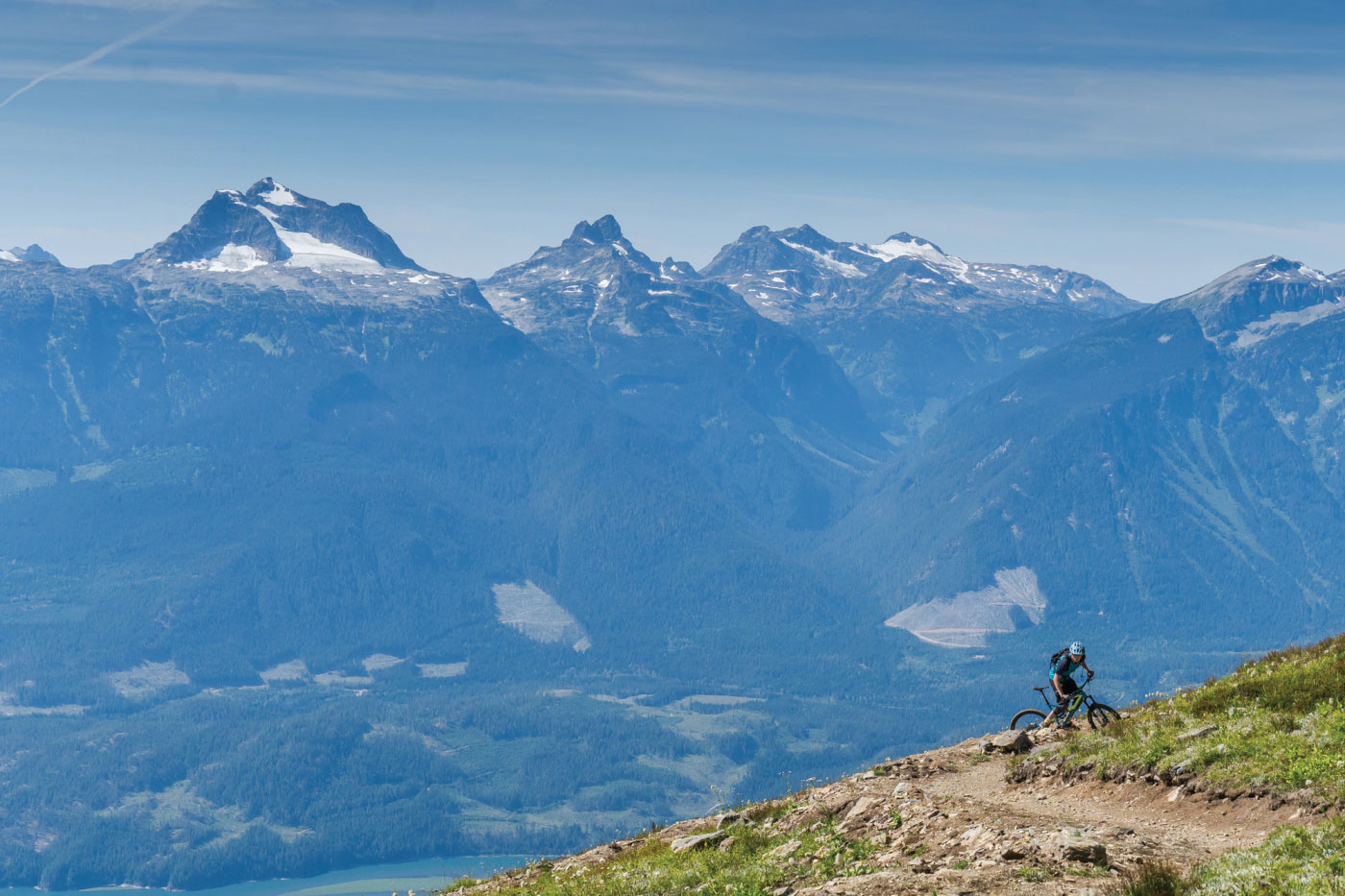 A great mountain biking trail brings both pleasure and pain: the exhilaration of clearing a technical section or coasting through a perfectly shaped corner often comes at the expense of face slappers, endos and "yard sale" wipeouts. Here are three trails that are worth every "bark tattoo." And remember that behind most great trails are crews of industrious volunteers who build and maintain them for all to enjoy. Raise your post-ride beer to them in thanks, or better yet, make a donation to the regional off-road cycling association in the place you most love to ride.
Kestrel West
Bragg Creek, Alta.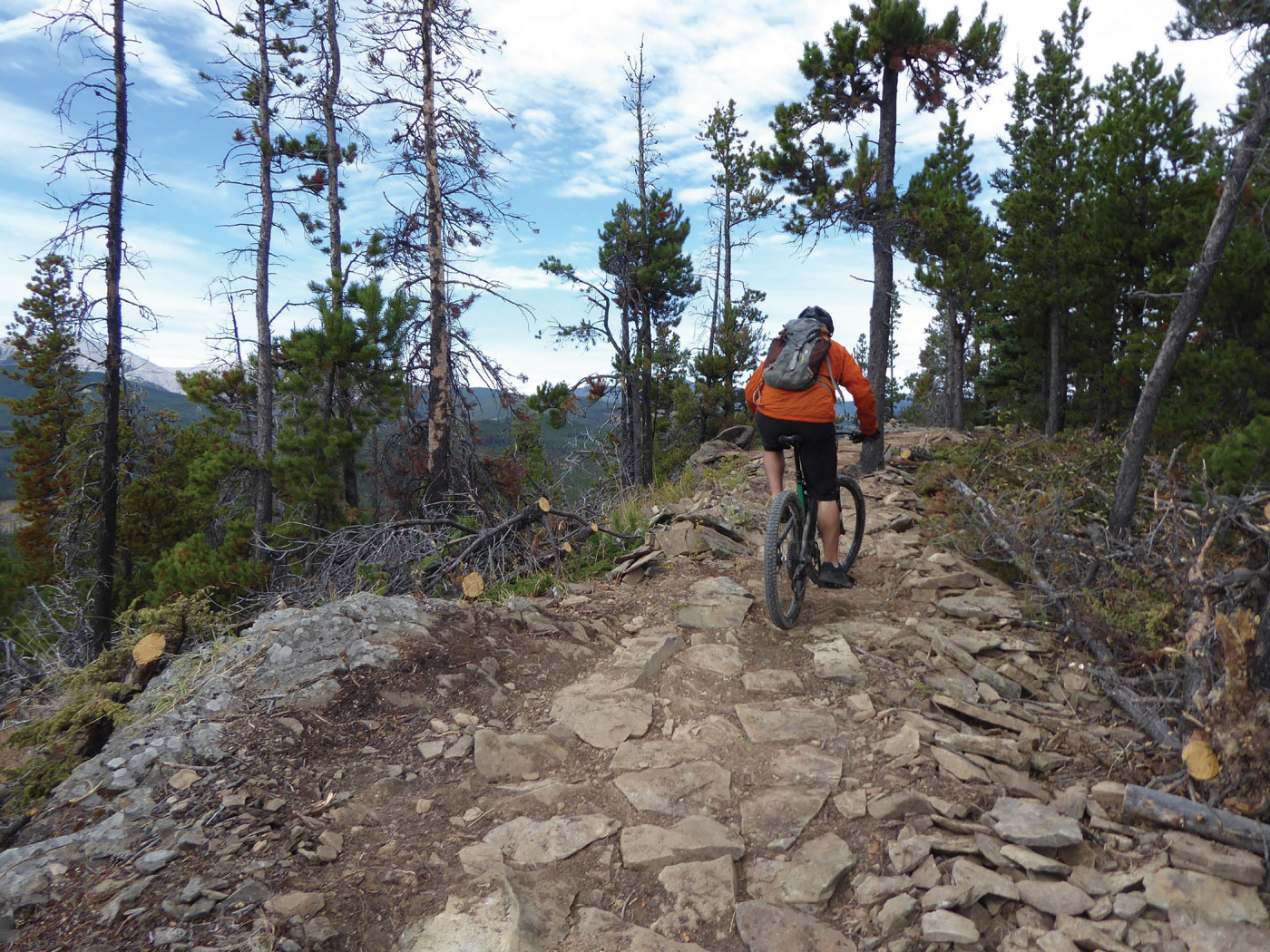 There are dozens of rocky rides worth wheeling over in West Bragg, though the fan favourite is undoubtedly the Braggin Rights-to-Merlin View loop. If you are familiar with Merlin View, you've probably noticed that just before the delicious descent begins, a brand-new trail darts off along the ridge. This is Kestrel, a 4.9-kilometre ridge run that serves up spectacular views of the eastern slopes as it dips and dives along the rim. While the official final 200-metre descent down to Tom Snow is not yet complete (the aim is to have it done this summer, volunteers needed), you can still do Kestrel right now as an out-and-back ride. "Intermediate and advanced riders are loving this ride for its variety, challenge, excellent flow and stunning scenery," says Conrad Schiebel, president of Bragg Creek Trails. "It's destined to be the crown jewel at West Bragg."
To demo a bike contact Calgary Cycle Bow Trail, 4623 Bow Trail S.W., 403-277-3430,
calgarycycle.com.
For your celebratory post-ride beer head to the patio at Creekers Bistro in Bragg Creek for a pint of Wild Rose IPA. This copper-coloured brew is the gold standard for hopheads who appreciate a thirst-quenching, no-nonsense beer with plenty of bite.
Buck 50
Crowsnest Pass, Alta.
Crowsnest Pass in southwestern Alberta is a prime place to get dialed, huck gaps and clean sick booter lines — or, you know, just ride your mountain bike. Advanced riders can take on hard-core grinds like Big Bear, while the flowy trails built by the United Riders of Crowsnest cycling association at Pass Powderkeg ski area in Blairmore are great for the beginner-intermediate set. If you're new to mountain biking in "The Pass," start at the skills park at the base of the ski hill and warm up with a few laps around the pump track. After you try a few jumps, ride a "skinny," and figure out the best way not to faceplant into a machine-built berm, head up the mountain via the Double Dirt-Spresso and Chainsaw Massacre trails and get mentally prepared for an awesome descent on Buck 50. This rip through the woods isn't new — it was completed in 2017 to commemorate Canada's 150th anniversary — but it remains a thrilling, must-ride for intermediates. Beginners who don't want to get bloodied can stick to the easy loops near the bike park.
For professional mountain-bike instruction or tours in the region look up former World Cup downhill racer Karey Castellarin, owner-operator of Sweet Riders, 403-563-7809, sweetriders.com.
For your celebratory post-ride beer hit up The Pass Beer Company for a pint of Whiskey Six Scotch Ale, a rich, malty brew that will magically cure your skinned knees.
Fifty Six Twenty
Revelstoke, B.C.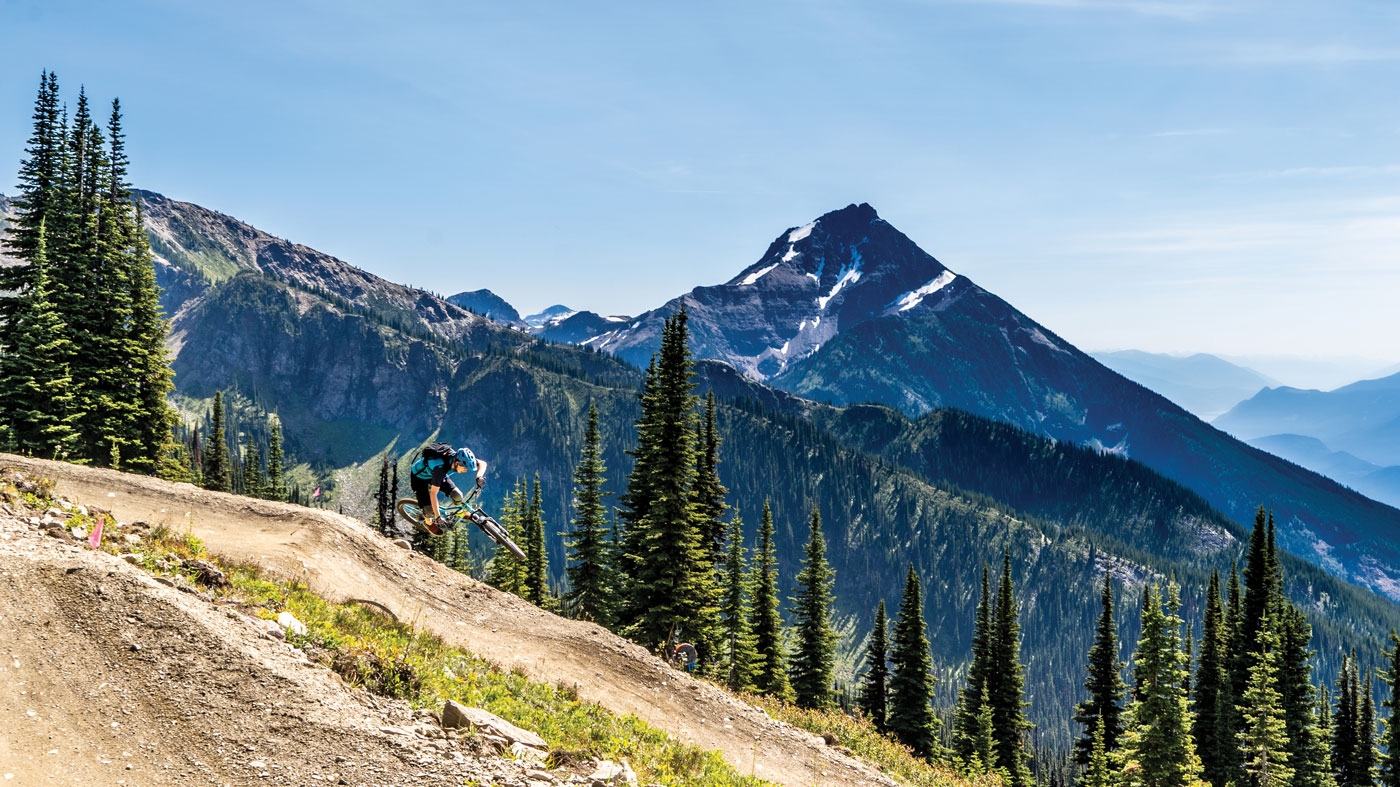 If you're searching for a singletrack Shangri-la, hightail it to Revelstoke. Gorgeous grunt-fests like Frisby Ridge and Keystone Standard Basin have established "Revy" as one of the best alpine riding destinations in North America. The area is riddled with sweet singletrack that zigs and zags over the mountainsides in all directions from town. Most recently, it's the downhillers who are especially stoked: indeed, if berms are bliss and jumps are joy, then the happiest trail in all the land is the newly sculpted Fifty Six Twenty at Revelstoke Mountain Resort. This 15-km pleasure plunge is rumoured to be the longest machine-built flow trail in the world, descending 5,620 feet (hence the name) from a barren, snow-smudged summit. The hour-long (for mortals), knee-numbing descent will test every gnar-shredding muscle in your body. Even if you just tackle it from the halfway point at the top of the lift and forego the remaining climb of roughly seven km to the top for the full enchilada, you'll still be dreaming of perfectly sculpted berms for the rest of eternity.
For guiding services and instruction in the Revelstoke region contact Matt Yaki at Wandering Wheels, 250-814-7609, wanderingwheels.ca.
For your celebratory post-ride beer (if you still have enough energy left to lift a glass), head to the Rumpus Beer Company for a pint of Space Nugs Legendary Oat Pale Ale. If you rode the whole way from the top, have two.
For the most up-to-date information about interprovincial travel restrictions due to COVID-19 visit hellobc.com.
A New Basecamp in Revelstoke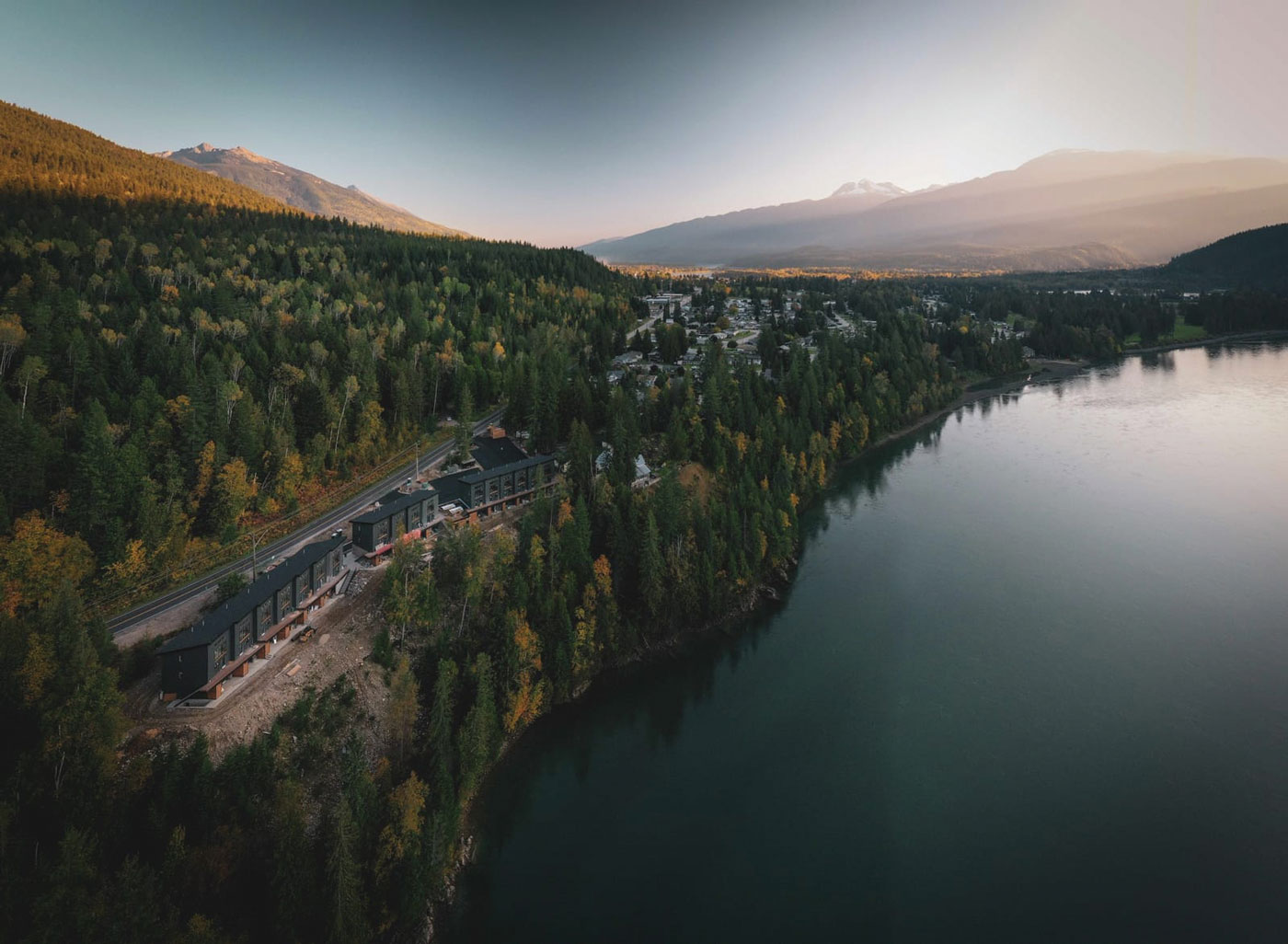 Canmore-based hospitality brand Basecamp Resorts expanded into Revelstoke last November. Basecamp Resorts Revelstoke is the fifth Basecamp property for developer Sky McLean (a member of Avenue's Top 40 Under 40 Class of 2019) and the first to open outside of Canmore. Like the original Basecamp Resorts Canmore, Basecamp Revelstoke is designed to feel less like a hotel and more like multi-family residential housing, with a virtual check-in system taking the place of a conventional front desk. The accommodations all have fully equipped kitchens and range from "micro-studios" to adjoining apartments that sleep up to 16. There's also secure storage for bikes and other gear. —Shelley Arnusch
basecampresorts.com/revelstoke