Revelstoke isn't exactly unknown to Calgarians, though for many, that knowledge begins and ends with the world-class skiing and snowboarding at Revelstoke Mountain Resort. However, this growing city of 7,500 people located along the Trans-Canada between B.C.'s Monashee and Selkirk Mountain ranges, has much to offer beyond its adrenaline-charged winter scene. There's a slower, more relaxing side to "Revy" as well, one of forest walks, wildflower-filled meadows, and a growing dining, craft-beer and spirits scene being shaped by the tight-knit community of mountain creatives residing there. A four-and-a-half-hour drive from Calgary, Revelstoke is close enough for a weekend road trip, but far enough away not to draw the volumes of summertime crowds that flock to the mountain towns closer to Calgary, such as Banff and Canmore.
On Saturday mornings in the summer, there are two bustling farmers' markets on MacKenzie Avenue (Revelstoke's main street), where you'll find locally made jams, artisan breads, fresh fruit and vegetables and handcrafted soaps and jewellery. Peruse the shelves at the indie bookstore Grizzly Book and Serendipity Shop for your next read, or stop into the cute little Sugar Shack for espresso, ice cream and nostalgic candy. Starting in late June and running through August, there's nightly live music at the gazebo in the heart of downtown, rain or shine.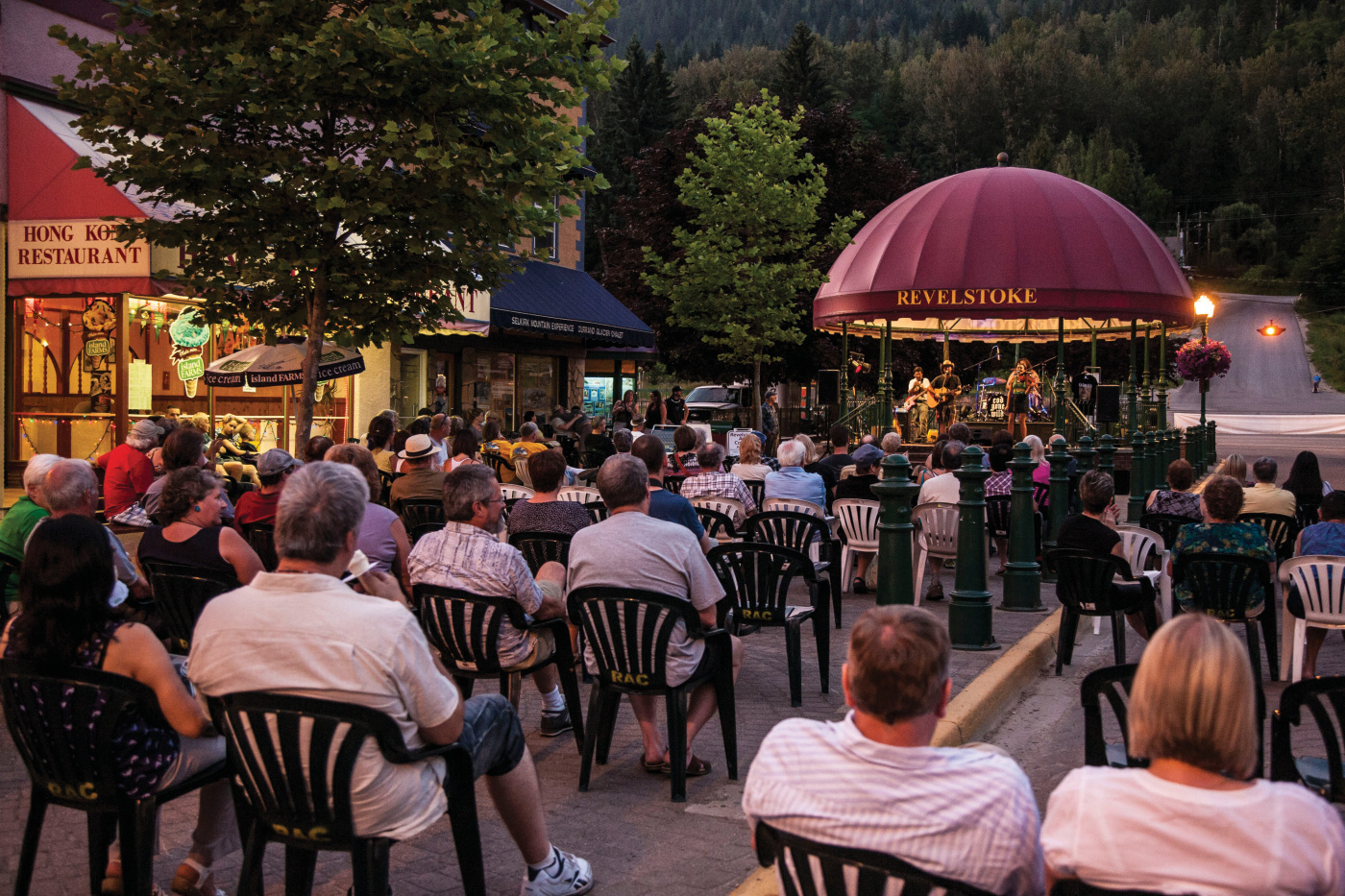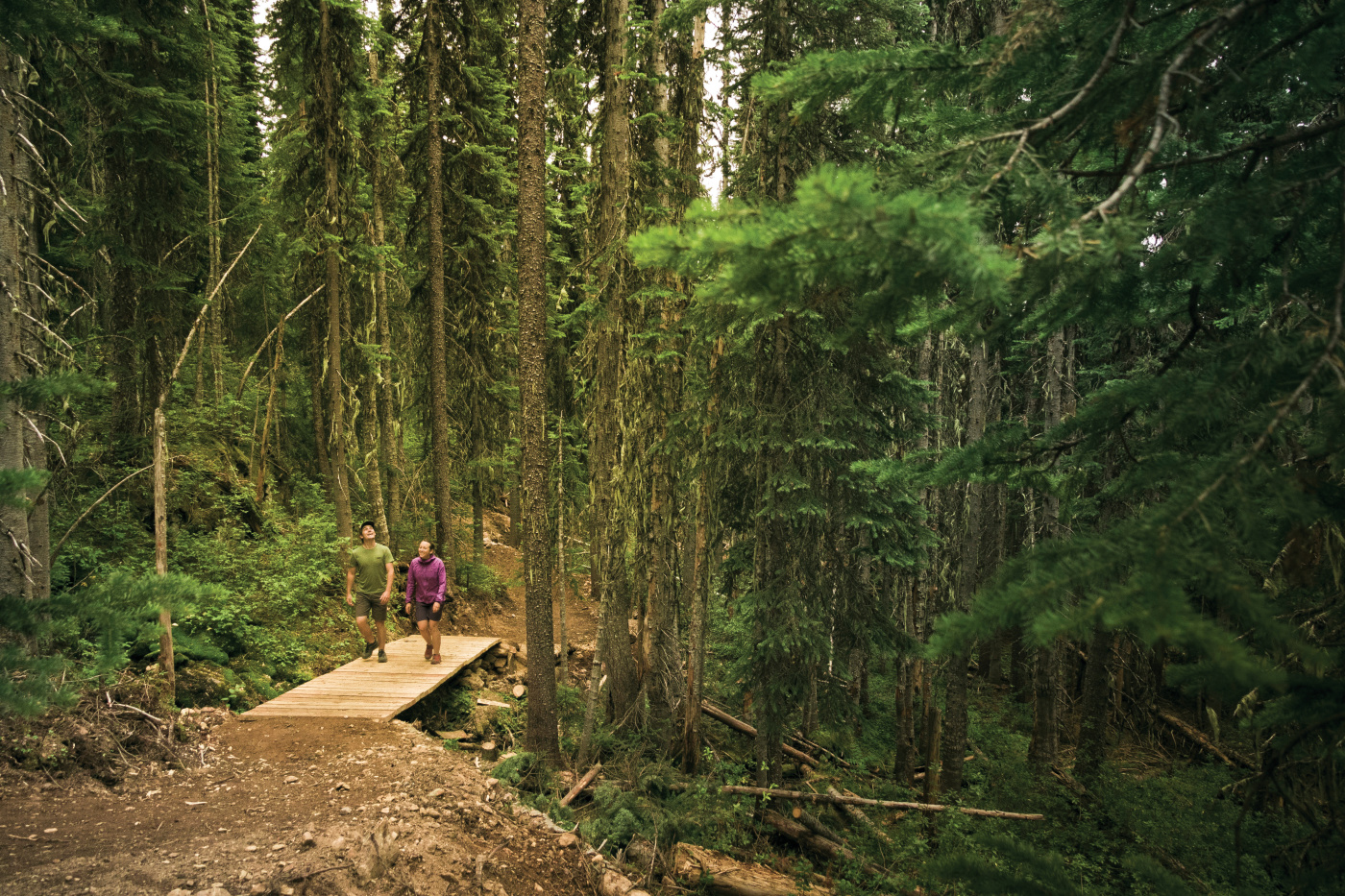 With two national parks at Revy's doorstep (Glacier and Mount Revelstoke) it's not hard to get a daily dose of nature. Approximately 30 minutes east from town, the Giant Cedars Boardwalk Trail gets you up close and personal with over-500-year-old cedars that tower above you in the world's only inland temperate rainforest. It's also relatively easy to get grand, panoramic mountain views without having to undertake an arduous hike into the high alpine. Drive the winding Meadows in the Sky Parkway in Mount Revelstoke National Park, or take the Revelstoke Mountain Resort gondola up to walk the trails just below the Mount Mackenzie summit. Glacier Helicopters offers sightseeing tours with aerial views of the Revelstoke Dam, lush forested valleys, crystal-clear lakes and the dazzling turquoise glacier on Blanket Mountain.
Waterfalls are everywhere around Revelstoke, with many located just off major roads. In Blanket Creek Provincial Park, the 40-foot gushing Sutherland Falls is a five-minute walk from the parking lot. Moses Falls near the dam is a secluded little gem just out of a fairytale. For a unique way to visit Begbie Falls, rent a kayak or canoe from Natural Escapes Kayaking and paddle to the inlet on Upper Arrow Lake.
Of course, nothing revitalizes you like a relaxing soak in the rich mineral waters at one of the many hot springs in the region. Canyon Hot Springs and the Crazy Creek Hot Pools are the closest to town. Further south (requiring a drive of just under two hours) are Halfway River Hot Springs and Nakusp Hot Springs. The one not to miss is Halcyon Hot Springs. To get there, drive south from Revelstoke along Highway 23 and catch the free ferry to Nakusp at Shelter Bay, which runs once every hour. The effort is well worth it as Halcyon's unbeatable location on Upper Arrow Lake means you get unobstructed views of the soaring Monashee Mountains from the four pools, which are open year-round.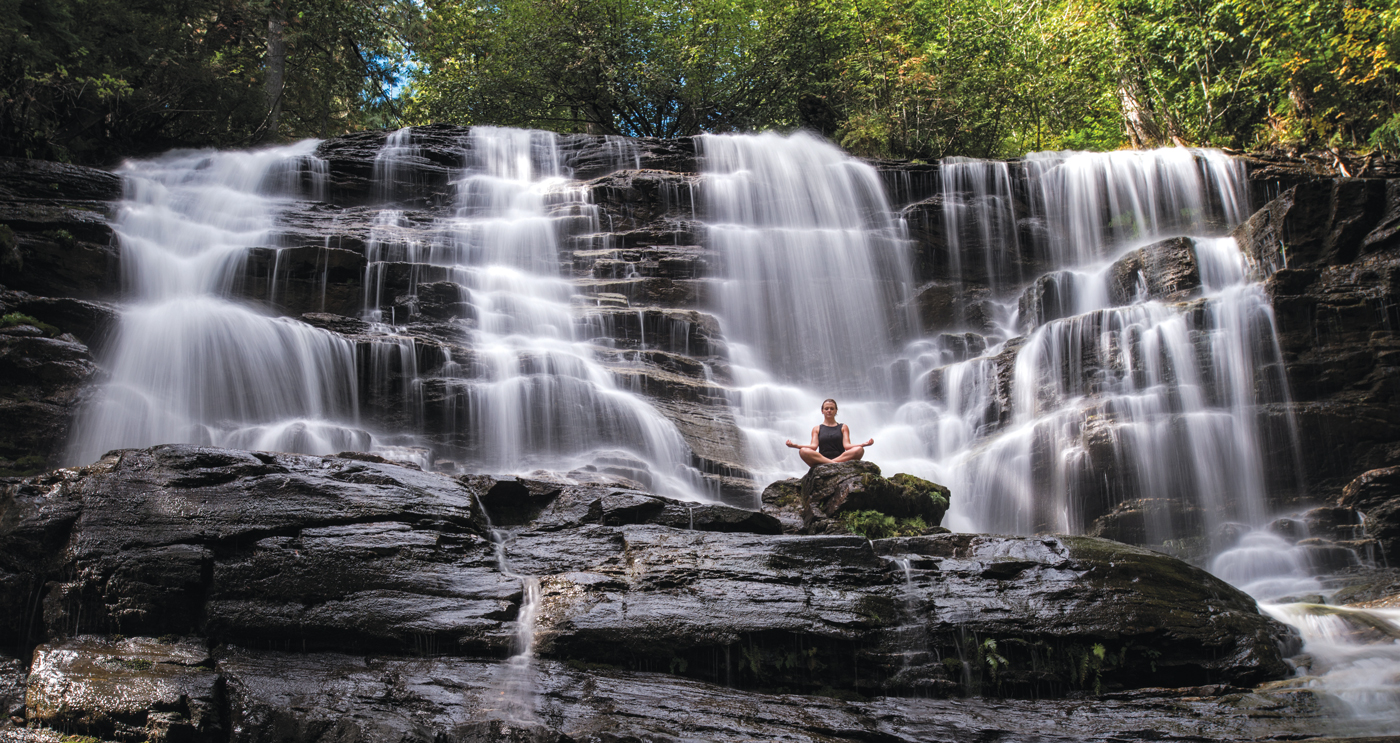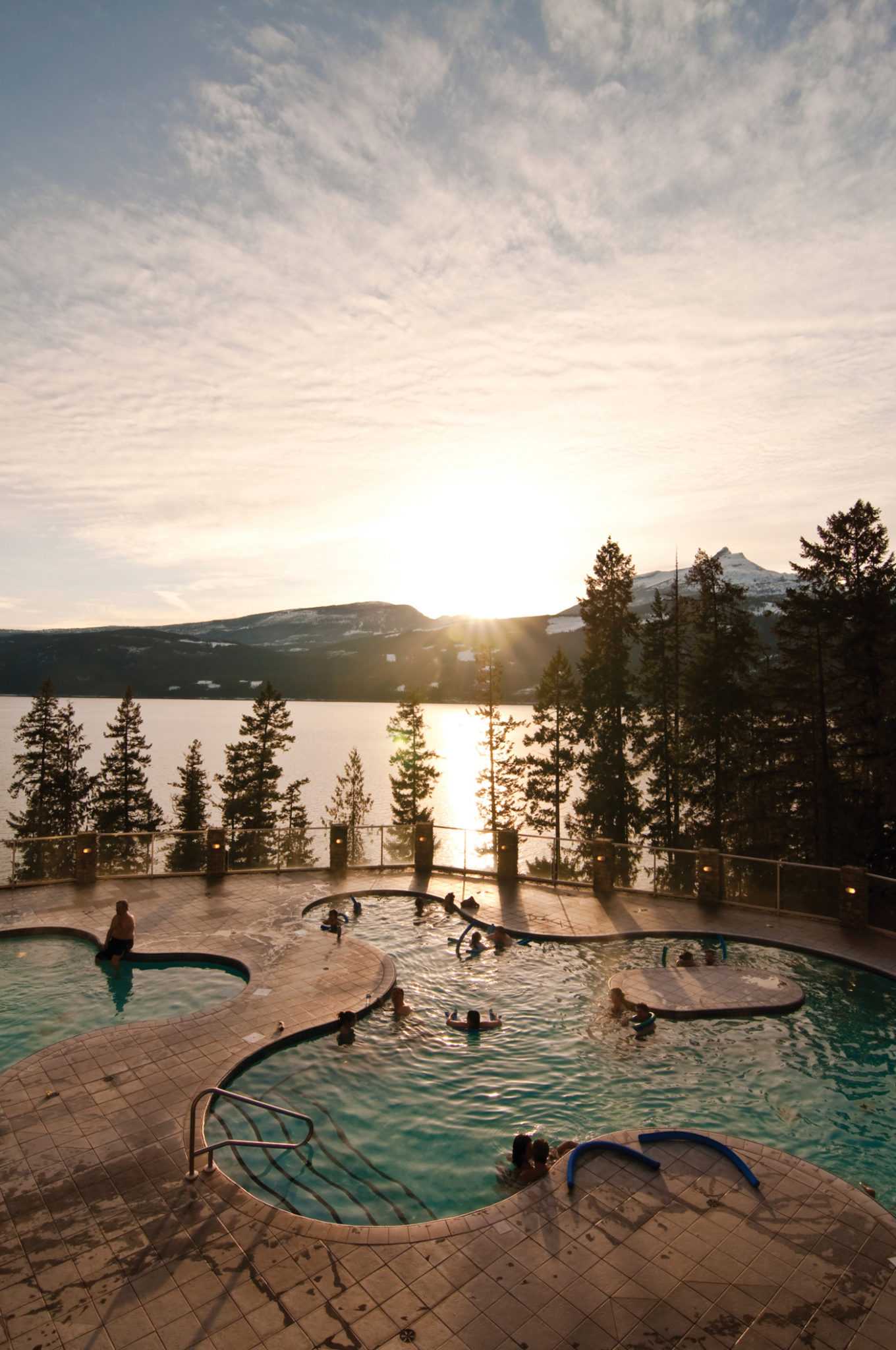 Where To Eat and Drink
Inventive pub fare and craft beers from across B.C. are the draw at this low-key downtown eatery. The bright interior's communal-style seating is well-suited to dishes that encourage sharing, such as the marinated honey-baked halloumi and charcuterie boards piled high with meats, cheeses, crostini, arugula, fresh fruit, figs and liver parfait. A crowd favourite is the mac 'n' cheese skillet topped with potato chips. For those who don't drink beer, they have kombucha on tap.
107 2 St. E., 250-837-3369, craftbierhaus.com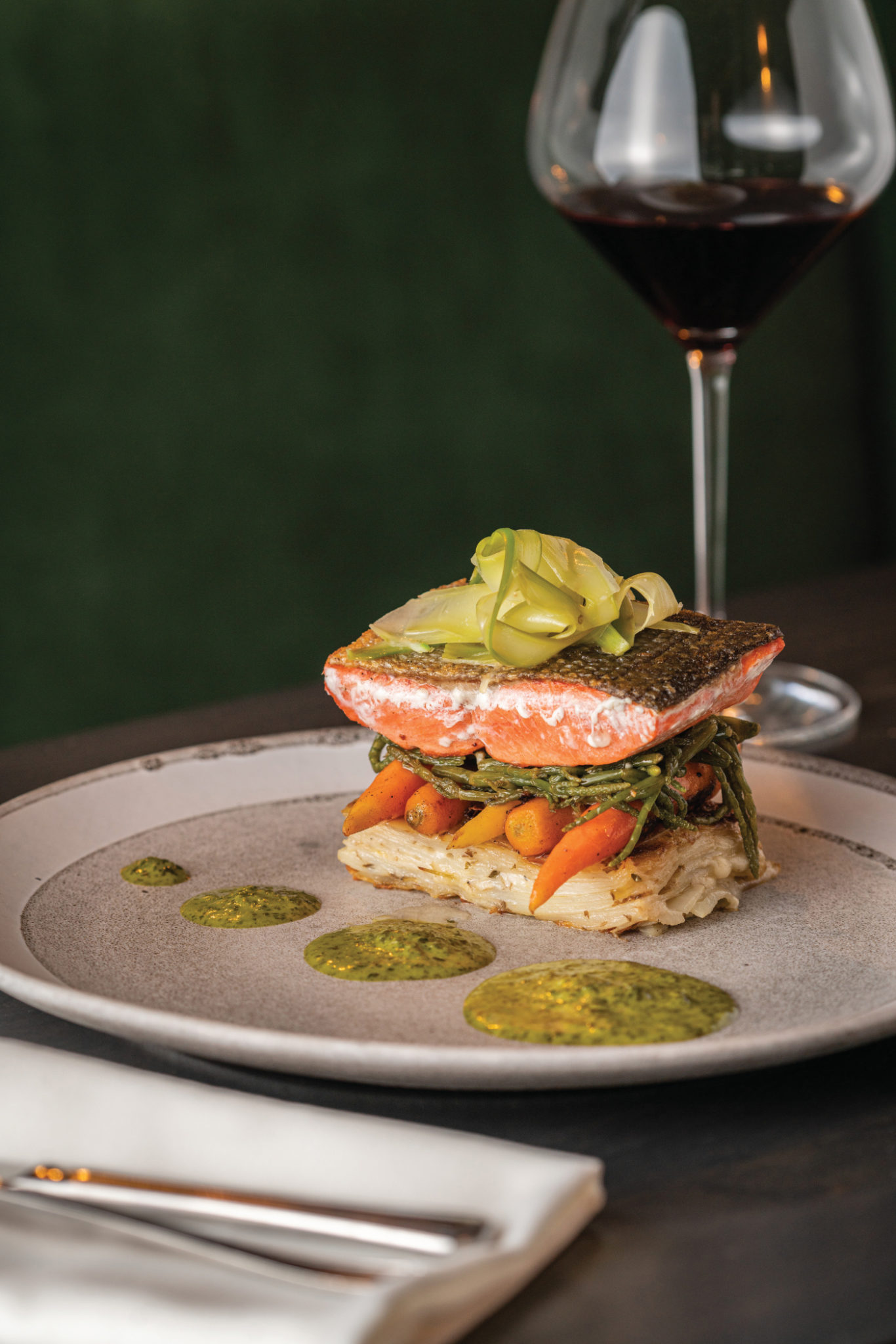 Since it opened in 2017, this stylish restaurant and bar has become a star in Revelstoke's dining scene. Head chef Olivier Dutil's menu includes signature steaks, Ocean Wise fish and daily chef creations from the rotisserie, grill and smoker, and everything is made in house, right down to the mayo and ketchup. Downstairs, there's a speakeasy called The Boiler Room where you can enjoy handcrafted cocktails, whisky and spirits with small plates.
111 1 St. W, 250-814-2565, explorers-society.com/eat-drink
La Baguette
A local favourite, La Baguette is a café-style restaurant co-owned by classically trained French chefs from Quebec. The extensive menu has Montreal bagels, wood-fired Romana-style pizza, pastas, poutines, burgers, paninis and salads. The house-made gelato is a big draw in the summer. You can find cheeses and specialty food items next door at Le Marche.
103, 607 Victoria Rd.,250-837-3755
Where to Stay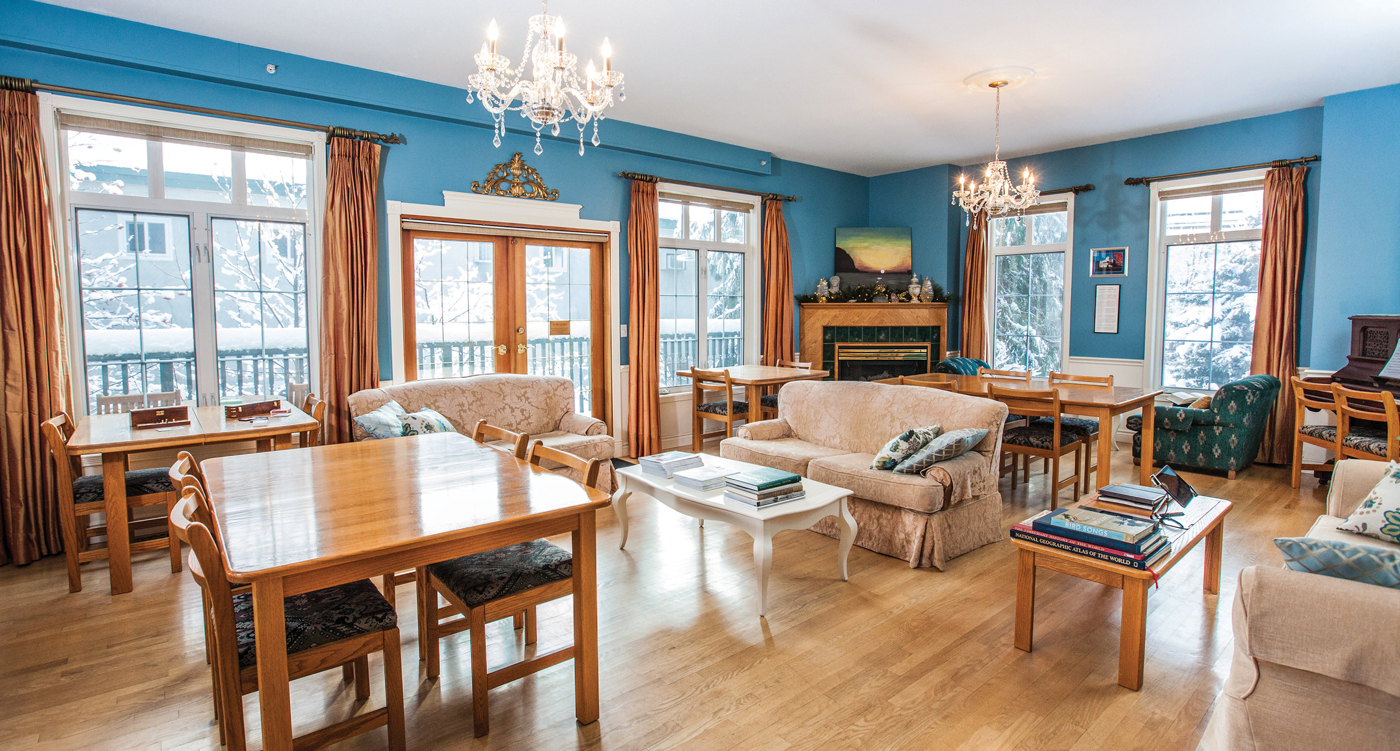 Shawn and Young Seon Cook run this quaint bed-and-breakfast across the street from the historic Revelstoke Courthouse. They'll treat you like family, from the time you put on slippers at the front door, to the time you check out. The 10 guest rooms feature pillow-top mattresses and mountain views. Relax in the lush Zen garden or on the upper sundeck after enjoying your three-course gourmet breakfast (with dessert) — definitely don't miss their savoury Korean-style seafood pancake.
312 Kootenay St. 250-837-3369, courthouseinnrevelstoke.com
This nine-room boutique hotel is in the historic 1911 McKinnon Building which, over the years, has been a pool hall, tobacconist and bowling alley and apartment building. It even housed a dance hall and the Nickelodeon Museum before it was transformed into this sleek and modern space with exposed concrete and brick and contemporary woodwork. All rooms are sound-proofed and include free Wi-Fi and TVs that are Netflix-ready if you want to cozy in for the night.
111 1 St. W., 250-814-2565, explorers-society.com
What's more relaxing than camping out in an RV that someone sets up for you? Arrowhead Camp Company, run by local married couple Angela Poole and Lance Schultz, rents fully equipped camping trailers that clients can tow with their own vehicles, or, if you don't have a vehicle with towing capacity, they'll transport the trailer to your campsite for you (provided it's within reasonable distance from their Revelstoke home base) and have everything set up when you arrive. Avid outdoorsy types themselves, Poole and Schultz have a wealth of info to share on hiking and biking trails and beaches in the area.
250-814-9897, arrowheadcampco.ca
Avenue's writers and editors are occasionally invited to experience dining or adventure activities as a guest, including some experiences in this story. Neither complementary experiences nor advertising are required for coverage in Avenue. Neither companies that advertise nor those that provide other incentives are promised editorial coverage, nor do they have the opportunity to review or approve stories before publication.