At 505 square kilometres, Waterton Lakes National Park is the smallest national park in the Canadian Rockies. It was established in 1895 as Canada's fourth national park, which makes 2020 the 125th anniversary of Waterton Lakes National Park.
It sits in the southwest corner of the province where the Rocky Mountains meet the prairies. The contrast of mountains and plains gives it that postcard look that often defines the prairies. It also means the park is home to an unusually diverse mix of plants and animals. It has more than half of Alberta's native plants within its boundaries. The lake itself crosses over into the United States and in 1932 Waterton Lakes National Park combined with Glacier National Park in Montana to form Waterton Glacier International Peace Park, the first of its kind in the world. It's also a UNESCO World Heritage Site.
The park may be small but it's packed with things to do such as hiking, SUPing, windsurfing and boating on one of several lakes. It's a prime location for spotting wildlife and wildflowers. After a busy day of outdoor adventures, the tiny village of Waterton with a year-round population of around 100 offers multiple options for a quick snack or gourmet dinner. The town is much mellower than some of the other national park towns. Most businesses close down for the winter and reopen in May. The speed limit is about as fast as a peddle-powered Surrey Bike rented from Pat's goes. It's part of Waterton's charm.
Getting There
258 kilometres from the Calgary Tower | South on Hwy 2
What to Do
This family-owned and -operated business has a long line of ranching history. Dee and Lorna Barrus opened the stables in 1969. In 2020, it got a new facility (in the same location as the old one). Sign-up for guided trail rides that range from an hour to a day and include options for easier rides as well as some that have a few more advanced sections. The rides take you along the lakeshore and into the meadows and grasslands. It's one of the best ways to see the park.
1 Marquis Rd, Waterton, 403-859-2462, alpinestables.com
The best time to go hiking in Waterton is July through mid-September once the snow has melted. The area has more than 200 kilometres of trails that range from easy to difficult and, in 2021, most of them are open for day use. Stroll the three-kilometre Cameron Lakeshore path or the 20-minute Red Rock Canyon Loop if you want to take it easy. Bear's Hump and Bertha Peak are moderate hikes that have reopened since the Kenow Wildfire in 2017. For a real challenge, Crypt Lake is open and accessible by Wishbone Trail or non-motorized watercraft. Check the Parks Canada website for updates on trail closures.
View this post on Instagram
Take to the lake on a SUP or in a kayak or canoe. Blakiston & Co. rents all three from its location inside Crandell Mountain Lodge. Blakiston also rents electric bikes to cruise the area with. Ask them about self-guided "paddle hikes" that let you explore the lake by land and water.
102 Mount View Rd., Waterton, 780-288-5015, blakistonandcompany.com
The 18-hole course was built in the 1930s and designed by golf course architect Stanley Thompson who is known for his courses in Canada's national parks including the Banff Springs Hotel course, the Jasper Park Lodge course and the Fundy National Park course. All those courses, along with Waterton's, take advantage of the beautiful surroundings. In Waterton, you're surrounded by mountains as you tee off.
For over 60 years, this historic cruise ship has ferried passengers on two-hour scenic cruises across the Waterton Lakes. The M.V. International is also the oldest passenger ship still operating in Canada, and between the views of towering cliffs and stunning waterfalls, it's a not-to-be-missed experience. Tour guides on board will share more about the ecosystems in the park and some fun facts about Waterton.
Where to Stay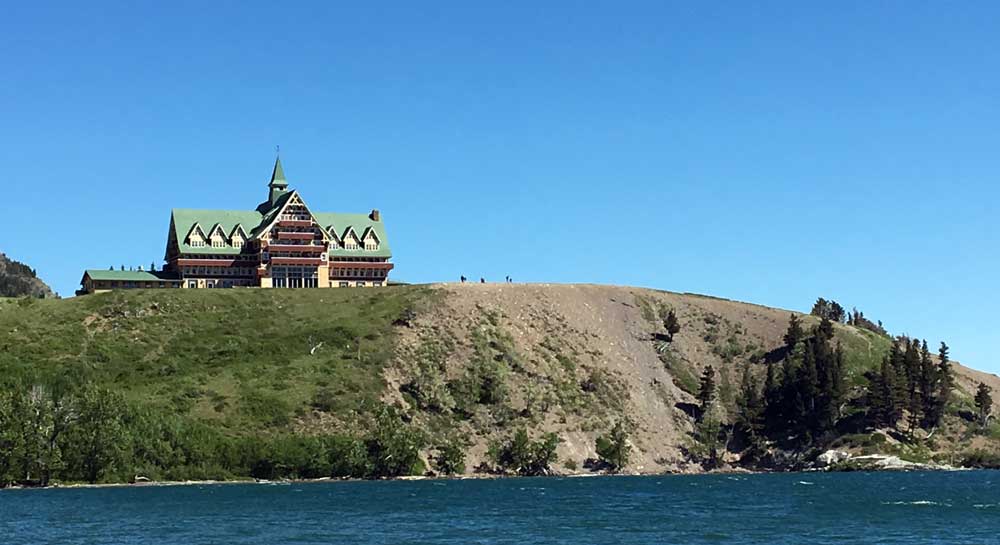 Built in 1927, the Prince of Wales hotel sits on a bluff overlooking the lake and Waterton Village. A national historic site, the luxury hotel was built by the Great Northern of United States railway line as a stop for backcountry explorers. If you aren't a guest but still want to take advantage of the incredible views, make a reservation for afternoon tea in the Prince of Wales Lobby.
Alberta 5, Waterton, 403-859-2231, glacierparkcollection.com
This is the only hotel right on the lakeshore. Those views make it a popular spot for weddings. The hotel restaurant, Lakeside Chophouse, has great views from inside and out on the patio. For similar views, try to get a lakefront room.
111 Waterton Ave., Waterton, 1-888-527-9555, bayshoreinn.com
This lodge oozes country charm. You get warm cookies when you arrive and the rooms have wood paneling, quilts and other knick-knacks that might remind you of grandma's home.
102 Mountview Rd., Waterton, 1-866-859-2288, crandellmountainlodge.com
Where to Eat
Lakeside Chophouse is the restaurant in the Bayshore Inn Resort & Spa. A wall of windows give you a view of the lake, or get a table on the patio for an even better view while you enjoy your baked brie, braised short ribs, Korean lettuce wraps or Southern fried chicken sandwich.
111 Waterton Ave. Waterton, 403-859-2211, lakesidechophouse.com
This is where to go for a fancy evening out. The Royal Stewart is inside the Prince of Wales hotel. It's elegant with killer views and a menu that features hearty dishes including a braised bison stew.
Alberta 5, Waterton, 1-844-868-7474, glacierparkinc.com
You can get incredible Mexican street food in Waterton. As the name implies, this casual takeout spot is dedicated to tacos (though burritos are on the menu as well) with your choice of beef, chicken, pork or veggie filling. All of the ingredients are made fresh and authentic to Mexico and Central America with a few Tex-Mex twists. Finish your meal with a churro.
300 Wind Flower Ave. Waterton, 403-915-2294, watertontacos.wixsite.com 
The Thirsty Bear Kitchen & Bar is inside the Bayshore Inn & Spa. It's the only pub in town and the location has a long history of social gatherings. The space began as Waterton Dance Pavilion in 1926, which drew crowds from hundreds of kilometres away. Thirsty Bear still has the original beams and floors and still draws people from throughout the area for live music and events. Live events are on hold for now.
111 Waterton Ave., Waterton, 403-859-2211, thirstybearwaterton.com
View this post on Instagram
This hot dog shop is open seasonally and almost always has a line-up. Wieners of Waterton bakes its buns fresh and grills its meat to order. Get a Nathan's Famous Quarter-Pounder dog, a meatless Anit-Dog or a locally made smokie and have it topped how you want it. There are picnic tables nearby to enjoy your dog.
301 Windflower Ave. Waterton, 403-859-0007, wienersofwaterton.com
This casual restaurant has a menu of pizza, burgers, sandwiches and fried chicken. Outside, there is a great patio. Inside, the walls are decorated with license plates from around the world and the tables have checkered tablecloths. Around the corner in what used to be a gift shop, you'll find a BeaverTails counter for the ultimate Canadian treat.
116 Waterton Ave., Waterton, 403-859-2388, zums.ca