For some, driving is simply a way to get from here to there. But for the drivers out there, the on-the-road part is just as much fun as the destination. They're the ones who go out of their way to cover a unique or interesting stretch of highway, the ones who peruse maps looking for scenic routes, the ones who would wear driving gloves unironically if they could be assured that no one would make fun of them. If this sounds like someone you know (maybe it is you), here's a must-drive road that is worthy of your wheels.
Plummers Road, Foothills County, Alberta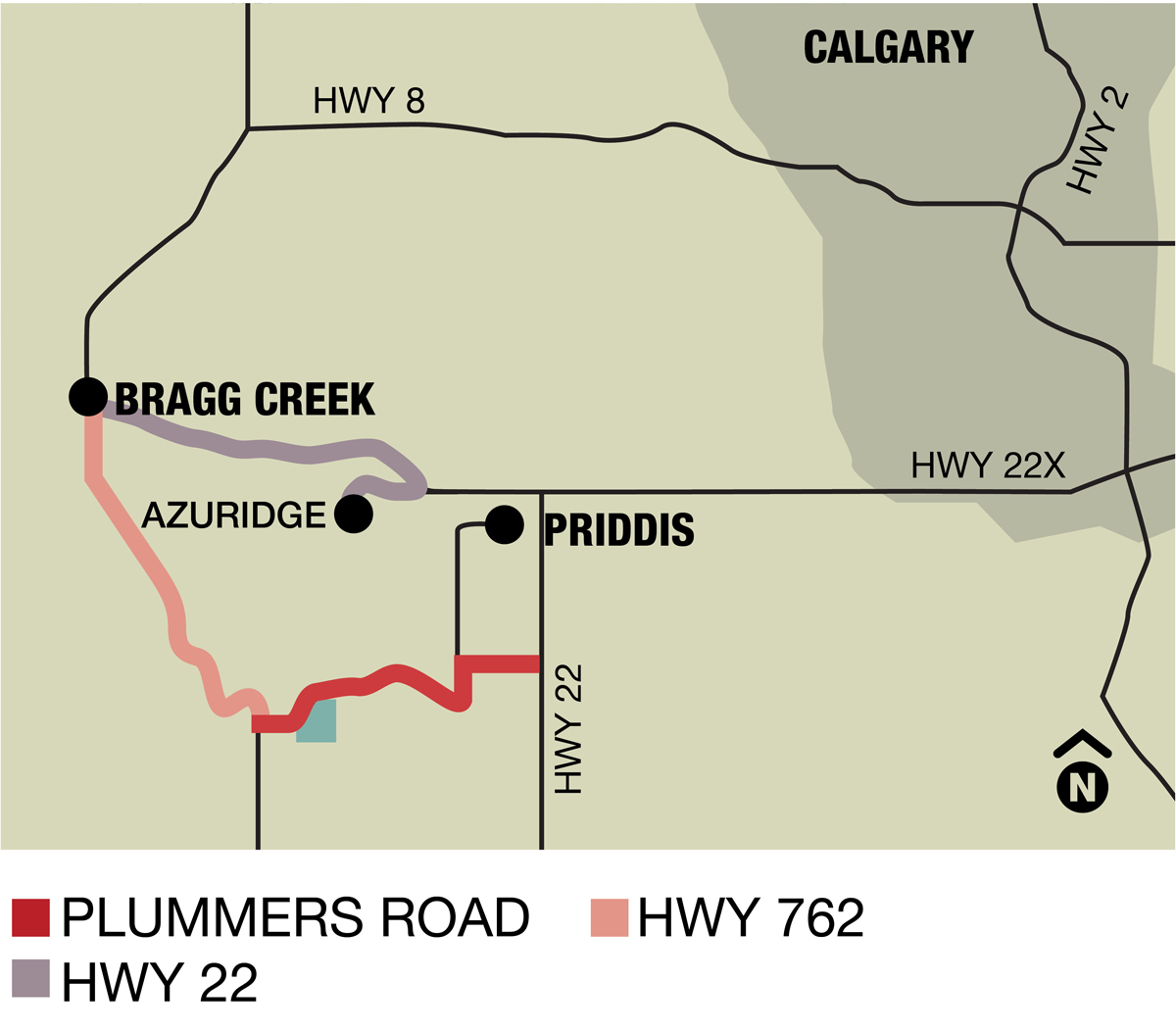 The Drive
Local driving aficionados know well the open road that beckons southwest of the city limits. Late summer is the perfect time of year to explore this region of rolling ranchlands set against a backdrop of rocky peaks. On a blue-sky day, it's like driving into the quintessential Alberta postcard.
The criss-cross of rural roads running alongside pastures dotted with aspen groves make this area good for go-with-the-flow-and-see-where-we-end-up excursions. Those who like to have a game plan, however, should aim to cover Plummers Road, a scenic 15-km stretch linking highways 22 and 762. About three-quarters along Plummers (heading east to west) is Brown-Lowery Provincial Park, a day-use-only area with a 12-km network of walking trails and a peaceful vibe. It's a good spot to get out and stretch your legs – and likely spot some wildlife.
The End of the Line
A stay at Azuridge Estate Hotel in Priddis is the perfect denouement to a day of tooling around in the foothills. Set on a rise amidst a 13-acre forested spread, the former residence of prominent local businessman Mogens Smed opened as a 13-room boutique hotel in 2012. Though it's only a 30-minute drive from the bustle of the city, the hotel feels worlds away. Arrival suggests a modern-day, Western Canadian version of Downton Abbey – complete with smartly attired butlers. If you can't stay over, at least treat yourself to dinner-with-a-view on the expansive patio, which typically opens for the season in June.
178057 272 St. W. Priddis, Alta., 403-931-0100, azuridgehotel.com
Other Mountain Roads You Should Drive This Summer
Powderface Trail/Smith Dorrien Trail, Bragg Creek to Canmore, Alberta
Duffey Lake Road, Lillooet to Whistler, B.C.