At the end of a snowy day frolicking in the mountains, nothing hits the spot like a warm and savoury meal. While there are certainly veggie and vegan options in the mountain eateries, alpine cuisine, traditionally, is very much about the meat. Here are six supremely satisfying meat dishes served up in restaurants in Banff, Jasper and Yoho National Parks that all serious carnivores should try this winter.
Where: Jasper National Park
The deepest canyon in the Rockies, Maligne Canyon attracts winter visitors seeking out its iconic frozen waterfalls. The recently reimagined on-site restaurant, the Maligne Canyon Wilderness Kitchen, is overseen by chef Stuart Allen, a real-deal barbecue chef from the American South. The family-style dinner ($55 per person) includes a choice of starter and a big ol' platter stacked with smoked and glazed baby back ribs, hickory-smoked chicken, grilled venison sausage, and a 16-hour slow-cooked Alberta beef brisket, along with traditional Southern-style sides. The meat is made all the more flavourful with a dab of Allen's from-scratch barbecue sauces (do not miss the Alabama white sauce — it's a revelation).
malignecanyon.com
Classic Vienna Pork Schnitzel from Walliser Stube
Where: Lake Louise
Though it's known for being an après-ski fondue restaurant, Walliser Stube actually doesn't do raw-meat fondues. But the pork schnitzel ($49) is a suitably meaty entree, with plenty of local cred. Chef de cuisine Simon Samad uses thinly sliced and tenderized pork shoulder from Broek Pork Acres near Lethbridge, which is just fatty enough to create a moist and juicy schnitzel. Continuing on the local theme, Samad uses free-range Alberta eggs for the breading and serves the pork cutlet with duck-fat confit potato coins, puréed lingonberry jam and a bitter and peppery blend of salad greens from Deepwater Farms, a Calgary-based aquaponic vegetable and fish provider.
fairmont.com/lake-louise
Benchmark Farms' Cowboy Cut Steak from Chuck's Steakhouse
Where: Banff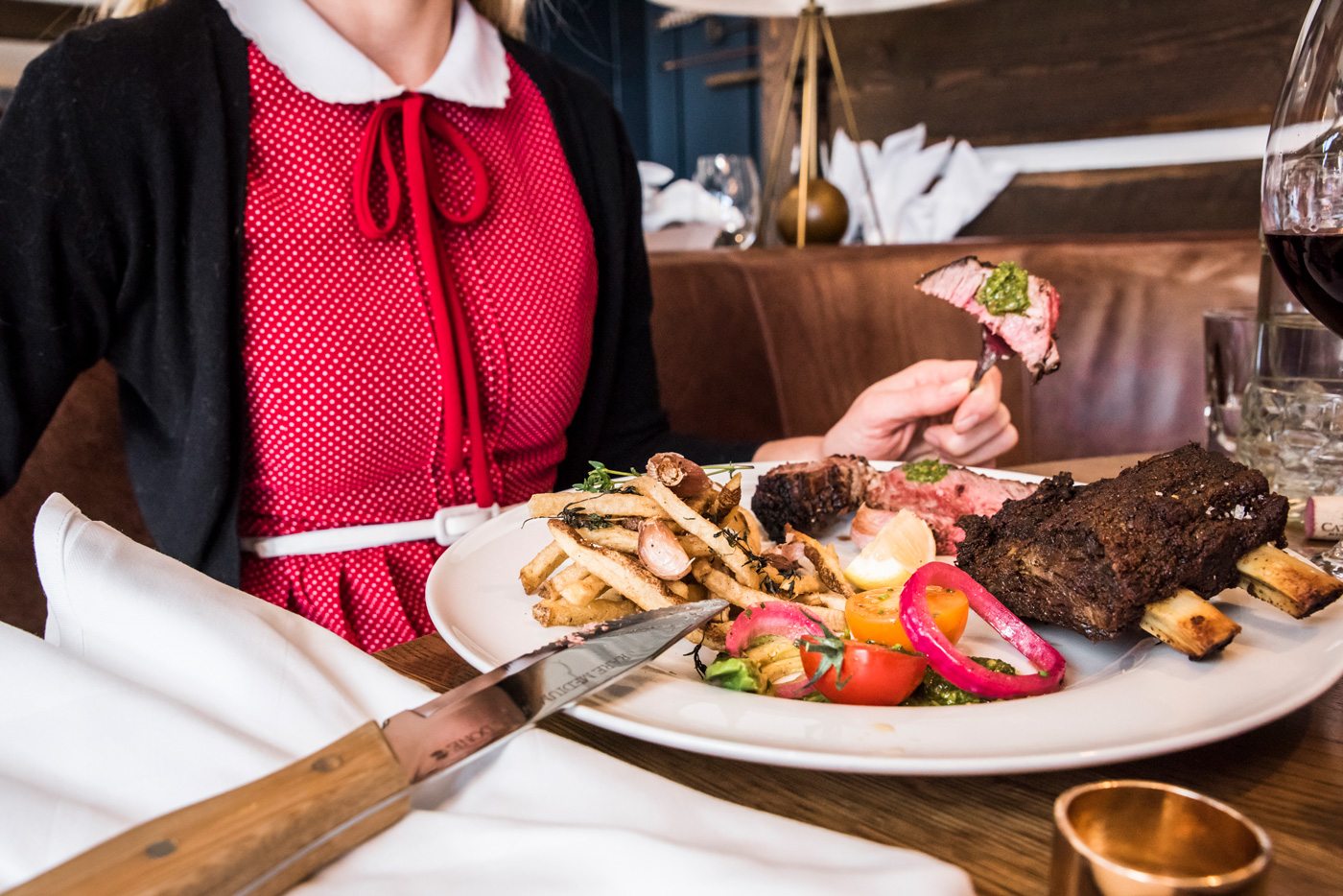 When visitors come to Alberta, they often look for a thick and juicy slab of genuine Alberta beef. For steak lovers looking to track down their meat's pedigree, Chuck's offers steaks in a range of feeding and aging methods, sourced from ranches specified on the menu. Corporate chef Salvatore Polizzi's very favourite cut is a 28-ounce 45-day dry-aged bone-in rib eye from Benchmark ranch (sold at market price), which is served family-style with two sides and a sauce. The dry aging breaks down the fat and adds a touch of sweetness to the beef, offering a quintessential Alberta-beef experience.
chuckssteakhouse.ca
Cast Iron Bison Short Ribs from The Bison
Where: Banff
If Banff has an unofficial meat, it's got to be bison. Once a native species to Banff National Park (and recently reintroduced after being almost driven to extinction), bison is a high-protein meat with a mild beef-like flavour. The Bison serves it up in a few different preparations, but the most popular is the fall-off-the-bone-tender plate of short ribs ($51), served with bacon lardon, mushrooms, baby potatoes and root vegetables. The Bison's farm-raised bison is all grass-fed, making for a leaner and healthier meat.
thebison.ca
Where: Banff, Lake Louise and Yoho National Park
All three of Canadian Rocky Mountain Resorts' mountain properties (Buffalo Mountain Lodge in Banff, Deer Lodge in Lake Louise, and Emerald Lake Lodge in Yoho National Park) offer a charcuterie board for two ($30) stacked with smoked and cured meats, pickles and CRMR's famed mustard melons. Individual selections are subject to change, but you can expect to see some products from CRMR's game ranch, all served with rye bread.
crmr.com
Canadian Rangeland Bison Tartare from 1888 Chophouse
Where: Banff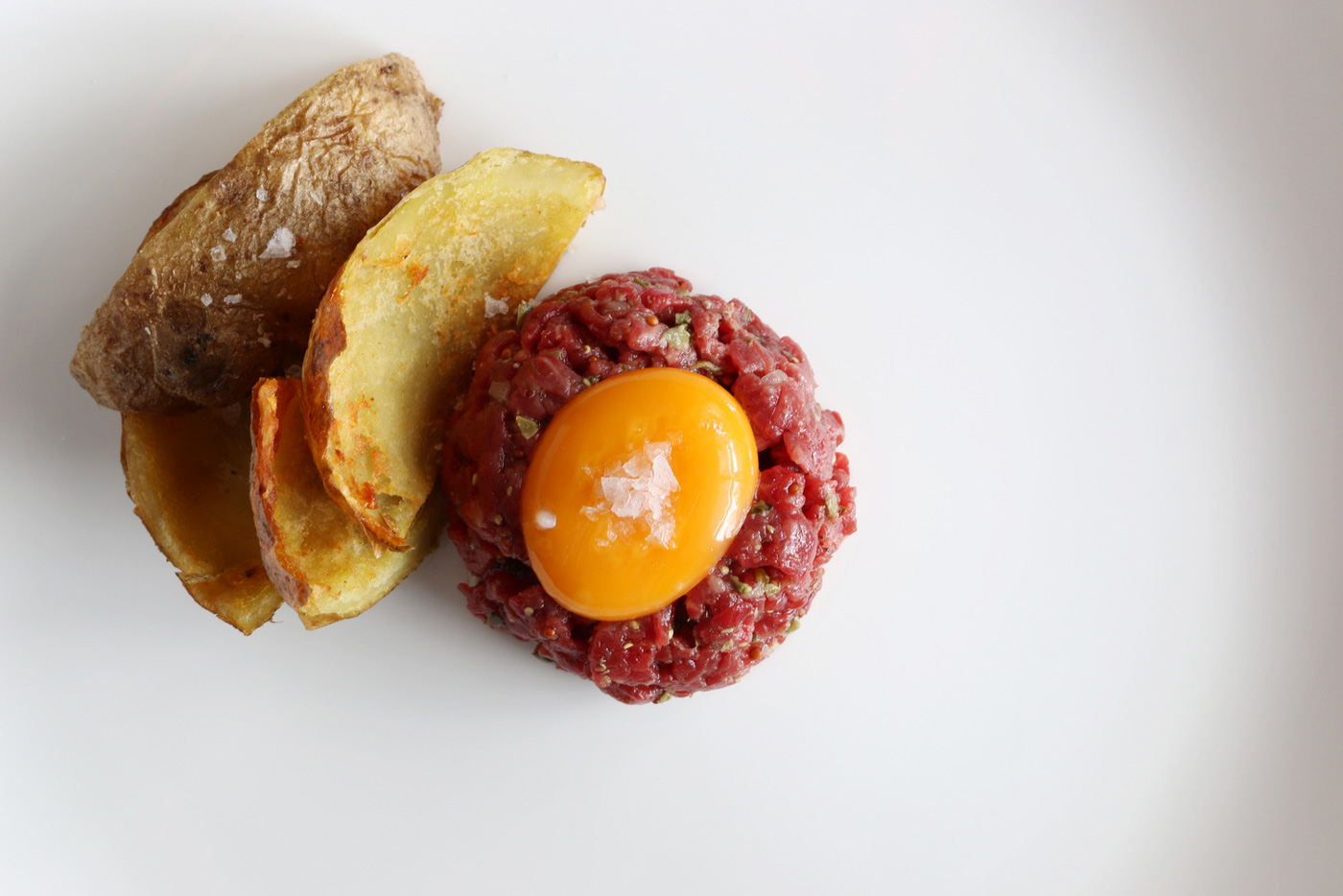 The steak house at the Fairmont Banff Springs hotel naturally offers some great cuts of beef. But among its best dishes is the bison tartare ($26) from the appetizer menu. The hotel's executive chef Robert Ash says 1888 chose to go with bison rather than beef for its tartare dish because "due to the indigenous nature of the meat, it speaks to the local land and region." Whatever the reason, this tartare is rich and delicious, made with rangeland bison from Lacombe that is lightly smoked and paired with juniper sourced from just outside the park's borders, house-made mustard and potato crisps.
A Carrot Above: Whether you're a vegetarian or a carnivore that likes a well-balanced plate, the braised carrots at the Banff Springs' 1888 Chophouse are so good they stand shoulder to shoulder with any of the other menu items. Sourced from Poplar Bluff Organics in Strathmore and served with pistachios and wildflower honey, these not-so-humble root veggies are a star attraction in their own right.
1888chophouse.com
Avenue's writers and editors are occasionally invited to experience dining or adventure activities as a guest, including some experiences in this story. Neither complementary experiences nor advertising are required for coverage in Avenue. Neither companies that advertise nor those that provide other incentives are promised editorial coverage, nor do they have the opportunity to review or approve stories before publication.