Follow the aptly named Cowboy Trail (Highway 22) south to Turner Valley and Black Diamond, two neighbouring towns tucked into the foothills at the base of the Rocky Mountains. Historically, this area was the centre of the oil and natural gas boom, but since the industry moved north, the towns have built new reputations as trading centres for the surrounding ranches and popular day-trip destinations.
Just 45 minutes away from Calgary, Black Diamond and Turner Valley are filled with unique storefronts and restaurants located in sleepy corners – each paying homage to the area's history and sense of community.
---
What to do in Black Diamond and Turner Valley
Indulge your childhood dreams of earning your spurs as a cowboy by taking to the Rocky Mountains on horseback. From a two to three-hour guided trail ride to a four- or seven-day adventure ride, there's no shortage of options. Open year-round for rides and cabin rentals, it's a true Alberta vacation.
403-933-2867, anchord.com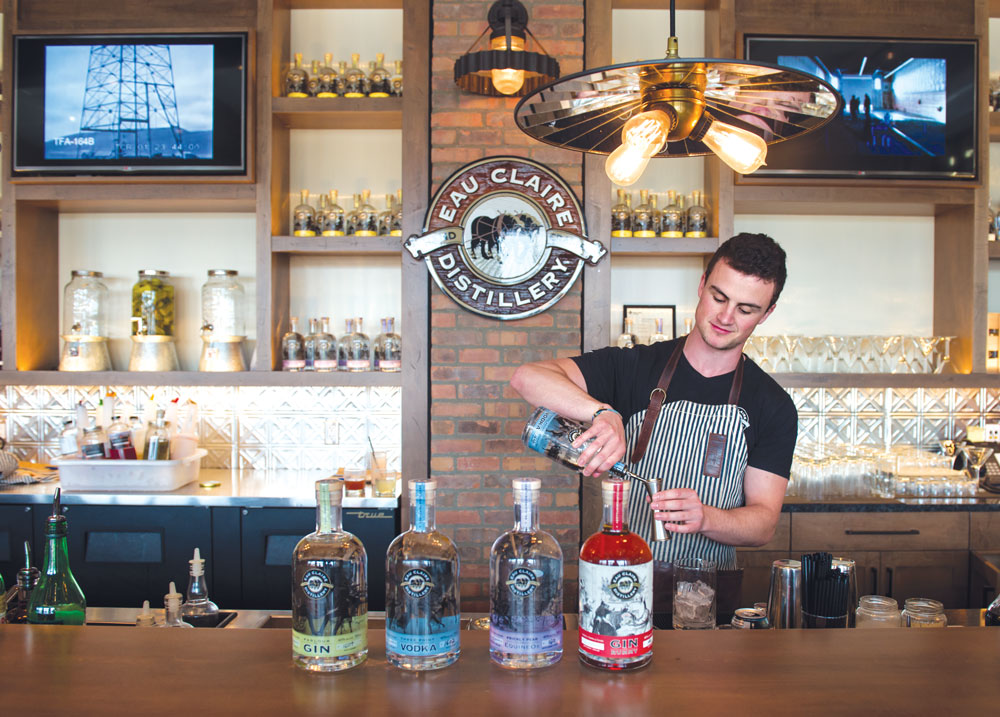 all photographs by jennifer friesen
Set in a repurposed 1929 movie theatre, Eau Claire Distillery offers a variety of unique, handcrafted cocktails made from their specialty batches of gin, vodka and whisky. Stop in for a tour of the barrel aging room to see how whisky is made, learn how to make cocktails with a Mixology 101 lesson or stay for a meal on the patio. The distillery also includes Eau Claire Soda Company which produces artisanal tonics and sodas.
113 Sunset Blvd. N.W., Turner Valley, 403-933-5404, eauclairedistillery.ca, @eauclairecraft
This off the beaten path adventure company has been connecting people to nature for over 11 years. Providing customers with a truly unique outdoor experience by leading wild, edible plant walks and hikes from late May to Late July, and snowshoe safety and winter survival from mid-January to mid-March, prepare to learn all you need to, to survive the foothills from professional hiking guide and nature educator, Julie.
Turner Valley, 403-968-4816, fullcircleadventures.com
The taproom at Hard Knox Brewery opened in Black Diamond in May 2018 and it has slowly been adding more taps, more events and more features over its first months to become a kid- and pet-friendly hangout space. Hard Knox has three core beers – Grunt Work, Light and Dusty Trail – as well as a rotation of other beers on its taps. There's a food truck onsite that serves beer-infused food. Brewery tours on Saturday and Sunday at 1 and 3 p.m.
445 1 Ave. N.E., Black Diamond, 403-800-5603, hardknoxbrewery.com
Stop by this laid-back barbershop for the nostalgic flair (down to the retro-barbershop prices), and stay for the relaxed atmosphere. For 14 years, locals and celebrities, alike, have stopped in for a trim, including famed bullriders, UFC fighters and film crews.
115 Centre Ave. S., Black Diamond, 403-933-3922, facebook.com
---
Where to eat
For pastries worthy of royalty (literally), this is the place. Owner George Nielsen has been steering the ship for more than 30 years, and, brandishing the golden crown and pretzel, the traditional symbol of fine Danish bakeries, he is one of the few certified to serve royals. The building began as a school in the 1920s but is now a local hot spot filled with customers who crave authentic Danish baking.
119 Centre Ave. W., Black Diamond, 403-933-4503, blackdiamondbakery.ca
The saloon-style bar beneath this hotel dates back to 1929, and the spirit of the Old West hasn't left since. Relax in a comfy, oversized chair by the stained glass windows, or curl up by the fireplace and enjoy an ice-cold, Alberta-brewed pint and a hearty menu featuring generously portioned meals. There are plenty of pool tables, live-streamed games on the TVs and Saturday night jams.
105 Centre Ave. S., Black Diamond, 403-933-4656, blackdiamondhotel.com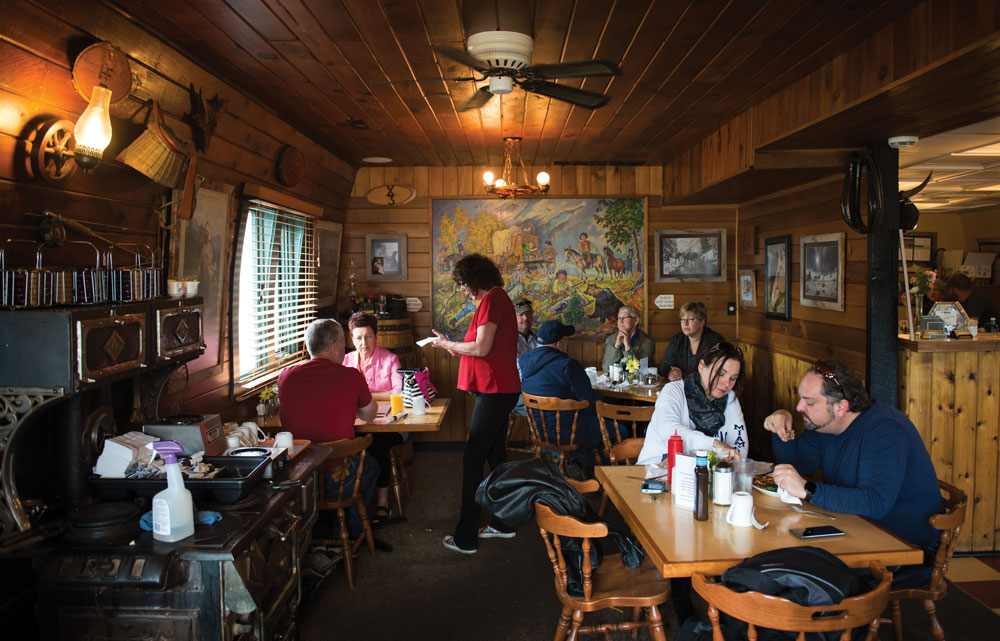 Tucked into a red barn in Turner Valley is an all-day breakfast that is well worth the drive. More than half the beef comes from owner Terry Myhre's own ranch, and, with smoked meat hashers, a hearty eggs Benedict and just the right amount of kitsch, you'll be well-fuelled to start a day of adventure through the foothills.
105 Sunset Blvd. N.W., Turner Valley, 403-933-0003, chuckwagoncafe.ca
This casual restaurant serves classic comfort foods like perogies and sausage, country fried chicken, baked spaghetti, patty melts, pizza and burgers. On Sundays, there is a breakfast buffet and, if you are looking for a quick, cool treat on a hot day, get hard ice or soft serve from the take out window. It also hosts events including live music and street dances. Get a seat in the gazebo with comfy banquet seating and string lights.
146 Main St., Turner Valley, 403-933-2331, countrystorediner.ca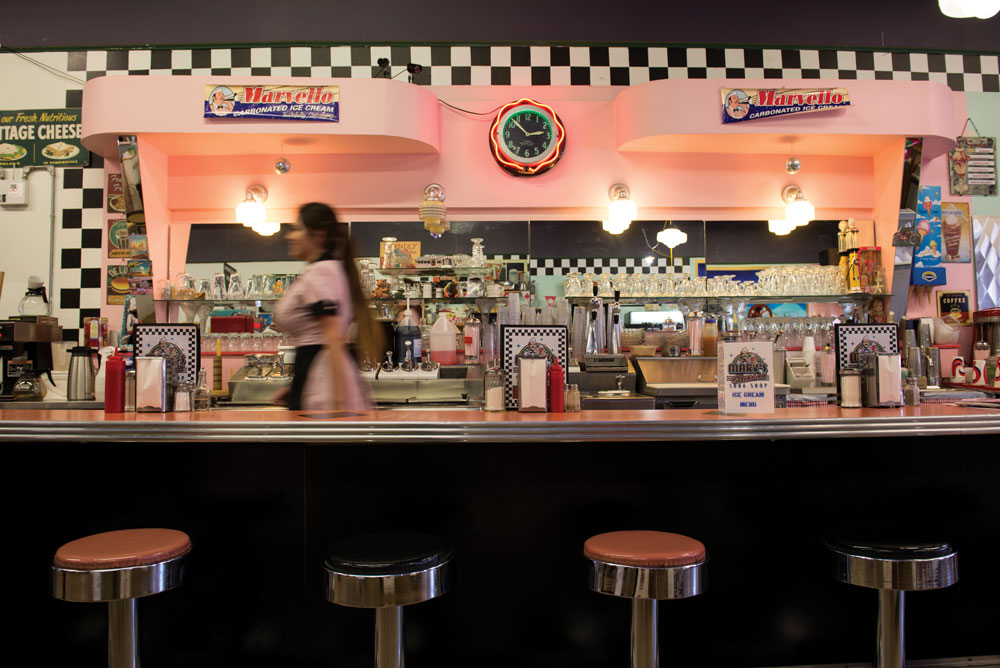 Although it began as an antique store, this 1950s-inspired shop has grown to include candy, soda and classic diner fare. The burgers and Belgian-style fries are made in-house, and the shop features an old-fashioned soda fountain and approximately 200 varieties of glass-bottled soda. The mustachioed purveyor himself, Marvin Garriott, has even crafted his own premium carbonated ice cream for customers to enjoy while choosing a classic hit from the jukebox.
121 Centre Ave. W., Black Diamond, 403-933-7001, marvsclassics.ca
Popular outdoor apparel company Treeline Outdoors launched The Westwood as a pop-up seasonal food trailer in 2016 and quickly led to the opening of a year round restaurant and music venue in 2017. The fresh menu is almost entirely sourced locally and offers interesting bites like deep-fried avocado, Bison Burgers and a mouth watering Sunday brunch menu.
115 Government Rd., Black Diamond, 403-933-3002, thewestwood.ca
---
Where to shop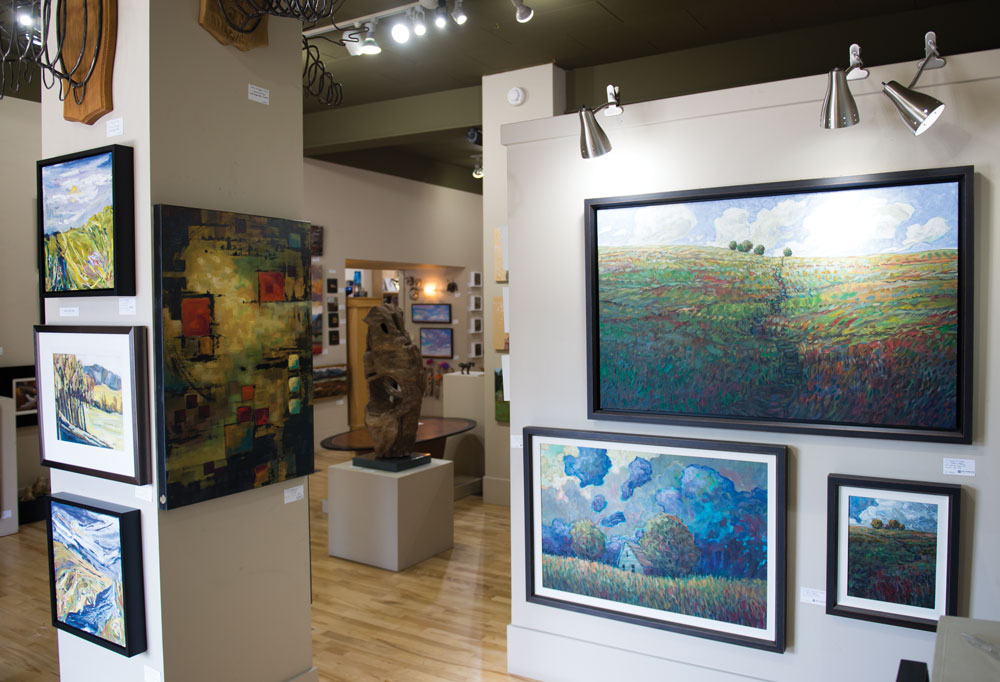 Filled to the brim with an eclectic mix of Albertan art, this relaxed destination gallery is a true display of classic Western hospitality. The Bluerock Gallery represents approximately 200 regional artists, most of whom are located within a 100-mile radius. Stop by to pick up a unique pottery piece for the home, pore over the oil paintings or catch join a free weekly drop-in Art Night on Thursday's from 6 – 9 p.m.
110 Centre Ave. W., Black Diamond, 403-933-5047, bluerockgallery.ca, @bluerockgallery
This Black Diamond boutique has Fair Trade fashions, locally made apothecary products and other knickknacks. It's a great store to browse.
112 Centre Ave., Black Diamond, 403-933-5992, blackdiamondbohemia.com
Celebrating their 20th anniversary this August, Sandul's has been a local staple in Black Diamond. Not only meeting pharmaceutical needs this local spot began specializing in British imports about eight years ago. It started small, with treats such as biscuits and Walkers crisps, but it grew to take over an entire aisle with Heinz baked beans, marmalade, curry-flavoured gravy and seasonal specialty items during Christmas, Easter and Halloween. Word has it customers make the drive from across Southern Alberta to stock up on a taste of the UK.
127 Centre Ave. W., Black Diamond, 403-933-4818, sandulspharmacy.com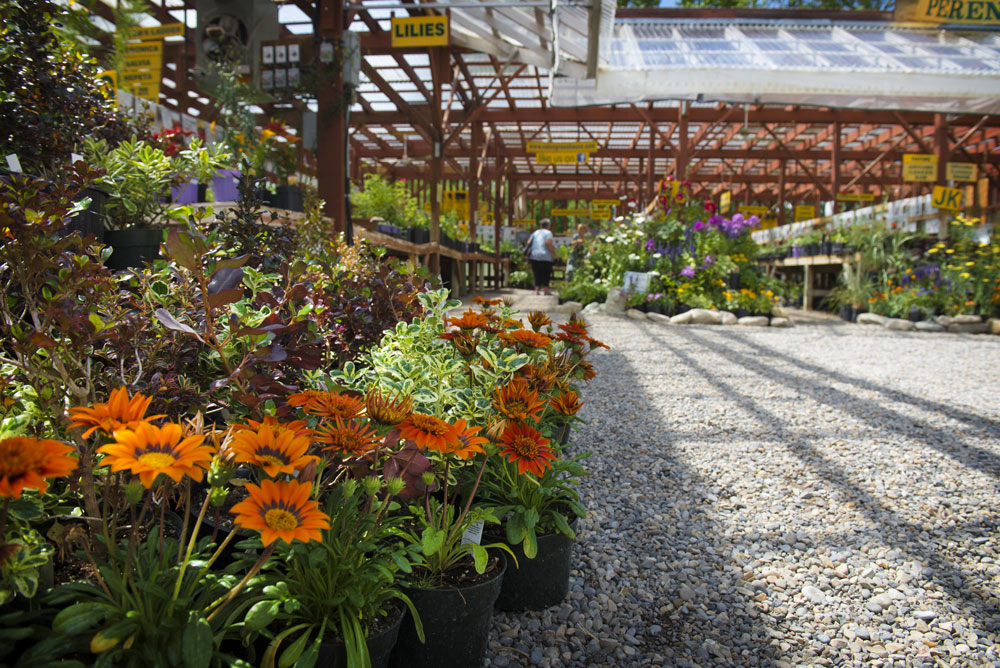 Since 1976, Vale's Greenhouse has been sharing the secret art of gardening in Alberta's harsh climate. Stop in to pick up hardy perennials fit to withstand the wind, rain and snow, or take a lesson on how to keep the garden flourishing. With six greenhouses and a huge perennial area there's no shortage of variety at Vale's. By early August the gift shop is ready for the Christmas season, with a large selection of household and outdoor items crossing off the list just got a lot easier.
301 3 St. N.W., Black Diamond, 403-933-4814, valesgreenhouse.com
Last updated July 4, 2018.